Even in 2023, many of us are still working from home either on a full time or hybrid basis. In either case, it's important to make sure you have the best home printer for your needs. When considering a printer for your home office, you will want reliability and efficiency meaning your new printer won't have issues printing all your important documents, and also offering you the comfort of not having to regularly deal with the hassle of a paper jam or repeatedly replace ink cartridges.
Modern homes need printers that are more versatile than your average office printer since it's likely you'll have to print out documents for things other than work, or even photos. After all, the best versatile printers can also be relied on to print out your happy holiday snaps and save you money on quality prints.
These all-in-one printers are also much more compact than your average office printer, so you can pop them into even the smallest of home office spaces and know they can handle any task that comes its way, from general forms to school projects.
Regardless of how big your household is or what your home office demands are, we've got the best printer for your needs right here on this list. Plus, our price comparison tool will help you find the best deals on the printer of your choice.
Best home printer - at a glance
Why you can trust TechRadar We spend hours testing every product or service we review, so you can be sure you're buying the best. Find out more about how we test.
Epson WorkForce WF-4835
HP Envy Pro 6420 printer
Epson EcoTank ET-2850
Kyocera Ecosys P5026
HP Deskjet 3720
Canon Pixma MegaTank G3600
Brother MFC-J6945DW
Brother DCP-J1200W
Lexmark MB2236ADWE
Brother HL-L2300D Mono Laser Printer
With two 250 sheet paper trays and a 4.3-inch smart touch panel, the Epson WorkForce Pro WF-4835 is a versatile printer that makes a great option for any busy home office. Not only are you getting a one-sided print speed of up to 25 pages per minute for a black text document (12 pages per minute for colour), but double sided printing is also pretty fast with up to 16ppm as well (9ppm for colour).
Coming with an automatic feeder, you can print and scan documents up A4 in size, and the Epson WorkForce Pro WF-4835 also has coloured fax support as well. Plus, with both wired and wireless connectivity options, you'll be able to print directly from your tablet or phone as well as your PC.

The HP Envy Pro 6420 is a compact and inexpensive inkjet with all the features you could ask for from a home office printer. It can print, scan, copy and even fax via your smartphone. Instead of an Ethernet port, you have both Bluetooth and self-healing Wi-Fi built in, making mobile printing via HP's iOS/Android app particularly easy.
Admittedly, the print speed is slow, but it can still duplex print and photocopy a stack of up to 35 pages with its inbuilt ADF (automatic document scanner).
We were impressed by its ease of use and overall print quality, while its lack of an LCD display, the limited paper capacity and slow print speed can all be overlooked if you're printing on a small scale. Just bear in mind that the Envy Pro works best with HP's ink subscription service, Instant Ink, which ties you to a (low) recurrent monthly fee.
Read the full review: HP Envy Pro 6420

The Epson EcoTank ET-2850 offers a cartridge-free experience with a high-capacity ink tank, auto 2-sided printing, an easy to navigate colour display and a 100-sheet capacity making it a true all-in-one wonder. There's also the option for borderless photo printing, and you can print directly from your phone or tablet thanks to its Wi-Fi support.
Speed wise, you'll get about 10.5 pages per minute with black only, and around half that for coloured prints. However, its ink tank offers up to 6,500 black or 5,200 colour pages before it's completely empty, so the average household shouldn't need to refill the tanks all too often.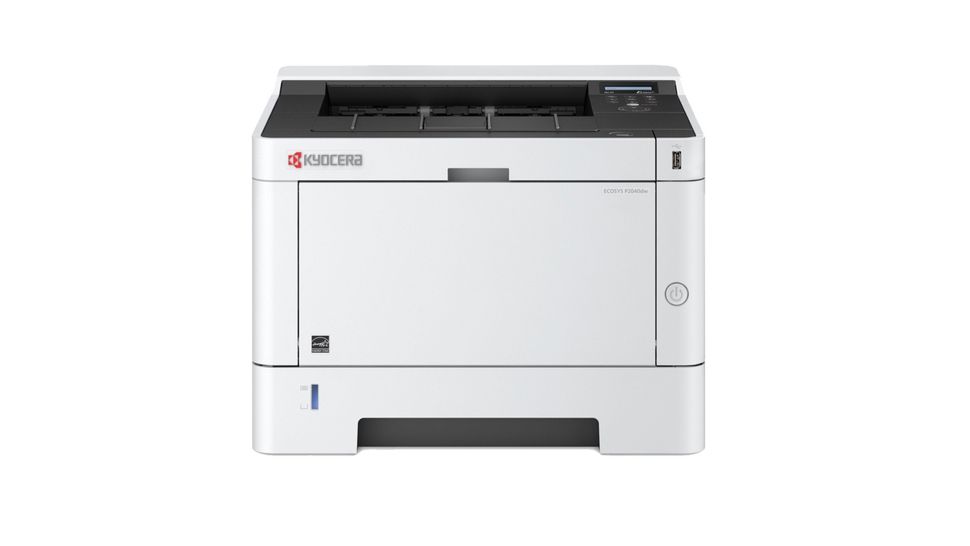 This stout laser printer takes up relatively little space, something slightly surprising given its high capacity for paper and toner. This means you can keep printing quickly and efficiently with lower running costs than an equivalent inkjet.
The display is rather fiddly, but in all other respects, this colour printer is easy to use and can be relied upon for immaculate mono and colour documents time after time.
Read the full review: Kyocera Ecosys P5026cdw

Compact and budget friendly, the HP DeskJet 3720 is an all-in-one printer that you can confidently tuck into a small desk space. As a cheaper option, you'll only be getting around 8 pages per minute in mono and 5.5 pages per minute in colour printing speeds and a 60 page capacity, so it may not be right for more heavy duty demands. But for those looking to save on space and benefit from a budget-friendly, reliable home printer it's a quality option.
You can connect to this printer either via a cord or through Wi-Fi, and it can print up to an A4 sized document. There's no auto 2-sided printing with this one, so again it's best suited to lighter home use for the household who casually needs to print out documents, rather than a small business.
One neat feature that makes this printer so compact is its lack of a flatbed for scanning. Instead, you're getting HP's scan beam on top of the device, which deceptively looks like a handle, but is actually a convenient way to simply feed through any documents you want to scan and copy.

Economical and efficient, the Canon Pixma MegaTank G3600 will let you print more pages before you have to top up its ink tank. This cartridge-free printer can print up to 6,000 pages in black and 7,700 pages in colour before you completely empty out its ink tanks.
The Canon Pixma MegaTank G3600 offers the trifecta of an all-in-one device with print, scanning and copying available. The display on this printer is a bit more limited than some other models in this list, but you can connect your phone, laptop or tablet to it with ease thanks to its Wi-Fi support. Just note, this printer is best suited for regular usage, so it's optimal for someone who prints out documents for work everyday.

This big Brother blurs the line between home and office printer by combining the fast print speed and high capacity of a laser machine with the superior photo finish of an inkjet. We would recommend it for both applications because although it is smaller than the laser equivalent MFC-L8690CDW, the inkjet MFC-J6945DW can still handle A3 paper.
There's really nothing that this fully featured 4-in-1 can't do and it carries out all tasks satisfactorily, making it well worth considering.

While this printer might not be much to look at, the Brother DCP-J1200W nonetheless offers low cost yet high yielding cartridges. The odd shaped bulge on the side of the printer houses its unusually large inkjet cartridges. Brother calls this an INKvestment Tank printer, and it's the company's answer to Canon and Epson's refillable ink tank printers. It's more economical to run than a standard ink-jet printer thanks to these high capacity ink cartridges.
With the Brother DCP-J1200W, you won't be getting an LCD screen or auto-duplex mode, but you will still get all the features necessary to print, scan and copy your documents and at a decent speed of 16 black and white pages per minute too.
It can hold up to 150 A4 sheets in its main tray, and has a flatbed for scanning/copying documents as well, making it a confident and competent all-rounder option.
Read the full Brother DCP-J1200W review

If you want all the functionality of a photocopier-style four-in-one, but can't justify the expense of a premium machine, then the Lexmark MB2236ADWE is likely to fit your needs.
The smaller size of this one is an advantage, the price is attractive, printing is fast enough and so is the quality (provided you stick to dedicated laser paper). It's a pity there's no Wi-Fi Direct facility, or an active front USB input, but that aside, you're getting a lot for your money here.
Read the full Lexmark MB2236ADWE review

The Brother HL-L2300D specs are impressive for the price: it promises 26ppm print speeds, has 8MB of RAM on board and delivers a maximum resolution of 2,400 x 600 dpi. The paper tray holds 250 sheets, there's a second single-sheet paper feed for labels, envelopes and thicker media, and the printer can print double-sided without any human intervention. Of course, you won't find any bells or whistles here, but honestly, its simplicity is refreshing.
With no overly complex Wi-Fi or cloud features to configure, installing the HL-L2300D is as simple as plugging a cable into it, and that means there's no danger that it'll go in a huff when you need to print something important. It's compact, quiet and impressively fast, and it offers a lot of bang for your buck. Double-sided printing is particularly good to have in a printer that costs so little to buy and run.
Read the full Brother HL-L2300D review
Best home printers FAQ
What is a home printer?
Home printers have been designed for ease of use within a household, often offering printing options for multiple devices and versatility in what can be printed.
A lot of home printers will offer all the capabilities of an office printer in a more compact build, removing the need for multiple devices, though not all come with scanning beds or the ability to act as a fax machine. Across the board, printing quality is generally good, with some even offering photo printer capabilities, which means you can print out quality photos without leaving your home.
Just note that home printers aren't built for the high capacity of a standard office printer. However, every printer on this list will offer a good printing experience for the home office, something that's become even more important when working from home.

How to choose the best home printer for you
With the increase of hybrid working options, having a decent printer in your home office has never been more important. An essential device for anyone who has to work from home, there's a stack of makes and models on the market so you can find exactly what you need. Not only do you have a choice between massive manufacturers such as Espon and HP, but you can also decide whether you're after an inkjet or laser printer, and if you want a printer that can print in colour or only black and white.
There'll even be instances where you need a printer with specific features, such as portability or wireless capabilities or even a printer that is specifically built for a Mac.
While the amount of options available can be good, it can also be very overwhelming and tricky to navigate through. That's why we've popped this best printer guide together, to help narrow down the field and make finding the perfect printer that little bit easier.
On this list you'll find the best home printers available in Australia. From all-in-one printers with a huge array of features, to more basic and compact printers that get the job done, you can find a printer that's just right for you on any budget.

What are the different types of home printers?
There's a lot of options when it comes to printers, and they all have different advantages. Inkjet printers use liquid ink to create prints and are well suited for printing coloured documents and good for photo printing. Laser printers on the other hand use toner to create prints and are better suited for printing text documents and graphics. Finally, multifunction printers combine all the capabilities of a printer, copier and scanner, though with some models, it can even support fax machine capabilities in the one device.

What should I consider when choosing a home printer?
When choosing a home printer, you want to consider what type of printing you want to do at home (eg. photos, documents). You'll also need to take into account your budget, including ongoing maintenance and ink or toner costs, connectivity options, size and weight. You might also need to consider how often you'll be using the printer, as some models will be better when used on an everyday basis when compared to others.

How do I maintain my home printer?
Home printers will need to be regularly cleaned, and ink or toner replaced when necessary. You'll also need to make sure that you don't overcrowd the printer with paper and keep it in a dust-free environment to avoid clogging the machine.

What is the cost of ink or toner for home printers?
Ink or toner costs will vary depending on the printer itself and how it's used. There are high-capacity ink or toner cartridges that can last a while longer and save you some money in the long run. Other printers will have smaller cartridges which might not cost as much as a high-capacity cartridges initially, but will need to be replaced more frequently. The ongoing cost of ink or toner replacements are important to consider when purchasing a home printer, as this is the most significant ongoing expense for the devices. There are some subscription or bulk purchasing options available to reduce the cost, so it's a good idea to shop around and compare the ongoing costs before picking out a new printer for your home office.
Best home printers: how do we test them?
Unlike smartphones, printers don't necessarily go through massive changes year on year. Printers launched last year are unlikely to be significantly different from ones launched five years ago. There hasn't been many changes in printing resolution, connectivity or features, and as such our printing tests haven't changed much either.
We test printers against our bench test, and critically compare the results with every other model we've reviewed previously. We time how long it takes to print ourselves, rather than relying on the manufacturer's quoted figures, with tests on both single page and duplex printing where available.
We also print out the same test documents on every machine to compare the quality of the resolution. These twelve test pages offer a mix of colour, text and images as well as photos and patterns so we can assess the printer's sharpness, colour fidelity, grey scale and contrast.
With any printer we review, we calculate the running costs, compare the functionality and also consider the product's design, versatility and build quality, with the overall score reflecting all these parameters.