Amazon Prime Day Lightning Deals: our live blog of the best deals
We'll keep you constantly updated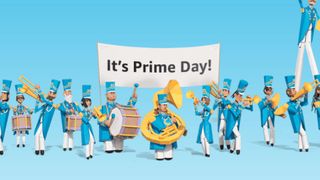 (Image credit: Amazon)
The Lightning Deals that roll during Amazon Prime Day are where Amazon makes the biggest discounts, price cuts and deals, so that's where you should look if you're hoping to save some money – but you already knew that, of course, that's why you're here.
If you didn't know, Amazon's Lightning Deals are short-lived bargains that see items cut to prices far lower than you'd normally find. However stock is limited, and the deals have a timer on them, so you have to act fast to get the best deals (that's why they're called Lightning Deals – they're quick!)
The best Amazon Lightning Deals of all are over the Amazon Prime Day period, that's why we're running this live blog to help you easily find the best deals.
Some times the deals are for products that aren't great though, but obviously we won't recommend them to you – watch out if you browse solo, though. On top of that, you might see products that are at temptingly low prices, for items you don't actually need that much, so always think twice before clicking 'Add to Basket'.
We're updating this list constantly to reflect Amazon's new Lightning Deals, or to inform you when the great ones are sold out, so bookmark this page and check back regularly to find out which Amazon Prime Day Lightning Deals are running at the time.
TechRadar is scouring Amazon and all the major retailers' websites to round up all the top deals on Amazon Prime Day - and we've put all the best Prime Day deals in one easy-to-navigate page to help you find the offers that matter to you.
Amazon Prime Day Lighting Deals: our top picks
This is where we'll put our top picks of the Amazon Prime Day Lighting Deals, from both the US and UK discount listings. We'll updated it when a really great deal comes along, but take note of the time stamp, as these bargains don't last forever!
Prime Day Lightning Deals: as they happen
All times PT (Pacific Time).
13:45 - After a discount on a TV? This TCL deal has an $80 discount in the US and it comes with an Alto 5 Sound Bar with it. The TV itself is a 43-inch 4K display that usually costs almost $300 but you only have until about 8PM to be able to buy this.
13:30 - BeatsX headphones have been discounted by 45% for those in the UK, but you've only got two hours to buy as this deal will end just before midnight. If you want them, you can get them on Amazon now for £60.
13:10 - Been on the lookout for a pair of noise cancelling headphones? These Bose QuietComfort 25 are 45% off if you live in the US bringing the price down to $99.99.
There aren't any Bose deals for Amazon Prime Day in the UK, but you may find this discount on Sony's noise-cancelling headphones worth looking at.
11:30 - We've seen some impressive deals on SSDs this Amazon Prime Day, and right now you can get the Samsung SSD 860 QVO with 2TB of room for £161.99 in the UK.
That's normally over £200, and Amazon says it's around a discount of 24% for the next few hours while the Lightning deal is running. You can get it in the US for $199.99, but note that this isn't a specific Prime Day deal and instead is just the discounted price on Amazon's US site.
11:10 - Thinking you need to improve some of your photographs? Adobe Photoshop Elements 2019 is now discounted at just $58.99 in the US. It's also only £56.99 in the UK, but that's not specifically a Prime Day deal.
10:32 - Those in the US can grab this Marshall Stanmore II home speaker for only $199 if they act quickly. It's normally around $350, although we have seen it on sale around the $280 mark.
If you live in the UK, you're able to buy the speaker from Currys at the moment for only £229 – though Amazon has yet to give us a significant discount like that for those in the UK.
09:55 - Ever thought you want to throwback to the time of instant cameras? Now is a great time to buy this one from Fuji as it's discounted until around 8PM in the UK. There's no Lightning Deal for those in the US, but it is already only $49 there.
09:15 - Looking for a new smartwatch? The Lightning deal below is made just for you, and it is set to last until around midnight in the UK. Those in the US won't be able to get this, but they can get a discount on the Samsung Galaxy Watch.
06:55 – if you're looking to buy something a little bit out there, consider the Muse headband. It's like a fitness tracker but for meditation, that tracks how active or calm your mind is, and if you live in the UK you can let it track home happy you are that you can pick it up with a £50 saving.
06:10 – we've found an amazing deal on a new 13" MacBook Air from Apple, so if you're in the US, you can find the fantastic laptop with a huge chunk of its cost missing. This is evidence of how good some Lightning Deals can be, and a great reason to keep one eye on this page.
06:00 – we've found some great US Amazon Lightning Deals for rowers, or people who want to be rowers, in the form of a rowing machine and a kayak. With these pieces of kit, you can adventure in your home or on real rivers, and these low prices could make your dreams of wandering the waters a reality.
05:18 – we've seen a great deal on LifeStraw, which is basically a 'straw' that purifies liquids as you drink. It's a great tool for outdoor adventures like camping and hiking, and is one of the many gadgets or tools that Amazon Prime Day Lightning Deals bring to your attention that you wouldn't otherwise notice or think to buy.
04:52 – is your home messy, because you're spending too much time scrolling through Amazon looking for the best discounts? Well this Lightning Deal has you covered, because it's for a Roomba, that'll clean your house for you as you lounge about.
04:23 – we've found an amazing deal on a TV in the UK, but you better hurry, as the stock is plummeting.
The Lightning Deal is for a 50-inch Hisense UHD HDR 4K TV, and it's this year's model, so you're not getting some outdated tech either. Hisense are reliable makers of affordable TVs, so if you want a TV at this price margin, this is the TV you should be looking at.
03:55 – it's morning time in the US, and that means putting all your kit for the day in your backpack. But you've forgotten to charge your gadgets, and you can't charge them in your bag! Or can you? Yes you can, with these three US-based Lightning Deals for bags with charging ports.
03:15 – a new hour brings new Lightning Deals, but unlike there previous deals we found, there's nothing particular they have in common, so we can't come up with a witty introduction. Sorry.
Regardless, savor the large amount of money you can save on these gadgets, especially on the Nest Thermostat and Miele Vacuum, as big-ticket items like that always enjoy the most money off.
02:29 – let's talk about morning – or, let's talk about mourning, because you'll be mourning that you missed these morning deals if you don't snap them up while you can. Buy them both and you're saving about £100, which is a lot of money, and they'll make the tender hours of the day that little bit more tolerable.
01:45 – the deal offering 20% off an iPhone 8 Plus has changed – to make it even cheaper. You can now get the phone for 25% off, as its price has dropped even lower to £524. We'd expect this new, even lower price to get sold quickly though, so act fast!
01:17 – more amazing UK Lighting Deals are coming along, showing us that day 2 of Amazon Prime Day could actually be better than day 1! First off we've got an amazing deal taking 20% off an iPhone 8 Plus, which is a fantastic saving off a really decent Apple phone.
Second is a lovely fizzy deal that's cutting down the price of a SodaStream water sparklers – this is a indulgent yet fantastic piece of kit that means you can constantly treat yourself to sparkling water.
Both end eventually, but it looks like stocks will sell out quicker, so act fast to get your hands on two of the best pieces of kit we've seen on Lightning Deals so far.
22.50 – it's day two of Amazon Prime Day Lightning Deals (at least in the UK, since it's still day one of deals in the US). That means basically ALL PREVIOUS LIGHTNING DEALS ARE OVER. Long live the lightning deals!
But there are always more deals, so we've started amassing some of the new Lightning Deals in the UK, ready for day 2. We'll do the same for US lightning deals later, but for now, it's bed time.
12:50 – This Instax Instant Camera is now 39% off for those in the UK as it's down to £42.99. The deal is moving quickly, and while it's not available in the US as a lightning deal you'll already find it as low as $49.99 there.
Before you buy one of these, note that you'll need to buy film for it to work. Apparently that's how cameras used to work? Who knew?
11:10 – Looking for a smaller TV for another room in your home? Those in the UK will be able to grab this Sony Bravia 32-inch TV for 43% less than its normal RRP.
This Lightning Deal is only set to last until midnight in the UK, and there's no discount on the same product in the US. That said, you can get money off of this TCL 32-inch TV so it'll only cost $99.99.
Don't expect great things from either of these TVs, but if you're looking for an alternative screen to put in your kitchen or a small bedroom this may be a great opportunity to get one for a lot less than its normal price.
09:51 – how well stocked are you in tools? Is your garden looking okay? Are you going to be able to make the most of your property when summer comes? If the answer to any of those questions is "I need more!", at least if you're based in the US, Lightning Deals has the answer.
These hugely discounted blower, grill and power tool kit will let you work hard with your DIY, and play harder with a well-earned BBQ afterwards.
There isn't as big a range of similar products in the UK's Lightning Deals, but that's because the entirety of the UK's summer passed over one hot Saturday in June.
09:23 – we've found another great deal for something you probably don't technically need, but you really should want – isn't that the point of these Lighting Deals anyway? If you're going to do Amazon Prime Day, you may as well do it right, by spending money on a robot vacuum cleaner that's seeing a massive discount.
This is for US readers only, sadly, but if you're based in the UK, the Eufy BoostIQ RoboVac 30C is also reduced, which should fulfill all your vacuum needs.
08:05 – here's a deal for something super indulgent, which is exactly the reason Amazon Prime Day was started in the first place – your own personal hot tub. This UK-only deal is for a Lay-Z-Spa with LED lights, AirJet, and space for up to 6 people, or in short, everything you need for a great hot tub experience.
So your LED experience can carry on when you're out the tub, another deal provides Philips Hue light strips that you can change the color of, giving you the luxury life style you've always dreamed of.
07:49 – marshal your friends and have a party with this portable speaker from Marshall. It's a hefty discount on a high-quality piece of kit, and at 42% off, it's now firmly within your grasp.
While the Marshall Portable Speaker is only available in the UK, US readers have another great deal in the form of a KitchenAid Cold Brew Coffee Maker, with a great 38% discount. Summer's coming up, and you'll thank yourself later if you buy a cold-brew coffee machine now to keep you chilled through the warmest months.
06:24 – some more great discounted pieces of kit have been added to Amazon Prime Day Lightning Deals in both the US and UK, and they're all rather adventure-y. Want to adventure in real life with the GoPro, in games with the Oculus Go, online with a smart Wi-Fi router or in a culinary way with a stand mixer?
You've got quite a while left with both these deals too, so there isn't as much rush as their predecessors, although that doesn't mean they won't sell out before the deadline.
05:55 – Americans, get in gear now, because we've found perhaps the best PlayStation 4 deal you'll see this Amazon Prime Day period, in the form of, obviously, a lightning deal.
Get a 1TB Playstation 4 Pro, with Marvel's Spider-Man and Horizon: Zero Dawn, all for the incredible low price of $299. If your goal this Amazon Prime Day was to get a new PS4, this is what you've been waiting for.
Update: sadly, this amazing PS4 deal has sold out. We thought we'd keep it up here though, as record of how good some Lightning Deals on Amazon can be.
04:56 – if you know cooler gadgets to spurge your cash on than robots, then we don't believe you, but we're also going to prove you wrong. If you live in the UK, you can save £200 on a robot lawnmower. Think a Roomba, but for chopping your grass. Perfect, right?
04:31 – Game of Thrones fan? Amazon Prime Day Lighting Deals have you sorted, at least if you live in the US. You can buy the first three seasons on Blu-Ray or DVD at massively discounted prices, with 67% off for the Blu-Ray and a massive 71% off if you're a DVD collector.
Both these deals end 3.30pm PT, so hurry up if you want to own a piece of Westeros.
04:05 – we've just spotted the iOTA 360 laptop on the UK's Amazon Prime Lightning Deals section. With a 11.6-inch screen, Intel Quad Core Atom Z8350 Processor, and running Windows 10, it's a fine computer, but for only £99.99 (down from £199.99) it's a great deal if you're on the market for a new affordable laptop.
00:00 – deals in the US have gone live! Here is a selection of the best lightning deals that are available now. Remember we'll cut out the deals that finish, or sell out, so act quick to avoid missing out.
18:00 – deals in the UK have gone live! Here are the best Lighting Deals we can see right now.
Sign up to receive daily breaking news, reviews, opinion, analysis, deals and more from the world of tech.
James is Managing Editor for Android Police. Previously, he was Senior Phones Editor for TechRadar, and he has covered smartphones and the mobile space for the best part of a decade bringing you news on all the big announcements from top manufacturers making mobile phones and other portable gadgets. James is often testing out and reviewing the latest and greatest mobile phones, smartwatches, tablets, virtual reality headsets, fitness trackers and more. He once fell over.