At this point we're pretty confident about how the Samsung Galaxy S8 will look, and some newly leaked screen protectors and cases have done nothing to change our minds.
The images, shared by Techtastic, show a front with no home button, a massive form-fitting curved screen, and a tiny black bar below it, with no logo, buttons or other features.
There's another black bar above, and this one is slightly more interesting, housing the front-facing camera and, given the extra openings on it, likely an iris scanner.
But if you'd rather secure your phone with your fingerprint you're not out of luck, as there's likely to be a fingerprint scanner on the back, next to the camera lens, as you can see in the leaked image below.
You can also see spaces for two buttons on the left edge here, likely the power and volume buttons, while a button on the right is rumored to activate Samsung's Bixby AI assistant.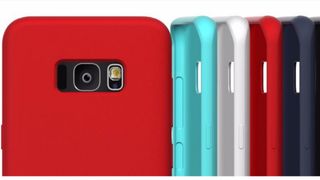 Picture-perfect
In some leaks we've seen the fingerprint scanner on the other side of the camera lens, but otherwise these images entirely line up with earlier leaks and rumors, so there's a good chance they're accurate, especially as accessory makers often have design information in advance, so they can get accessories made by the time the phone launches.
Then again, it's not entirely unheard of for early accessories to be designed based on leaks and rumors, so it's still possible that these are only matching existing leaks because they're based on them.
We should know just how accurate these are soon, as while Samsung won't be announcing the Galaxy S8 at MWC 2017 (Mobile World Congress) it probably will be launching the phone by late March or April.
We'll soon see the LG G6 too