Knowing what the best soundbar for you can be a complicated process. Fortunately, whether you want to create the ultimate home theater system of your dreams, or you simply want a more reliable and inexpensive audio source to pair up with your TV, there's a soundbar that's ideal for you.
For many people, soundbars are now an essential addition to modern TVs. After all, the majority of TVs you can buy today are very slim, so there's less space for built-in speakers.
That means that while new TVs might look fantastic, you'll need to find a way to ensure that your gorgeous screen is accompanied by similarly great sound quality. Even the best Samsung TV and best LG TVs could do with an external soundbar to provide you with better audio performance.
And when it comes to the best TVs under £500, you'll need the extra oomph of a soundbar. Fortunately, the best soundbar for under $200/£200 can help here if you're on a budget.
Below, we'll take you through our selection of the best soundbars. This includes those that boast the latest Dolby Atmos immersive sound, right down to more affordable plug-in-and-go solutions.
Once you've bought your new soundbar, look at how to set up TV speakers and soundbars, according to the professionals, to get the best results.
Alternatively, if you don't need a one-bar solution, take a look at our pick of the best surround sound systems for a truly cinematic audio experience, or check out the best Dolby Atmos speakers and soundbars instead.
Our top picks
Image 1 of 3
Image 2 of 3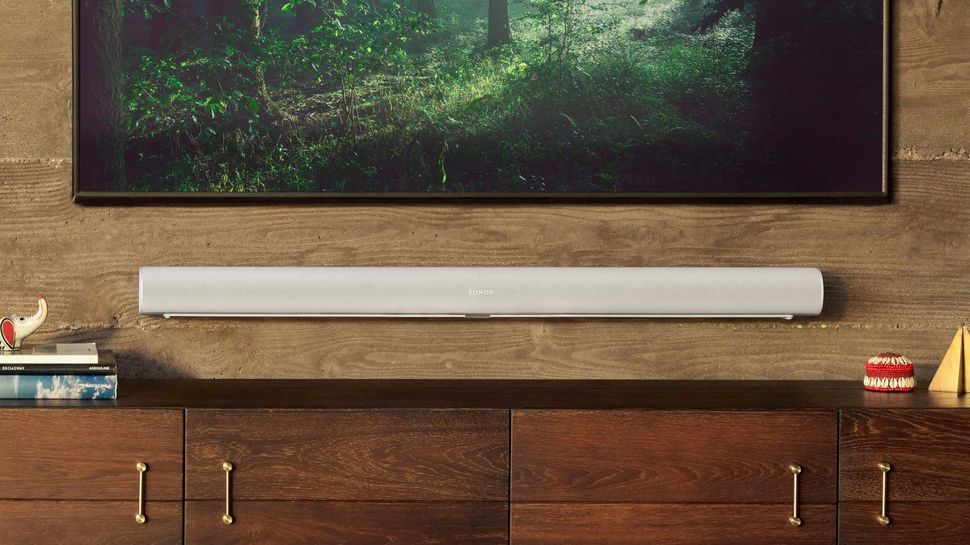 Image 3 of 3
Sonos' latest surround sound solution is contained entirely in a single soundbar it calls Arc.
While we're not sure if the device gets its name from the HDMI interface it uses, the curved sound it pitches or the fact that it is perhaps, metaphorically, a vessel delivering impressive surround sound to the modern minimalist home, this system is hell-bent on short circuiting the surround sound game.
The Sonos Arc draws on Dolby's latest TrueHD and Dolby Digital Plus sound codecs to deliver the best quality lossless audio found on cutting edge Blu-ray disks and some of the leading streaming services. It then enhances the 3D soundscape using Dolby Atmos object tracks to bounce certain sounds off the walls around you so they feel like they're coming at you from all angles. We found the effect to be pretty convincing in our tests, if not as immersive as overhead speakers mounted on your ceiling (which is a big undertaking).
While all this might sound complicated, we found the Sonos Arc setup couldn't be simpler, involving just a couple of steps on the smartphone app - and it can be easily connected to other Sonos speakers. The minimalist cable connections and all-in-one system construction add to this no-fuss feeling and streamlined aesthetic – making it the best Dolby Atmos soundbar you can buy in 2022.
Read more: Sonos Arc review

Image 1 of 2
Image 2 of 2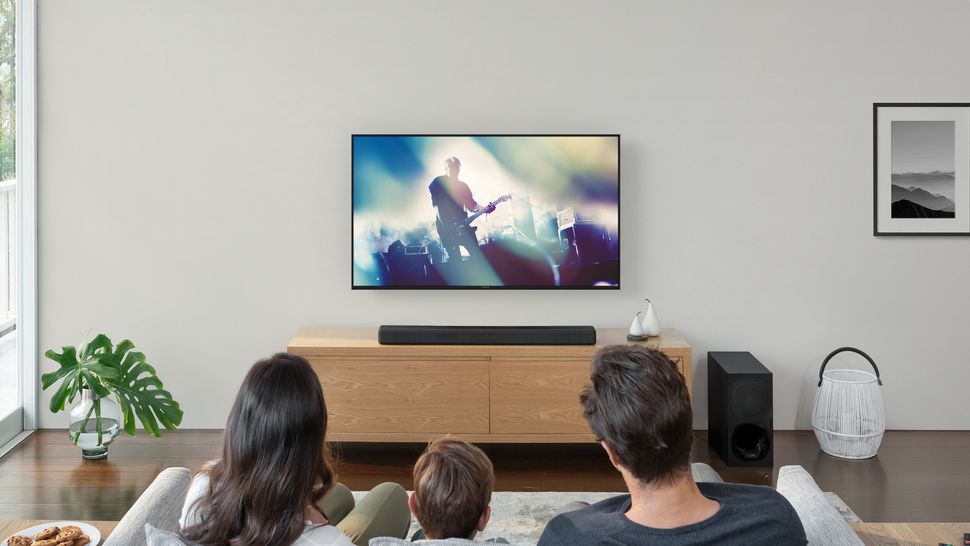 The Sony HT-G700 hits an excellent sweet spot for features, price and the scale of its sound. It's a soundbar and wireless subwoofer combo, and the soundbar is a good size for TVs of 48 inches and up.
Being Sony, the sound here is not just simple stereo. It supports both the Dolby Atmos and DTS:X elite surround sound formats (which is not something guaranteed in even more high-end soundbars), and Sony uses its excellent sound processing and acoustic wizardry to create a real wall of sound that stretches way beyond the limits of your TV screen, but with convincing positioning and direction of specific sounds.
But it does the basics really well too – the subwoofer gives it depth in bass that something like the Sonos Arc can't match on its own, and speech is really clear even in busy action soundtracks… and that's without the speech-boosting mode turned on.
It doesn't have any dedicated upfiring channels, so the height isn't as convincing as those that do have extra drivers for this. It's also slightly less dynamic for sudden explosions and swelling soundtracks than the likes of the Sonos Arc or Samsung HW-Q800A – but for the price, it's the most cinematic experience you can get.
Read more: Sony HT-G700 review

Image 1 of 3
Image 2 of 3
Image 3 of 3
While the number of audio channels a home cinema sound system has isn't everything, it certainly helps. It's fair to say, then, that Samsung's HW-Q950A soundbar hits the ground running by delivering no less than 16 separate channels of sound. It sounds particularly amazing when it comes to watching your favorite movies with a remarkably well-rounded Dolby Atmos soundstage.
The new rear side channels Samsung has added to 2020's 14-channel maximum contribute to the most immersive Dolby Atmos performance we've heard from a soundbar. As we tested the soundbar with action scenes, we found it never missed a beat when it comes to thumping out even the hardest impact sounds. It isn't polite in the slightest – but that's exactly how we like it.
It's only let down by slightly less impressive music playback which sounds somewhat unrefined and lacking the 'wow' factor you'd expect at this price.
The Q950A's price could assemble a decent separates system instead meaning it is a really expensive option. However, nothing better combines a near separates-grade performance with the convenience of a soundbar.
Read more: Samsung HW-Q950A review

Image 1 of 3
Image 2 of 3
Image 3 of 3
The Samsung Q800A is a superb package for getting Dolby Atmos sound that you can really feel, if you don't have space for rear speakers… and also if you don't want to spend too much money. It's not too big either – it's a good size for TVs of 48 inches and up.
It has actual upfiring drivers, giving it more convincing height than soundbars without it – and it spreads sound left and right expertly to add real width. And the bass is meaty and full, and really gives you the home theater experience you want without taking over the room.
It has some extra tricks for new Samsung TV owners too: if you're able to combine it with the sound optimization features of the new Q70A or higher Samsung TVs, you can get even bigger and clearer sound.
That said, our tests proved the Q800A is good enough on its own. It provides you with room filling sound that's wonderfully immersive. It's precise, powerful, and dynamic enough to ensure that you feel the full weight of every one of its available 3.1.2 channels. But as an added bonus, you can add wireless rear speakers later if you're ready to upgrade.
Read more: Samsung HW-Q800A review

Image 1 of 3
Image 2 of 3
Image 3 of 3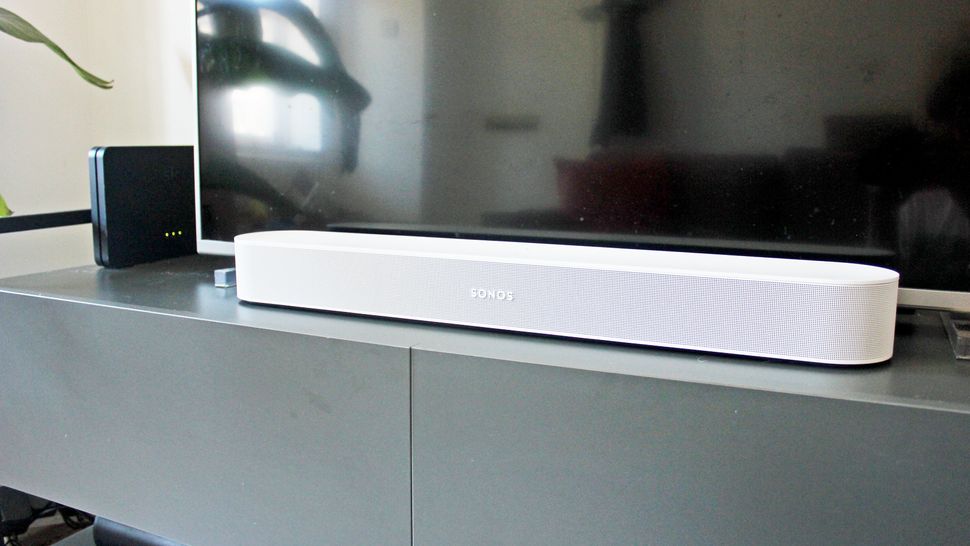 If you're tight on space, the Sonos Beam (Gen 2) is the best soundbar you can buy. Its compact size means it will easily slot beneath your TV, whether you pop it on a TV stand or mount it to your wall, and a sleek design means it won't look out of place with your decor. It's compact enough to work with 32-inch TVs (just about), but it's a perfect fit with 40-inch TVs up to 50-inch TVs.
It improves on the company's original Sonos Beam soundbar with virtual Dolby Atmos, HDMI eARC compatibility, and a refreshed design.
While it doesn't have the upfiring tweeters necessary for 'true' Dolby Atmos (and as a result, we found the sonic height isn't as impressive as the Sonos Arc), the Sonos Beam (Gen 2) boasts a wide soundstage and an immersive audio performance. It's very detailed, impressively dynamic for switching between loud and quiet suddenly, and is just as good with music as it is with movies.
In fact, you can stream music to it over Wi-Fi (AirPlay 2 or Sonos' own wireless system), and it works as a smart speaker – it has Amazon Alexa or Google Assistant built in (you can choose which).
Read more: Sonos Beam (Gen 2) review

Image 1 of 3
Image 2 of 3
Image 3 of 3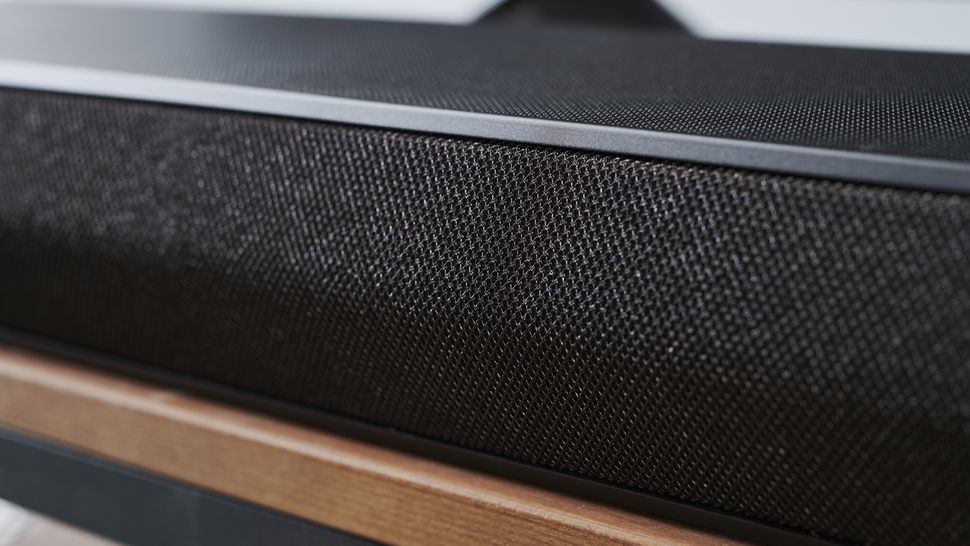 If you're looking for a convincing alternative to the Sonos Arc at a similar price, the Bowers & Wilkins Panorama 3 is a great choice.
This sleek-looking soundbar offers 3.1.2-channels of cinematic sound, Dolby Atmos support, and lots of control options, including a touch-sensitive panel on the bar itself.
In our tests, we found the audio performance to be engrossing, punchy, and dynamic, without sacrificing the natural and coherent sound Bowers is known for. The soundstage is wide and spacious, although we felt the Dolby Atmos feature could be more convincing; you don't get the same sense of height that you get from Sennheiser's Ambeo soundbar or a pair of overhead speakers.
Still, the Atmos performance is still noticeable, and the soundbar sounds just as good for music as it does for movies. With Spotify Connect, AirPlay 2, and Bluetooth (with aptX Adaptive), you've got plenty of connectivity options, too.
You'll be able to hook the Panorama 3 up to a multiroom system with Bowers & Wilkins Zeppelin, Formation, or other Panorama speakers - but this feature is coming via a software update, so we weren't able to test it for ourselves.
It's a shame there's no HDMI passthrough, but that's a small bugbear for a soundbar that's so feature-rich.

Read more: Bowers & Wilkins Panorama 3 review

Image 1 of 3
Image 2 of 3
Image 3 of 3
The LG SK8 sits elegantly and compactly beneath your TV, and delivers a clean, detailed and open sound, even if it is getting a bit long in the tooth now.
While you have to treat the LG SK8's Dolby Atmos claims with something of a pinch of salt due to its lack of 'real' sound channels and a slightly reticent subwoofer, plus there's just one HDMI, it still has plenty to offer for its money.
In our tests, we found its Dolby Atmos processing manages to deliver a wall of sound that has genuine height to it, as well as width. Helicopters flying over head or volcanic rocks hurtling through the air actually do sound like they're in the sky above the main soundtrack action.
It supports lots of sources, it looks attractive, it sounds more powerful than it looks, and it's just as adept with music as it is with movies. An on-soundbar display and Google Assistant compatibility make it easy to use, too. Great value rounds off the package nicely, ensuring there's a good deal to be had here.
Read more: LG SK8 Soundbar review

Image 1 of 3
Image 2 of 3
Image 3 of 3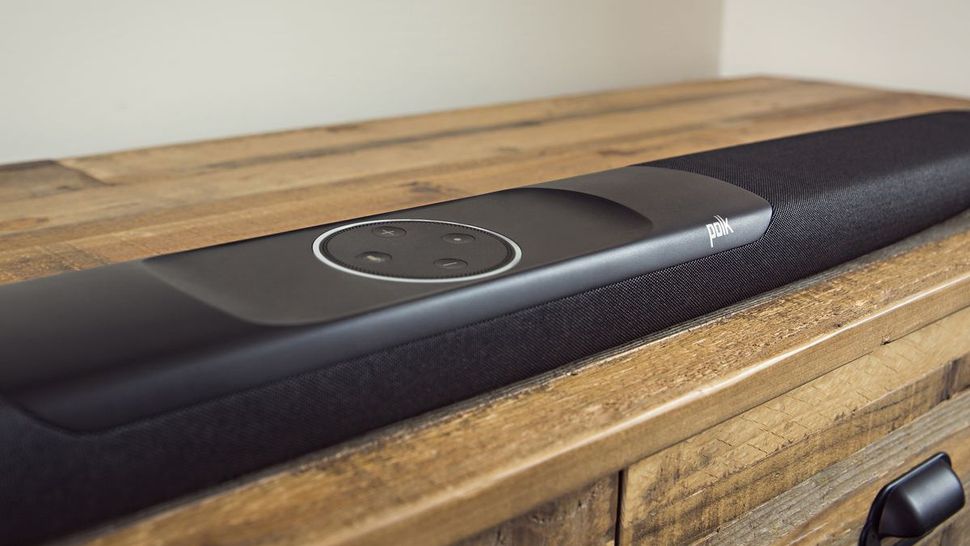 If $300 is your budget cap for a smart soundbar, then we highly recommend the Polk Audio Command Bar for any small or medium-sized living room.
As you might be able to tell based on the soundbar's design, the Command Bar comes with Alexa built right into it making it unquestionably smart. It even includes space for a Fire TV stick. It's also relatively inexpensive too, coming in at $250 (£249 / AU$649), and it comes with a subwoofer.
It has defined and powerful low end, some cool smart features, and looks pretty good, too. Even though the audio could be a touch stronger, we found the soundbar is more than capable of pumping out enough volume for immersive movie situations or even if you want to use it for parties.
Easy to set up, it may not be the newest of soundbars any more but it has some useful features that make it stand out from the rest.
Read more: Polk Audio Command Bar review

Image 1 of 3
Image 2 of 3
Image 3 of 3
LG's SP11RA cares about the little things in home cinema life. Its knack for bringing out every last detail in a complex movie mix is exceptional, helping it build an immersive, busy soundstage that makes most soundbars - and all built-in TV systems - sound puny and one-dimensional by comparison.
The SP11RA hits the right notes with its features, too. The Dolby Atmos and DTS:X sound formats are both supported - support which extends to four up-firing speakers, two in the main soundbar and one in each of the rears.
Particularly striking is how accurately the SP11RA places details in the seemingly effortlessly large soundstage it can create. If a sound is supposed to be coming from high and to the left, that's where it appears. If it's supposed to be coming from somewhere behind and above your right shoulder, that's where it appears. Details are also always beautifully clear and defined.
It's expensive but its exceptionally detailed sound and expansive soundstage adapts brilliantly for music as well as films. It looks great too, suiting a modern looking living room.
Read more: LG SP11RA review
The SP11RA is a global product - though strangely, at the time of writing it hasn't yet appeared in US stores or on LG's US website. It is widely available in other territories, though.
---
Image 1 of 5
Image 2 of 5
Image 3 of 5
Image 4 of 5
Image 5 of 5
There are many big, expensive Dolby Atmos soundbars to choose from, and plenty inexpensive, smaller soundbars for upgrading your TV. The Denon Home Sound Bar 550 sits somewhere in the middle, bringing you Dolby Atmos-style audio thrills in a smaller form factor.
It's a compact, well-specified soundbar whose looks are quite understated but its sound is anything but. Offering plenty of connectivity options, great (including hi-res audio ability and some processing wizardry to deliver a sense of spatial audio) and a genuine facility as a music speaker.
We found the sound the Denon serves up is tall and quite wide, which makes for an engrossing and entertaining listen. However, chance an arm where volume is concerned and things quickly get out of hand – the Home 550 quickly bares its teeth and can become quite aggressive.
Read more: Denon Home Sound Bar 550 review
---
Image 1 of 3
Image 2 of 3
Image 3 of 3
The Sony HT-A7000 may have a massive sticker price, but it promises a long shelf life thanks to its two HDMI 2.1 ports and support for all the major spatial audio formats.
At this price we wish it came with the surround and subwoofer units, but those with incredibly deep pockets can tack those on for a few hundred more.
What helps make the price tag feel a little more justified is the fact that the HT-A7000 comes with upfiring drivers for true Dolby Atmos, although we felt the height channels could be a little more convincing in our tests.
In terms of musicality, though, the HT-A7000 is a very talented soundbar, with excellent stereo imaging and a really room-filling sound - especially if you take advantage of its support for Sony's 360 Reality Audio.
Connectivity is very good, too. The soundbar supports HDMI obviously, but also 3.5mm auxiliary, Bluetooth audio, USB devices, Spotify, Chromecast, Amazon Alexa and 360 Reality Audio via Deezer, Tidal and Amazon Music. It's a very wide selection of sources, and allows you to have some flexibility in terms of what you want to connect.
Read more: Sony HT-A7000 Dolby Atmos soundbar review
Why should I buy a soundbar?
If you love the slim aesthetic of your new 4K TV, we can bet it doesn't have the audio needed to match the visuals. That means picking the best soundbar to go with your TV is your best option to get the most out of your favorite TV shows and films.
The best soundbars of 2022 are built to be just as pleasing to the eye as they are to the ear. Most of them are sleek, minimal and designed to sit flush against a wall or home cinema set-up. They're also a good solution for smaller homes and rooms with little space that wouldn't be able to squeeze a 7.1 channel speaker system in.
The majority of the soundbars on this list are made to sit in front of your screen, but they can also be wall-mounted above or to the side of it as well, depending on how your room is laid out. This provides you with ultimate choice as to how your home entertainment set-up looks.
Despite most of the soundbars on this list only featuring front-facing speakers, many are able to confidently project sound in a way that makes it seem as though there's booming audio coming from every direction.
If you're looking for an alternative solution to a soundbar, check out the Sony HT-A9 Home Theater System. It comprises four speakers that communicate with each other wirelessly via a tiny box that's slightly larger than an Apple TV, working together to create a further 12 "phantom" Dolby Atmos speakers.
If you have an iPhone or an iPad, you should also take a look at our guide to the best AirPlay speakers. These allow you to stream music directly from your devices to your speaker. That means room-filling sound from your phone without the need for a more complex entertainment set-up. Some are small and portable, but plenty of soundbars come with AirPlay integration baked in too.
Soundbar FAQs
Are soundbars worth it?
Absolutely. Even if you don't consider yourself a hardcore cinephile, the best soundbars make a world of difference to your TV watching experience – built-in TV speakers just don't do your favorite films, TV shows, and games justice.
How much should I spend on a soundbar?
It really depends on what you're looking for. If you want the very best soundbar technology has to offer, you might be looking at prices of $800 / £800 / AU$1,000 and upwards. However, there are lots of fantastic budget soundbars on the market, with some costing less than $100 / £100 / AU$150. Just bear in mind that you generally get what you pay for, and these budget models probably won't come with premium features like Dolby Atmos, included rear speakers, and hi-res audio support.
What is the best cheap soundbar?
The Sony HT-X8500 is a high-quality soundbar that delivers excellent sound at an affordable price – and by affordable we mean below $300 / £300. There are cheaper options, though, especially if you're looking for a small soundbar for your computer. Check out the Razer Leviathan if you need a decent budget gaming soundbar.
Where should I put a soundbar?
You generally have two options when it comes to soundbar placement: wall-mounting it, or placing in below your TV on your TV cabinet. If your soundbar is quite tall, wall-mounting may be the best option, as it could obscure the IR receiver on your TV, rendering your remote control useless.
Soundbar deals