Take the best photo of tonight's Blue Moon supermoon with your smartphone
Grab your Galaxy and look to the sky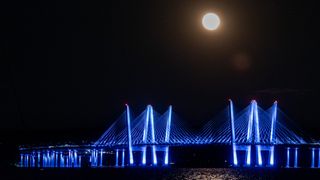 (Image credit: Future / Philip Berne)
The Blue Moon supermoon is happening tonight, and you know you want a great photo of this rare event. Can you really take a full moon photo with your smartphone? Absolutely, and here is how you do it.
When the web was buzzing months ago with concern that the Galaxy S23 Ultra might be faking its moon photos, I started to wonder just how good a smartphone photo of the moon could really be. After months of trying, I got my shot, and if you're interested in shooting the moon – and especially in taking a photo of the rare August Blue Moon Supermoon happening tonight, August 30, – these tips will help.
The moon is not an easy subject. It isn't always available. It dresses too bright and flashy for the occasion. It keeps its distance, and none of the lenses you have are really capable of revealing its beauty. The moon is a harsh mistress, as Robert Heinlein said, so here's how you make it look its best.
Planning a moon photo
Anyone can point a camera at the moon and take a photo, but a really good moon photo has another subject in the frame. Since I live near New York City, I decided on two possible options. The first was the former Tappan Zee Bridge, now the Mario Cuomo Bridge. The second was the Statue of Liberty.
Find your spot with PhotoPills
If you want to frame the moon with another subject, you'll need a lot of help. You'll need to position yourself just right to catch the moon in a good spot. Also, the moon moves faster than you'd expect, so if you're not standing in the right spot at the right moment, you could miss your shot entirely.
How do you find the right spot at the right moment? Download an app called PhotoPills. It's a bit clunky and complicated, but it can tell you exactly where you need to stand in order to line up the perfect shot. You choose a specific date (or Google the next full moon), then place a pin on a map, and it shows you a line that follows the moon as it rises and sets. Then, it's just a matter of finding the right place to stand and set up your camera.
The weather is your biggest enemy
Weather will be your primary concern. I started planning this article in March, and I've tried to shoot every full moon since then. The first three were covered in clouds for days before and after, so I couldn't even come close. The June full moon rose very late, close to midnight, and the moonrise didn't fit my parenting schedule. July was a month of smoke from wildfires, obscuring the moon; but then came August.
The next full moon is a Blue Moon supermoon!
The first full moon this August is not only the so-called Sturgeon moon, it's also a supermoon. This is when the moon is closest to Earth. The full moon is just a bit bigger and brighter, though you'd need scientific instruments to really notice (it technically looks only 8% larger).
The second full moon this month, on August 30, 2023, is even more interesting. It's a Blue Moon, which is the second full moon in a single month, or the fourth full moon in a single season. It won't actually be blue, sadly, but if you get a good shot you can say it's a photo that only happens once in a… well, you get it.
Gear I used
For my test, I used my Apple iPhone 14 Pro, my Samsung Galaxy S23 Ultra, and my Nikon D750 with a 200-400mm lens. Guess which device got the best picture? It's not the Nikon.
That was partly my fault, because I don't have a lot of experience with moon photos. The Nikon took a great photo of my bridge subject, but overexposed the moon. I could have taken a better shot if I'd used proper filters and raised the shutter speed. The Galaxy S23 Ultra, however, handled those adjustments for me.
An iPhone, a Galaxy, and a Nikon camera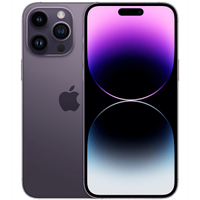 Apple iPhone 14 Pro; 3x zoom: 12MP
While Apple's iPhone cameras have always been at the top of the pack, the iPhone has never reached for the telephoto crown. The iPhone 14 Pro got a megapixel upgrade on the main camera, but the 3x telephoto lens uses a 12MP sensor instead, so that's where our moon will develop.
Read our in-depth Apple iPhone 14 Pro review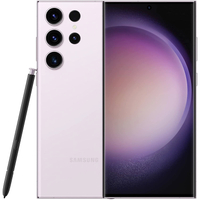 Samsung Galaxy S23 Ultra; 10x zoom: 10MP
Samsung uses a cool periscopic mirror and lens system to manage real 10x optical zoom in a smartphone, the longest you can get on a mobile device today. That lens is paired with a 10MP sensor, and it's almost the same exact size as the 12MP sensor on the iPhone 14 Pro, so the comparison is even.
Read our in-depth Galaxy S23 Ultra review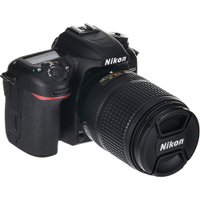 Nikon D750; 12X zoom: 24.3MP
As a control sample, I used my trusty Nikon D750 full-frame DSLR, along with an older 200-400mm zoom lens, the longest lens I own. Ideally, I'd have borrowed a 600mm lens and I'd be a better DSLR photographer, but mobile is really my game. Oh well, there's always the next full moon!
Read our in-depth Nikon D750 review
Helpful accessories no matter what you're shooting
I mounted the camera and the phones on a tripod using a Moment magnetic tripod mount. The iPhone was in a Moment case with a drop-in lens mount. The Galaxy S23 Ultra was in a Mous Limitless 5.0 magsafe magnetic case.
Next time I take astrophotos I'll use a proper clamp for my tripod and not a magnet. There was enough wind to shake the cameras as they were mounted on with the magsafe adapter. Even though these Magsafe adapters are strong enough to hold your phone to a mountain bike while riding down a hill, when you zoom in on a celestial object, even the tiniest shake is noticeable.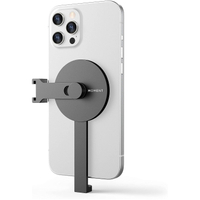 Moment Pro Tripod Mount for MagSafe: $62.99 at Amazon
This magnetic mount has a strong grip to hold your phone securely to any standard tripod. There's even a separate arm to hold a flash or other accessory as a 'cold shoe' adapter. While it wasn't quite strong enough for astrophotography in a strong wind, the magnet won't let your phone fall to the ground, that's for sure.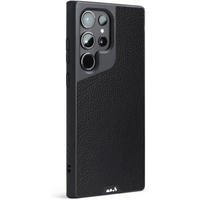 Mous Limitless 5.0 for Galaxy S23 Ultra: $69.99 at Amazon
Mous cases are tough and durable, and the Limitless 5.0 case even includes magnets built in that make your Galaxy S23 Ultra compatible with many (if not all) of Apple's Magsafe accessories. Besides easier wireless charging, this also means you can clip your phone to a magnetic tripod mount for stable moon photos.
In the UK? Find it for £53.90 at Amazon
Extra zoom lens for the iPhone 14 Pro
To shoot the moon with a DSLR camera, you ideally want a 600mm lens or longer. The 10x lens on the Samsung Galaxy S23 Ultra is comparable to a 230mm zoom lens, and the 3x lens on the iPhone 14 Pro is closer to a 77mm equivalent lens.
Because there was no way the iPhone 14 Pro's paltry 3x zoom would ever reveal details on the moon, I also added a Moment 58mm lens adapter sent by Moment for the purpose of this article. That gives me an extra 2x zoom through nice glass, which makes the iPhone's 3x more like a 6x zoom or better, comparable to a 154mm lens. It still wasn't enough to match what the Galaxy S23 Ultra could do without any adapter, though.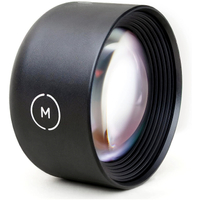 Moment 58mm attachment lens: $109.99 at Amazon
Moment makes an entire system to improve your smartphone photography, and the lens attachments are key. There are macro, fisheye, and other lens options, but for shooting distant objects, Moment sent along this 58mm lens, which effectively doubles the 3x zoom range on my iPhone 14 Pro to 6x.
Which phone took the best moon photo?
I have two shots to share with you from each phone. The first is the overall scene of the moon over the Tappan Zee bridge. The second is the close-up shot of the moon itself.
The Samsung Galaxy S23 Ultra was by far the better camera phone for taking photos of the moon, whether close up or as a landscape image. Its ultra-zoom feature is tuned to handle the moon specifically, with or without scene optimization. I was equally impressed by its Night mode, which balanced the overall scene even better than I'd hoped.
My photo taken with the Nikon D750 wasn't great, and it was my fault, but I've used that image as the title image to this story, above.
The moon shot with an Apple iPhone 14 Pro
Image 1 of 2
This is the best I could get with maximum zoom and a 58mm Moment lens attachment. Craters and shadows are visible, but this isn't a moon shot worth printing
This photo of the bridge looks very good, but the moon is overexposed, and no details are visible
The moon shot with a Samsung Galaxy S23 Ultra
Image 1 of 2
The image isn't sharp, but you can see much more detail and individual craters on this photo compared to the iPhone 14 Pro shot. The Galaxy also correctly balanced the color, showing the orange hue that was present that night
With Night mode enabled, the Galaxy did a remarkable job of balancing the incredibly bright supermoon and the dark bridge below. It managed to keep the exposure on the moon low enough to reveal details, while keeping the bridge nicely lit
Does the Galaxy S23 Ultra fake it?
No! I am 99% certain that the Galaxy S23 Ultra did not fake the above moon close-up in any unusual way, for example by adding details using generative AI or image recognition. While I was framing my shot, a plane flew across the face of the moon. I was not able to hit the shutter in time, but I saw the plane very clearly in the camera app live view.
If the Samsung camera were faking the shot, it wouldn't be able to draw a plane flying across in real time. There is no way a smartphone can recognize an image, download the superimposed data to fake the shot, and then render the plane over the 'fake' moon in real time. If the Galaxy S23 Ultra were faking the moon photos using the method assumed, then the plane would have simply been ignored as more grain or blur. I would have only seen the moon on-screen.
How much better is the Galaxy S23 Ultra than every other phone? You can see the sample images, but while I was taking my shots, everyone who passed by asked what phone I was using and marveled over the quality. People were amazed. They were all iPhone users, every one.
The best camera settings and apps to use
Even though you're shooting at night, the moon is the brightest thing in the sky, by far. If you point your camera phone directly at the moon and take the photo, it will be overexposed, and you'll just see a white blob. You need to reduce the exposure to capture details.
On a real camera, you could speed up the shutter to around 1/250 of a second and narrow the aperture of the lens to reduce the light coming in, but aperture is the only thing you can't control on a smartphone. Instead, you need to lower exposure levels either via an overall exposure setting, or by adjusting the shutter speed.
On the stock iPhone camera app, there is no way to handle this. Instead, I used the Moment camera app that Moment develops to work with its lenses. I also tried using the Hallide camera app, which I've enjoyed. I avoided apps that specialized in night photography or long exposure photos.
On the Galaxy S23 Ultra, the camera is ready for the moon. If you have Scene Optimizers turned on in the Settings menu, the camera will add some details that may not actually be visible. I turned this off, however, and the camera still recognized the moon and tried hard to take the best shot. That means it lowered the exposure significantly and turned on digital stabilization to hold the moon steady and in frame.
Check out our list of the best phones you can buy, featuring both the iPhone 14 Pro and the Galaxy S23 Ultra
Read up on the best camera phones around, according to our expert testing
Get daily insight, inspiration and deals in your inbox
Get the hottest deals available in your inbox plus news, reviews, opinion, analysis and more from the TechRadar team.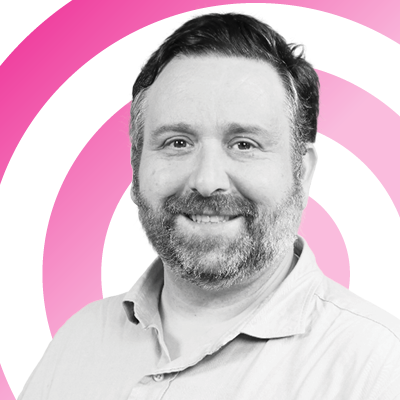 Phil Berne is a preeminent voice in consumer electronics reviews, having reviewed his first device (the Sony D-EJ01 Discman) more than 20 years ago for eTown.com. He has been writing about phones and mobile technology, since before the iPhone, for a variety of sites including PCMag, infoSync, PhoneScoop, and Slashgear. He holds an M.A. in Cultural Theory from Carnegie Mellon University.
Phil was the internal reviewer for Samsung Mobile, writing opinions and review predictions about top secret new devices months before launch. He left in 2017. He worked at an Apple Store near Boston, MA, at the height of iPod popularity. He has been a High School English teacher at Title I schools, and is a certified Lifeguard. His passion is smartphones and wearables, and he is sure that the next big thing will be phones we wear on our faces.