The iPhone 15 Pro has big video camera upgrades – if you know how to use them
Olivia Rodrigo video shows it's now a genuinely 'pro' video camera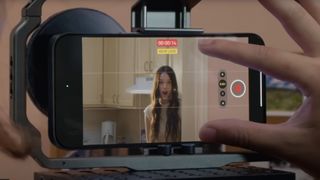 (Image credit: Apple)
Apple has repeated its traditional 'shot on iPhone' trick by using the iPhone 15 Pro to shoot the whole of Olivia Rodrigo's new music video (below). And the three big upgrades behind that video's professional sheen show that Apple's flagship phones are becoming genuinely 'Pro' video cameras – if you know how to use them.
Beyond the headline arrival of a 5x optical zoom, the iPhone 15 Pro Max's main camera upgrades were aimed at advanced video shooters. One of those is the ability to shoot video in Apple's new 'Log' (short for logarithmic) color profile – as shown by Olivia Rodrigo's new video, which was shot in a new Pro Res 4K Log format.
Like the best video cameras, Log lets you shoot 'flat' footage – a bit like film negatives – which preserves a wide dynamic range and gives you much more color-grading flexibility in post-production apps like Final Cut Pro.
The idea of shooting in a Log profile on iPhones isn't brand new – it's been (kind of) possible using apps like Filmic Pro. But these apps haven't offered true Log profiles, as they've effectively desaturated an image that's already been compressed by your iPhone. Apple's new Log profile for the iPhone 15 Pro and 15 Pro Max promises to instead draw all of that information directly from the sensor.
This helps explain the professional look of Olivia Rodrigo's new 'get him back!' music video, which lacks the noticeable hallmarks of a typical iPhone video. While Apple's video processing is pretty good for a phone, it often looks crunchy or oversharpened – compared to dedicated video cameras at least.
Of course, pro editors have also worked their magic on that final music video (a disclaimer states "additional hardware and software used, edited on a Mac"). But iPhone 15 Pro owners at least know they'll get a much more malleable, higher-quality image from their phone – as long as they know how to edit it.
The second big upgrade that lets filmmakers shoot for longer periods, rather than just short clips, is the arrival of that USB-3 port. While the iPhone 15 is left stranded on ancient USB 2.0 speeds, the iPhone 15 Pro and Pro Max can now transfer files to a Mac or directly to external storage at a speedy 10 gigabits per second.
You can see this in action in the behind-the-scenes montage of Olivia Rodrigo's music video (above), where an external drive is plugged directly into the iPhone 15 Pro. Alongside the arrival of Log shooting, that really does unlock Apple's new flagships as video tools that are worthy of their 'Pro' name.
Related to this is the arrival of that third video boost on the new Pro series; improved ProRes recording. Apple ProRes, an industry standard video format commonly used in the best video editing apps, had already arrived in the iPhone 13 Pro two years ago. But the files are massive and it was a pain to actually get them off your iPhone and into an editor.
On Apple's new flagships, you can now not only record the video straight to an external SSD drive, but also in 4K/60p ProRes with HDR (the previous limit was 4K/30p). That's again impressive for a smartphone, as is the iPhone 15 Pro's new support for ACES (or the Academy Color Encoding System), a video standard developed by the group behind the Oscars.
A more practical 'Pro' video camera
These new features clearly aren't aimed at 'point and shoot' creators – and the behind-the-scenes clips of Olivia Rodrigo's music video show that it's definitely helpful to have professional cages, lights, computer-controlled rigs and tripods (not to mention elite video editing skills) to get the kind of final result you can see above.
But if you do want to use an iPhone 15 Pro or Pro Max as either a filmmaking sidekick or part of a production alongside mirrorless or video cameras, they're now far more practical tools for those scenarios. And it seems Apple is now focusing on these features, rather than amateur-friendly ones like Cinematic Mode (a computational trick that again wasn't mentioned during the iPhone 15 launch).
The ability to shoot in a proper Log profile means color-matching an iPhone's footage with dedicated cameras should now be much easier. Direct recording to an external SSD will (battery permitting) also let filmmakers quickly offload footage without having to worry about filling up internal storage or spending hours wireless transferring video files.
Of course, the iPhone 15 Pro's actual video quality will still lag behind professional video cameras. After all, it can't beat the physics of tiny sensors and lenses. But as Olivia Rodrigo's new video shows, it will be able to hold its own on the big screen and more closely match the color of 'proper' cameras – and that's another pretty impressive step forward for a phone.
You might also like
Sign up to receive daily breaking news, reviews, opinion, analysis, deals and more from the world of tech.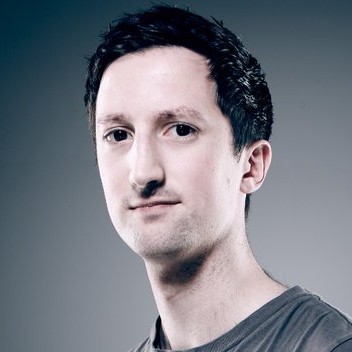 Mark is TechRadar's Senior news editor. Having worked in tech journalism for a ludicrous 17 years, Mark is now attempting to break the world record for the number of camera bags hoarded by one person. He was previously Cameras Editor at Trusted Reviews, Acting editor on Stuff.tv, as well as Features editor and Reviews editor on Stuff magazine. As a freelancer, he's contributed to titles including The Sunday Times, FourFourTwo and Arena. And in a former life, he also won The Daily Telegraph's Young Sportswriter of the Year. But that was before he discovered the strange joys of getting up at 4am for a photo shoot in London's Square Mile.