My main method of watching movies, TV series, and most everything else for many years has been a projector with a 100-inch screen. Before that, I "made do" with a 65-inch 4K TV and was fully content. But after I upgraded to the projector and 100-inch screen combination, I became spoiled for life on the idea of cinema-size images at home.
The best 4K TVs now come in screen sizes that were once unthinkable. For instance, you can buy an LG G2 OLED TV with a 97-inch screen that basically closes the gap between the projection experience, where 100 inches is a typical screen size, and the flat-panel TV experience.
The reason I bring all this up is that I recently returned the LG C3 OLED TV after reviewing it. In most situations when reviewing a TV, I complete my testing and evaluation as quickly as possible and then get it out of the way so I can resume watching with a projector. This time was different, though. I left the C3 in place during the full 8 weeks I had with it, letting my projector gather dust during that time.
One impetus for leaving the LG OLED in place was that it looked better than any other TV I've yet had in my possession. In my pre-projector days, both OLED and LED-backlit TVs were considerably dimmer than they are now, but the C3 can hit 830 nits in its picture-perfect Filmmaker mode, which is bright enough even for daytime viewing. Viewed in dim lighting, the C3's punchy brightness, combined with the deep, detailed shadows and rich color that OLED uniquely delivers made for an incredibly dynamic picture, one that far outperforms what you get with the vast majority of projectors.
Another reason for the C3's extended stay in my viewing room was I wanted to see if I could go back to viewing with a 65-inch TV and be happy. The answer was no, I could not. As good as LG's OLED looked, I missed the sense of visual immersion my 100-inch screen provided, which engages me in a way the smaller screen failed to. The result was I ended up having limited enthusiasm for watching movies, and would instead do other things like reading books (probably a good thing, come to think of it).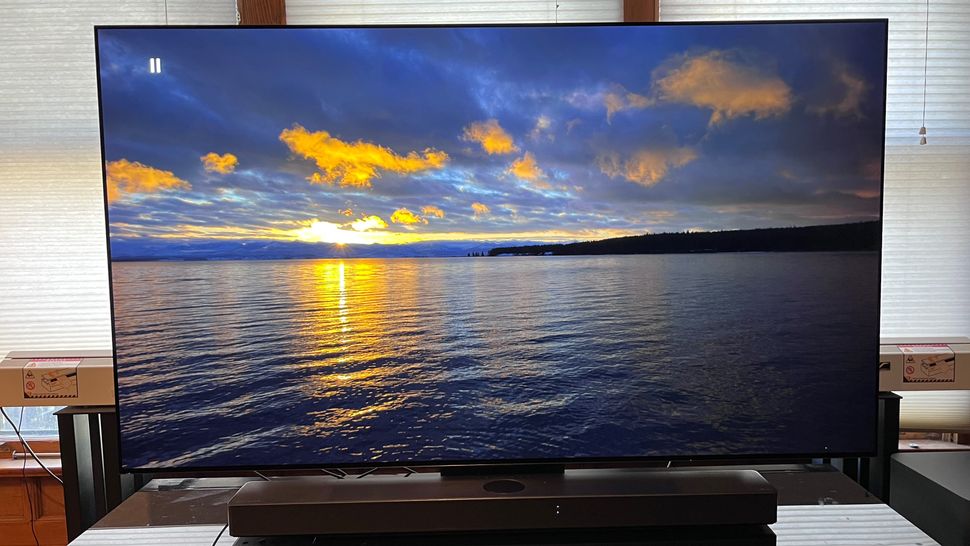 Supersize me
Ultimately, the C3 OLED's problem was that its screen was only 65 inches. Yes, LG does offer the same model in an 83-inch screen size, but I'm afraid that even an 83-inch TV wouldn't be large enough to satisfy my movie watching needs – something my experiment proved out.
An 83-inch LG C3 OLED TV costs: $5,299 / £6,499 / around AU$7,900. But at that price, you could buy one of the best 4K projectors like the Epson Home Cinema LS12000 and still have money left over to put towards a 100-inch projection screen.
I'd instead hold out for LG's 97-inch G2 OLED, which is priced at $25,000 in the US. LG also has a wireless 97-inch OLED in the works, but that model won't be available until late 2024 and will presumably be priced higher than the already very expensive 97-inch G2 due to its included wireless tech.
The truth is, there's no way I would spend $25,000 on an OLED TV even if I had that money to burn. For considerably less, I could instead buy a high-end laser projector such as the JVC DLA-NZ8, an 8K-capable model with a reference-quality picture that other consumer-grade projectors could only aspire to deliver.
The DLA-NZ8's 2,500 lumens peak brightness is plenty for the dim environment I prefer to view in, and, unlike many other projectors, it's adept at handling high dynamic range programs, with features such as Frame Adapt HDR and Theatre Optimiser performing HDR tone mapping on a dynamic, frame-by-frame basis as well as customizing output for your projection screen's size and gain.
I've seen the DLA-NZ8 in action a few times and it's never failed to impress. I even once caught a demo of JVC's projector displaying an actual 8K video source pumped out by a PC-based server. It was a jaw-dropping moment that convinced me of the viability of 8K. With the exception of YouTube, 8K video sources are still few and far between, but 8K gaming is becoming an option and will likely end up being the more common use for the format.
In some ways, I was hoping that the experience of living with a 65-inch TV would work out for me. About six months back, I decided to pack away my A/V receiver and surround sound speaker system and instead rely on soundbars for home theater audio. I was dubious about that experiment as well, but have since learned that the best Dolby Atmos soundbar systems are extremely powerful, and do in fact provide a good-enough alternative to a more conventional, hardware-heavy audio setup. I've come to love the idea of minimizing the presence of gear in my living space, and soundbars successfully serve that goal on the audio front.
Unfortunately, the same can't be said for video. I clearly need an oversized image for movie-watching, and until the day arrives when I can buy an affordable OLED TV in the 100-inch range, I'm going to stick with projectors. Sure, I'll miss the bright highlights and rich shadow detail that the best OLED TVs deliver, but for me, the visual immersion projectors provide is the attribute that most effectively brings the movie magic.