A solid set of headphones or a booming Bluetooth speaker is as key to enjoying media on your laptop, tablet or smartphone as the power supply. Without them, you might as well not even try. At least that's how you'll feel looking back, after you pick up the portable audio upgrade that you (and your media) deserve.
As far as headphones are concerned, our choices suit any type of student. Whether you hang out in the library or the gym most of the time, these can be your all-day music companions. Each is a standout in its respective sub-category in terms of sound performance, comfort and features built into the headphones.
If you're in need of a Bluetooth speaker, the options we've tested are an awesome value. Whether you're looking for a waterproof, travel-friendly option with incredible battery life, or a stationary powerhouse speaker to fill the room with sound, we've got you covered.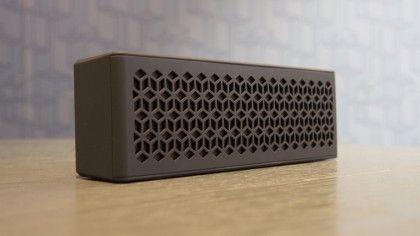 Creative Muvo Mini
A capable, weatherproof speaker with style
The Creative Muvo Mini is perfectly suited to those looking for a feature-packed Bluetooth speaker that's small enough to fit in a backpack, but capable enough to churn out your tunes with surprisingly full fidelity.
It's icing on the cake that this option is also weatherproof, meaning that it's tough enough to hold its own against a tumble or nasty weather during weekend picnics, outdoor study sessions or some pick-up streetball. Oh, and did we mention that it only costs $59 (£39, about AU$79)?
Read the full review: Creative Muvo Mini
Sennheiser Momentum In-Ear
Fully-featured, powerful in-ear headphones
Sennheiser's Momentum In-Ear offers upper-tier quality, both in build and performance, for the very digestible price of $99 (£89, AU169). The bass response and overall sound is vast, full and satisfying for the low cost.
Their noise-isolating seal makes them great for studying. Not just that, they are a good workout companion, thanks to inline controls. These lets you change songs, volume or answer calls without having to yank your phone out.
Read the full review: Sennheiser Momentum In-Ear
Skullcandy Grind
Punchy headphones for a tiny price
These on-ear headphones totally nail the blend of design, useful features and incredible sound. Whereas most headphones of this style typically cost more than 100 bucks, these knock the competition out of the way for just $59 (£39, AU$79).
A few qualities makes these special: the street-savvy style, premium comfort and, last but not least, the TapTech multi-function button and microphone built right into the earcup. All together, the Grind make for a smart buy for students.
Read the full review: Skullcandy Grind
Fluance Fi30
Music to your ears and wallet
For some, the small, portable Bluetooth speakers just don't pack enough power. If that's you, it's time you heard about the Fluance Fi30. At $149 (about £137, AU$192), this monster-sized Bluetooth speaker offers a tremendous amount of "oomph" for your dollar.
While it requires a plug to operate, you'll understand why once you power it on. Battery-powered options just can't compare to the power packed into the Fi30. Its wooden build and smooth design top the offering from this amazing value for students.
Read the full review: Fluance Fi30
Jabra Move Wireless
Sporty wireless headphones packed with surprises
Jabra's Move Wireless wireless headphones offer confident design, flawless Bluetooth connectivity, long-performing battery life and surprisingly killer sound quality for a $99 (£79, AU$126) price tag.
You'll often find it for cheaper than that, but whatever price you nab it at, you'll be treated to a set of lightweight Bluetooth headphones that are a joy to wear and listen to. Lastly, their minimalistic style makes them an accessory that works well no matter your style.
Read the full review: Jabra Move Wireless