Lost and Henry are just the tip of the iceberg for Story Studio. Before Rift's 2016 release five films are slated to be ready for viewing on the new device.
Not much is known of Oculus' upcoming titles, other than their announcement at Sundance and a few details spilled by members of the creative team. The most divergent film is an action-heavy story called Bullfighter that places viewers square in the crosshairs of a furious and presumably charging bull.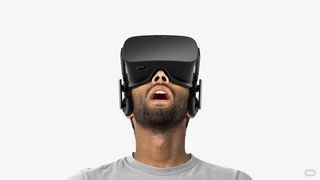 Another interesting title announced was Dear Angelica, helmed by Lost director Unseld. It's premise is described as "how would it feel if we could be inside of an illustration?" which sounds extremely intriguing, to say the least.
Despite not having much knowledge of the announced titles, if Lost and Henry are any indication, Oculus Story Studio will continue to push the envelope of cinema and escort us into the next step of film evolution.
Going to the movies
When the consumer version of the Oculus Rift hits the shelves early next year, you'll be ready to test drive these new film experiences. The Oculus Cinema app, currently available on Gear VR, allows you to walk around a virtual theater, choose a seat and watch both 2D and 3D films in your viewer.
If you're like most people, the idea of sitting in an empty theater is nice, but a bit lonesome. Thankfully, with the release of the Rift, Oculus will bring multiplayer into the mix, making it feel like heading to movies with your friends (but without the overpriced ticket and small child kicking the back of your seat.)
"We already have a lot of internal social functions in Cinema that are going to be rolling out in the next few months," Oculus creator Palmer Luckey told Road to VR, "Things like avatar systems, being able to communicate with people over long distances… rather than just local multiplayer, but having actual long distant multiplayer as well."
The future of virtual film
Regardless of pre-notions on different mediums of film, it's hard to say that Oculus' strides in VR cinema aren't absolutely exhilarating.
Although I'm a firm believer that traditional 2D film will never go out of vogue, the evolution of VR film and the character interaction it promises is something of a brand new front, making storytelling feel fresh again.
Not all film should be applied to the virtual world, of course. As the movement and technology grows, I sincerely hope it won't meet a similar fate as 3D films - where every new movie spat out of Hollywood is retrofitted to a format it wasn't made for.
However, for the films made with VR in mind, this new frontier promises to take us on a cinematic ride unlike any other, and it will be exciting to see where it goes.