The best smart home tech of CES 2023: fresh ideas from Samsung, LG and more
Our favorite smart home tech of CES 2023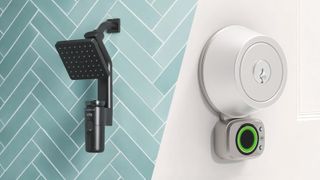 (Image credit: Kohler / Lockly)
The smart home has been one of the biggest themes of CES over the past decade – and that's been the case again at CES 2023. Why? A big reason is because a new standard called Matter has finally arrived – and it promises to be the glue that binds all of our new smart home tech together.
Now that CES 2023 is in full swing, we've rounded up all of the latest smart home announcements that are worth knowing about here. The headlines include some exciting new smart light automation from Nanoleaf, an AI Oven from Samsung and an LG Artcool air conditioning system that's disguised as, you guessed it, a piece of wall art.
Those are just the start of the home tech goodies we've seen at the world's biggest tech. Elsewhere, we've seen impressive robot vacuums like the new Roborock S8 series, plus a smart stand mixer called the GE Profile. Naturally, there have been some more unusual innovations too, like a new aromatherapy 'shower pod' system from Kohler.
Looking to spruce up your home with some tech this year? Here's our pick of the CES 2023's best smart home offerings.
Smart appliances
Samsung Bespoke AI Oven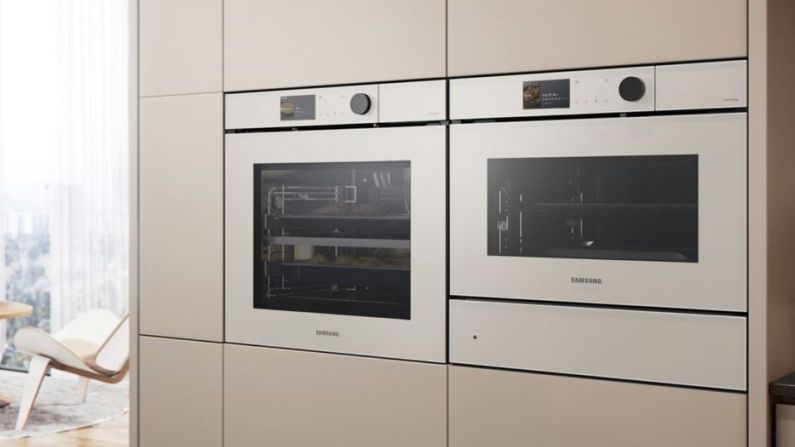 If there's one area where we need some help from our new AI overlords, it's with cooking – and Samsung's new Bespoke AI Oven is promising to be that virtual chef. The oven's smart camera is capable of food recognition and burn detection, which means it can recognize up to 80 different dishes and recommend cooking settings for each of them. Alternatively, the European model can also send you panicked message to say that your lasagne is approaching charred territory.
If you use Samsung Health or SmartThings Cooking (which lives in the SmartThings app), this new smart oven also promises to recommend meals based on your workout stats, diet goals and the ingredients you have at home. Although it could struggle with our fridge's current stash of beer, double cream and onions. The Bespoke AI Oven is currently available in Europe and will launch in North America in the third quarter of 2023, although pricing isn't yet known.
Samsung Bespoke 4-Door Flex Refrigerator
Image 1 of 2
The internet fridge has been a CES staple for the past 15 years and Samsung's just taken the concept to a new, and strangely compelling, extreme. The Bespoke Flex Refrigerator with Family Hub features a 32-inch vertical touchscreen, which is twice as large as previous models.
You can use this screen to view or shares snaps your Google Photos library, control your SmartThings devices and make digital shopping lists for Amazon deliveries. Naturally, you can also use it to watch TV thanks to the 190 free channels (in the US) found in the Samsung TV Plus service. Although the vertical orientation is perhaps best suited to TikTok videos.
This refrigerator-to-rule-them-all will launch in North America in the first half of 2023, although we sadly don't yet know pricing. Until then, we'll have to make do with taping an iPad to our fridge.
LG ArtCool Gallery air conditioner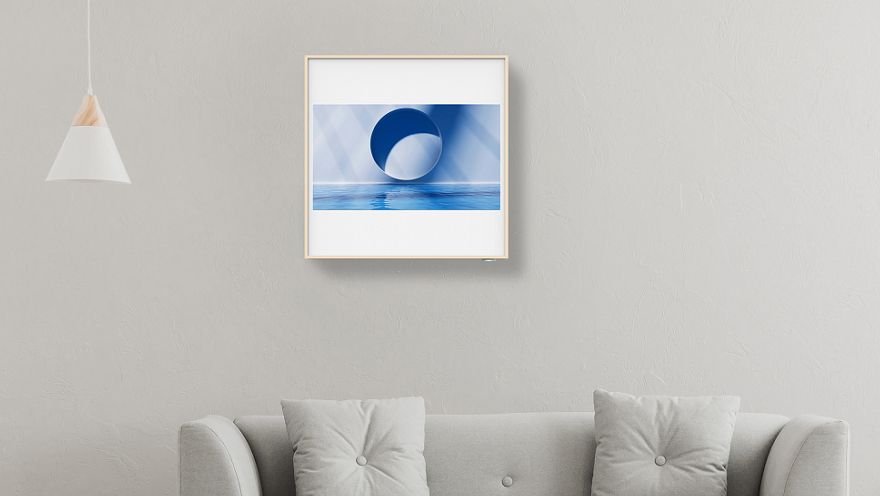 We've already seen IKEA and Sonos build a speaker into a piece of wall art, and now LG has pulled the same trick with a wall-mounted air conditioner. Its new ArtCool Gallery has a 27-inch LCD screen, which can display any photos you pick in the accompanying LG ThinQ app. That certainly makes it a bit more attractive than your average metallic rectangle.
While this extra tech will likely make the ArtCool Gallery pricier than your average air con unit (pricing isn't yet known), it does promise to deliver some compensatory savings thanks to a dual invertor compressor, which apparently uses up to 70 per cent less power than standard AC products.
Even more importantly for your sleep, it also operates at noise levels as low as 20 decibels. Which is good news, otherwise you'd likely end up hurling a tea cup at your new humming painting.
Kohler Sprig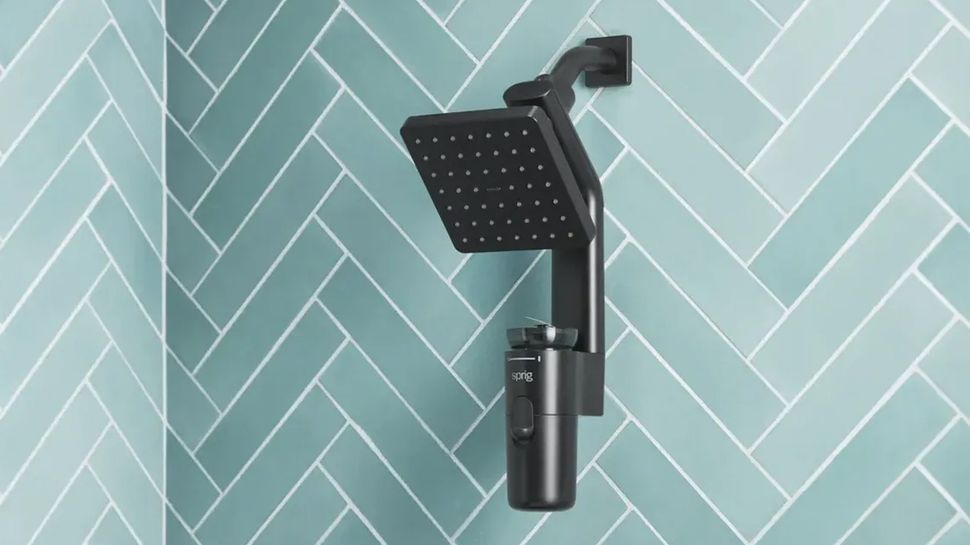 In the future, we won't just be buying pods for our coffee machines – if Kohler has its way, we'll also be picking them up for its Kohler Sprig system, which brings aromatherapy to your existing shower.
The Sprig connects to your showerhead and infuses the water with scents, oils and other skin-boosting ingredients via Kohler's Sprig Shower Pods. And yes, only Kohler's pods, which will initially be available in six different scents, will work with the system.
Still, if you fancy a blast of lavender, chamomile or eucalyptus (alongside other skin-friendly ingredients like hyaluronic acid) in your morning shower, the Sprig could be one to look out for when it hits shelves in the first few months of 2023. The system will cost $119, not including the pods, which will set you back $21 for a six-pack of single-use pods.
Withings U-Scan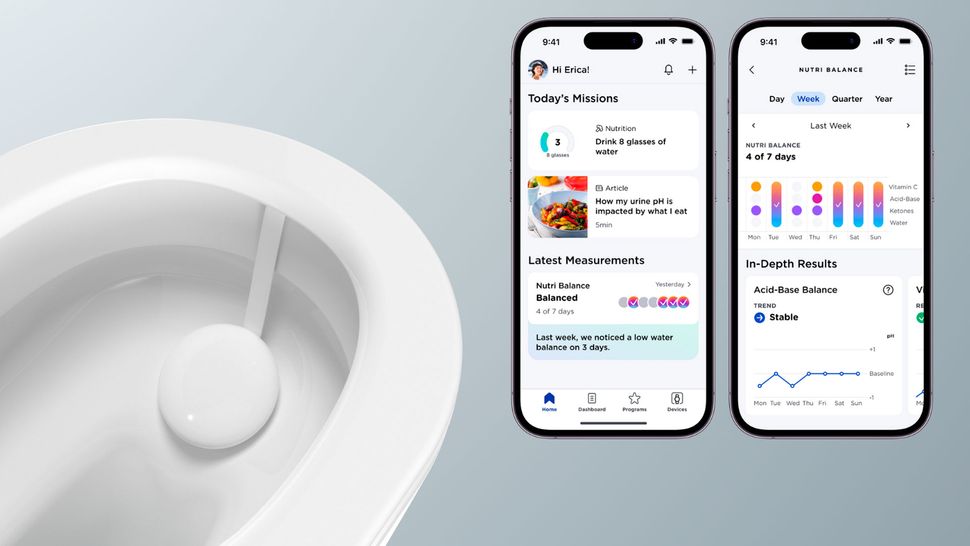 Automated urine analysis might not be quite as alluring as some new Nanoleaf lights, but it's a lot more useful for health-tracking. The Withings U-Scan is a puck-like sensor that attaches to your toilet and can analyze your pee for its nutritional balance, thanks to its ability to read PH, carbohydrate and vitamin C levels. It can also be used for female cycle-tracking, too.
If you share a home with someone, fear not – thanks to a thermal sensor, it can apparently automatically detect when someone is using and even identify 'stream signatures' using a low-energy radar sensor. All of this toilet tech doesn't come cheap, with the U-Scan starting at $499.95 (around £410 or AU$730, although pricing for the UK and Australia has yet to be confirmed). You'll also need to pay a $30-a-month subscription.
Still, if the idea of home urine analysis is up your smart home street, the U-Scan should arrive in the second quarter of this year in Europe, and will ship in the US once it's received the FDA approval that Withings has applied for.
Eve MotionBlinds Upgrade Kit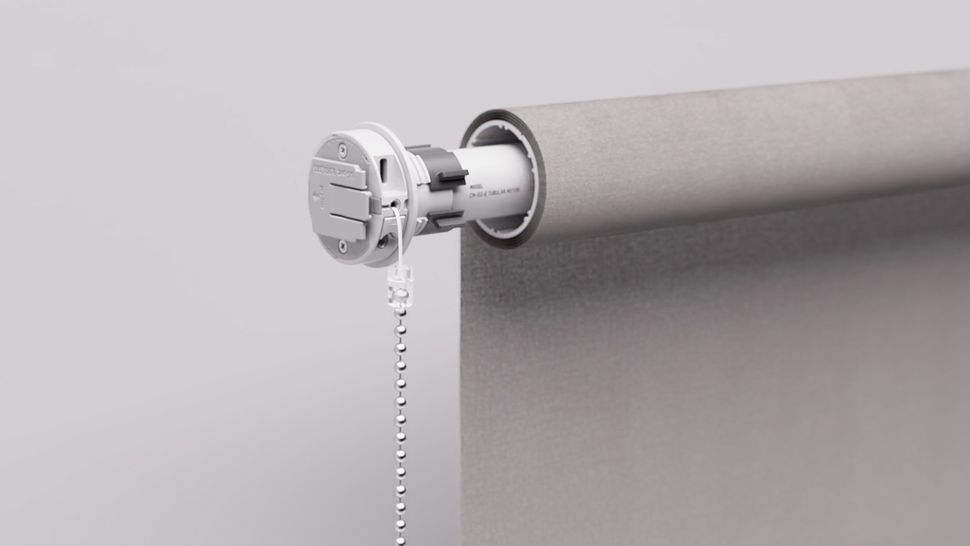 Ever wish that your old roller blinds were a bit more smart? Well, Eve's new MotionBlinds Upgrade kit is promising to get them connected to your smart home setup without the need to splash out on some new voice-controlled window covers.
The kit includes everything you need to bring your standard roller blinds into the 21st century, including the all-important USB-C rechargeable motor. This will apparently last for around a year between charges and you also get a series of adapters to help it fit into your particular roller blind.
Once fitted, you'll be able to control your blinds using Eve's app or the Apple Home app. It'll also connect to your smart home setup via Thread and will soon get Matter support, too. You'll be able to buy the Upgrade Kit in the US for $199 from late March.
GE Profile Smart Mixer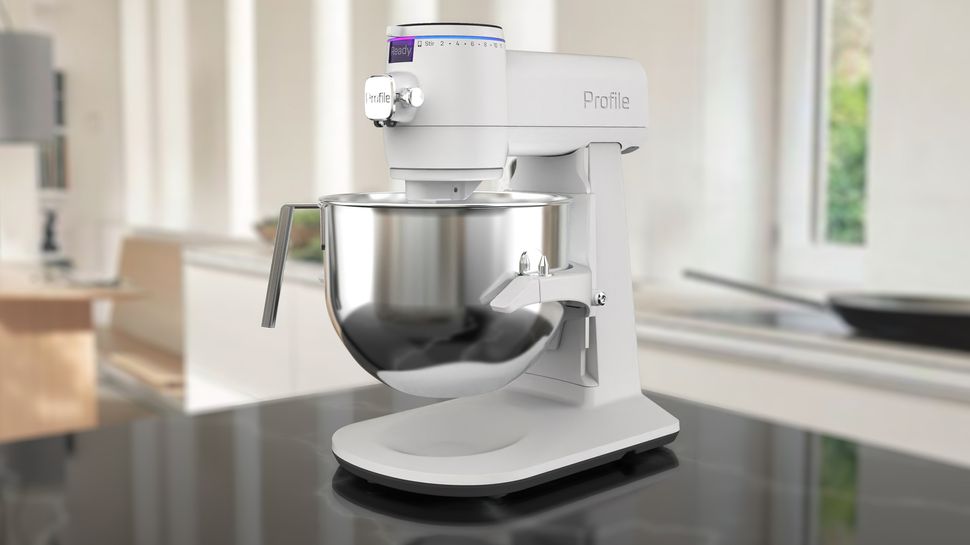 Anything that combines cake and technology is fine by us, and the GE Profile Smart Mixer is probably the cleverest stand mixer we've seen so far. Naturally, it helps you mix, whip, cream and emulsify with great precision, but it also throws in a generous helping of helpful tech – including voice control – to lift it above its sticky-fingered rivals.
The mixer has a built-in smart scale to help weigh ingredients directly in the mixing bowl, while Auto Sense tech actually monitors changes in your mixtures's texture and viscosity in real-time. Throw in the ability to connect it to your Alexa or Google Home device for hands-free controls, and you have what might be the best kitchen helper we've seen at CES 2023.
Robot vacuums
Roborock S8 series
Image 1 of 2
No CES show is complete without the faint hum of robot vacuums – and Roomba-rival Roborock delivered three new ones in the form of its promising S8 series.
The top two models – the S8 Plus and S8 Pro Ultra – come with auto-emptying powers that see the vacuums empty their collected debris into the docks. Because the Ultra version combines a vacuum and mop, its dock also washes the mop and refills the vacuum's water tank. The standard S8 is the more affordable base model.
Roborock says the S8 series offers its most powerful suction yet, which is promising as we've already been impressed by the talents of the Roborock S7 MaxV Ultra. Its latest robo-cleaners also have dual roller brushes, which should help them pick up more dirt and avoid pet hair tangles.
The series will start at $749 for the S8, with the S8 Plus ($999) and S8 Pro Ultra ($1,599) a fair bit more expensive due to their superior docks. They should be available to buy from April and we're looking forward to seeing if they deserve a spot in our guide to the best robot vacuums.
Smart lighting
Nanoleaf Sense+ Control and Skylight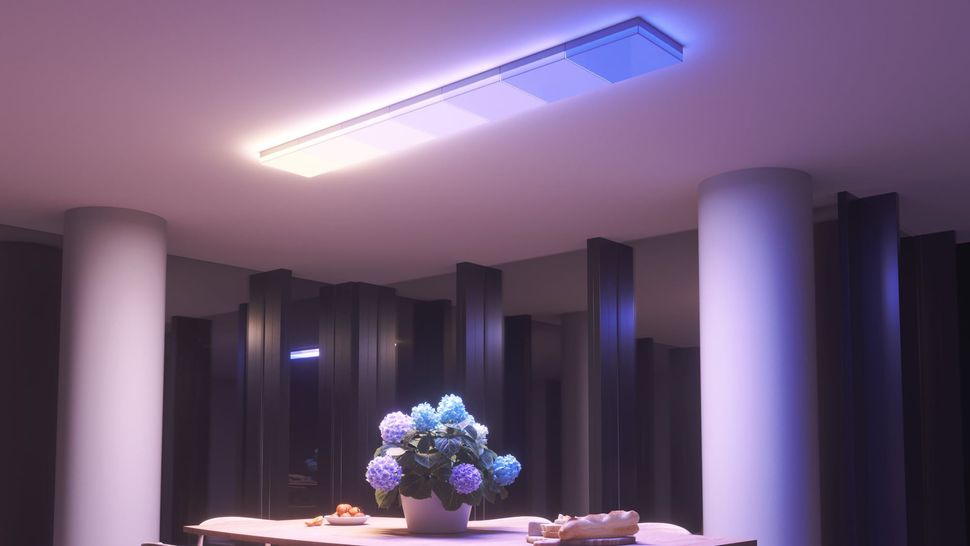 Nanoleaf makes some of the best smart lights around and we reckon its new Sense+ control system is one of the most exciting announcements of CES 2023 so far.
The system comprises three products – the Sense+ Smart Light Switch, Sense+ Wireless Light Switch and Nala Learning Bridge – which can learn your routines and adjust the brightness and color of the lights depending on your tastes. This is thanks to Nanoleaf's learning assistant, Nala, which is built into the bridge and can act as your smart home hub.
While the likes of Philips Hue let you create lighting automations based on your routine, these are generally done manually in the app. So we're interested to see how well the Sense+ system learns our lighting habits when it lands in the third quarter of 2023, particularly as it's compatible with both Matter and Thread.
That wasn't the end of Nanoleaf's CES 2023 announcements, either. It also revealed the rather lovely Skylight (above), which is a set of wall panels that you can mount on your ceiling to create some app-controlled ambiance. And for those are looking to recreate the effect of Philips Ambilight on their non-Philips TVs, there's the Nanoleaf 4D system, which uses a camera to synchronize your Nanoleaf lights with what's happening on your TV for some boosted immersion.
There's currently no pricing for Nanoleaf's new smart lighting products, but we're expecting to get that closer to their arrival in the third quarter of 2023.
GE Lighting Cync Dynamic Effects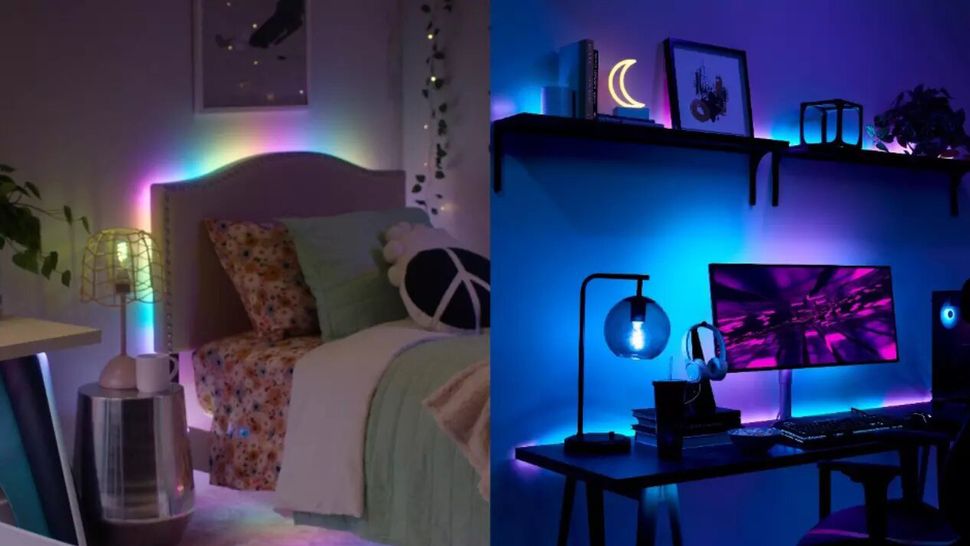 The likes of Nanoleaf Lines and Philips Hue have dominated smart lighting for the past few years, but GE Lighting has been making some increasingly impressive alternatives. At CES 2023, it's announced some new additions to its Dynamic Effects lineup that look like a temptingly affordable way to bring some color to your study or YouTube channel backdrop.
The four new smart lighting products include Smart Hexagon panels, which will take on Nanoleaf's equivalents, and Smart Neon-Shape Lights that can be bent or shaped any way you like. GE Lighting has also launched new Dynamic Effects Smart Bulbs that come in Aline versions or for its indoor floodlights.
These new lights are competitively priced, starting at $19.99 (around £17 / AU$30) for the A19 Aline bulbs, and will be available in the US from March 2023. You also don't need a bridge or hub to use them, as they're instead controlled over Wi-Fi using the Cync app. But on the downside, these new products won't support Matter, with GE Lighting instead bringing support for the standard to some new products over the coming year.
Smart security
Lockly Flex Touch Pro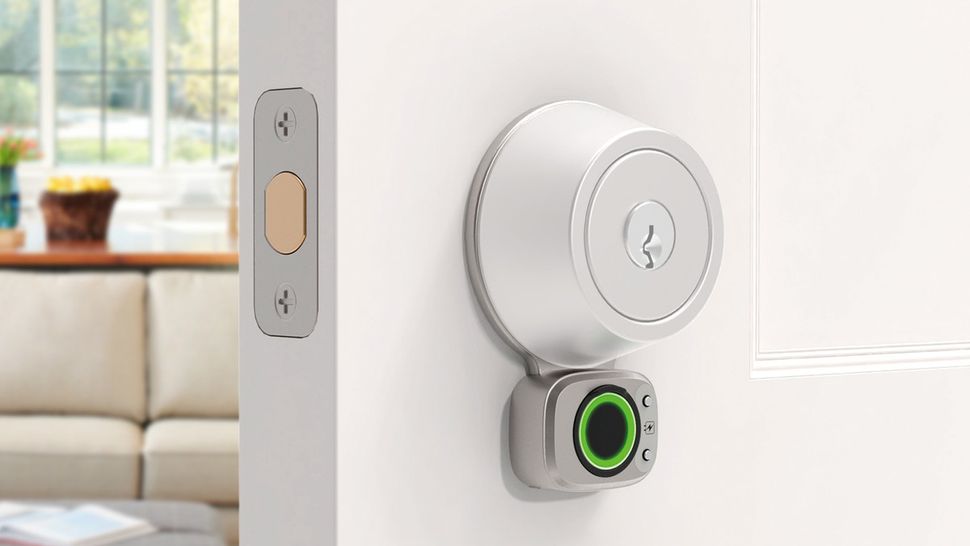 Most smart locks require the removal and replacement of your existing deadbolt, which isn't always convenient or possible. But Lockly's Flex Touch Pro is shaping up to be a better option for renters or Airbnb owners – it helpfully brings a fingerprint reader to your existing lock.
The downside is that you'll need to install a pretty hefty housing on the inside of your door, as that's where the Flex Touch Pro's AA batteries and smarts live. But on the outside of the door you get a pretty elegant fingerprint reader, which can apparently store up to 99 prints.
Because it comes with a Wi-Fi hub, you'll also be able to remotely grant or deny people access to the door, or also check up on it using the likes of Amazon Alexa or Google Home. The Flex Touch Pro will be available in the US from the Spring of 2023 for $229 (£190 / AU$340).
Sign up to receive daily breaking news, reviews, opinion, analysis, deals and more from the world of tech.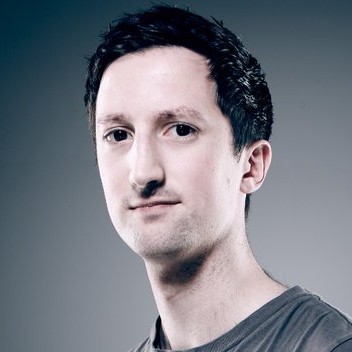 Mark is TechRadar's Senior news editor. Having worked in tech journalism for a ludicrous 17 years, Mark is now attempting to break the world record for the number of camera bags hoarded by one person. He was previously Cameras Editor at Trusted Reviews, Acting editor on Stuff.tv, as well as Features editor and Reviews editor on Stuff magazine. As a freelancer, he's contributed to titles including The Sunday Times, FourFourTwo and Arena. And in a former life, he also won The Daily Telegraph's Young Sportswriter of the Year. But that was before he discovered the strange joys of getting up at 4am for a photo shoot in London's Square Mile.