The best PC VR games for beginners
Fun VR without the nausea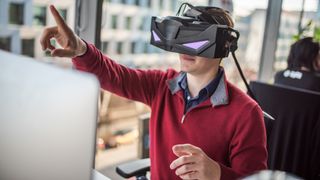 If you're looking to get started in virtual reality (VR), or are hoping to show some friends VR for the first time, it's not a great idea to dive right into the wildest games out there.
TechRadar & PC Gamer's VR Month
The best PC VR games for beginners shouldn't be too chaotic – there's a good reason headset makers list comfort levels for games.
Adjusting to movement in VR can be tricky, especially for anyone sensitive to motion sickness.
If the in-game camera moves much while the player stays stationary, they can quickly start feeling queasy.
That's before factoring in the need for players to familiarize themselves with the controls in VR and the objectives of the game.
Because there's a lot to get used to and the potential for discomfort, the usual top picks for VR aren't going to be the best PC VR games for beginners.
Instead, we've focused on games that keep movement simple, comfortable and that give players time to adjust to the VR world.
While the games on this list aren't placed in order of quality, we've put them in a loose order with the more comfortable games coming first.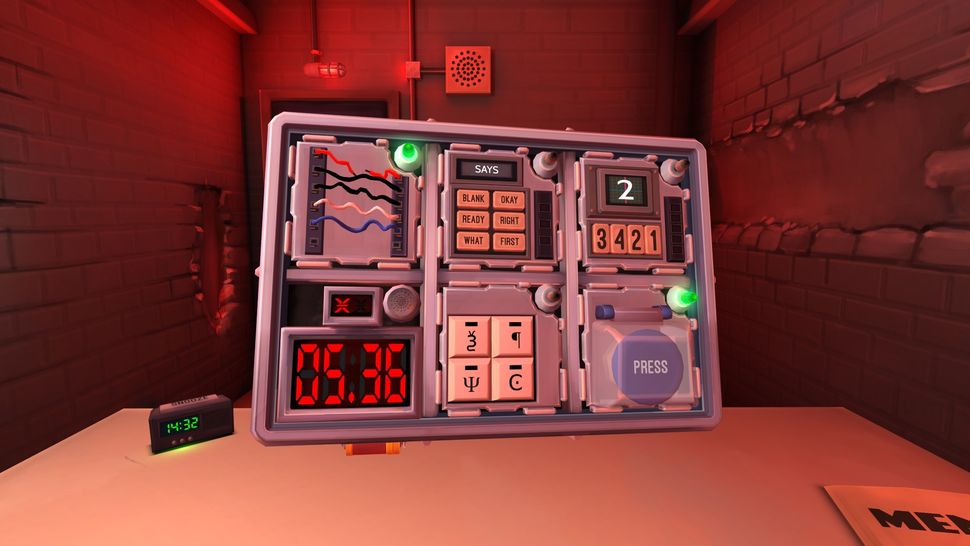 Keep Talking and Nobody Explodes
Why you can trust TechRadar We spend hours testing every product or service we review, so you can be sure you're buying the best. Find out more about how we test.
Keep Talking and Nobody Explodes is a perfect beginner VR game for a number of reasons. For one, players can learn the game outside of VR. Once playing in VR, everything is kept simple. There are no flying objects to avoid or enemies that will spring up. Instead, the player in VR will focus on manipulating and disabling a bomb as players outside of VR will try to provide instructions on defusing it. It's a fun game for groups, and a comfortable one for first-time VR players.
Moss
A great VR game doesn't have to put the player into the perspective of the protagonist. Moss is a compelling action-adventure game that uses VR as a way to look around the world as players guide the mouse protagonist through puzzles and combat. Beginners can enjoy the familiar platformer-style gameplay while getting comfortable with using their own perspective to look around in VR.
Fruit Ninja VR
What better way to enter VR than with a familiar mobile game? Fruit Ninja is almost perfectly adapted to VR. This version lets new players stand perfectly in place as fruit and the occasional bomb fly up in front of them. There's no complex movement required, just the addictive satisfaction of stabbing and slicing bushel after bushel of colorful and cartoony fruit.
I Expect You to Die
Not only is I Expect You to Die one of the best PC VR games for beginners, it's simply one of the best VR games. All of the levels are seated, so player comfort is high, making it easier for beginners to enjoy. Once in the game, players will take on the role of a spy challenged with a series of clever escape room-like missions. The game is loaded with clever interactions that are great for learning how realistically players can interact with the VR world.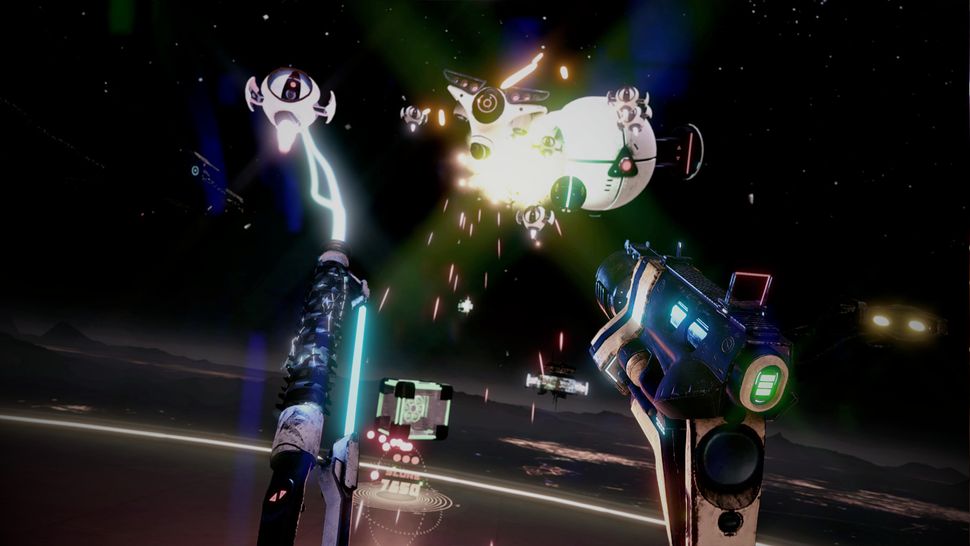 Space Pirate Trainer
Space Pirate Trainer is a great step up from Fruit Ninja VR. The gameplay is fairly straightforward, and plays like a basic Galaga-esque arcade game adapted for the modern VR age. Players stand on a platform in space as a variety of flying droids attack. They can walk around their VR environment by walking in the real world, which helps avoid any motion sickness, and use an assortment of weapons to battle the droids.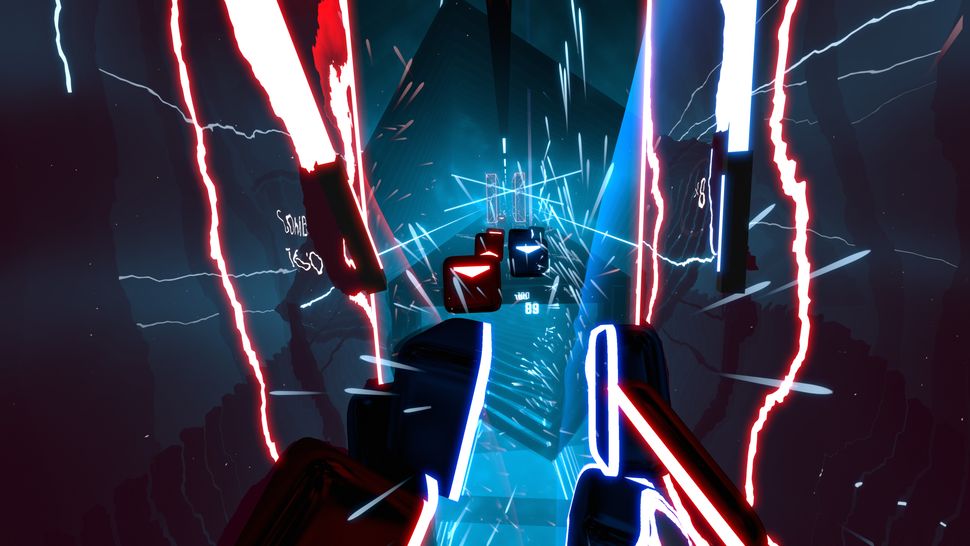 Beat Saber
Beat Saber is an amazing VR game, with exciting and frantic gameplay. Players have to follow the music as they slash through colorful cubes with correspondingly colored blades. The graphics are like something straight out of Tron, and cutting up cubes will be a blast for fans of Star Wars and Guitar Hero alike. Since the player is mostly stationary, beginners can get used to VR while playing, though the flying cubes and obstacles hopefully won't psyche them out.
Lone Echo
After getting a bit more comfortable in VR with some of the other titles on this list, Lone Echo is a great next step. The gameplay can get intense, as you jump into the role of a robot on a space station helping the captain of a mining operation. Of course, a space game like this wouldn't be great if things didn't go wrong. Beyond the compelling story, what makes this title great for beginners is the movement mechanics: using thrusters in zero-g and pushing off surfaces to move around. While it's a bit less comfortable than simply standing in one place, we've found it to be substantially less nauseating than using a joystick to walk in-game.
Superhot VR
Superhot VR is an exciting title for beginners as they'll have the opportunity to get comfortable with VR at their own pace. That's made possible thanks to the game's core mechanic: time only moves as fast as the player moves. For the most part, players will be standing in one spot, turning around, ducking and leaning. These are all generally comfortable movements in VR. And, they'll be forced to get more and more comfortable, as the game throws them into more and more challenging situations, with waves of heavily armed enemies coming from every direction.
Supported content on TechRadar means the article has been created in partnership with a developer, publisher, manufacturer or other relevant party. When you see this disclosure note in an article, it means that the article idea has been approved by another company – a developer, hardware maker, or publisher – but that otherwise the content is planned, written, and published by TechRadar without any further approval. This is distinct from sponsored content on TechRadar, which is created entirely by a third party, and not the TechRadar editorial team.
Sign up for Black Friday email alerts!
Get the hottest deals available in your inbox plus news, reviews, opinion, analysis and more from the TechRadar team.
Over the last several years, Mark has been tasked as a writer, an editor, and a manager, interacting with published content from all angles. He is intimately familiar with the editorial process from the inception of an article idea, through the iterative process, past publishing, and down the road into performance analysis.