Ring vs Nest: choose which home security brand is right for your home
Versus
Contributions from
last updated
Are Ring or Nest security products better for keeping your home safe?
Google Nest Doorbell (battery)
Image resolution: 960 x 1280p
Field of view: 145-degree
Battery life: up to 6 months
App: Google Home
This is one of two Nest video doorbells (the other is wired) of a futuristic design which records clear footage when the doorbell is pressed or motion is detected. It even identifies when packages are left or taken, as well as animals and recognize faces. But three hours of video storage or facial recognition is not a lot, and there's no Siri or HomeKit support either.
For
Clear footage
Easy installation
Facial recognition
Against
Limited free storage
No Siri or HomeKit support
Image resolution: 1920 x 1080p
Field of view: 160-degree
Battery life: 6 months - 1 year
App: Ring
Ring have six video doorbells in their range with the Doorbell 4 being the brand's latest battery-powered video doorbell. It's simple to install, has an impressively long battery life and delivers clear video footage. But it's not compatible with Google Assistant and you'll need to sign up to the subscription service to watch recordings when the free trial ends.
For
Easy installation
Clear video quality
Feature-filled app
Against
No free video storage
No Google Assistant support
As smart, affordable security for the home has become the norm, multiple companies have entered the market with devices that promise peace of mind when it comes to protecting our homes. Leading this wave are Ring and Nest, two brands responsible for some of the most well-known security cameras, alarms, and video doorbells. But which one offers the best products?
As said, smart home tech has only gotten smarter, smaller, and cheaper over the last decade, and devices from these companies are no different. There is a huge range of the best home security cameras and best video doorbells on offer, all of which connect directly to your Wi-Fi for crisp HD or 4K video, 2-way audio, cloud storage, and more.
They do this via your mobile device, with Ring and Nest both boasting excellent apps to monitor your camera feeds and speak with whoever is outside. You can also hook them up to other smart home devices, like the best smart speakers, and certain displays and streaming devices can be used to view feeds on a bigger screen.
We have taken an in-depth look at the Ring vs Nest smart security devices below, so keep reading to see our verdict.
Ring vs Nest: key similarities
Both have wired and battery-powered option across the range
Ring and Google Nest are both compatible with Alexa
You can build out your smart home security system with all the products in the range (so long as they are by the same brand)
Ring vs Nest: key differences
Ring have the upper-hand in terms of product choice with 8 video doorbells and 3 security cameras, whereas Google Nest have 2 video doorbells and 3 security cameras
Google Nest works with Alexa and Google Assistant, whereas Ring is Alexa-compatible only
Both brands have a slight difference in the field of view. For example, Nest video doorbells have a field of view from 145 to 160 degrees, whereas Ring's doorbells range from 150 degrees in the Video Doorbell Pro 2 to 180 degrees in the second, third, and fourth-generation Video Doorbell.
Ring vs Nest: Range
Google Nest currently offers a much smaller range than Ring in both home security cameras and video doorbells. The brand currently offers just three cameras; there's the Nest Cam (battery), which is designed for indoor or outdoor use; the Nest Cam (wired), which is purely for indoor use; and finally, there's the Nest Cam with floodlight (wired), which is designed for outdoors and illuminates a wide area when the motion sensor is triggered.
Nest also offers two video doorbells, the Nest Doorbell (battery) and the Nest Doorbell (wired), previously known as the Nest Hello.
The Ring range is much more extensive. It offers eight video doorbells ranging from the entry-level Video Doorbell (Wired) to the top-of-the-range Video Doorbell Pro 2 and includes both wired and wireless options.
For cameras, there are Stick Up Cams, Spotlight Cams, and Floodlight Cams. The Stick Up Cam is a go-anywhere HD camera available in wired, wireless, and solar versions, as well as with an ethernet option, and the Floodlight Cams are both wired and deliver illumination to a wide area. Spotlight cams are smaller with an integrated
Ring vs Nest: Price
So just how much with these home security cameras and video doorbells set you back? Ring's range of cameras is slightly more affordable than Nest, but the prices are pretty evenly matched for its top-of-the-range devices.
The Google Nest Cam (wired) is the brand's entry-level device and is priced at $99.99 / £89.99 / AU$169.99, while the Nest Cam (battery) will set you back $179.99 / £179.99 /AU$329. Finally, the Google Nest Cam with Floodlight is priced at $279.99 / £269.99 / AU$549.99.
When it comes to video doorbells, the Nest Doorbell (battery) is slightly more affordable than the Nest Doorbell (wired), costing $179.99 / £179.99 / AU$329, compared to $229.99 / £229.99 (around AU$325). However, the Nest Doorbell (wired) isn't currently available in Australia. This isn't surprising given the Nest Doorbell (wired) can capture higher-resolution footage, has a wider field of view, and offers an 8x zoom too.
Because Ring has more products, it also has a larger price list. The Indoor Cam, a mains-powered entry-level camera, costs $59.99 / £49.99 / AU$94. Next up is the Stick Up Cam, which can be used inside or outdoors and comes in both wired and wireless options. It is priced at $99.99 / £89.99 / AU$139, or if you opt for a version with a solar panel, it will set you back $139.99 / £129.99 / AU$199 for solar.
Still following? Next, we have the Spotlight Cam, which again comes in a wired or wireless option but is designed to be used outside and comes with a built-in light that can be set to illuminate when motion is detected. It costs $199.99 / £179.99 / AU$289, although this rises to $229.99 / £229.99 / AU$339 for the solar-powered version.
The final option in Ring's security camera range is the Floodlight Cam Wired, which has not one but two spotlights built in. It is priced at $179.99 / £179.99 / AU$299, while the Pro model, which adds HDR to the mix for clearer video no matter how good or bad the lighting, costs $249.99 / £219.99 / AU$379.
Now let's look at the brand's video doorbells. The $99.99 / £49.99 / AU$119.99 Video Doorbell Wired is the most affordable device offered by Ring. However, for battery power, you'll need to fork out $99.99 / £89.99 / AU$131.99 for the Video Doorbell 2nd Gen.
The Video Doorbell 3 is $149.99 / £159.99 / AU$299.99 and the Video Doorbell 4 is $199.99 / £179.99 / AU$329.99. The Video Doorbell Pro is $169.99 / £159.99 / AU$279.99 and the Video Doorbell Elite is $349.99 / £349.99 / AU$499.99.
These prices don't include the optional cloud storage and extra features offered by the brand's subscription services. For example, Ring Protect starts at $3 / £2.50 / AU$4 per month for one device and $10 / £8 / AU$15 for your entire home. Nest Aware is a flat $6 / £5 / AU$9 per month for as many devices as you like or $12 / £10 / AU$18 for Nest Aware Plus, which has longer storage.
Ring vs Nest: Video and audio
You don't need to spend a lot of money to get good quality video: even the cheapest Ring camera, the Indoor Cam, offers 1080p HD video. With the exception of the Spotlight Cam, you also get two-way audio so you can communicate with visitors or confuse your pets. The cameras also offer night vision. On cameras without built-in illumination that's infra-red, which has a reasonably long range and displays in shades of grey; on cameras with built-in lighting, you can also get color night vision, which makes it easier to identify items, clothing, and so on but is much shorter range.
All Nest cameras have 1080p HD video and night vision, two-way audio, and HDR (High Dynamic Range) for clearer video.
When comparing cameras, it's essential to look at the field of view: this is how wide an area the camera can see, and it's particularly important with video doorbells as they are usually much closer to the subject. For example, Nest doorbells have a field of view from 145 to 160 degrees, depending on the model (the bigger the number, the wider the view). In comparison, Ring's doorbells range from 150 degrees in the Video Doorbell Pro 2 to 180 degrees in the second, third, and fourth-generation Video Doorbell.
Ring vs Nest: Features
All of these cameras are designed to integrate with smart home technology. As you'd expect from a company owned by Amazon, Ring products integrate very well with Alexa and the Alexa app. You can also communicate with them via Google Assistant, although it's a little more tricky: you need both the Ring app, the Google Assistant App, and the Ring Action for Google Assistant. This enables you to start recording and review your last notification.
For the Google-owned Nest, it's the same but in reverse: it's fully integrated with Google Assistant, but you can add a Nest skill to Alexa. This enables you to show your Nest camera on an Amazon Echo Show, but not all cameras are compatible: the battery versions of the Nest Cam and Nest Doorbell won't work with the Alexa skill.
In addition to their smart home integration, the cameras here have smart features in their own right. For example, Nest video doorbells have smart alerts that can tell the difference between moving objects and people; the Nest Doorbell (battery) can also recognize parcels, animals, and vehicles. Likewise, the Nest Cameras' smart alerts differentiate between motion, people, cars, and animals, and they can also continue recording for an hour if there's a power cut. You also get three hours of free online recording without paying for a subscription.
The Ring cameras all offer motion detection with customizable zones, enabling you to disable motion detection so that your pets or passing traffic won't trigger a notification. In the case of the cameras with built-in lights, you can also create separate rules for the lights. The more advanced cameras have more advanced motion detection, so for example, the Floodlight Cam Wired Pro has 3D motion detection and a "bird's eye view" that gives you more information about the motion detected.
With both Nest and Ring, you can get additional features with a security plan subscription. For example, Ring Protect will store your video for 30 days and enables you to save and share video footage, while Nest Aware gives you 30 days of event storage (except for the Nest Doorbell battery), which only records video when the camera is triggered; the more expensive Nest Aware Plus doubles the storage time and adds 10 days of 24/7 video storage.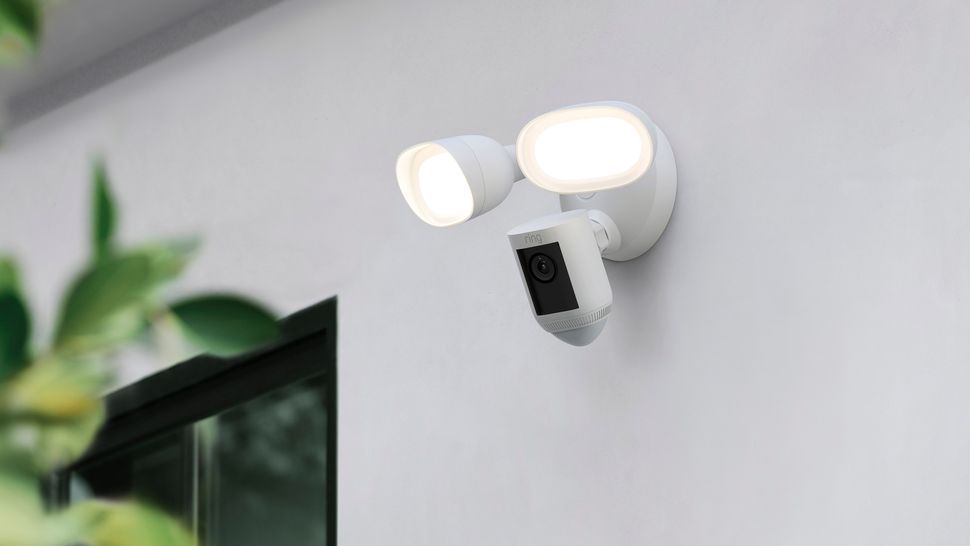 Ring vs Nest: Verdict
These are both very impressive and flexible security systems, but the choice will largely depend on two things: what smart home technology you already have, if any, and how much you want to spend. Nest has the edge when it comes to technology, but Ring beats it on price.
If you already have smart home equipment, Ring works best with Alexa, and Nest works best with Google Assistant. Unfortunately, neither platform currently works with Apple's HomeKit, although their respective apps are available for iPhones and iPads, so Apple users can still control them.
As much as price isn't the only consideration when it comes to wireless security cameras, we'd be remiss if we didn't point out that Amazon prices its Ring products very aggressively and offers them with significant discounts during every one of its sales events. So if this is your first step into smart home technology, Ring is the one to go for if the price is your priority or if you intend to buy multiple cameras for indoors and out.
Get daily insight, inspiration and deals in your inbox
Get the hottest deals available in your inbox plus news, reviews, opinion, analysis and more from the TechRadar team.
Contributor
Writer, broadcaster, musician and kitchen gadget obsessive Carrie Marshall (Twitter) has been writing about tech since 1998, contributing sage advice and odd opinions to all kinds of magazines and websites as well as writing more than a dozen books. Her memoir, Carrie Kills A Man, is on sale now. She is the singer in Glaswegian rock band HAVR.