60207 mobile price comparison service
High street shoppers can check online prices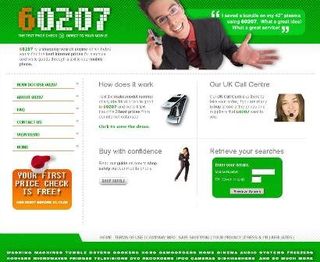 A new mobile price comparison service aims to find the best deals online for high street shoppers. It checks prices on consumer technology goods and much more.
Shoppers using the 60207 service will receive a text message back within 30 seconds of their query, listing internet price information for electrical and white goods such as televisions, cameras, washing machines and freezers.
The service is designed to allow consumers to make informed choices while shopping on the high street. Shoppers wishing to use the service have to send off a text message in the format of 'make.model number' of their chosen product (e.g Panasonic.TH42PX60) to 60207. Within 30 seconds they will receive a text outlining the best three prices available for that product.
If the consumer wishes to buy, they have the option to purchase the product directly from the retailer at no additional cost using 60207. Purchases can be made over the phone or online via 60207.com by quoting a unique PIN code. There is no additional cost of using the service to purchase a product.
Nick Mearing-Smith, managing director of 60207, said: "As Christmas approaches, the high streets will be packed with stressed bargain hunters looking for a good deal on anything from a new HD TV for the living room to a fridge-freezer for the kitchen. Many will be left disappointed when they discover the bargain they got on the high street doesn't look so great when they return home and check online.
"Whether shoppers are searching for good deals on the high street or simply don't have access to the net, 60207 will give them the power to make informed decisions without them wondering if they are getting a good deal. Our research shows that two thirds of users will be able to save between 18 and 20 per cent using 60207."
SMS messages to 60207 cost 50p plus normal operators' charges. Anna Lagerkvist
Sign up to receive daily breaking news, reviews, opinion, analysis, deals and more from the world of tech.
Tech.co.uk was the former name of TechRadar.com. Its staff were at the forefront of the digital publishing revolution, and spearheaded the move to bring consumer technology journalism to its natural home – online. Many of the current TechRadar staff started life a Tech.co.uk staff writer, covering everything from the emerging smartphone market to the evolving market of personal computers. Think of it as the building blocks of the TechRadar you love today.