Introduction
2018 is here and though your to-play list of 2017 is still towering at a terrifying height above you, you can't help but search for the next best game.
Look, we're not here to judge - we do exactly the same thing. It's a problem but we're not dealing with it. Yes, there's a lot of great stuff right now, some of it years old, but there are also so many great games still to come and we can't just let them pass by.
In light of that, we've put together this little guide that will point out the most unmissable titles coming this year. Whether you're playing on PC, PS4, Xbox One or Nintendo Switch, you'll find something in this list.
Release dates are an increasingly difficult thing to pin down so not all of these games have a solid release date just yet. All we know is they're slotted in for some point in 2018.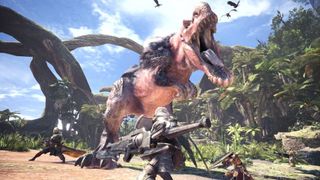 Monster Hunter: World
When's it out? Now!
What can I play it on? PS4, Xbox One and PC
Monster Hunter is a franchise that's been going for a long time but for the first time in seven years we're seeing it released on consoles. A global release that unties its fanbases in all markets, this is a game that will appeal to newcomers and veteran players alike.
In our Monster Hunter World review, we called the game a "bold and confident new chapter" for the franchise and it's our first "must-have" game of 2018. We also have a tips and tricks guide that will help you to make your mark on the New World.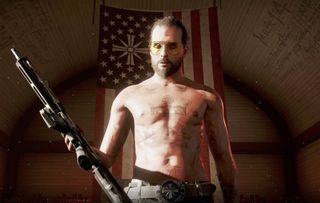 Far Cry 5
What can I play it on? PS4, Xbox One, PC
When can I play it? March 27 2018
Far Cry 5 has caused some controversy before it's even been released thanks to its close-to-home setting of Montana, America. When the small town of Hope County is taken over by a violent doomsday cult known as Project at Eden's Gate, it'll be up to you the player to become the new Deputy Sheriff and take them out. Expect violence, chaos and a whole lot of fun from this one.
Want more info? Here's everything we know about Far Cry 5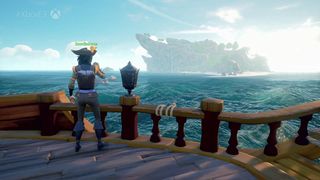 Sea of Thieves
What can I play it on? Xbox One and PC
When can I play it? March 20 2018
The Xbox One doesn't have a large number of exclusives lined up for 2018 but this is one of the big ones. It's been a while since we've seen something big and new from development studio Rare and we really can't wait to dive back into a charming world with a distinct sense of humor.
This is an online co-op extravaganza that will see you create your very own pirate, form a crew with your friends and go on wild adventures across a wide open world.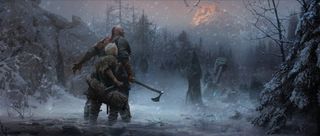 God of War
What can I play it on? PS4
When can I play it? April 20 2018
The PlayStation exclusive God of War franchise is returning and this time it's moving away from the Greek myths to the Norse and turning the legendary lone wolf Kratos into something of a father figure. When it's released, this revamped God of War will have more of a focus on narrative than anything we've seen from the series but the hack and slash god fighting will still remain.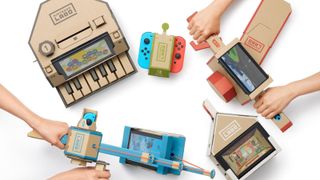 Nintendo Labo
What can I play it on? Nintendo Switch
When can I play it? April 2018
It's a concept that's so utterly Nintendo, we're pretty sure no other company could pull it off. Nintendo Labo was first announced in early 2018 and it's captured the imagination of kids and grown-up kids alike. Nintendo Labo is a collection of DIY cardboard kits which can be used with the Nintendo Switch to create an entirely new kind of play.
Players will be able to play cardboard pianos, use cardboard handles to control an on-screen motorbike, and step into the cardboard shoes of a giant robot. The potential seems endless and if the idea works it could make the Switch the most individual console on the market and a must-have for families.
We've been hands on with Nintendo Labo so make sure you check out our thoughts.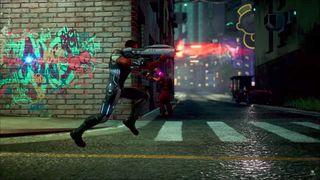 Crackdown 3
What can I play it on? Xbox One and PC
When can I play it? Spring 2018
It was supposed to be one of the key launch titles for the Xbox One X in November 2017 but Crackdown 3 will now be a big 2018 exclusive for the console. The main selling point of the Crackdown franchise is destruction and in this game's online multiplayer mode every part of the game's city is open to destruction thanks to a cloud-based physics calculations system.
Want more info? Here's everything we know about Crackdown 3
Red Dead Redemption 2
What can I play it on? PS4 and Xbox One
When can I play it? Spring 2018
Voted TechRadar's most highly-anticipated game of 2018, Rockstar's latest outing looks set to be one of the biggest releases of the year. Jumping back into the Wild West, this is the third Red Dead game but the first Rockstar game created from the ground up for the latest generation of consoles.
We can't wait to meet the brand new protagonist Arthur Morgan and rob and pillage our way across the wide open American heartland.
Days Gone
What can I play it on? PS4
When can I play it? Sometime in 2018
Though we can't help but feel that zombie games have been somewhat done to death, we do have some hope that a good PlayStation exclusive could revive the genre. Days Gone has now been confirmed to be coming this year and when it does players will have to flee hoards of infected enemies known as Freakers.
Shadow of the Tomb Raider
What can I play it on? Most likely PS4, Xbox One and PC
When can I play it? The second half of 2018
We all kind of knew that there was going to be another Tomb Raider coming but now we know that the plan is to release it at some point in 2018. Square Enix confirmed this on Twitter, saying that the official reveal would be at a "major event in 2018" before adding that "it won't be very long between the official reveal and when you can play."
This makes us think there'll be an E3 2018 reveal before an October/November release. Square Enix has been pretty quiet on any other details around the game, though. We don't even know for certain that it's going to be called Shadow of the Tomb Raider. But we're getting excited for Lara's next adventure regardless.
Call of Duty 2018
What can I play it on? Most likely Xbox One, PS4 and PC
When can I play it? Late 2018. Most likely November
It's not massively surprising given the success of Call of Duty WW2, but Activision has now confirmed that we'll see a Call of Duty game in 2018. This time it's being developed by Treyarch, the studio behind all of the Black Ops titles. There's been no confirmation that this will be the long awaited Black Ops 4, but it seems likely and hopes are high.
Regardless, after the improvement that was WW2, we feel like it's safe to get excited about 2018's Call of Duty.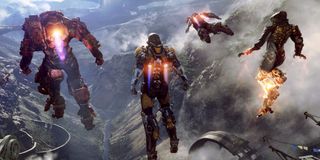 Anthem
What can I play it on? To be confirmed
When can I play it? Autumn 2018 (but rumors suggest it could now be early 2019).
A pleasant surprise from this year's E3, Anthem will be developer BioWare's next big IP. Not a whole lot is known about Anthem at the moment, despite the fact that it's coming relatively soon, but EA has described it as "a shared-world action RPG where Freelancers challenge the wilds past the wall, exploring a vast world filled with savage beasts and ruthless marauders, but also teeming with amazing technology and forgotten treasures".
If that makes you think of Destiny you're not alone.
Want more information? Here's everything we know about Anthem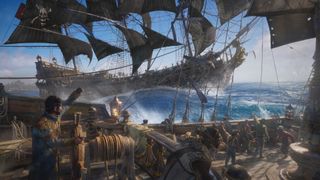 Skull and Bones
What can I play it on? PS4, Xbox One and PC
When can I play it? 2018
Revealed at E3 2017, this game was basically pitched as Assassin's Creed Black Flag with the assassin bits removed. That leaves the naval warfare and in Skull and Bones you'll find yourself engaging in single-player and online multiplayer seafaring adventures. Think Sea of Thieves but a bit more geared towards gritty realism.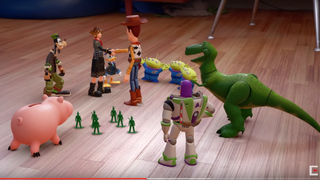 Kingdom Hearts 3
What can I play it on? PS4 and Xbox One
When can I play it? 2018
Given it's been 12 years since Kingdom Hearts 2 was released, it's safe to say Kingdom Hearts 3 is one of the more highly anticipated titles for 2018. Once more players will take up the role of Sora as he travels with his closest friends Donald and Goofy across a variety of world themed around and populated by a host of famous Disney and Final Fantasy characters.
There's going to be plenty of familiar sights and faces but we're really excited to see the brand new Toy Story world.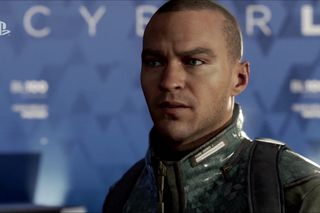 Detroit: Become Human
What can I play it on? PS4
When can I play it? 2018
The latest PS4 exclusive game from writer David Cage, this is a game that looks set to court some controversy with its themes. The script took two years to write and hundreds of actors have lent their faces for motion capture so we're interested to see how this multi-choice narrative adventure plays out.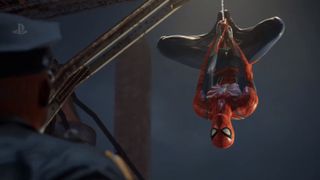 Spider-Man
What can I play it on? PS4
When can I play it? 2018
Yet another enticing PS4 exclusive for 2018 is Spider-Man, created by the studio behind Spyro and Ratchet and Clank. Don't worry if you're not invested in the latest movie reboot yet – this game stands completely seperate to that with an older more experienced Peter Parker and its very own story.
There are few things more enjoyable than getting to swing around New York City as Spider-Man and we really can't wait to do it on the latest generation of consoles.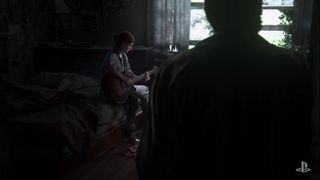 The Last of Us Part 2
What can I play it on? PS4
When can I play it? Late 2018
Considering the first game has been continually hailed as a masterpiece thanks to its excellent, emotional story and engaging life-like characters, the decision to develop The Last of Us Part 2 isn't actually all that surprising. This time around Ellie takes up the starring role and we're being promised a much darker game with an even bigger story.
No release date confirmed but we can't wait to hear more
There are some games to which no solid release date has been tied but we know we're going to hear more about them this year, whether that's at E3 2018 or Gamescom or just through another avenue. These are the titles we're can't wait to find out more about. Namely, a release date.