Millions of homeowners could get better access to faster broadband
New laws mean almost all new homes in England will have to be built with gigabit broadband connections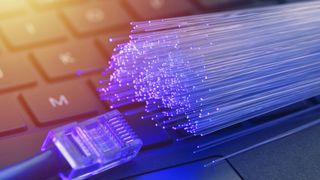 (Image credit: Daniel Chetroni / Getty Images)
In a recent press release, the government announced a new law that will mean all new homes in England 'will be built with gigabit broadband connections'. This will open up more households to the fastest broadband speeds available.
Amendments have been made to the Building Regulations (2010) property developers have to follow, and now they will have to factor in an infrastructure that includes 'connections capable of delivering gigabit broadband'.
As such, those purchasing these new homes will have their gigabit connections ready and available to use as they move in. In turn, this will mean that after these homeowners have found an ultrafast broadband deal, there won't be any need for the providers to send out engineers for additional installation work.
It will also be easier to install faster connections in blocks of flats
To add to this, another law has also been passed which the government has called the 'Telecommunications Infrastructure (Leasehold Property) Act (TILPA)', which will essentially make it easier for providers to install faster connections in blocks of flats - again opening up gigabit broadband to more consumers.
Prior to this, tenants would have to to get a landlord's permission before providers would be allowed access to install the new equipment required for a such connections. However, providers can now 'seek rights to access a property or shared land if the person required to grant access is unresponsive'. This is because the new law creates 'a new route through the courts that operators can use to access blocks of flats and apartments'.
Subsequently, the government estimates that more than 2,000 residential buildings will now be able to get ultrafast broadband each year.
Speaking about the advantages of the new laws, Digital Infrastructure Minister Julia Lopez commented:
"Nothing should stop people from seizing the benefits of better broadband, whether it is an unresponsive landlord or a property developer's failure to act.
"Thanks to our new laws, millions of renters will no longer be prevented from getting a broadband upgrade due to the silence of their landlord, and those moving into newly built homes can be confident they'll have access to the fastest speeds available from the day they move in."
How can I get access to this ultrafast broadband?
The same press release explains that gigabit broadband is currently available across 72% of the UK, with this number expected to jump up once the effects of the new laws are felt.
The government also championed the benefits of this super speedy internet and its lightning fast downloads. They claim it will be a great means of boosting the productivity of remote workers and will enable 'entire families to stream movies, TV and video games in high quality 4K and 8K definition onto multiple devices at the same time with no slowdowns in speed'.
So if you're looking to upgrade to such a connection then you can browse our selection of the best broadband deals or use the widget below to see what speeds and packages are available in your area.
It might be that you already have the right type of connection to your property and this can be rolled out immediately. Or if you don't, you may need to check directly with your chosen broadband provider to firstly see if these ultrafast speeds are accessible for your home or whether you'll require an engineer to come and connect your home to the network.
Loading...
Sign up to receive daily breaking news, reviews, opinion, analysis, deals and more from the world of tech.
Rich is a freelance copywriter and content strategist with over 10 years' experience. His career has seen him work in-house and in various agencies, producing online and offline content marketing campaigns and copywriting for clients in the energy industry.