iPhone 11 colors: the new options for the iPhone 11 and 11 Pro
The new iPhone 11 even comes in pastel purple
VERDICT
REASONS TO BUY
REASONS TO AVOID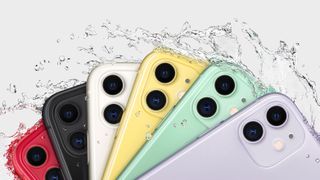 (Image credit: Apple)
Apple launched its full-featured iPhone 11 Pro and big-screen iPhone 11 Pro Max, along with the budget flagship iPhone 11, back in September 2019. No matter which you pick, there are plenty of fun colors to choose from, from traditional black or white to pastels.
It's worth noting that if you're looking to buy a new iPhone then it's likely that the iPhone 12 is just around the corner, and you may well have some cool new colours to pick from if you wait a month or so.
In the meantime, here are all the iPhone 11 hues you can get.
iPhone 11 colors
Why you can trust TechRadar We spend hours testing every product or service we review, so you can be sure you're buying the best. Find out more about how we test.
The lower-cost iPhone 11, which starts at $699 / £729 / AU$1,199, comes in six colors. They don't have the fanciest names, but they do have a warmer look. You'll have the option of black, white, yellow, green, purple and the signature Product Red.
For all of these models, the color includes not only the back glass but also the metal edge around the phone. The front bezels and display notch on all versions will be black though.
All colors start at the same price, including Product Red.
iPhone 11 in white
Naturally, the iPhone 11 comes in an Apple-classic white hue. While this isn't as vibrant or fun as the other colors on display, it is tech chic in a very mid-aughts way - and it'll match your other Apple accessories.
iPhone 11 in black
The sleek and generalist option, black is the default smartphone color that most folks will be happy with. When in doubt, or if you're shopping for someone with more modest tastes, go with black.
iPhone 11 in green
Green is certainly the funkiest color in the iPhone 11 lineup - really, a light pastel that looks right at home on a springtime garment. Clearly Apple was going for a breezier look, which is certainly more upbeat than dour black.
iPhone 11 in yellow
Here we go - a cheery yellow for the sunny iPhone lover in your life. Apple's liked sprucing up its more affordable phones in bolder colors since the iPhone 5C, and though this yellow is a bit more pastel, it's still a brighter look than the others.
iPhone 11 in purple
Purple is a curious choice for Apple, especially in a hue so pale and pastel, but there are surely folks who enjoy a lower-key color on their iPhone. It's the last in the Easter/Spring-esque color schemes of the iPhone 11, and the first purple Apple phone.
iPhone 11 in red
This isn't just a red iPhone 11 - it's a (PRODUCT)RED phone. Portions of sales go to supporting the (RED) campaign's efforts to end AIDS and save lives. You can get more details on their website.
iPhone 11 Pro and iPhone 11 Pro Max colors
The iPhone 11 Pro and iPhone 11 Pro Max share color options with each other, but they have unique colors from the standard, non-Pro iPhone 11. Three of the color options are likely familiar to iPhone owners: Gold, Space Gray, and Silver. But, there's also one new color available: Midnight Green. And, like the non-pro models, the color scheme includes both the back glass and the metal frame.
The iPhone 11 Pro starts at $999 / £1,049 / AU$1,749, and the Pro Max costs a little more at $1,099 / £1,149 /AU$1,899. You'll get the same price regardless of which color you choose.
iPhone 11 Pro / Max in silver
The 'clean' version of the iPhone 11 Pro is silver, not white - a little classier, sleeker, and farther from the blanc chic of mid-aughts Apple. This is the simple-yet-elegant color to pick if black is just too dark.
iPhone 11 in space gray
It's not black, it's 'space gray' - and particularism aside, it is more of a matte gray than the dark black found in the iPhone 11 Pro. This is the classy, nondescript, understated look of the line, in our opinion. ANd it goes with plenty of cases.
iPhone 11 Pro in gold
Yes, the vaunted gold color is back - not rose gold, sadly, but a rich yet not gaudy gold. If the iPhone 11 Pro or Pro Max fan in your life wants the gold hue, you'll probably know.
iPhone 11 Pro in midnight green
Here's the funky color of the iPhone 11 Pro / Pro Max generation - a forest green-looking hue that's understated yet vibrant. Keep in mind what kind of case colors you'll need to buy to match.
Sign up to receive daily breaking news, reviews, opinion, analysis, deals and more from the world of tech.
Over the last several years, Mark has been tasked as a writer, an editor, and a manager, interacting with published content from all angles. He is intimately familiar with the editorial process from the inception of an article idea, through the iterative process, past publishing, and down the road into performance analysis.