Black Friday is one of the biggest shopping holidays of the entire year with thousands of deals across hundreds of retailers which makes it the best time to upgrade your tablet or purchase a new one. For those looking for Australian and US Black Friday deals, don't worry, we have you sorted too.
Shopping for a tablet, however, can be something of a minefield. There are a lot of models from a lot of brands and not all of them are good. Then there's also no guarantee that the deal itself is any good either.
With that in mind it's worth exercising some caution and we can help with that. While we'll be bringing you the best tablet deals on Black Friday itself, ahead of the day we've also put together this guide of things to look out for when you're shopping.
The features to look out for
There are a lot of things to consider when buying a tablet. Specs and performance vary dramatically and while there are some things you might be able to safely compromise on, other features are near essential. Here's what to pay particular attention to when shopping for a Black Friday tablet deal.
Known names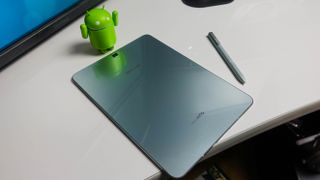 Loads of different manufacturers are making tablets and there's a good chance you won't have even heard of some of the smaller ones. Lesser known brands definitely aren't necessarily bad but there is a greater risk that you're getting a lower quality product.
No matter what brand you're looking at, though, it's worth doing your research, as even big brands launch suspect slates. But at least if it's a big name there should be plenty of reviews around, so you'll know what you're in for.
We might be biased, but we think TechRadar should be your first stop for reviews. If we haven't covered a slate feel free to look elsewhere, or consider another model that we have reviewed – perhaps one of the ones on our best tablets or best cheap tablets list if any of them are discounted.
Screen quality
The screen is arguably the most important part of a tablet, and while they mostly only come in two sizes (around 7-8 inches and around 10 inches) the quality of tablet displays can vary wildly.
Resolution is a less useful metric than pixel density, since a 1080p display will look a lot better on a 7-inch slate than a 10-inch one. Ideally you probably want a screen that's got at least 200 pixels per inch, so everything looks reasonably sharp. If the deal listing doesn't include the pixel density try Googling it.
There are other things to consider, such as the contrast and brightness of a display, and these can be harder to get a handle on by simply looking at the specs, if they're listed at all, so again we'd recommend checking reviews where possible, but it's the pixel density that's usually most important.
Power to perform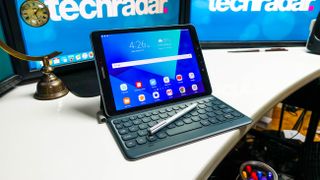 No one wants a sluggish slate, though how much power you'll need depends on what you plan to use it for. But unless it's a seriously budget offering you're after we wouldn't go for under 2GB of RAM.
You'll also want at least a quad-core chipset and as a general rule Snapdragon ones are better than MediaTeks, which are the two most common brands you'll find when shopping for an Android tablet.
Though if you're shopping on a budget the latter is far more common and needn't be a deal-breaker, especially if you just want the tablet for simple things like streaming video and web browsing.
If you're planning to play graphically intensive games or do other demanding tasks we'd suggest going for at least 3GB of RAM, coupled with a Snapdragon 820 or above, or a six or eight-core chipset from another brand. That's if we're talking Android.
For iOS you should still be alright on 2GB of RAM, but look for an Apple A8 chipset or later, and check our guide to Black Friday iPad deals for more in-depth information, while if the slate is running Windows you'd be wise to opt for at least 4GB of RAM. Again though, if in doubt, check reviews.
Non-essentials
Of course, you can't always have everything if you're looking to save money, but there are some safer compromises you can make.
A premium build is nice, but generally makes no difference when you're using the thing. Storage is also an area where you might be able to save some cash. It's important to have space for all your apps and media, but if you're buying an Android or Windows slate there's a high chance it will have a microSD card slot, so you won't be limited to what's built in.
We still wouldn't really go below 16GB though, and if there's no microSD card slot you'd be safer with 32GB or more.
A long-lasting battery may not be essential either, but that all depends on where you plan to use your tablet. If you want to take it on the road with you then a big battery will be vital, but if you're mostly going to use it at home or anywhere else where you can readily charge it then a smaller battery could get the job done.
Our deal predictions
We're expecting to see lots of tablets reduced on Black Friday, but we've included some of our top picks below. These are all slates that we think have a good chance of being discounted, and are worth buying if they are.
Microsoft Surface Pro 4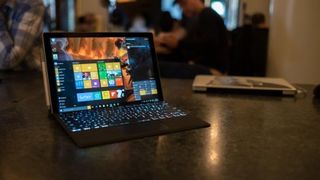 The Microsoft Surface Pro 4 is one of the best Windows slates around, and thanks to its Surface Pen, optional Type Cover and big 12.3-inch 2,736 x 1,824 screen it's great for productivity.
It's also likely to be discounted on Black Friday. Last year multiple stores knocked a significant amount off the price tag, and as it's a little older now we wouldn't be surprised if it was even cheaper this year.
The Surface Pro 4 is going to be expensive though, no matter what deals are available, so consider whether you really need this much computing power, and bear in mind that its battery life - while reasonable - is far from the best around, making the Pro 4 less suited to situations where you'll be far from a plug for an extended period.
Amazon Fire HD 8 (2017)
Amazon usually has some of the best sales on Black Friday and its own products are often among the most heavily discounted.
With that in mind we'd suggest keeping an eye out for the Amazon Fire HD 8 (2017). This is a recent slate, yet it's already very cheap, starting at $80/£80 (around AU$105) for a 16GB model with lock screen adverts.
There's a microSD card slot, so you can probably get away with that little storage, and it could feasibly drop to around $60/£60 on Black Friday based on previous Amazon discounts, which would make it a real bargain.
This is an entry-level tablet with basic performance and a reflective screen, but it's compact, has good battery life, decent speakers and comes from a big brand.
Samsung Galaxy Tab S2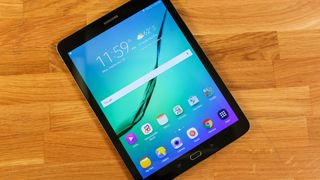 The Samsung Galaxy Tab S2 is another possible sales highlight. It's getting on a bit now and has been superseded by the Samsung Galaxy Tab S3, so retailers could be looking to clear stock, it's also been discounted before so is likely to be again, but it still has one of the better tablet screens around, with a sharp Super AMOLED display in either 8.0 or 9.7 inches.
Its Snapdragon 652 chipset and 3GB of RAM amount to mid-range specs at best, but should still comfortably run most apps and games, and the tablet comes with at least 32GB of storage, plus a microSD card slot, so you'll have plenty of space to play with.
It's also thin and light, includes a fingerprint scanner and is upgradeable to Android Nougat – though we'd be surprised if it gets Oreo or any future release. That's not a huge problem, as most Android devices are rocking old versions of the OS, but it's worth bearing in mind.
Acer Iconia One 10 (2017)
The Acer Iconia One 10 (2017) is a recent slate that's ideal if you want a 10.1-inch screen on a budget. As it also has a pair of loud front-facing speakers it's a great budget media buy, though its weak chipset holds it back a bit if you're interested in high-end gaming.
We're not sure whether it will be discounted on Black Friday, but the 7-inch and 8-inch Acer Iconia One models were both discounted last year, so there's a good chance this newer one will get a discount this year, especially as it's not one of the biggest names in tablets.
Other than being aware that it's not the most powerful slate around there's little to watch out for here – it comes with 32GB of storage and a microSD card slot, and for tablet basics it's a good choice.