18 unmissable PC games from the Windows 10 era
Introduction
Has it already been one year since Windows 10 landed on July 29, 2015? We can remember Microsoft waxing lyrical about its new operating system and the opportunities that it would bring around gaming - from DirectX12 to Xbox streaming.
According to the latest Steam survey, just short of 43% of gamers were using Windows 10 in June, so a healthy portion of users are taking advantage of what the company's latest platform has to offer.
We're using Windows 10's first milestone to take a look back at the best PC titles to have been released since the operating system touched down this time last year. Something tells us that the next 12 months are going to yield an even better crop of gaming goodness.
This article is part of TechRadar's Windows 10 week. Microsoft's latest operating system turns from a free to a paid upgrade on July 29, and we're looking to answer the question of whether it's good for you.
1. Samorost 3
Release date: March 24, 2016
If you fancy the idea of taking a mute space gnome through surreal hand drawn worlds that feel alive, then don a pointy hat and dip your toes into Samorost 3. Featuring a unique art style, fiendish puzzles and a heavy dose of "WTF?" around every corner, this point-and-click adventure feels like being transported into a dream being had by somebody who ate too much cheese before bed.
2. The Witcher 3: Blood and Wine
Release date: May 30, 2016
This excellent DLC is almost worth the cost just to witness our hero Geralt strike up a conversation with his horse after chomping on magic mushrooms. When you're not, ahem, horsing around, Blood and Wine offers a huge campaign that on its own eclipses most other adventures. If you thought The Witcher 3 looked great, you'll get a kick out of exploring Toussaint's sunkissed locations.
3. Darkest Dungeon
Release date: January 19, 2016
Featuring a hand-drawn crowquill art style, Darkest Dungeon is a slick turn-based RPG. More gothic than a chalice full of Robert Smith's tears, the game pitches you against a bullet-list of horrifying challenges - namely disease, darkness, famine, stress and death. Well, it is called Darkest Dungeon. Drink up.
4. The Witness
Release date: Jan 26, 2016
Created by Braid developer Jonathan Blow, The Witness is a slow-paced adventure that sees you wander a stunning island solving dot-to-dot-style puzzles in a bid to piece together its mysterious backstory. The Witness isn't for everyone, but it is unique. It's primed for VR too, but unfortunately Blow said that it would be possible to cheat if the game was done in virtual reality. The Witness 2, anyone?
5. Fallout 4
Release date: November 10, 2015
Here's a game that needs no introduction. Bethesda's blockbuster wasn't the graphical stunner everybody was hoping for, but it more than gets by on the strength of its sprawling wasteland locations, captivating characters and familiar black humor. Fallout 4 also has more side quests than you can shake a walking stick at. You know – the same one that you'll acquire in Lexington Pharmacy and rename to "Stickety McStick".
6. Duelyst
Release date: May 3, 2016
Pixel art? Cards? Where do we sign up? Collectible strategy card game Duelyst often feels like Hearthstone – only with a different art style and a higher dose of tactical complexity. It manages to feel fresh by placing an emphasis on strategy while testing your patience, even if that comes at the expense of those heart-in-mouth moments sometimes experienced playing Blizzard's better known game.
7. Hover Junkers
Release date: April 5, 2016
Few games make us want to invest in a VR-capable rig and headset, but Hover Junkers is one of them - and not just because you can flip the bird. Hover Junkers sees you roam multiplayer maps on a hoverboat, using the Vive's controller as a gun. Thanks to its spot on tracking, you'll find yourself literally rolling around on the floor to avoid enemy fire as you duck, weave and bend your arm in an attempt to fire over the side of your vessel. A little simplistic yet hugely immersive, it's a sign of things to come for virtual reality.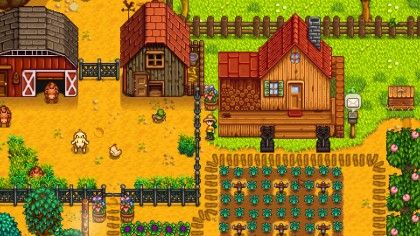 8. Stardew Valley
Release date: February 26, 2016
Harvest Moon is a name that gets chucked about a lot in reference to Stardew Valley, and it's fitting. On your quest to get your farm off the ground you'll need to tend to crops before selling them off for a healthy profit, go fishing, and check off your multiple to-do lists as you accomplish tasks. It sounds a bit boring, but it's actually incredibly therapeutic. BRB, uprooting pumpkins.
9. Warhammer: End Times - Vermintide
Release date: October 23, 2015
Fed up of shooting zombies? Ever suffered with a mouse infestation problem? If so, you may find Warhammer: Vermintide hugely satisfying. With a deep focus on co-operative gameplay, Vermintide's melee-focused combat, random loot, level-based progression system and humanoid Skaven enemies let you slice and dice furry heathens all day long.
10. XCOM 2
Release date: February 5, 2016
XCOM 2 pits you in control of the Avenger, a converted alien ship that serves as your mobile base of operations used to devise strategy and execute fight plans against otherworldly enemies. With a deep focus on stealth, added to intelligent alien AI and vast customization options, XCOM 2 is one sequel we didn't mind waiting 20 years for.
11. Dark Souls 3
Release date: April 11, 2016
The Bloodborne developer's latest third-person slash-fest is no walk in the park. Its demon bosses are devilishly difficult, so you'd better learn how to exploit their weaknesses, pronto. Without parrying skills to rival the three muskateers, you won't even make it past Pontiff Sulyvahn halfway through the game. Its combat is complex, satisfying and smooth thanks to remarkably better PC optimization than the first games in the series.
12. Grim Dawn
Release date: February 25, 2016
If you're the type of gamer who always picks the wizard class in Diablo-style games because you love liberally chucking brightly-colored lightning bolts at enemies, then Grim Dawn is ready to light up your ARPG world. Playing like a weird combination of Diablo 2, Path of Excile, Torchlight 2 and Titan Quest (yeah – it's a bit of everything), it's gritty, yet visually captivating; accessible, yet challenging. Brilliant fun, in other words,
13. Doom
Release date: May 13, 2016
Doom offers the best and most frenetic single-player FPS experience of 2016. Though carried somewhat by its gorgeous visuals and fluid animations, a combination of meaty, upgradable weaponry, stellar level design and epic boss fights keep the action entertaining. Its lackluster multiplayer mode is distracting at best, but if you're only interested in single-player then Doom's rollercoaster ride of a campaign is worth the entry fee alone.
14. Overwatch
Release date: May 24, 2016
Don't listen to the naysayers – Blizzard's colorful FPS is much more than Team Fortress 2.0. For a start, most of its classes are much more difficult to master, and you'll need to engage your strategy brain if you want to feature on the leaderboard at the end of the round. The 6vs6 multiplayer could do with a few more maps and modes – which will appear in time – but for now there's enough there to draw you in and very likely keep you coming back for more.
15. Total War: Warhammer
Release date: May 24, 2016
Total War has shimmied into the realm of fantasy, and it's all the better for it. A superb blending of two franchises, Warhammer lets you command huge enemies while orchestrating your moves during turn-based battles. There's goblins, necromancers and wizards aplenty, with a near-infinite number of ways that you can use them to turn the tide of battle.
16. Superhot
Release date: February 25, 2016
In Superhot, time only moves when the player does. Falling somewhere between Portal and Max Payne, nifty reflexes, patience and an eye for puzzle solving is required. The aim is to defeat a finite number of enemies by dodging bullets and returning a few yourself.
17. Firewatch
Release date: February 9, 2016
Like The Witness, Firewatch is a slow-paced adventure that unravels like a good book; the type that gets you right in the feels. Combining excellent voice acting with an engrossing story and superb airbrushed graphics that showcase the best of the Unity game engine, Firewatch is a substantial timesink that's worth it.
18. Rise of the Tomb Raider
Release date: January 26, 2016
"Console port" is no longer a dirty phrase thanks to efforts like Rise of the Tomb Raider, which gets the treatment it deserves on PC. Featuring stunning and varied locations, exciting combat and effective stealth mechanics, Lara's epic outing often feels movie-like in its execution and scope.