Black Friday 2016 is likely to be the first time you'll want to buy yourself a smartwatch.
The prices are almost certain to tumble on some of the best wearables around and if you've yet to get a smart time ticker on your wrist, November is the perfect opportunity.
We don't know any of the specific deals yet, but looking on previous Black Friday sales we can gather that some of the best smartwatches out there are sure to get a price slash and be a very tempting proposition.
These are the best smartwatches we hope get a chop in price for Black Friday and Cyber Monday this year.
Sony Smartwatch 3
This is the oldest Android Wear smartwatch you can buy today, but it's still a fantastic choice for your first wearable.
It features GPS to help you track your runs as well as all of the other fitness applications you'd hope to get out of a smartwatch.
You've got the choice of a leather strap or a stainless steel one too – the latter makes for a much more traditional looking watch rather than a smartwatch style design.
It's not even that expensive outside of Black Friday at $129 (£100, about AU$170), but a discount wouldn't go amiss. The Sony Smartwatch 3 was much cheaper in Black Friday deals last year and this is certainly one to look out for come November 25.
Huawei Watch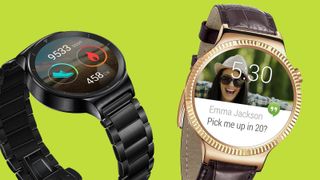 At only a year old, the Huawei Watch is still a great wearable and has come down a lot in price in the last twelve months. Right now it's $306 (£225, about AU$510) and we'd recommend grabbing one if it comes down any further.
If Black Friday and Cyber Monday deals are as impressive as we hope for, the Huawei Watch is going to get a big discount.
It runs on the Android Wear OS, features a 1.4-inch 400 x 400 screen - which is one of the highest quality smartwatch screens on the market - and comes with a luxurious leather strap.
The battery life isn't phenomenal, but that's a problem on all smartwatches and you'll be able to make it through the day before having to put this down on a charging pad at night.
Apple Watch Series 1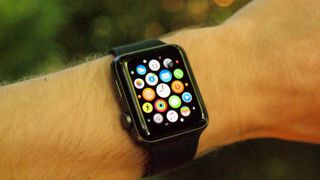 Own an iPhone? You'll want to grab yourself an Apple Watch if it drops down in price during the Black Friday sales. At the moment it costs $250 (£249, about AU$325) so it's not the cheapest choice on the market.
The Apple Watch 2 is available now so it means it may be time for another price drop on the original Apple Watch, come the end of November.
This is only compatible with iPhones though, so don't buy one if you're using an Android phone.
It comes with WatchOS software which offers up all of your favorite iOS apps on your wrist. It's water resistant, comes with 8GB of storage and a powerful processor considering it's a wearable that's over a year old already.