There are a lot of great budget true wireless earbuds in India, often leading us to question the need for the more premium offerings. But every once in a while, we come across a product that reminds us why they are so expensive. The Sennheiser Momentum True Wireless 2 Bluetooth earbuds are a great example of that.
The German audio brand has followed up its popular first-gen Momentum True Wireless with a new pair of TWs which are equally stylish, but far more capable with better battery life and legit active noise cancellation, putting it in the same league as the Apple AirPods Pro and the Sony WF-1000XM3.
In fact, these were our pick for the best true wireless earphones of the year thanks to excellent audio performance, a ton of features via the app and a touch of class all around. Read our Sennheiser Momentum True Wireless 2 to know why.
Price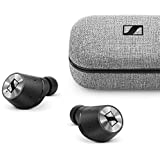 (opens in new tab)
Originally launched in India in June, the Sennheiser Momentum True Wireless 2 cost Rs 24,999 officially. However, these days it is often discounted to Rs 19,990, so it might be worth tracking its price in case you're looking to buy one.
At that price, it competes with the likes of the Sony WF-1000XM3 (Rs 19,990 (opens in new tab)), the AirPods Pro (Rs 24,900 (opens in new tab)) and the Jabra Elite 85t (Rs 18,999 (opens in new tab)). If that's a little too high, the original Sennheiser Momentum True Wireless are a decent alternative, which are now available at Rs 9,990 (opens in new tab).
Design
Even without equipping the Momentum True Wireless 2, you'll quickly notice how premium these look, with the luxurious finish you'd expect at this price.
The new buds look pretty similar to the original ones – shiny metallic touch-sensitive outer housing with a Sennheiser logo on a round body, making them look really sleek and classy. Even the inside of these buds looks good, with gold-plated charging pins and LEDs that indicate their pairing status.
Not just that, even the charging case looks sophisticated with a woven finish that will match the colour of your buds. On the back is a USB Type-C port for charging and a tiny button to check battery status which is indicated via a little LED that glows red, orange, or green.
Sennheiser says that the Momentum True Wireless 2 are 2mm smaller than the originals – and with three extra eartips in the box, you should be able to find a secure fit. These seem to have a more universal fit unlike the Sony XM3, but can feel a little big, especially if you have smaller ears. The weight is distributed in such a way that they feel heavier on the outside, which is not ideal.
Most users are unlikely to face any deal-breaking issues though. Once you wear them correctly, the Sennheiser Momentum True Wireless 2 will prove to be a great pair for casual listening and sports like. And with IPX4 rating, you will not need to worry about sweat or some water damaging them.
The entire outside of each bud acts as touchpads for controls, making them prone to accidental inputs and hanging up calls when I'd try to adjust them. As for the gestures, there are far too many of them to remember, but thankfully, the Smart Control app allows for customizations. Options range from accepting or rejecting calls, skip tracks, toggle ANC or transparency, summon the voice assistant and more. You also get the functionality of pausing media playback automatically when a bud is removed from the ear. The transparency mode works well to amplify outside sounds, making them easier to hear for short periods, but adds a distinctive robotic tone on that.
Battery life and connectivity
With over six hours of battery life in the buds and more than two full charges in the case, the Sennheiser MTW2 is on par with the best buds of recent times. For context, its predecessor clocked only about four hours on the bud and eight additional hours in the case. Pairing them with our smartphone was a breeze, thanks to support for the latest wireless streaming standard, Bluetooth 5.1 – and with support for Qualcomm's aptX codec, you can stream Hi-Res Audio over Bluetooth with no issues.
Audio quality
Like their predecessors, the Momentum True Wireless 2 are packing 7mm dynamic drivers, which Sennheiser says will create "outstanding stereo sound, with deep bass, natural mids, and clear, detailed treble."
Listening to Walk Off The Earth's Farther We Go, the earphones masterfully navigated through the medley of instruments without overlapping the percussions, cymbals and the multiple layers of vocals, retaining the punch in all of them.
Moving to Voices by Against The Current, the buds had incredible strength in the lower frequencies, something not usually seen on wireless buds. That's not to say that the mid and high frequencies were neglected, as the rich rhythm continues to shine throughout the track.
With a very wide soundstage and plenty of clear details, the Sennheisers are a great match for the Sony WF-1000XM3, though the latter can seem more tightly controlled in a good way.
Idle noise cancellation is better on Sony too, but once the music was turned on, we had a better experience with the Momentum True Wireless 2, primarily owing to the superior fit and isolation. This could be a subjective aspect as some users preferred the ANC on Sony more.
Verdict
The sound quality, battery life, and design of the Sennheiser Momentum True Wireless 2 are nothing short of excellent, and we would wholeheartedly recommend them to anyone looking for an alternative to the Sony WF-1000XM3 – the differences really are negligible and subjective. In fact, we think more people will enjoy the overall experience on them over Sony, and without any of the ecosystem limitations of the AirPods Pro, making them an easier recommendation.
The only aspects working against it are the heavier weight and the slightly higher price tag. See if you can check them for fit or look for an exhaustive return policy, to ensure that your experience is as enjoyable as ours.
Otherwise, though, these true wireless earbuds should make a fantastic purchase for anyone looking to cut the cord, with enough sonic authority to keep even the staunchest audiophile happy.
---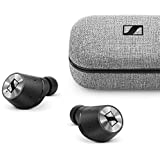 (opens in new tab)