Laptops have always been known to be computing systems that were either meant for work or studies. Gradually, the world saw manufacturers dabble with new gaming laptops that were even bulkier. Eventually, some companies even started a separate line of computing products for creative professionals who loved to draw and doodle while on the move.
Best 2-in-1 laptops in India
1. HP Chromebook X360
2. Ideapad Flex 5
3. HP Envy x360
4. HP Spectre X360
5. ASUS Zenbook Flip 13
6. Microsoft Surface Pro 8
7. Lenovo Yoga 7
8. ASUS ROG Flow X16
9. Asus ROG Flow Z13
After the demand for iPads and tablet PCs skyrocketed, there was no shortage of premium laptops that merged the vision. The best hardware in a laptop with the convenience of a tablet PC.
We've listed some of the best 2-in-1 laptops that are currently available in India. Each of these hybrid laptops will be specifically beneficial for only a set of users like creative professionals. they require displays that are colour accurate and also support stylus inputs with minimum latency.
HP Chromebook X360 is one of the best recommendations for a 2-in-1 laptop that is not for Windows users. Google's operating system is dependent mostly on the internet to get things done.
If your day-to-day task revolves around working on documents, spreadsheets and presentations through Google's Workspace, this laptop won't disappoint. You can use a multitude of apps from the Google Play Store for productivity. And at the end of a work day, you can enjoy movies as well.
You could look at the other laptops in this list if you're a creative professional working on Adobe Photoshop or other photo editing apps.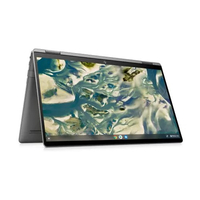 (opens in new tab)
Lenovo is one of the few companies that made its mark among brands like HP and Dell for their 2-in-1 laptops. The Ideapad Flex 5 is a more affordable option for users who want to work while travelling and watch movies as well.
There are only minor changes in the design of the laptop, but you continue to get the same premium build quality. You orient the laptop in several angles like tablet and tent mode with strong hinges.
On the inside, there is powered by Ryzen 5 5500U processor which is a good chipset for regular productivity and multitasking. We were able to review last year's model, which you can refer to below. Apart from the hardware upgrades, Windows 11 has improved performance on tablet PCs and the laptop also gets a brighter display.
Read our Lenovo IdeaPad Flex 5 (2021) review
HP has been dominating this list with their 2-in-1 laptops. The Chromebook is specifically for users who are primarily in the Google ecosystem. The HP Envy X360 is the middle child that offers Windows users a more affordable yet premium experience.
The laptop features the AMD Ryzen 5 5000-series chipset which works best for multitasking. While most Intel chipsets provide faster speeds, AMD's strength lies in providing a smooth quick switch between many apps at a time. This works great for professionals who work between resource-heavy apps like Adobe Photoshop or other photo editing applications.
The HP Envy X360 is reasonably lightweight and still features many of the essential ports like Type-C and a microSD card slot.
Moving to the most premium HP 2-in-1 laptop on this buying guide, the HP Spectre gets more of hardware upgrades than a design change. The latest model sports a 12th Gen Intel Evo Core i7 chipset with 16GB RAM and 1TB of storage.
You get an OLED display and another variant is available with a large 16-inch display. It offers essential I/O ports like Thunderbolt 4 and also comes with a microSD card slot. The display comes with minimal bezels, so it's immersive when watching movies too.
The laptop is beneficial for creative professionals as the chipset is more powerful and the OLED display is a plus. You can read our review of last year's model too.
Read our HP Spectre X360 (2021) review
The Asus Zenbook Flip 13 is another laptop we would recommend for any creative professionals. Designing, drawing and working on art is easy due to the OLED display on this laptop.
The laptop features a slightly older 11th Gen Intel Evo Core i5 processor, it still benefits from a higher clock speed. This means that the CPU is fast even for demanding tasks. You can still opt for the more premium HP Spectre we list before for a more powerful machine. But, at a more affordable price, the Asus Zenbook Flip 13 will still be a bang for the buck.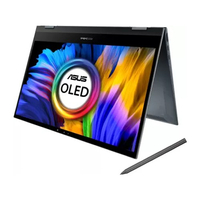 (opens in new tab)
Microsoft has been betting high on the future of computing with 2-in-1 laptops since the launch of the original Surface laptops. And the company has continued to maintain its success streak even now.
The Surface Book Pro 8 is to Microsoft what the MacBook Air is to Apple. You get a similar premium experience without losing out on much. Even if you opt for the more affordable Surface Go or the Surface Studio, the Windows 11 experience remains the same.
This particular model is best suited for users who primarily use Microsoft's services a lot. Working through the Office apps, sending and reading emails through Outlook and attending meetings through Teams. The Surface Book Pro 8 gets it all done.
Lenovo's Yoga line of products includes all-in-one PCs and laptops. One particular model, the Yoga 7, is best suited for a productivity user. The laptop runs on an 11th Gen Intel Core i7 processor clubbed with 16GB RAM and 512GB of storage. This makes it capable of handling heavy resource apps smoothly without any problems.
The laptop is also great for enjoying some movies too. The speakers on the Lenovo Yoga 7 support Dolby Atmos. Since the laptop also supports Wi-Fi 6, internet speeds will also be fast.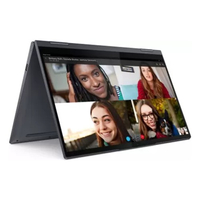 (opens in new tab)
If you're a hardcore gamer and also enjoy designing artwork or other creative content, then the Asus ROG Flow X16 is one you should look into.
The laptop does weigh on the heavier side, but this is easily justifiable for the hardware it packs. Apart from the ROG Flow Z13 and Flow X16, no other laptop listed here comes with a dedicated graphics card.
The Asus ROG Flow X16 features a fast AMD Ryzen 7 chipset which works best for both productivity and gaming. The display on the laptop supports Dolby Vision and you get an immersive audio experience with Dolby Atmos as well. This provides a balance in work, play and entertainment.
If the weight is a deal-breaker, you could look into our next laptop on this list.
The most compact gaming laptop in India, the Asus ROG Flow Z13 is a combination of the Surface Pro 8 and the ROG Flow X16. You get a 13-inch OLED display with support for Dolby Vision, thus making it a great device to watch movies on the go. You get an immersive surround sound as well with Dolby Atmos.
While it's a small form factor, the Asus ROG Flow Z13 is capable of handling day-to-day productivity apps as well. This is due to the 12th Gen Intel Core i7 chipset. While the RTX 3050 graphic card isn't the top-end, games are smooth at high settings.
Asus also allows you to connect the laptop to the ROG XG Mobile external GPU for a more powerful gaming experience. Out of the box, you will be getting a carry case, a detachable RGB backlit keyboard and Stylus. Which in our opinion is a sweet deal.