Adobe Animate is 2D animation software for making cartoons, games, social media banners. If it moves, you can make it for an online audience.
You can download Adobe Animate free on a 7-day free trial. The graphic design software is also available to buy as part of a Creative Cloud subscription, with its broad selection of packages, prices, and payment schedules.
We're looking at how to download Adobe Animate for free on a trial, all subscription plans and discounts you can take advantage of, how to get started animating, and which alternatives to Adobe Animate will also help you breathe life into your creations.
Today's best Adobe Animate deals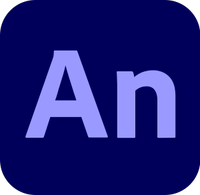 Adobe Animate is a 2D animation app for creating engaging interactive content. It's available to download free for 7 days or through a Creative Cloud subscription. For a powerhouse performance, pair the app with the best laptop for graphic design.
How to download Adobe Animate
Can I download Adobe Animate for free?
You can download Adobe Animate free on a 7-day free trial by clicking here.
Head to the website and click Free Trial. You will be given the choice of trying out Animate on its own or a trial of the Creative Cloud All Apps package. You can try out all the features during the trial period and decide whether the animation software hits your creative spot.
When you register for the trial, you're required to give Adobe your payment details, and when the trial expires, a paid subscription automatically begins. If you don't want to commit to the subscription, you can avoid this by canceling before the trial runs out—make sure you do so if you don't want to end up with a cancellation fee.
Once the 7 days are up, there's no way to continue using Animate for free, so you'll need to look into the payment plans offered.
How do I buy Adobe Animate?
Adobe Animate isn't available to buy outright (known as a lifetime license). You can only 'rent' the software as part of a subscription plan. It's the same for most Adobe products.
You can subscribe to Animate as a standalone app or as part of the Creative Cloud All Apps plan. All Apps bundles the animation app alongside more than 20 other tools, including After Effects (an industry-favorite VFX software) and Premiere Pro, the company's best video editing software.
If you work across mediums or use three or more included apps, the All Apps package may prove a cost-effective option for you.
How much does Adobe Animate cost?
Adobe's animation software comes with multiple price-tags depending on the plan you choose and the payment frequency. The app is available on its own or as part of the Creative Cloud All Apps subscription, with three plans: monthly, annual billed monthly, and annual upfront.
Adobe Animate subscription prices
Monthly: $31.49 / £30.34 / AU$45.99
Annual billed monthly: $20.99 / £19.97 / AU$29.99
Annual upfront: $239.88 / £238.42 / AU$343.07

Adobe Animate + Creative Cloud All Apps subscription prices
Monthly: $79.49 / £75.85 / AU$114.99
Annual billed monthly: $52.99 / £49.94 / AU$76.99
Annual upfront: $599.88 / £596.33 / AU$871.07


Note: while these prices are correct at the time of writing, prices outside the US fluctuate regularly with the exchange rates. All subscriptions can be canceled with a full refund within the first 14 days.
Are there Adobe Animate discounts for teachers and students?
Adobe offers an education discount scheme through which students and teachers can subscribe to the Creative Cloud All Apps package, which includes 3D modeling and rendering software Adobe Dimension, for working in the 3D space, and 100GB cloud storage at discount price. You'll need to provide proof you're a student or teacher, such as a school-issued email address.
Prices rise after the first year. so make sure you can run the software on any student laptops.

Adobe Animate student-teacher prices
Annual billed monthly: $19.99 / £16.24 / AU$21.99 a month for the first year, $29.99 / £25.28 / AU$43.99 a month afterward.
Annual upfront: $239.88 / £238.42 / AU$343.07
How can I get started with Adobe Animate?
The downside of Animate being such a versatile and powerful program is that there's a steep learning curve. If you're struggling to get to grips with it, then you'll want to check out the tutorials on Adobe's website. There are both written guides and videos, and they're divided into Beginner and Experienced sections, so you can learn the basics first before moving on to more advanced skills.
Adobe Animate: Key info you need to know
Adobe Animate is Adobe's main 2D animation software, used by many professionals for television animation, web series, game development, and more. It has a long history, having begun in 1996 as FutureSplash Animator before evolving into Macromedia Flash, Adobe Flash Professional, and finally Adobe Animate.
The current release is called Adobe Animate 2021 and is available for Windows computers running Windows 10 build 1703 or later and Macs running macOS 10.12 or later.
Adobe Animate: Android and iOS apps
Adobe Animate is a desktop-only app, and because it's a very complex program, it's unlikely that Adobe will develop a mobile version of it.
However, if your needs are simple you can use Adobe Express on desktop and mobile. The platform includes a free logo maker and the Adobe Express online video editor, among other tools. But for true animation, Adobe offers no Animate alternative for Android and iOS.
Adobe Animate alternatives
If you decide that Adobe Animate isn't the right choice for you, then there are plenty of alternatives available.
OpenToonz is a free animation program for Windows and Mac. The open-source software is packed with features and is the software used by Studio Ghibli for their acclaimed feature films.
Harmony, from the company Toon Booms, is also used by industry leaders, in this case the likes of Cartoon Network and Universal. It costs slightly more than Adobe Animate, and comes with basic, advanced, and premium editions.
Animation Desk is a good alternative to Animate for Android and iOS. This animation app lets you draw on your tablet and convert these drawings into frame animation.