All about Kodi
Not only is Kodi becoming more and more popular, it's growing in its capabilities too. The thing is though, without a fair few add-ons chances are you'll have only experienced a fraction of what the versatile suite of applications can do.
For those who haven't scrubbed up on their home entertainment news in a while, Kodi is essentially a stripped-down, streamlined media player program. It comes with a TV-friendly interface and a huge appeal for many is that with each update it receives, it improves upon itself exponentially.
Not only does it get a great update and refresh every so often, but you can really make it your own by getting the right choice of add-ons. These allow you to get way more functionality out of the media player, which enhances your experience with everything that you might use it for, from film to music to TV.
That's where this guide comes in, filling you in on some of the best add-ons for all of your home entertainment needs.
But first, we'd like to stress that neither TechRadar nor Kodi endorse piracy. Even if some Kodi add-ons can been used for legally dubious means, it goes without saying that you should pay for the copyrighted material you consume in a lawful matter.
None of the add-ons in this guide will get you into trouble – every single one is for watching and streaming legal content. This means you may need to have a subscription to the services, or in the case of BBC streams, a valid TV licence.
There are a lots of features to unlock for your Kodi box, and right here we've gathered the top Kodi add-ons for you to install in your Kodi streaming box. These add-ons will expand your Kodi streaming universe exponentially, helping you power your entire home theater suite through the software.
On top of that, we've also included a guide on how to install the best Kodi add-ons, so you can quickly expand the functionality of your Kodi device.
Plex
Where to find it: Plex Forums
If you think about it, it's kind of strange that Plex – long seen as a fierce competitor with Kodi – has now launched its own Kodi add-on for the powerful Plex server software, bringing with it the usual attractive interface and other awesome features that Plex is known for.
While many people may think adding Plex to Kodi is a bit wasteful as they share many of the same features, it's actually a fantastic move. Now users can have the slick and professional Plex experience alongside the flexibility of Kodi.
If you're a home theater obsessive, then the Plex add-on for Kodi is a must, and thanks to a recent update you don't even need a Plex subscription to use it.
iPlayer WWW
Where to find it: Default Kodi repository
No prizes for guessing what the iPlayer WWW Kodi add-on is all about. It's a Kodi interface for the BBC iPlayer streaming service.
Bang up-to-date with all the official content, this excellent service even reminds you that you need a UK TV license to watch content.
The real thrill of iPlayer WWW is that its very matter-of-fact interface makes it much easier to find shows to watch, quickly, than the iPlayer UIs you'll find built into TVs and game consoles.
The best sport add-ons for the Kodi media player
Bulldog streams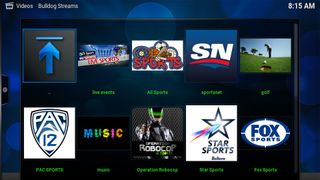 Where to find it: Bull Dog Streams website
If you don't mind your streaming Kodi add-on using a silly name and a bit of a silly lead image, Bulldog streams is worth a shot. It offers plenty of sport TV channel streams, as well as an Operation Robocop zone.
This is where you'll find Bulldog Streams's live event streams, a hot ticket in the Kodi add-on stakes. Some of the streams may take a while to load at peak times due to server load, but the streams on offer give you plenty of choice.
Sports Mania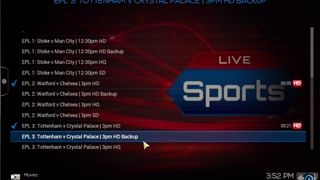 Where to find it: Sports Mania website
Pay for a Kodi add-on? Madness? Not quite. Sports Mania is an excellent add-on that has dynamic server load management so you don't have to put up with stuttering streams or ones that refuse to load altogether.
It'll cost you £50 a year (around $65, AU$90), but might be worth it if you are going to use Kodi for a lot of sport-watching longer-term. There are also shorter memberships if you just want to try out a premium Kodi add-on without much of a commitment.
SHOUTcast 2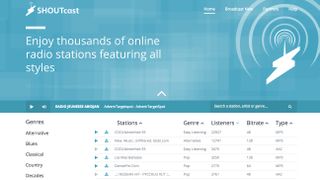 Where to find it: Default Kodi repository
SHOUTcast 2 is an internet radio Kodi add-on, letting you listen to one of thousands of online radio stations directly from the Kodi interface.
It's very easy to use, although given the huge volume of channels available, it can be difficult to find just the right one for you. Thankfully it organizes channels by Genre, which makes it a little easier to browse.
SickBeard, CouchPotato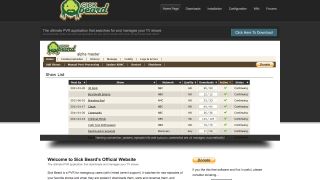 Where to find it: Default Kodi repository
We've previously spoken about how to use programs such as CouchPotato or SickBeard to automatically download TV shows and movies, and SickBeard XBMC and CouchPotato Manager are add-ons that let you control these apps from within the lounge room-friendly interface of Kodi. You'll still need the apps installed on your PC to use them.
You can add new shows or movies, and check and stream your library with these apps, and they do a good job of letting you get to the core functionality of the apps.
Spotimc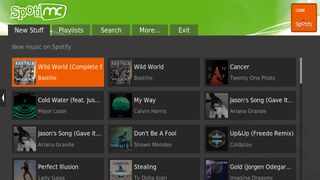 Where to find it: Superepo repository
Spotify doesn't make an official interface for Kodi, but there are third-party add-ons that let you access your Spotify account from within the Kodi software. Spotimc is the one we've been using.
While not quite as slick as the mobile app Spotify has made, it gives you access to the full Spotify library as well as the playlists you've created on your phone or laptop (and it doesn't mess up the formatting of artist and track information either). A good alternative to plugging your laptop into your hi-fi during a party.
Other Kodi add-ons
Apple iTunes Podcasts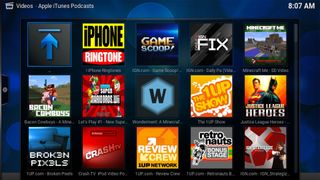 Where to find it: Default Kodi repository
There's a small army of podcast apps for Kodi, but the one with the best line-up is Apple iTunes Podcasts, which hooks into the iTunes podcast library, an amazing treasure trove of content.
The interface isn't too fancy, but it's clean, clear and easy to search through. There are also loads of sub-genres, making browsing for new podcasts without having any friends' recommendations a cinch.
Kermode and Mayo's Film Review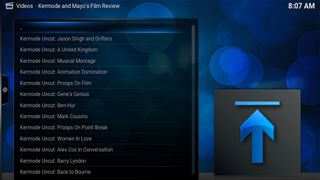 Film fan? You're missing out if you don't listen to the Kermode and Mayo Film Review show. This Kodi add-on gives you access to the huge podcast archive, and a lot more besides.
You can watch the Kermode Uncut video blogs (definitely worth a watch), as well as all the YouTube video clips of Kermode and Mayo in the studio reviewing many films from the last few years. Just remember to say hello to jason Isaacs.
ROM Collection Browser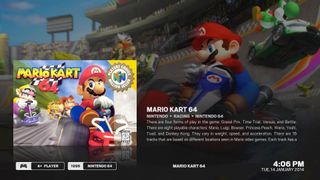 Where to find it: Inbuilt script
Kodi isn't just about playing video and music: you can also point it towards your retro game ROM and emulator collection and it'll arrange your goodies in a very TV-friendly way.
You can also launch games right from this UI, and it's built into Kodi too – just search for "rom collection" in the add-on browser. It doesn't provide any emulators or ROMs though, so you'll need to have those first.
The best Kodi bonus add-on: a VPN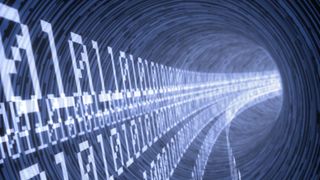 How to install it: Check out TechRadar's 2018 ranking of best VPNs for links to top services
A good VPN (virtual private network) can secure and anonymize your internet activity. The best of the best offer VPN server locations all around the world, allowing you to find the optimal connection speed for your Kodi experience. Major VPNs like ExpressVPN offer apps for a variety of devices, meaning no matter what device you are using for Kodi, you can also install a VPN for the ultimate in protection.