I have two cats, and this smart wet-and-dry vacuum cuts my cleaning time in half
Got cats? This might be your best purr-chase yet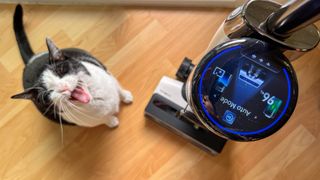 (Image credit: Future / Michelle Rae Uy)
Unless you have a cleaning person coming in at least once a week, the struggles of keeping one's home in order if you have a pet will be all too familiar. And it's even worse when you have two boy cats like I do.
My usual routine is vacuuming at least every two days, and that's only because I'm often busy. If I had the time, I would do it every day because, to be honest, my apartment barely stays clean for 12 hours, let alone 24. And god forbid I forget to clean the litter box on schedule – all I can do is pray that I've accumulated enough points with the cat gods that my punishment isn't too severe. Based on the incident this morning, I didn't.
Cleaning in a pet-occupied home requires more than just dusting off pet hair and vacuuming the litter and dirt that track around the house. In reality, it involves a lot of wiping up hairballs and throw-ups, mopping the floor every few days, and even disinfecting everything — especially when someone has had an accident.
Lucky for me and all the long-suffering cat owners out there, vacuum technology has come a long way, and we're now blessed with wet-and-dry vacuum cleaners like the Tineco Floor One S7 Pro that can knock several tasks off your cleaning list in one go.
Thanks to the Tineco Floor One S7 Pro, which is shaping up to be one of the best vacuum cleaners I've tested, I no longer have to vacuum every other day and then find time during my busy week to mop my floors. It vacuums, mops, disinfects, and deodorizes my floors all at once, cutting my cleaning time in half.
Plus, it requires less effort thanks to its bi-directional self-propulsion system, which means that while I do still have to steer and guide it, it gently moves forward and backward on its own, requiring less effort from me.
And, like my cats, it's also self-cleaning — though I suspect it does a better job than they do.
Easy to set up and use
If all you've ever used before is a traditional vacuum cleaner, the Tineco Floor One S7 Pro may look very intimidating out of the box. But trust me, while it looks like something the Jetsons might use to clean their swanky pad in the sky, setting it up is actually less complicated than some of the best cordless vacuums I've used in the past.
Tineco also makes the getting-to-know process easy, as it comes with a simple, voice-guided, hands-on tutorial that teaches you the basics. All it takes is a few minutes of your time and for you to follow the instructions.
And even if you didn't pay close attention to the tutorial, the vacuum itself has built-in voice prompts to remind you of what to do next — including emptying the dirty water tank after each use, turning on self-cleaning, and even filling up the water tank. It even tells you when it's ready to start cleaning.
Less effort, less time
While it's still too early in my testing process for me to give a fair assessment of the Tineco Floor One S7 Pro, I have to say that my few days with it have so far been promising. I used to vacuum, mop, and deep-clean my floors separately, as well as set aside a couple of hours a month to deodorize my space — such is the curse of being a cat lady.
A few minutes with this vacuum a day, however, knocks all those things off my cleaning list at once, which means I can have a clean, dirt-free, and nice-smelling floor with less effort and less time spent.
Plus, whether it's for unnoticed, clear throw-ups that dry up and leave water marks on my floor, or just when I'm feeling icky about my space, I can put this vacuum on Ultra mode for deep cleaning. It can even get rid of liquid spills and bigger messes with its Suction and Max modes, though I have yet to test those features.
It makes everything so easy that part of me now wishes my cats would make a mess just so I can use this vacuum and relish in the joy of having pristine floors.
Limitations
Like most products the Tineco Floor One S7 Pro does have its share of limitations. Apart from being on the pricey side — it costs $899.99 in the US (and is not available in the UK and Australia at the time of writing), and it doesn't work on carpeted floors due to the type of brush it uses.
Also, its water tank only has a 0.85L water capacity, which means you'll have to constantly fill it up — not to mention empty the dirty water tank — if you have a bigger space, and it barely has enough juice to finish cleaning my one-bedroom apartment at full charge on Auto. Switch to Ultra, and you'd be lucky to clean two rooms. Plus, charging takes a while.
Despite these flaws, however, I can't deny that the Tineco Floor One S7 Pro has changed my life. Not only are my floors cleaner than ever, but I'm also much more relaxed and comfortable in my own home, and my boys don't get yelled at as much anymore for making messes.
Everybody wins.
You might also like
Get daily insight, inspiration and deals in your inbox
Get the hottest deals available in your inbox plus news, reviews, opinion, analysis and more from the TechRadar team.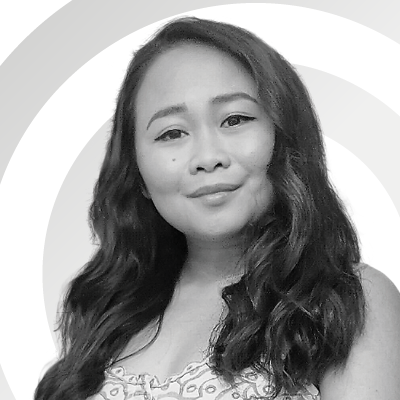 Computing Reviews and Buying Guides Editor
Michelle Rae Uy is the Computing Reviews and Buying Guides Editor here at TechRadar. She's a Los Angeles-based tech, travel and lifestyle writer covering a wide range of topics, from computing to the latest in green commutes to the best hiking trails. She's an ambivert who enjoys communing with nature and traveling for months at a time just as much as watching movies and playing sim games at home. That also means that she has a lot more avenues to explore in terms of understanding how tech can improve the different aspects of our lives.