Chromebook sales are a dime a dozen, but finding a truly excellent deal featuring an equally high-quality Chromebook is a much harder task. But right now, Best Buy has a solid discount on the Acer Chromebook 516 GE.
The Acer Chromebook 516 GE received four and a half stars out of five from us, as well as making it into our best Chromebook buying guide, which means it's without a doubt a quality machine. And thanks to this deal, the Acer Chromebook 516 GE is currently at $499, a savings of $150.
The best part is that this Chromebook is made for gaming by using the GeForce Now game streaming service. The streaming quality is solid even on the free tier, and the highest tier which emulates an RTX 4080 GPU and a framerate of 240, runs brilliantly even with high-end games like Cyberpunk 2077.
Acer Chromebook 516 GE deal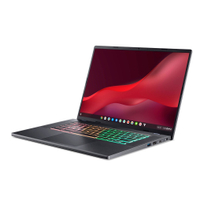 Acer Chromebook 516 GE: was $649 now $499 at Best Buy
The Acer Chromebook 516 GE features a solid suite of specs, including an Intel Core i5-1240P, 8GB of RAM, and 512GB of storage space. It makes for an excellent game-streaming laptop that's lightweight with a great battery to boot. It also has a pretty decent port selection with a great display as well.
The Acer Chromebook 516 GE also has a solid port selection on top of the 8GB of RAM and 512GB of storage, making it well-rounded for gaming and productivity work. And the 16-inch WQXGA (2560 x 1600) display has a solid 120Hz refresh rate. Not to mention the battery life is nothing to sneeze at, clocking in at over seven hours with a fast charge.
The only real downsides to this Chromebook are that it's still waiting for Steam support and the audio is pretty bad. The former is a matter of simply waiting for a Steam Chrome app, while the latter can be solved by using a good-quality headset. But for the price, this is still an excellent deal for a great Chromebook.
More Acer Chromebook 516 GE deals
You can also see more of the best gaming PC deals and laptop deals happening now, for all your gaming needs.