If the warmer summer months leave you overheated in the night for all the wrong reasons, the Memorial Day mattress sales are an excellent opportunity to ditch that old bed and treat yourself to one of the best cooling mattresses.
And if you hit the Memorial Day sales at Serta, you can find its most high-end cooling mattress with $400 off all sizes. The Serta Arctic Hybrid mattress is packed with technology that, says Serta, delivers 15x better cooling power than other cooling mattresses. There's a combination of phase change material and cooling gel that draws heat away from your body, while premium memory foam and a deep innerspring layer bring all the comfort and support you're likely to need.
It's not a cheap mattress, especially if you opt for the plush version with even more cushioning, so the Serta Memorial Day sale is a great time to buy. With $400 off, a queen size is reduced to $2,999.
Serta Arctic Hybrid Mattress: was $2,999 now from $2,599 at Serta
Serta's most advanced cooling mattress uses phase change material and cooling gel to keep temperatures down at night. In the Memorial Day mattress sales there's $400 off all sizes, so a queen size is yours for $2,999. And if you prefer a softer all-foam mattress to a hybrid, the standard Serta Arctic is available for the same price.
Want an adjustable base to go with your new mattress? Serta is also discounting its Motion Perfect adjustable base, with up to $500 off; a queen size will cost you $1,699. And if you don't really need a cooling mattress there are also discounts available across Serta's iComfortECO range of beds made from up to 70% sustainable material. There's an all-foam model and two hybrids to choose from, with up to $400 off.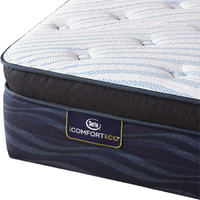 iComfortECO Quilted Hybrid mattress: was $1,249 now from $1,049 at Serta
The iComfortECO is Serta's greener mattress, featuring recycled materials and plant-based foam. The Quilted Hybrid version is the cheapest option and comes in two cooling options and up to six firmness levels; the extra firm model is available in a queen size for $1,299.
If you need a cheaper option, Serta is also running deals on its mattress-in-a-box offerings, with 10% off everything. That means its standard Serta Mattress-In-A-Box is available from just $269.10, making it a strong choice for a spare bed at a bargain price, And if you want a good value bed-in-a-box for yourself, both the Perfect Sleeper and Perfect Sleeper Hybrid are worth a look, with prices starting at $494.10 for the memory foam version, while a hybrid in a queen size will cost you $719.10.
Want to know more? Head to Serta's sale page to get all the details on its Memorial Day savings.