Update: Today's PS5 restock at the PlayStation Direct store in the UK has now sold out. After a couple of false starts, it looks like when it finally got underway it was quite a large drop with a significant number of consoles available to buy - even after the exclusive invite window. Hopefully, that's a good sign for future PS5 restocks in the UK. Stick with our PS5 restock hub for updates as more consoles are expected soon at Game and Very.
---
If you signed up for PS5 restock updates from the PlayStation Direct store in the UK then you should check your emails this morning. Exclusive invites to buy the next batch of PS5 consoles have been sent out, so if you have one, you'll be able to buy a PS5 today.
The restock was set to start at 9:30am, but it's just been delayed by one hour due to technical difficulties. Nevertheless, when the new time comes, just follow that exclusive link in the email at the stated time and you'll be given a random spot in the queue.
For those who haven't got an invite or didn't register for updates, a wider public restock could follow from 12pm but that entirely depends on whether any stock remains after the priority access window. You can use the link below to get yourself in the waiting room once it opens up later this morning.
It's important to point out that, unfortunately, getting in either queue doesn't guarantee you a console during a PS5 restock at PlayStation Direct. As places are assigned randomly, it all depends on whether you're lucky enough to get an early position and how long consoles remain in stock. Stick it out, though, and you might come away with a PS5 today. Also, it doesn't look like any PS5 Digital Edition consoles are available in this restock.
If you aren't successful, be sure to register your details at the PlayStation Direct store to be informed about the next PS5 restock. You can also follow our where to buy the PS5 hub for regular updates from all the major retailers and any news on future PS5 restocks over the coming weeks.
PS5 restock at PlayStation Direct UK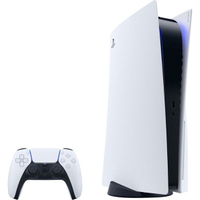 PS5: £449.99 at PlayStation Direct
PS5 consoles are available today from 10:30am at PlayStation Direct UK if you've been sent an exclusive email invite. Those without one can get a spot in the queue here from 12pm when the public sale will begin - as long as the PS5 hasn't sold out before then. It should be available for a reasonable amount of time, so even if you think you're quite far down do stick around.
If you have no luck with PS Direct, we are fully expecting more PS5 restocks in the UK in early April. The next retailers that should have consoles available to buy are Very at Game. There's a small chance the PS5 will be available to buy from either of them today, but it's more likely to be next Tuesday, April 12.
Once you've got a console on the way, definitely head on over to our PS5 deals hub to get yourself some cheap PS5 games and accessories to go with your new purchase. You might also want to look at the latest PS5 SSD deals if you think storage space for all your games is going to be an issue.