Cyber Monday is upon us and marks one of the best times to nab a hefty saving on Dyson's range of vacuum cleaners, along with its hair care appliances such as the Dyson Airwrap and the Dyson Supersonic, which tops our list of the best hair dryers, and the brands range of air purifiers.
Dyson has a reputation for offering vacuum cleaners that are powerful, with long-lasting batteries and large dust canisters. Similarly, its hair care appliances are compact and lightweight but ensure your tresses are smooth, shiny and hold the styles you create. But this cutting-edge tech comes with a hefty price tag, so one of the best Cyber Monday deals will be greatly appreciated.
We'll be rounding up all the best Cyber Monday Dyson deals right here, so be sure to bookmark this page and check back regularly to get a heads up on the best savings as soon as they appear. We're also live-blogging all the top Dyson deals right now, so tune in for the very latest updates as they happen.
Dyson Cyber Monday sales (US): quick links
Today's best Dyson hair care appliance deals (US)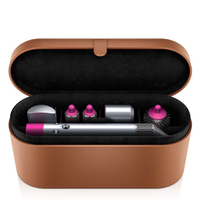 (opens in new tab)
Dyson AirWrap Volume + Shape styler refurbished: $499.99 $429.97 at Nordstrom
(opens in new tab)Save $70 - You save 15% by opting for this refurbished Dyson Airwrap from Nordstrom Rack right now. It comes with three styling attachments and a leather case - and it'll be delivered for free.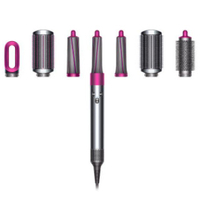 (opens in new tab)
Dyson Airwrap Complete - Refurbished: $399.99 at NewEgg (opens in new tab)
A new Dyson Airwrap Complete costs $549.99, but you can get $150 off by opting for this refurbished one from NewEgg. It's sold and shipped by Dyson itself, so you can be confident it's the real deal.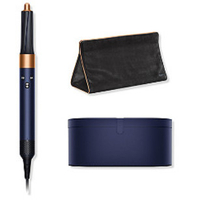 (opens in new tab)
Dyson Special Edition Airwrap Complete: $599 at QVC (opens in new tab)
This version of the Dyson Airwrap comes in copper and Prussian blue rather than the standard fuchsia and silver, with all the same accessories and attachments as the regular edition. It's still full price, but if you can't find an Airwrap available elsewhere, this is the place to look.
Dyson Cyber Monday sales (UK): quick links
Dyson: take advantage of Dyson's Black Friday price promise (opens in new tab)
Amazon: the Dyson V11 range is low in stock here (opens in new tab)
Argos: Argos has discounted the V11 Absolute by £160 (opens in new tab)
Currys: offering the best discount on the V11 Absolute right now (opens in new tab)
John Lewis: you'll get a two-year warranty on the V11 Absolute here (opens in new tab)
Today's best Dyson vacuum deals (UK)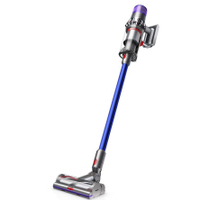 (opens in new tab)
Dyson V10 Animal Extra: £449 £299 at Argos (opens in new tab)
Save £150 - Dyson's V10 vacuums might have been usurped by its more powerful V11 and V15 lines, but if you're after a cheap Dyson vacuum this is the lowest priced one we can find in the UK right now. With a 60-minute runtime and a design suited to tackling pet hair you could definitely do worse.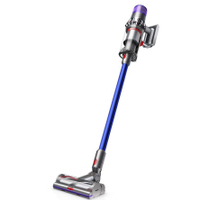 (opens in new tab)
Dyson V11 Absolute: £599 £439 at Currys (opens in new tab)
Save £160 - The Dyson V11 Absolute is a fantastic cordless cleaner that can tackle both hard floors and carpets with ease – its Eco Mode offers powerful suction, and the LCD screen is perfect for alerting you to blockages remaining run-time. £160 is a big saving, and this particular deal may run out soon so be sure to grab it while you can.
Today's best Dyson haircare appliance deals (UK)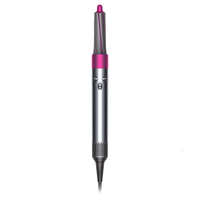 (opens in new tab)
Refurbished Dyson AirWrap: £449.99 £399.99 at Dyson (opens in new tab)
Save £50 - If you're after a rare deal on a Dyson Airwrap- and you don't mind using a second-hand gadget - this saving on a refurbished product is likely to be the best you can hope for this Black Friday.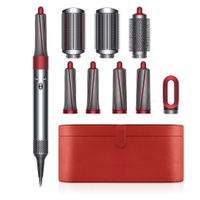 (opens in new tab)
Dyson Red Airwrap Special Edition: £450 at QVC (opens in new tab)
This special edition Airwrap kit comes in red rather than the usual fuchsia shade and comes with the full array of attachments, non-slip mat, and storage case.
If you're not keen on any of the Dyson deals above, we've rounded up even more of the best offers from your region...
Dyson Cyber Monday deals: our predictions
When will the best Dyson Cyber Monday deals start in 2021?
Cyber Monday takes place on November 29 this year. However, there are still a handful of deals remaining from Black Friday, which officially fell on November 26 this year.
As these start to sell out, the Cyber Monday deals will start trickling through, however, the biggest crop of discounts will appear on the day itself, although we expect the deals to run through the first week of December, so don't despair if you miss out on the day itself.
Where are the best places to find Dyson Cyber Monday 2021 deals?
You'll find all the best Dyson Cyber Monday deals right here as soon as they drop. However, if you'd rather do the research yourself, we'd recommend you start by checking out the retailers listed below. These are all the stores with a strong reputation for offering high-quality discounts during the holiday sales period, so they should be the ones to watch in 2021.
Last year, Amazon, Best Buy, and Target all offered record-low prices on Dyson's cordless and upright vacuums. Dyson itself also offers discounts on its products during Cyber Monday, but typically Amazon will price match or offer a lower price. Discounts on newer model vacuums tend to sell out quickly, though, so make sure to keep an eye on this guide and relevant retailers, so that you can stay on top of all the latest sales.
Discounts of Dyson hair care appliances are much harder to come by, and aren't offered by Dyson direct. Last year, Amazon and Best Buy were the only retailers that discounted the Supersonic, Airwrap and Corrale hair tools, Dyson offered a free accessories pack including a paddle brush and detangling comb, while some retailers bundled the haircare appliances with gift cards.
While we can't predict what this year will bring, we do know that Cyber Monday, along with Black Friday is your best bet to score a discount on Dyson's premium hair care tools.
Like vacuums, several retailers offer discounts on Dyson's purifiers throughout the year, including Dyson itself. We expect to see the lowest prices offered on Cyber Monday and Black Friday from third-party retailers. Here are the stores we recommend you check out this year:
Amazon - the best prices on Dyson upright and stick vacuums (opens in new tab)
Best Buy -gift cards with your Dyson hair care purchase (opens in new tab)
Dyson - discounts on Dyson's latest devices (opens in new tab)
Target - save on Dyson vacuums and air purifiers (opens in new tab)
Ulta - bundled offers on Dyson's hair care tools (opens in new tab)
What Dyson Cyber Monday deals do we expect to see in 2021?
Last year we saw some Dyson vacuums discounted by as much as 35% over Cyber Monday and the rest of the holiday shopping period. This included cordless vacuums such as the Dyson V8 and the Dyson V10, as well as its upright vacuum cleaners like the Dyson Ball Animal 2.
However, we saw only a handful of deals on the Dyson V11 range of vacuums, which at the time was the brand's current model. This has now been superseded with the Dyson V15 Detect line, which features a laser on the floor cleaning head to highlight hidden dust. We'll be keeping our eyes peeled for savings on the newest Dyson models, but they won't be as substantial as those found on older designs.
We also anticipate the addition of the V15 detect to Dyson's vacuum line-up means we'll see heftier discounts on the V11 range this year. With the same suction power as the V15 Detect range, for those that aren't worried by plenty of cutting edge tech, it's a good buy.
Last year's best Cyber Monday Dyson deals
Checking out the best prices offered during Cyber Monday, as well as Black Friday and the rest of the holiday sales period from last year is one of the best ways to predict what Dyson Cyber Monday deals we might see this year. As we've already mentioned, the biggest discounts were applied to older cordless and upright vacuum cleaners rather than the brand's latest models.
There are rarely discounts on Dyson's hair care tools, instead, there are more likely to be offers that bundle gift cards or an accessories pack with these expensive appliances. While, If you're in the market for an air purifier, there will be some savings to be had - although with a smaller array of models than vacuum cleaners, there will be less deals to choose from.
Tips for buying a Dyson appliance this Cyber Monday
If you're looking for a Dyson product this Cyber Monday – whether it's a vacuum, hair care device or air purifier – there are some aspects to consider before you hit the purchase button.
When it comes to Dyson vacuums, decide on what type of vacuum you want beforehand. Cordless vacuums are lightweight, easy to maneuver and often have long-lasting batteries to reduce interruptions to your cleaning session, and crucially you're not tethered by a cable. However, they are more expensive than corded upright or cylinder vacuums and they tend to have smaller dust canisters so are better-suited to small homes.
Corded vacuums often have wider floor heads too, which can ensure vacuuming is a much quicker task - again making them suitable for those with large areas to vacuum regularly. If you have hard floors in your home, check for dedicated cleaner heads that use a softer brush roll to ensure the flooring isn't damaged when vacuuming.
There's far less to consider with Dyson's hair care tools, as the models only tend to vary in color or the accessories they're bundled with. Always check the tools and attachments are suitable for your hair type and the styles you want to create.
After a Dyson air purifier? Make sure you look at the size and shape and assess whether it's suitable for the area you plan to use it in, also consider the range of pollutants it filters out and if it can trap the allergens you need it too. Some of Dyson's air purifiers can also heat and cool the space at the same time, while others feature a display that can highlight exactly what particles have been removed from the air.
Whichever Dyson device you're aiming to purchase on Cyber Monday, always check what price other retailers are offering before you add a model to your basket - you may find a better discount elsewhere. We'll be rounding up the best prices from across the web here, but if you're going it alone, thorough research will make all the difference, as prices can differ dramatically between retailers. Also, keep an eye out for retailers offering additional accessories or long guarantees in a bid to get the edge over their competitors.
3 best Dyson appliances to look for on Cyber Monday
Dyson's latest cordless vacuum cleaner is definitely is its most impressive. The V15 is more powerful, offers a better clean on all floor types, and has a built-in laser that shines a light on microscopic dust that's not visible to the human eye.
While we're unlikely to see savings of as much as 35%, which can be found on older models, we still anticipate there will be some discounts to be had on the V15 Detect. If you're after a top-of-the-range vacuum loaded with cutting-edge tech, then keep your eye peeled for deals that will make buying this easier on your wallet.
Read our full review: Dyson V15 Detect Absolute
The Dyson Airwrap is a hair styling wand that comes with an array of attachments and can be used to dry and style tresses simultaneously. Powered by the V9 digital motor, the Airwrap uses warm air to create an aerodynamic phenomenon called the Coanda effect. This attracts hair towards the barrel and then either wraps it around to create curls, or propels air along the hair strands in the same way a hair dryer is used when blow-drying, to create a sleek, smooth style.
As we've mentioned, the popularity of the Airwrap means discounts are few and far between. Instead, you're more likely to find accessories packs or gift vouchers bundled with the styler. We expect Cyber Monday 2021 will be no exception.
Read our full review: Dyson Airwrap
The latest version of Dyson's air purifier and hot/cold fan in one is its smartest yet. As well as the usual allergens you'd expect, it can also detect and remove formaldehyde – the most common volatile organic compounds (VOCs) or colorless gasses emitted by the products that we use to clean and decorate homes – that builds up over time, along with other dust and allergens from the air.
Much like with its range of vacuum cleaners, as this is the latest air purifier offered by Dyson we don't expect to see the same level of discounts as you get on older models this Cyber Monday. That said we do expect to see some savings and even just $50 on what is an expensive device, is worth keeping an eye out for.
Read our full review: Dyson Purifier Hot+Cool Formaldehyde HP09