Fitbit Cyber Monday deals 2023: The best discounts live right now
Cyber Monday Fitbit deals are live. Time to get yours!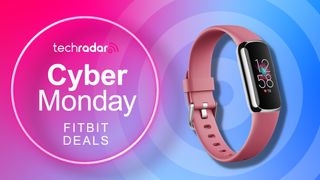 (Image credit: Future)
Fitbit Cyber Monday deals are here! So if you're in the market for a top-tier fitness tracker, now's the time to look for big savings on the devices on your wish list.
Cyber Monday deals officially start on November 27 and some incredible deals are already live now, and some are even at record-low (or near it) prices.
This year, there are fantastic discounts on the bigger smartwatches such as last year's Fitbit Versa 4, Fitbit Sense 2, and the brand new Fitbit Charge 6 which is on sale for $99.95 on Amazon, its lowest price so far. You can also bag Inspire and Luxe models for cheap, well worth it if you're looking for a slender, cheap fitness band.
So read on for the best Cyber Monday Fitbit deals, plus more information to help you score a bargain.
Fitbit Cyber Monday deals – Quick links (US)
Best Fitbit Cyber Monday deals in the US
Fitbit Cyber Monday deals – Quick links (UK)
Best Fitbit Cyber Monday deals in the UK
Fitbit Cyber Monday deals: FAQs
When did the Cyber Monday deals start in 2023?
As mentioned above, the Cyber Monday deals period officially starts on Monday, November 27, (which the industry calls 'Cyber Monday'), but sales went live as soon as Black Friday deals ended in many cases.
Retail outlets worth checking outside of Amazon, Walmart, Best Buy and so on include Dick's Sporting Goods and Target in the US, and Curry's and Argos in the UK.
It always pays to scout out the best deals, and as you can see above, we've gone to multiple outlets and sources, as Amazon's not the only game in town.
What Fitbit Cyber Monday deals are we seeing in 2023?
Cyber Monday is usually a great opportunity for retailers to shift surplus stock of old (but still perfectly good) devices when a sequel comes out. There are plenty of unsold Fitbit Versa 3, Fitbit Sense and Fitbit Charge 5 units waiting to find their forever homes, and these devices are still a great buy even with their sequels out. Fitbit Versa 3, for example is still top of our list of the best Fitbit overall, while the Google Pixel Watch (which uses Fitbit technology, so it counts) is one of the best smartwatches.
We're also seeing big discounts on the brand new Fitbit Charge 6, so if you wanted this year's Fitbit device for under $100 or £120, you are in luck. Pixel Watches, which are integrated with Fitbit, are also seeing heavy price cuts, especially last year's original models.
For fitness beginners, it's a great opportunity to get a tool so you're ready to get started early with your New Year's resolution. If you can find one, the Fitbit Inspire 2 should hover at around $60 / £50 / AU$90, and is the device to get. Even though the tracker is practically ancient, beginners won't need fancy features and it comes with a whole year of Fitbit Premium, while other, newer devices only get six months.