I tried Ultimate Ears' pricey Bluetooth speaker and UE is back – in a big way
Epicboom: finally a Bluetooth speaker worthy of its name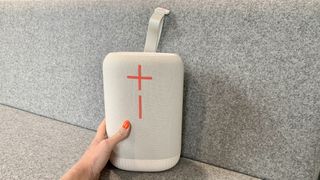 (Image credit: Future)
Rarely have I been so happy to write what we call in the business an 'experiential feature' – a precursor to a full review. We do them because we feel the urgent need to tell readers about a certain product's initial merits, ahead of a longer appraisal. And if you read no further, please know that the product pictured above is a stone-cold belter of a Bluetooth speaker.
The item is the Ultimate Ears Epicboom, and it has been a little while coming. You see, the company – which I am a huge fan of – used to furnish us with some of the best Bluetooth speakers for every occasion, but its last effort (aside from the somewhat confusing Wonderboom 3; an oddly light-touch update on the Wonderboom 2) was the much larger Hyperboom. And though that speaker was very talented, even that was back in February 2020.
But this is something completely different. And after just a few hours with it, I can confirm it is alarmingly good if you can afford it. Meet Epicboom, a big cylindrical beast in cotton white and 'lipstick red' (which is more coral pink), also available in charcoal black and lime. It is shoe-box sized – or around the same size as the Bose Home Speaker 500 – and it has an excellent companion app for powering it on and off from your phone, volume and five-band EQ tweaks, plus four music presets through Apple Music or Amazon Prime Music.
It also goes more than loud enough to fill a big room with reassuringly weighty music that never bloats or muddies during the course of my listening – even if I maxed out both the bass slider and the volume. Oh, and the outdoor boost button is another fan favorite, cutting through ambient chatter here and giving you clear, agile music for your shindig.
And it looks every bit as fun, relaxed, and ready to turn this board meeting into a party as we've come to expect from Ultimate Ears. Under the hood, its dual 1.5in. drivers are coupled with a 4.6in. woofer for bass clarity and immersive sound. With an IP67 rating, Epicboom is also waterproof (it even floats) and dustproof. Just scroll the gallery below for photos – although I'm not sure what that strap is doing there; it's a heavy thing and that strap doesn't really offer an easier or more comfortable way to grab it.
Image 1 of 5
It's quite the looker, but Epicboom's sound is no slouch either
Need a bit of clarification on why I'm so excited about this particular speaker? The Ultimate Ears Wonderboom 2 (aka the last truly portable speaker the Californian audio specialist released in June 2019) was a fantastic mug-sized Bluetooth speaker. It also floated, making it one of the best waterproof speakers out there. But the updates never came.
OK, the firm also released the novel heat-to-fit 2022 UE Drops earbuds – which I loved, during what I like to call UE's "quiet period" (we were all dealing with the aftermath of a pandemic, to be fair), but it has been an awfully long wait for a Bluetooth speaker from the Logitech brand.
So, like a fresh band that made its debut with a number-one smash hit, followed it up with an even better album, then cemented it with… nothing, for over two years, Epicboom feels like that hotly-anticipated banger of a second album that finally confirms we weren't wrong.
I'm grateful for any wait that culminates in this – initially at least (this isn't a full review). We should experience the lows to appreciate the highs and here, with the Epicboom on the desk in front of me, the highs (and mids, and bass frequencies) are remarkable.
---
Opinion: Ultimate Ears is back to its best
The speaker offers up to 17 hours of playtime and has a one-touch NFC feature (available for NFC-compatible smartphones with Android 8.0 or later). If you're using a 15W charger, UE says it'll charge fully in two hours.
Jamie T's voice is textured and brimming with South London petulance as he belts out The Old Style Raiders. Niall Horan's orchestral version of So Long skips along happily with admirable timing across the frequencies in an expansive, emotive, and layered mix that gives his vocals space to shine. Dungeon Family's Follow the Light is funky and vibrant, with oodles of early noughties bass clout and energy.
Any downsides? The delicate topic of coin is one. At $349 / £340, which is around AU$550 based on that US pricing, it's not cheap, is it?
UE doesn't often head into this upper end of the market. The sonically gifted Wonderboom 3 will set you back a trifling $99.99 / £89.99 / AU$149. Yes, with this new price point, Ultimate Ears is clearly ready to do battle with the big boys, but the March 2023-issue Sonos Era 100 is a lot cheaper at $249 / £249 / AU$399, and as we pointed out in our Sonos Era 100 review, that is a lot dearer than the Sonos One it replaces (which costs $219 / £199 / AU$319). So it's tough company to keep. The other thing is that the Sonos speaker can play nice with your home Wi-Fi and your Sonos multi-room setup. It also features 3.5mm and ethernet connections – there's a reason it tops our best wireless speakers roundup.
What does the pricier Ultimate Ears proposition offer? Well, Bluetooth connectivity, with a 55m (180ft) range. But if that's all you need and you need it loud, you've found one of the best party speakers I've heard in some time.
This isn't a full review (I haven't tested the battery life claims or tried to submerge it in water) but I'm so happy to report that Ultimate Ears is now back to doing what it does best. And as anyone familiar with the brand knows, its best is very, very good indeed.
You might also like
Get daily insight, inspiration and deals in your inbox
Get the hottest deals available in your inbox plus news, reviews, opinion, analysis and more from the TechRadar team.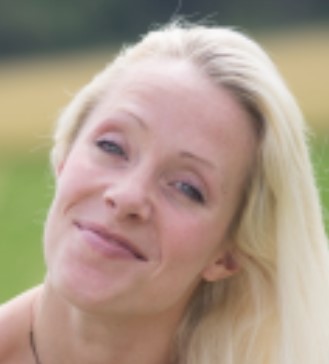 Senior Audio Staff Writer
Becky is a senior staff writer at TechRadar (which she has been assured refers to expertise rather than age) focusing on all things audio. Before joining the team, she spent three years at What Hi-Fi? testing and reviewing everything from wallet-friendly wireless earbuds to huge high-end sound systems. Prior to gaining her MA in Journalism in 2018, Becky freelanced as an arts critic alongside a 22-year career as a professional dancer and aerialist – any love of dance starts with a love of music. Becky has previously contributed to Stuff, FourFourTwo and The Stage. When not writing, she can still be found throwing shapes in a dance studio, these days with varying degrees of success.