UPDATE: The Samsung Galaxy Note 9 has arrived, and it has shot right to the top of our list of the best Android phones in Australia! Find out why below!

Apple may have kick-started the smartphone revolution when it launched its very first iPhone back in 2007, but it was Google's Android operating system that truly took it mainstream.
With an open platform and multiple manufacturers using the operating system, Android was always destined for greatness. Today, Android is easily the biggest OS in Australia.
With only a couple of exceptions, all the companies that were making mobile phones before iOS was launched now run Android.
Samsung, Sony, LG, HTC, Huawei, Google and Motorola all wave the Android flag proudly on their devices.
Still, the many variations in screen size, processing power, software features and design makes finding the best Android phone that suits your needs extremely tough.
To help find the Android handset that's right for you, we've rounded up the best phones out there running that operating system, rating each one on hardware performance, OS upgrade potential and, of course, how shiny and nice they are to have and boast about to work colleagues.
So here they are – the best Android phones money can buy in 2019 – for many, many different reasons.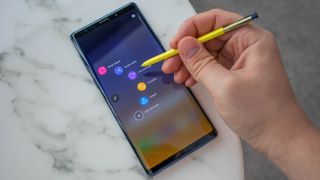 1. Samsung Galaxy Note 9
The best Android smartphone in the world
Release date: August 2018 | Weight: 201g | Dimensions: 161.9 x 76.4 x 8.8mm | OS: Android 8.0 | Screen size: 6.4-inch | Resolution: 1440x2960 | CPU: Exynos 9810 | RAM: 6/8GB | Storage: 128/512GB | Battery: 4000mAh | Rear camera: 12MP+12MP | Front camera: 8MP
Astonishing display
Powerhouse performance
Huge storage options
Large battery
Fairly expensive
Might be too big for some
At first glance (let's be honest, after a few glances), you might not be able to tell the Galaxy Note 9 apart from last year's Note 8 — both phones are big, bold and beautiful. Taking a closer look will reveal some minor design differences, but when you actually use, you'll likely notice the important internal changes that have allowed the Note brand to reach its full potential in 2018.
Screen & Design: Sporting a record breaking display, the Note 9's Super AMOLED QHD+ display is breathtaking. It's the brightest, most colourful screen we've seen in a smartphone to date, with deep blacks that contrast spectacularly against those aforementioned highlights.
Thankfully, Samsung has stuck to its gun in terms of the Note 9's design, resisting industry pressure that has seen countless other Android manufacturers bring notch cutouts to their displays while removing features customers actually want, such as headphone jacks and microSD slots. In keeping its design traditional, Samsung now seems like the maverick among its competitors — something many people will likely gravitate towards.
Performance: Thanks to its huge 4,000mAh battery (almost 20% larger than the Note 8's battery) Samsung has addressed the biggest drawback from last year's model. A beast like this needs all the battery it can get, and in that sense, the Note 9 truly delivers.
What makes the Note 9 such a beast? Well, its Samsung-built Exynos 9810 chipset and 6GB of RAM combo keeps performance snappy at all times, regardless of what you're doing. On top of this, the Note 9's 512GB model is comes with an extra 2GB of RAM (bringing the total to 8GB), which is ideal for running Fortnite and using DeX mode to run the phone in desktop mode (which you can now do without the expensive dock).
Camera: Nearly identical to the Galaxy S9 Plus' dual camera setup, the Note 9 is capable of shooting super slow motion video (up to 960fps at 720p resolution) and also features that phone's impressive variable aperture functionality, which allows the Note 9's iris to automatically adjust itself based on available light.
That said, the Note 9 has seen a few software tweaks, such as flaw detection, which will prompt you to take another photo if your original one was blurry, or if your subject had their eyes closed. The camera app will also automatically adjust its settings depending on what you're taking a photo of.
The biggest new camera-based feature, however, can be attributed to the Note 9's new S Pen, which now boasts Bluetooth functionality, allowing you to use the stylus as a long-range self-timer.
Mini verdict: Though most of the Samsung Galaxy Note 9's improvements are internal, each one has been made to give users the best smartphone experience possible.
It's got the best screen in the world, offers the largest amount of storage, sports a much larger battery, and is a absolute beast when it comes to performance. What more could an Android user ask for? Simply put, the Samsung Galaxy Note 9 is the current benchmark for Android smartphones in 2018.
Read the full review: Samsung Galaxy Note 9
See the best Samsung Galaxy Note 9 telco plans
See the best Samsung Galaxy Note 9 outright deals