Update: We've gone ahead and fulfilled our duty to change out the Dell Latitude 13 7000 for the 2016 Razer Blade Stealth. Read on to discover a completely revamped list, new order and all!
Ultrabooks have come a long way since being introduced as competitors to the MacBook Air. They now come in slim and lightweight form-factors without the performance compromise they were once deemed infamous for. Full-size Intel Core processors, lightning-fast SSD storage and superb battery life are only a few reasons the Ultrabook has found success.
More than anything else, though, Ultrabooks represent the bleeding edge of what laptops can be; case in point the sexy yet competent Acer Swift 7, the revolutionary Lenovo Yoga Book and Microsoft's own contributions, the Surface Pro 4 and Surface Book. While not all necessitate as Ultrabooks by definition, the influence they've drawn from Intel's specification is evident.
Of course, being the be-all and end-all laptops that they are, Ultrabooks come at a premium – don't confuse small with cheap. Ultrabook prices typically range from $999 (around £584, AU$1,064) to upwards of $2,000 (around £1,169, AU$2,131).
It's an arms race in the Ultrabook world, and there's no room for losers. As such, it's hard not to find a great machine. But, if your rich taste demands the cream of the crop without going broke, you've come to the right place.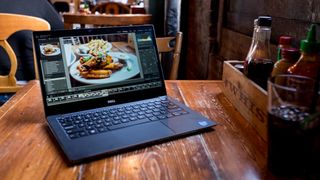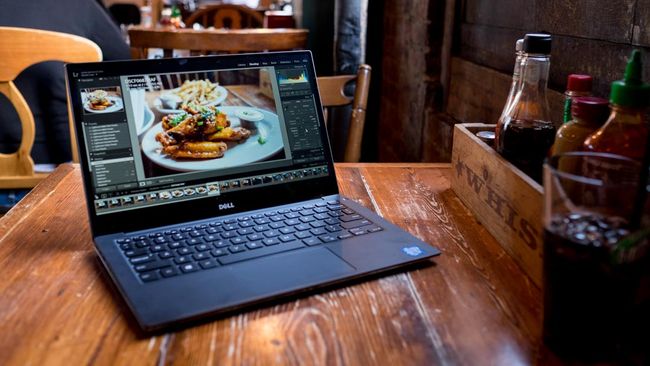 1. Dell XPS 13
The best laptop on the planet, Dell's latest Ultrabook is a masterpiece
CPU: Intel Core i5 – i7 | Graphics: Intel HD Graphics 520 – Intel Iris Graphics 540 | RAM: 4GB – 8GB | Screen: 13.3-inch FHD (1,920 x 1,080) – QHD+ (3,200 x 1,800) | Storage: 128GB – 256GB SSD
Gorgeous bezel-less display
Lightweight, compact frame
Off-center webcam
Small frame limits battery life
The new Dell XPS 13 manages to pull off nothing short of revolutionary laptop design. Touting a 13.3-inch display, it bears the footprint of a mere 11-incher, effectively making it one of the most compact and lightweight offerings on the market.
Don't confuse portability for weakness, however, as the Dell XPS 13 packs enough horsepower for both work and play, accompanied by a lengthy battery life that's dressed to impress. All in all, the Dell XPS 13 balances the best of both worlds – great performance and yet stellar power management – for no doubt an extensive lifespan at that.
Read the full review: Dell XPS 13
2. Asus ZenBook UX305
A truly excellent ultrabook at a very agreeable price point
CPU: Intel Core Intel Core M3-6Y30 – M7-6Y75 | Graphics: Intel HD Graphics 515 | RAM: 8GB | Screen: 13.3-inch, FHD (1,920 x 1,080) – QHD+ (3200 x 1800) IPS display | Storage: 256GB – 512GB SSD
Incredibly thin and light
Vibrant, glare-free screen
Weak sauce graphics
Tinny speakers
The ZenBook UX305 is an exquisitely-built, fully metal machine that's thin, light and very attractive. This lightweight system can easily take on any task whether it's browsing the web, watching video or editing images. What's more, its seven hour battery life is exceptional, and a sub-$700 price tag only sweetens the deal.
While it isn't exactly a shining symbol of innovation in the Ultrabook space, not to mention the processor which pales in comparison to more capable devices on the market, the UX305 is one of the most affordable Windows 10 laptops available today, and it won't disappoint you. Plus, if you're willing to shell out an extra hundred bucks, the updated UX305LA packs in a full-fledged Intel Core i5 CPU.
Read the full review: Asus ZenBook UX305
3. Razer Blade Stealth
More than just an Ultrabook for gaming
CPU: Intel Core i5 – i7 | Graphics: Intel HD Graphics 620 | RAM: 8GB – 16GB | Screen: 12.5-inch QHD (2,560 x 1,440) – 4K (3,840 x 2,160) | Storage: 128GB – 1TB PCIe SSD
Captivatingly colorful display
Greatly improved battery life
Cumbersome charger
Keyboard needs more travel
When we think of Razer, instantly our heads turn to gaming. While a case can be made for the Razer Blade Stealth as a gaming notebook, the lack of a discrete GPU suggests otherwise. When paired with a Razer Core external graphics card enclosure, however, the Blade Stealth goes from powerful to unparalleled. On the upside, even without it, this laptop is capable of much more than meets the eye.
With help from Intel's latest Kaby Lake CPU architecture, the 2016 Razer Blade Stealth is not only more powerful than its predecessor, but it's also more resilient. The battery, for instance, lasts an overwhelming 5 hours and 44 minutes, according to the results of our own in-house movie test. It's a good thing, too, because the power brick required to charge the Razer Blade Stealth is less than practical. Nevertheless, this is one for the books.
Read the full review: Razer Blade Stealth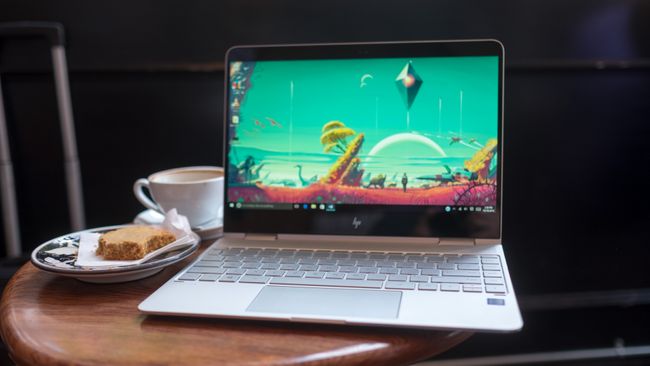 4. HP Spectre x360
An ultra-light Ultrabook now with Kaby Lake performance
CPU: Intel Core i5 – i7 | Graphics: Intel HD Graphics 620 | RAM: 4GB – 16GB | Screen: 13.3-inch, FHD (1,920 x 1,080) – UHD (3,840 x 2,160) | Storage: 128GB – 512GB SSD
Ultra thin and light styling
Long-lasting and quick charging battery
Lacks SD card reader
Especially thick bottom bezel
Among the first to sport 7th-generation Kaby Lake processors, the HP Spectre x360 is more than a CPU upgrade. Sure, the 2-in-1 zips by faster than it did last year, but it's also thinner and lighter than it was before – not to mention more stylish. From the revamped HP logo on the outer shell to the higher quality keyboard, the Spectre x360 is a force to be reckoned with.
With the better battery life and improved performance, of course, some unwanted change for some. Two USB Type-C ports are present while only one traditional, USB Type-A port is onboard. Sure, this equates to better transfer rates, but it also necessitates the need for an onslaught of new cables and peripherals. Otherwise, the Spectre x360 is a thrifty little Ultrabook no matter what your use case.
5. Samsung Notebook 9
One stellar entry-level Ultrabook
CPU: 2.3GHz Intel Core i5-6200U | Graphics: Intel HD Graphics 520 | RAM: 8GB DDR3 1866 | Screen: 13.3-inch, FHD (1,920 x 1,080) LED anti-reflective display | Storage: 256GB m.2 SSD
Thin, smart styling
Nearly perfect display
Micro-sized video ports
Short battery life
The Samsung Notebook 9 retains the paper-thin (not literally) design of the Series 9 notebook we all came to know and love back in 2012.
This time, however, we're greeted with a considerably competent Core i5 Skylake processor in addition to an attractive screen, design, and - unlike past Samsung ultrabooks - an approachable price.
Read the full review: Samsung Notebook 9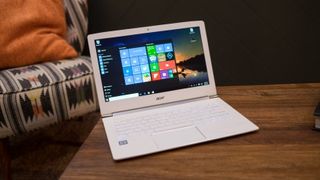 6. Acer Aspire S 13
One of the most affordable ways to get into Ultrabooks
CPU: 6th Gen Intel Core i5 – i7 | Graphics: Intel HD Graphics 520 | RAM: 4 – 8GB | Screen: 13.3-inch FHD (1,920 x 1,080) touchscreen | Storage: 256GB – 512GB SSD
High performance for a low price
Non-reflective touchscreen
Exterior feels a little cheap
Disappointing battery life
The Acer Aspire S 13 may not win prizes for being the thinnest nor the lightest Ultrabook around, nor does it offer more than 10 hours of battery life. But it's an impressive machine none the less with speedy and reliable performance. It's nearly as affordable as the Asus ZenBook UX305 and the touchscreen comes standard, something you won't find on most budget Ultrabooks.
Read the full review: Acer Aspire S 13
7. Surface Book
The heavy duty performance Ultrabook
CPU: Intel Core i5 – i7 | Graphics: Intel HD graphics 520 – Nvidia GeForce graphics | RAM: 8GB – 16GB | Screen: 13.5-inch, 3,000 x 2,000 PixelSense Display | Storage: 128GB – 256GB PCIe3.0 SSD
Futuristic design
Seamless tablet separation
Battery life falls well below promises
A bit heavy set
The Surface Book is both the world's most powerful and thinnest Windows 10 PC as well as an excellent laptop. This is all thanks to its ability to swap between being a really terrific notebook and tablet.
Plus with all the power of an Intel Skylake processor and a discrete Nvidia GPU, this machine outpaces almost every other Ultrabook. The only thing users might find annoying is how it's heavier and bigger than most 13-inch laptops thanks to its 3:2 aspect ratio and 13.5-inch screen.
Read the full review: Surface Book
8. HP Spectre
Thin, powerful and delightfully chic
CPU: Intel Core i5 – i7 | Graphics: Intel HD Graphics 520 | RAM: 8GB | Screen: 13.3-inch FHD (1,920 x 1,080) IPS UWVA WLED | Storage: 256GB – 512GB SSD
Tasteful glitz and glam
Tactile keyboard
Below average battery life
Spongy trackpad
One glance at the HP Spectre, and you'd think it belongs in a mansion. As if looks weren't enough, this gilded machine is actually more powerful than the latest MacBook and for a lower price at that.
You won't find laptops thinner than this and with an optional Intel Core i7 configuration to the trio of USB-C ports, it's supremely capable and not to mention future-proof. Even when it only boasts a 1080p screen, it renders deeper blacks and brighter colors than most.
If there were ever a such thing as a MacBook killer, it would be called the HP Spectre – front and center, folks.
Read the full review: HP Spectre
9. Lenovo Yoga 900
Performance meets design, Lenovo's latest flagship is a jewel
CPU: 2.5GHz Intel Core i7-6500U | Graphics: Intel HD Graphics 520 | RAM: 8GB – 16GB | Screen: 13.3-inch QHD+ 3,200 x 1,800 IPS display | Storage: 256GB – 1TB SSD
Gorgeous display
Slim design
Shallow keyboard
Display drivers issues
If you're all about style and want power to back it up, things don't get much better than Lenovo's latest flagship hybrid Ultrabook. It's much more punch than its Intel Core M-toting predecessor thanks to trading in Core i5 and i7 CPUs, and it has bigger batteries to boot.
Though it's no longer one of the lightest Windows laptops to date, the Yoga 900 still retains an incredibly sharp and thin design. Although it comes at a steep price, such panache will be worth it for style nuts.
Read the full review: Lenovo Yoga 900
Gabe Carey has also contributed to this article