Staying safe online isn't easy. A great VPN can help protect you, but choosing the right one is no easy task. Even the most advanced users have a hard time given all the providers and features available, so how do you know what's best for you?
We've again pulled two of the top VPN providers, NordVPN and IPVanish, and put them head-to-head to find out just what each is made of. Both offer similar options and features, but is one really better than the other?
NordVPN is perhaps one of the most well-known providers out there. Nearly a household name with plenty of marketing, TV commercials, ads and over 12 million users. Not to mention great security features and privacy credentials to boot.
IPVanish, based in the US and owning all of their servers, provides top-level functionality with easy-to-use apps and a robust feature set.
Either is a great choice, but we're here to compare them head-to-head to find out which is the best VPN for you!
---
First impressions and specs
NordVPN vs IPVanish: specs comparison
Number of servers:
NordVPN: 5,500+ / IPVanish: 2,000+
Server locations:
NordVPN: 80+ / IPVanish: 75+
Maximum simultaneous connections:
NordVPN: 6 / IPVanish: Unlimited
Money-back guarantee:
NordVPN: 30 days / IPVanish: 30 days
Lowest monthly cost:
NordVPN: $2.49 / IPVanish: $3.19
Installing either of these apps, and you're greeting with easy-to-use interfaces and a slew of accessible features.
IPVanish sports a real-time connection graph for the data nerds, but the UI does seem a bit more cluttered than it needs to be. Additional features are just a click (or two) away, making it easy enough to navigate to whatever you need without much fuss.
NordVPN is a bit less in-your-face, looking a bit more modern up-front. The same goes here, as additional options are available with ease.
Although NordVPN has four times as many servers as IPVanish, you'll have a similar choice of locations, and the fact that IPVanish runs every server itself means it's not relying on anyone else – or its security systems. We also appreciate IPVanish's unlimited simultaneous connections (compared to Nord's six), so you can safeguard all your devices.
Both are entirely plug and play, leaving you free to simply select your server and get protected in seconds, and finding a decent connection isn't hard on either.
NordVPN vs IPVanish: Plans, pricing and trials
There isn't too much disparity when it comes to pricing for these two giants. A 1-month plan for NordVPN will run you $11.99, while IPVanish isn't far off at $10.99 for a 1-month plan.
If you're looking to save, you'll want to hit up a longer term with either provider. A full year of NordVPN kicks things down to just $4.49/month, and IPVanish to an even better $3.19.
Not cheap enough? Go all-in for two years and pay just $3.19/month for IPVanish or a stellar $2.49/month for NordVPN – a price that lands it on our list of cheap VPNs.
To sweeten its deal, IPVanish also includes a free 250GB SugarSync plan with all subscriptions. If you're looking for a cheap way to access SugarSync's secure cloud storage (opens in new tab), IPVanish is a great option.
Both offer a 30-day money-back guarantee, but goodies aside, if you've got the cash upfront then NordVPN's two-year plan is hard to beat. Interestingly, both come in under our #1 favorite provider, ExpressVPN.
NordVPN vs IPVanish: Privacy
IPVanish prides itself on offering excellent privacy features, and we'd tend to agree. You'll have your choice of a number of protocols, including the rock-solid IKEv2, and also the option to customize OpenVPN.
Another great feature is 'Scramble', which hides the fact you're using a VPN at all – useful for those in countries like China that restrict internet and VPN usage.
NordVPN offers fantastic privacy features too, including a good selection of protocols and 'Onion over VPN', which reroutes your traffic through the Onion network for maximum security.
Both provide a useful kill switch in case your VPN connection drops, and in terms of privacy, it's hard to choose between the two. While each has unique features, both are a safe bet for staying private online.
NordVPN vs IPVanish: Logging
Both providers claim zero-logging and have the audits to back it up. Previously, IPVanish has nothing to stand by when it came to its zero-logging status, but an independent audit (opens in new tab) now shines on all the details and gives users reassurance.
NordVPN also has the proof, as an independent audit has confirmed its claims as well. After a data breach a few years ago, this audit in now an annual occurrence for NordVPN.
With IPVanish now showing off its shiny new audit, both providers have the proof to back up their no-logging claims.
NordVPN vs IPVanish: Performance
Top of the list for many users is just straight performance – and thankfully both NordVPN and IPVanish have you covered. Both services offer reliable connections that will serve you well for most common tasks.
NordVPN offers impressive results, with speeds topping out around 820Mbps. This is well above average for most providers and helps keep NordVPN nicely in our list of fastest VPNs. It connects in just seconds and shows minimal drops in connection speeds when switched on vs. off.
IPVanish, while still zippy and better than most, rides in around 720Mbps. UK connections seem to vary quite a lot unfortunately, but the US saw very few issues. Oddly, even European servers often provided better connections than those in the UK.
For those in the UK and other further climes, Nord's the clear winner, but IPVanish – on its home turf – provides better connections in the USA.
NordVPN vs IPVanish: Streaming
Privacy and performance not your thing? Maybe you just want to watch some Netflix or catch the latest drama on iPlayer.
NordVPN gets through Netflix just fine, as it does with Disney Plus, HBO Max, YouTube, iPlayer and more. It continues to stay strong with unblocking (as has been the case historically) and we don't see that changing anytime soon.
IPVanish does an impressive job overall with unblocking, but it struggles a bit with Netflix outside the US. Most other services had no such issues, leaving IPVanish another strong contender for serving geo-restricted content.
If you're only interested in a VPN for Netflix, both Nord and IPVanish will do the job perfectly. However, if you want to be able to access everything, NordVPN is the way to go.
NordVPN vs IPVanish: Torrents
Again, IPVanish doesn't market itself on its P2P abilities, but every one of its self-owned servers supports torrenting.
NordVPN does support torrenting, but not on every one of its servers. With some VPNs, this can often turned out to be a headache, especially if only a few slow servers allow P2P.
That's not the case with NordVPN, though, as you'll have hundreds of servers fit for torrenting to choose from. While you can choose to connect to a suitable server initially, Nord will also re-route your traffic automatically if it detects P2P activity.
Both NordVPN and IPVanish provide comprehensive security features to protect you when torrenting, and although Nord makes up for its shortcomings, IPVanish edges it out due to having full P2P compatibility.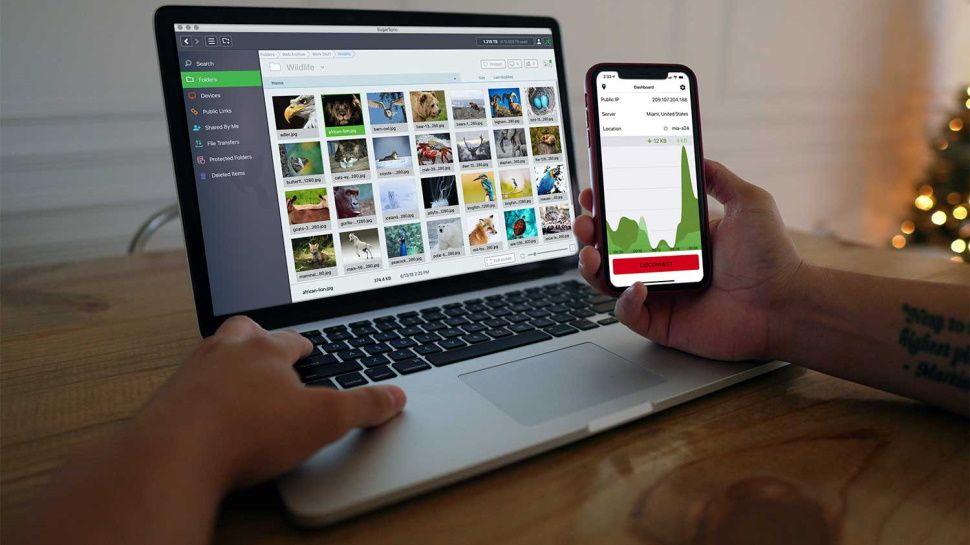 NordVPN vs IPVanish: Mobile apps
IPVanish's apps share the black and green scheme of the desktop client, and retain the pretty connection speed graph. NordVPN's apps also look familiar, with the pastel map peppered with servers.
While Nord's map works nicely on desktop, limited mobile real estate means that here it's more a hinderance than help. While you can access a regular server list with a swipe upwards, we'd like to see that straight away.
Beyond aesthetics, NordVPN's apps are fully functional, especially the iOS offering. You'll be able to configure to your heart's content, and have pretty much the same features as the desktop client – that means protocol switching, double VPN, a kill switch, Onion over VPN and plenty more to boot.
IPVanish's apps are no slouches, though, and have a suite of features not often seen in mobile VPNs. On Android you get a kill switch, three different ports, a choice of protocols and split tunnelling. On iOS you'll have a useful favourites list that's missing on Android – but you'll lose the kill switch.
On the whole, Nord's apps are more polished. If IPVanish integrated the features of both its iOS and Android apps into one we'd have a real mobile contender, but currently each is missing a couple of things we'd really like to see.
NordVPN vs IPVanish: Support
Support is essential for any VPN user. For example, on macOS, Nord's kill switch is always on in the App Store version, while it's a user option in the DMG available direct from the site. We opened a live chat to clear this up, and it was sorted out in minutes.
IPVanish also provides stellar live chat support, and although you might not think you'll need it, you'll be glad when you do.
What puts NordVPN ahead, however, is the layout and writing of the articles and troubleshooting guides on-site. While IPVanish's articles get the job done, the guides can be somewhat longwinded compared to Nord's concise efforts.
NordVPN vs IPVanish: Final verdict
With two strong contenders, it's always hard to pick a favourite. But, on balance, NordVPN comes across as the most polished and easy-to-use service of the two. And that affordable multi-year plan (opens in new tab) is a real tempter.
A big factor in this decision is IPVanish's less-than-perfect UK connections and streaming capabilities – while Nord and IPVanish are pretty even in terms of privacy, being able to stream with ease is a huge selling point.
However, for those in the US, IPVanish is one of the best VPNs available. Also, if you're looking for a cheap way to get SugarSync's encrypted cloud storage, signing up with IPVanish is actually cheaper than a SugarSync subscription alone – and you can save even more with our exclusive TechRadar deal (opens in new tab).