You can now watch Apple TV Plus' sci-fi series Silo on the most dystopian place: Twitter
Twitter may be lorded over by a billionaire tyrant, but at least you can watch Silo on it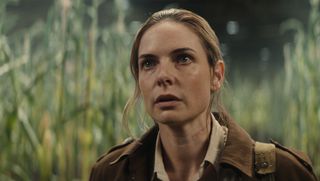 (Image credit: Apple)
Apple TV Plus is now a sci-fi TV show utopia, but if you're not a subscriber then it's okay because you can now watch the first episode of the hit dystopian series Silo for free on Twitter. It seems fitting that the place to watch a drama about miserable people living in a nightmarish pit is on a social media platform that has become a hotspot for authoritarian gloom.
Apple released the whole first episode of the series on its Twitter account on June 27 – it had already made the episode available for free when it premiered on the platform. While the goal is of course to get you to sign up to one of the best streaming services, the stunt also raises awareness for subscribers that the finale is landing this Friday, June 30.
The Apple TV Plus show has an 87% rating from critics on Rotten Tomatoes and lots of good reviews, so it's definitely one I'd recommend. But it's interesting to look at what Apple's doing here, and how it fits with the bigger Twitter picture.
3 days until the #Silo finale. Here's the entire first episode. pic.twitter.com/lIcTXCQ9D6June 27, 2023
Why is Apple streaming Silo on Twitter?
Apple has already shown that it's capable of streaming Silo for free from its own servers – I imagine it has a few computers lying around the place. And if it wants to use someone else's service, YouTube tends to be the place where single episodes of shows get released.
So, on the face of it, Twitter is an odd choice – not least because it's not exactly famed for its quality or reliability right now. I can't even get the website to work for more than two minutes, let alone stream an hour of TV without issues. The platform's new ability to upload larger sized videos seems to so far not be used for higher quality content but for right-wing shock jocks and lots of copyright infringement. Also, any time I've tried to stream on the app the quality has been terrible.
But it's not about the quality. It's about the visibility. A TV firm offering a teaser for free isn't news, and neither is the headline, 'TV firm puts something on YouTube'. But streaming your flagship show on a service where there isn't much worth watching is a good PR move.
As we previously reported, Elon Musk wants to launch a Twitter video app for smart TVs because it believes it can sell ads and sponsorships. So this looks like that dread phrase, corporate synergy. Apple gets some PR and Twitter gets some much-needed credibility.
Whether this is a long-term partnership is unclear, but it seems doubtful. This is the kind of thing that only really works when you first do it, and the more it happens the less exciting and newsworthy it'll become. And this is not how Apple usually promotes specific shows. In the past, it's run promotions such as giving away free three-month subscriptions via specific artists such as Selena Gomez, which enable you to watch not just a single episode but anything on the service.
That's the smarter option, I reckon. A free trial rather than a single online stream means people get to experience the best Apple TV shows such as Severance, Slow Horses, Shrinking, For All Mankind and more. That's what got me hooked on Apple TV Plus in the first place, and I suspect that's the kind of promo Apple is going to return to after this Twitter experiment.
Get daily insight, inspiration and deals in your inbox
Get the hottest deals available in your inbox plus news, reviews, opinion, analysis and more from the TechRadar team.
Contributor
Writer, broadcaster, musician and kitchen gadget obsessive Carrie Marshall (Twitter) has been writing about tech since 1998, contributing sage advice and odd opinions to all kinds of magazines and websites as well as writing more than a dozen books. Her memoir, Carrie Kills A Man, is on sale now. She is the singer in Glaswegian rock band HAVR.