The 6 best TV shows canceled so far in 2023 by Netflix, Hulu, Max and more
Six shows that did not deserve to go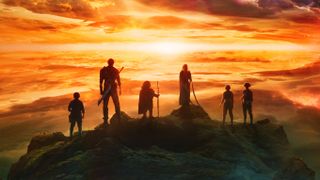 (Image credit: Disney / Lucasfilm)
It's been a tough year for TV show creators, with cost-cutting and streamlining going on in all the best streaming services. New shows probably feel a bit like red-sweater wearing security guys teleporting to a new planet in Star Trek – you know that many of them aren't gonna make it.
That's definitely been the case so far this year, where it seems like the streamers are much less willing to give new shows time to find an audience. They're also a lot less patience with existing shows, so series that might have found an audience over time are instead canned after the first or second season.
Would Breaking Bad still be a phenomenon if the pilot had aired in 2023? It's a much tougher environment for series now, making it more difficult to compete with the best TV shows out there. In fact, here are six of the best shows that have been binned, axed, canceled or sent to live on the farm in 2023 so far.
1. Willow
We were gobsmacked by this one. Willow was set to be a huge show, and we were very excited about it. But Disney removed it from Hulu and Disney Plus, as part of a major overhaul that saw it make both streamer's TV show libraries much smaller. The move was around the time of a very savage round of cost-cutting that's seen lots of shows canceled, others removed and lots of people losing their jobs too.
While Willow is not available to stream anymore, the 1988 movie of the same name is available to watch on Disney Plus.
2. Uncoupled
Let's start with the good news first. Uncoupled has been picked up by Showtime and a second season is in development but on pause due to the Hollywood writers' strike. Netflix didn't have the same faith in the show, which stars Neil Patrick Harris as a heartbroken gay man suddenly finding himself single in his forties. The show, which was created by Darren Starr (the creator of Sex And The City), attracted mixed reviews of the love/hate variety, but the people who loved it really loved it so it's good to see it getting a second chance.
Still available to stream on Fubo TV or Paramount Plus in the US.
3. Gossip Girl
We were delighted by the 2021 return of Gossip Girl, and considerably less delighted by its 2023 cancelation. The show was a reboot of the popular show, written and developed by Joshua Safran and based on the novels of Cecily von Ziegesar and featuring a diverse group of privileged students. But the reboot never managed to quite capture the magic of the original, so its demise was always a case of when rather than if.
Available to stream on Max in the US, BBC iPlayer in the UK and Binge or Stan in Australia.
4. The Mosquito Coast
The Mosquito Coast was another unexpected cancelation. The show – which is based on Paul Theroux's 1981 novel (the author's nephew Justin Theroux in the lead role) – was a prestige drama with some big stories to tell. Season two had just reached its explosive climax when Apple dropped the bombshell that there would be no season three.
Still available to stream on Apple TV Plus in the US and UK.
5. Three Pines
The puns write themselves with this one – Three Pines wooden make it into another season after the fellers at Amazon gave it the chop. Based on Louise Penny's novel of the same name, the show starred Alfred Molina (from Spider-Man: No Way Home) as chief inspector Armand Gauche, who tries to solve a series of seemingly interconnected murders in the titular town near Quebec, Canada. The show only ran for eight episodes, with four blocks of two episodes released weekly between December 2, 2022 and December 23, 2022. Amazon finally wielded the ax in March 2023.
Still available to stream on Prime Video in the US and UK.
6. Star Trek: Prodigy
We had high hopes for this one, but the animated Star Trek spinoff has been canceled after just one season. Not only that, but Paramount Plus is removing it altogether as part of its moves to combine the service with its Showtime catalogue. It's not the only show to go. Grease: Rise of the Pink Ladies, Queen of the Universe and The Game have all been canned too.
Still available to stream on Fubo TV in the US, Sky in the UK and Binge or Stan in Australia.
Get daily insight, inspiration and deals in your inbox
Get the hottest deals available in your inbox plus news, reviews, opinion, analysis and more from the TechRadar team.
Contributor
Writer, broadcaster, musician and kitchen gadget obsessive Carrie Marshall (Twitter) has been writing about tech since 1998, contributing sage advice and odd opinions to all kinds of magazines and websites as well as writing more than a dozen books. Her memoir, Carrie Kills A Man, is on sale now. She is the singer in Glaswegian rock band HAVR.