Welcome to our list of the best A3 printers for printing out large lab-quality printouts at home of at the office.
A3 printers, unlike normal printers which usually max out at the A4 paper size, can handle printing out large-scale printouts, and are ideal for students and businesses.
Because of the larger size of the printouts, the best A3 printers will ensure that image quality remains as high as possible. This does mean that A3 printers are usually more expensive than standard ones. However, that doesn't mean you need to spend a fortune, as our price comparison tool will help you get the best price for the A3 printer of your choice.
So, let's take a look at the best A3 printers in 2018. If you need to make large printouts, these are the very best choices you should consider.
1. Canon PIXMA iP8750
Print speed: 14.5 ipm | Paper sizes: A3+, A3, A4, A5, B4, B5, LTR, LGL, LDR, 25x30cm, 20x25cm, 13x18cm, 10x15cm | Weight: 8.5kg
Great price
Very good print quality
Lacks some features more expensive A3 printers have
Buying an A3 printer doesn't mean you have to break the bank, which is why the Canon PIXMA iP8750 A3+ Wi-Fi Photo Printer is our pick of the best A3 printer in 2018. It can print high quality photos and images at up to A3+ size, and while the print outs are big, the design of this printer isn't, making it an attractive addition to a home or office. There's plenty of connectivity options, including wireless ones, and print speed is excellent as well.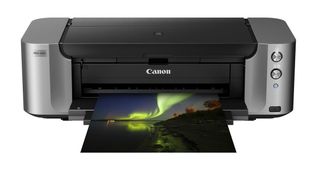 2. Canon Pixma Pro-100S
Another great A3 printer from Canon
Print speed: 1m 30s for A3+ prints | Paper sizes: A3+, A3, A4, A5, B4, B5, Letter, Legal, Envelope, 25x30cm (10x12"), 20x25cm (8x10"), 13x18cm (5x7"), 10x15cm (4x6") | Weight: 19.7kg
Fast even in top-quality mode
Sumptuous results on glossy paper
Dye-based inks are never a favorite for matte photo media
Running on eight dye-based inks, the Pro-100S adds grey and light grey inks to the usual, colour-friendly mix of CMYK plus light cyan and light magenta. Cartridge capacity is 13ml. There's a slight warmth in the balance of colour photo printing, which can be flattering for skin tones, but the Epson dye-based printers are a little cool. The Pro-100's accuracy for mono images is better, thanks to the extra grey inks. It outputs A3+ borderless prints in under four-and-a-half minutes using top-quality mode, making it the fastest A3 photo printer on test. It reigns supreme for super-smooth results on glossy paper, but prints on matte media lack the robustness of those created with pigment-based printers.
3. Brother MFC-J5330DW
Print speed: 22 ppm | Paper sizes: A4, Letter, Executive, A3, Ledger, Legal, Mexico Legal, India Legal, Folio, A5, A6, Envelopes (C5, Com-10, DL, Monarch), Photo (10 x 15 cm), Photo L (9 x 13 cm), Photo 2L (13 x 18 cm), Index card (13 x 20 cm) | Weight: 20.6kg
Neat internal cable management
A4-sized MFP capable of printing A3
Some photos take ages to print
Can't update firmware via Wi-Fi
This is an incredibly versatile four-in-one device that can print, scan, photocopy and fax, making it an excellent addition to any office. The fact that it can print up to A3 means it's a great choice if you require printing out large documents or photos. It's also pretty well priced, making it a good investment for growing companies.
4. Epson Expression Photo XP-960
Another affordable A3 printer
Print speed: 8.5 ppm mono, 8 ppm colour | Paper sizes: A3, A4, A5, A6, B5, C6 (Envelope), DL (Envelope), No. 10 (Envelope), Letter, 10 x 15 cm, 13 x 18 cm, 16:9, User defined, Legal | Weight: 8.7kg
Large and advanced 4.3-inch touchscreen
Six colour Claria ink system works well with photos
Flimsy paper trays and document feeds
Slow to print
Epson's large(ish)-format printer has a maximum print size of A3 rather than A3+, which equates to 16.5x11.7 inches instead of 19x13 inches. The regular A3 aspect ratio is also a worse fit for 3x2 format SLR images. A full-size, top-quality print just under six minutes. Unlike the others, this one features card readers, a touchscreen display and an A4 scanner built into the lid, adding all-in-one credentials.
5. Epson SureColor SC-P800
A great choice for huge printouts
Paper sizes: A2, A3+, A3++, A3, A4, A5, A6, B3, B4, B5, B6, C4 (Envelope), C5 (Envelope), C6 (Envelope), Letter, Letter Legal, 10 x 15 cm, 13 x 18 cm, 13 x 20 cm, 20 x 25 cm, 100 x 148 mm, 17 " (43.2 cm) | Weight: 19.5kg
Capable of huge printouts
Fantastic print quality
Expensive to buy
Can be expensive to run
If A3 printouts aren't quite big enough, then the Epson SureColor SC-P800 is the printer for you. It is capable of handling huge A2-sized prints, as well as A3, and while it is expensive, it can give you the flexibility your company needs when printing out large documents. This won't be a printer for everyone's needs, but if you're looking for something that can print large, and print well, then it definitely could be a worthy investment.