The Samsung Galaxy S5 is a phone to be reckoned with, that's for sure - but how does it stack up with the competition? Remember, you're going to be paying a pretty penny to own it, so does it have the power to match the best of the rest?
HTC One M8
The obvious threat to the Samsung Galaxy S5 is the HTC One M8 - critically, at least. The two are locked together in terms of specs, with both having the same Snapdragon 801 CPU, a microSD slot, 2GB of RAM, a Full HD screen and rocking Android 4.4.2.
However, there are a couple of key differences: the Samsung Galaxy S5 has a much more powerful camera, albeit one that doesn't perform as well as you'd expect it to in day to day snapping.
The One M8 takes photos more snappily, and more in focus, but offers lower quality if you're sharing to a larger screen.
HTC's effort is packing a much, much nicer design though - it's almost bewildering how the aluminium chassis can feel so nice in the hand and yet Samsung continues with the same boring plastic. Even the fact that it's water-resistant doesn't make up for the fact that I feel a little unimpressed each time I pick it up.
iPhone 5S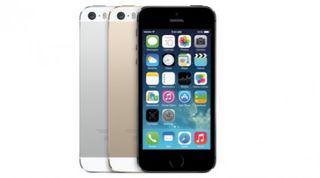 The iPhone 5S. Samsung's current nemesis, showing consumers that you don't need a Full HD 5-inch screen to be a world-beater - plus it's got a 64-bit chip as well.
OK, that spec's a little moot as it doesn't really add much at this point in time, but it is somewhere that Apple's a little more advanced. The colour reproduction on both phones is excellent, and the price is pretty comparable.
Apple's interface is simpler and more stable, with little lag anywhere throughout the phone, and while the camera has a lower megapixel count, there's no doubt it still can take some stunning pictures.
But Samsung brings a lot more to the table, not least that water-resistant nature, a larger capacity and the ability to take better pictures overall - plus 4K video recording, if you're desperate to look for other improvements.
In reality, there's very little point comparing these two phones, as most users are still stuck in the Apple or Samsung camp and it doesn't matter how the specs measure up.
The iPhone is too small these days, in a world dominated by larger screens, and the cramped conditions don't add much in terms of innovation. It does have a slightly better fingerprint scanner though.
Sony Xperia Z2
Sony's been doing well in the smartphone world: from the Xperia Arc (admittedly from the +Ericsson era) to the current Xperia Z2, there's been a strong upward trajectory.
The same Qualcomm Snapdragon CPU is on offer, a microSD slot pervades, and it's also water-resistant. If you wanted to split hairs, the Z2 can last longer in the water, but the Galaxy S5 likes rolling around in the dust a little more, but both will survive a trip into the toilet with aplomb.
Both can also record in 4K, which is still a mostly useless feature, and both have a large and vibrant screen. The design, once again, splits the two, with the industrial chassis of the Xperia Z2 covered in solid metal where Samsung's opted for plastic.
But both have a strong battery, great screen and cost roughly the same on contract - so it really depends on whether you like Sony's thicker styling or not.
Samsung Galaxy S4
True to form, Samsung's still selling its older model for another year at least - and it's not a bad buy, especially as it's being offered at some really low price points and packs the same Android 4.4.2 OS.
It's almost a shame that it doesn't have the same funky overlay as the Galaxy S5, as that would be a real win for the brand.
In terms of raw power and specs, it obviously falls behind in nearly every way compared to its bigger brother: no heart rate monitor, an older camera, smaller battery with higher screen power, a slower CPU and more of a dependence on air-waving gimmicks.
It does have a more compact chassis though, and shares a lot of the same strong DNA - so if you want to save money (and can get it on a 12 month deal or SIM free) you'll have a decent phone for a year at least... after that the software updates might dry up, so be ready for that.