Display
Huge 6.5-inch OLED display is the biggest ever on an iPhone
HDR support for an enhanced viewing experience
The biggest draw for anyone thinking about the iPhone XS Max will be the OLED screen, and it's looks great on Apple's largest phone to date. It's gigantic at 6.5 inches- even larger than the Samsung Galaxy Note 9 which has historically been the phone that large phones are compared to.
Yes, the notch is still present on the iPhone XS Max, although because of the larger screen you have more screen to the left and right of the notch than on the iPhone X. That being said, we've been using the iPhone X for almost a year now and we don't really think about the notch anymore; you learn to live with it, and before long it just disappears into the background, although that may not be your experience initially.
Specs-wise, the OLED panel on the iPhone XS Max has a resolution of 2688 x 1242 pixels, giving it the same density as the smaller iPhone XS at 458ppi. Though that's technically less than the Galaxy Note 9 which boasts a 1440 x 2960 and has a PPI of 516, you really wouldn't be able to tell the difference unless you have really sharp eyes.
Speaking of eyesight, the zoomed mode makes a return on the iPhone XS Max and it will be a sight for sore or aging eyes. Apple took this feature away from the iPhone X that lets you increase the overall UI size to make it easier to read for for anyone that is approaching or is using reading glasses. The larger screen also allows apps to work in split mode, much like they did on the Plus versions of previous iPhones.
We're not sure if third-party apps will be able to use the new resolution right away though, or whether developers will need to update their apps to support the new resolution.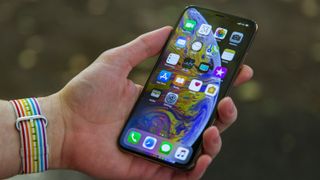 Much like the iPhone X, the screen on the XS and XS Plus supports TrueTone technology as well as 120Hz input. We were hoping the XS Max would also support True Motion technology found on the iPad Pro, which makes scrolling and moving within the UI very fluid, but that's not the case.
Apple claims the screen now has a 60% better dynamic range, which should make your photos and videos appear more vivid. We tried the new Bethesda game The Elder Scrolls: Blades, and visually it looked very appealing, although we did notice some stuttering as we flicked around the gameplay settings.
Face ID
There's no Touch ID, with Face ID your only biometric option
Not the fastest, but has great integration with banking apps
Apple revealed its future of authentication with the iPhone X last year and this year, all three new phones support FaceID. According to Apple, these new phones are more secure and slightly faster when it comes to recognizing your phones.
While we've seen Android phones that can unlock much faster with facial recognition, they lack the 3D cameras and dot projection that makes unlocking your phone a lot more secure.
Samsung has implemented Iris scanning on their phones which is also extremely secure but noticeably slower than FaceID. We think that FaceID is a good solution between security and speed.
Having said that, it's still not an ideal solution for unlocking your phone. For example, it doesn't work when the phone is lying on your desk or inside a holster in your car purely because you're not at the right angle looking at it and that's a simplicity that we miss from the fingerprint scanner or TouchID present on older iPhones.