Verdict
If you have an Amazon Prime membership and you want a big screen tablet for watching movies and TV, reading, and a spot of gaming, the Fire HD 10 is a great option. If you also have a limited budget, then it's your best option.
We don't know of a better value package than this with a 10-inch screen. It does have obvious weaknesses, like the plastic design and useless cameras, but they're understandable in a tablet at this price.
Amazon has compromised too much with previous Fire tablets in the areas that really count – screen and performance – but that's not the case with the Fire HD 10 (2017).
Who's this for?
Budget seekers and Prime members who need a new tablet should be all over this, but it's also designed to be a tablet for anyone.
Parents who don't want to spring for an iPad for the kids, people looking for an affordable gift that might suit granny, or anyone who wants a big screen tablet without spending too much should consider the Amazon Fire HD 10.
Should you buy it?
Yes, you should buy it. The Amazon Fire HD 10 offers important improvements over its predecessors and none of its flaws are deal breakers.
Good as the Fire HD 10 is, there are a few strong alternatives, such as the following three tablets.
New iPad
The leading tablet, assuming you don't want to spend too big, is Apple's new iPad. It has a sleek design, a lovely screen, and plenty of power under the hood. It also has great battery life, an endless supply of optimized games and apps, and it even has a decent camera.
The catch is the $329/£339/AU$469 price tag, which makes it more than twice as expensive as the Amazon Fire HD 10 (2017). It's definitely a better tablet, but you'll obviously need deeper pockets.
Asus ZenPad 3S 10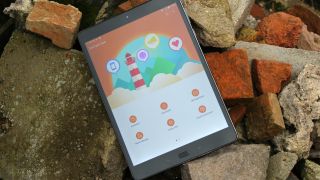 Another of our top picks right now is the Asus ZenPad 3S 10. It's also a lot more expensive than the Amazon Fire HD 10 (2017) at roughly $270/£270 (around AU$355), but you get a stunning 1,536 x 2,048 display and fast performance for your money. It also has Google's Play Store and the rest of Google's apps installed out of the box.
If you're not an Apple person and you're willing to spend a bit more for that extra quality, then the Asus ZenPad 3S 10 should make your shortlist.
Amazon Fire HD 8 (2017)
There are some seriously ropey budget tablets out there, so our last competitor is another Amazon entry. The Fire HD 8 (2017) only costs $80/£80 (around AU$105). The screen and performance can't match the Fire HD 10 (2017), but it's little more than half the price and it does boast the same good battery life and decent speakers.
If your budget is really tight, then you can save yourself a decent chunk of change by going for the Fire HD 10's smaller sibling. It's certainly worth considering.
First reviewed: October 2017