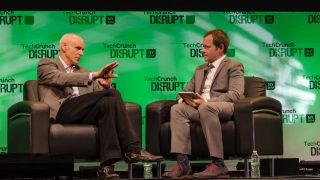 Comcast's giant merger with Time Warner Cable was the main topic of discussion during a TechCrunch Disrupt sit-down and Neil Smit, Comcast president and CEO, lead off the conversation by outlining what its customers have to look forward to.
Firstly, Smit noted Time Warner customers will be able to use Comcast's freshly launched X1 entertainment operating system, which combines video and internet into a set-top box.
Smit shared that Comcast plans to up its broadband speeds further into the future. He didn't specify exactly what these faster speeds would be but highlighted the way the company has increased the throughput of its broadband service 13 times over the last 12 years.
"We're investing heavily into the Wi-Fi network, which we announced last week that we are going to be up to 8-million hotspots across the country by the end of the year," Smit said.
"We think it's a great value proposition to the customers," he continued, noting that its merger with Time Warner Cable doesn't eliminate a competitor. "We think we can bring great new products and services to the customers in these markets."
Netflix nemesis
In reaction to other news, Smit added a bit more context his company's allegations against Netflix, which accused the video streaming company of purposely degrading the quality of the content streaming to Netflix customers.
"[Netflix has] a couple of big costs, content costs and transport costs and I think Netflix is just working on reducing its transport costs and that's business," Smit offered.
The future of cable
Netflix aside, Smit acknowledged that the world of video is shifting between Facebook, YouTube, streaming video and even Amazon's new content deal with HBO.
With the walls closing in, Smit defended his service saying, "Hopefully we provide you more services and more content in a better way to get to your content."
"We think we have the biggest library of content in both live and library of anywhere," he said, claiming Comcast has 55,000 video on demand choices and 300,000 online choices.
Further down the line, Smit believes the future of cable won't die in one cataclysmic event but that instead it will shift with the times.
"I think there are going to be different choices to seek out different solutions and we'll see how they evolve," he said. "I don't think it's going to be one cataclysmic event, there will be different packaging variances and the product will evolve and become more personalized and mobile."
Sign up to receive daily breaking news, reviews, opinion, analysis, deals and more from the world of tech.
Kevin Lee was a former computing reporter at TechRadar. Kevin is now the SEO Updates Editor at IGN based in New York. He handles all of the best of tech buying guides while also dipping his hand in the entertainment and games evergreen content. Kevin has over eight years of experience in the tech and games publications with previous bylines at Polygon, PC World, and more. Outside of work, Kevin is major movie buff of cult and bad films. He also regularly plays flight & space sim and racing games. IRL he's a fan of archery, axe throwing, and board games.