If you've been hunting for a deal on a leading Android smartphone, this is it. Best Buy has a deal up for a Samsung Galaxy S9 – which was released earlier this year – for $216.
To be clear, you'll have to sign up with Sprint for a two-year plan, and that discount is applied through monthly bill credits. But that brings the typical monthly price of $33 all the way down to $9.
(Also, the deal only applies to a single hue: you can get any color you like as long as it's black, as the saying goes.)
That, as we say in the biz, is pretty bonkers. Get this one while you can.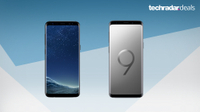 Samsung Galaxy S9 64GB: $719 $219 at Best Buy
With a Snapdragon 845 and 64GB of storage, this is a flagship smartphone with style and specs to spare. This is the best price we've ever seen for the phone, even if it's applied with bill credits.
The Samsung Galaxy S9 is one of the leading Android phones - and No. 4 on our list of the best phones in 2018 - for a reason. Its powerful Snapdragon 845 chip, 4GB of RAM and expandable storage (up to 512GB) make this a solid contender.
Its Super AMOLED screen has a stunning 1440 x 2960 resolution, and at 5.8 inches, it won't stretch out your hand when trying to text or navigate. The phone is IP68 dust and water resistant, too.