Armored-up Samsung Galaxy S8 Active is finally coming to Sprint and T-Mobile
Galaxy S8 Active is harder to break, for the price of an S8 Plus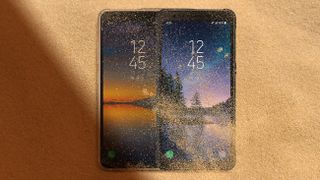 Just as we had suspected, the Galaxy S8 Active with military-grade durability is marching its way to more US carriers than just AT&T starting this month.
This armored-up Android Nougat phone will come to both T-Mobile and Sprint in November, according to Samsung, and it'll have the same toughness to it in the Meteor Gray color.
That's good news for anyone who likes the specs of the Samsung Galaxy S8, but wants a shatter-resistant flat screen instead of a delicate curved glass display.
In the US, this will the first time a Galaxy S Active phone has been available on a network other than AT&T. No word in international availability – we haven't seen an Active go global since the S4 Active, despite liking the S7 Active and S6 Active.
What's the Galaxy S8 Active all about?
The Samsung Galaxy S8 Active retains a 5.8-inch Super AMOLED screen, but this one is is meant to withstand drops, just like the rugged Moto Z2 Force screen.
Its also has a high-strength aluminum frame that's bumper-protected. Like the regular S8 and Note 8, it's dust and water resistant with an IP68 rating. It can take a pavement beating before it starts showing wear.
And unlike 2017 Galaxy phones, the S8 Active has a juiced-up 4,000mAh battery. Your all-day adventures can fully utilize Samsung's awesome 12MP camera without fear of battery life drain.
But you'll have to deal with some button issues: the Active finally dropped physical buttons on the front of the phone in favor of on-screen buttons and it added that love-it-or-hate-it-but-probably-hate-it Bixby button.
It also costs as much as the Galaxy 8 Plus. AT&T currently has 5.8-inch S8 Active price locked in at $849.99, which is $280 more than the normal S8 launch price. We don't expect the Sprint and T-Mobile price to be much lower.
At that rate, you can now find cheaper Samsung Galaxy S8 deals in the US and just buy an affordable Samsung Galaxy S8 case.
Sign up to receive daily breaking news, reviews, opinion, analysis, deals and more from the world of tech.