Prime Day's unlikely to beat this incredible Nintendo Switch deal from...Jacamo?
There's nothing plus-sized about this Nintendo Switch price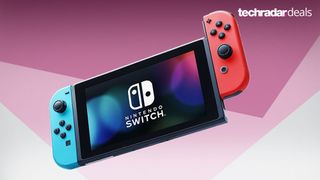 Update: Stock of this Nintendo Switch bargain seems to have gone already. If you're set on picking up a Nintendo Switch deal today though, you can still get one at Amazon for £259.99, down from £279.99.
Original story follows...
It just goes to show it doesn't hurt to check beyond the usual electronics stores when tracking down a Nintendo Switch deal. Today, a store more well known for selling plus-sized clothing here in the UK, has the best ever Nintendo Switch price we've seen on these shores.
You can get the neon blue/red Nintendo Switch with the Fortnite Deep Freeze DLC pack for just £219.99, plus £3.99 postage. We've seen the occasional drop to around £250 (usually via an eBay voucher code) before but never anything this cheap.
And while we'll certainly be keeping an eye out for the best Prime Day deals next month, last year was incredibly disappointing for console deals all round. We genuinely don't see the price getting any lower than this in Amazon's summer sale bonanza.
A Prime Nintendo Switch deal, today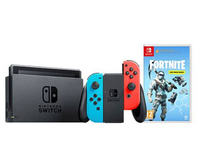 Not one you fancy today, or maybe you're a US gamer? Not to worry, head on over to our cheap Nintendo Switch deals guide to stay up to date with the latest offers. And if you'd like to know a bit more about the console first, be sure to have a read of our Nintendo Switch review.
E3 2019 is the biggest gaming event of the year. TechRadar is reporting live from LA, telling you all about the biggest announcements of the week, from epic game trailers to shocking release date reveals. Follow our expert analysis of the keynotes and what we see on the E3 show floor.
Sign up to receive daily breaking news, reviews, opinion, analysis, deals and more from the world of tech.
Brendan Griffiths is the managing Editor of Hardware & eCommerce - GamesRadar.com at Future. After spending his formative years as a games journalist, he joined Future Publishing and TechRadar in 2016. He manages a small team and wrote, commissioned, and maintained a vast collection of e-commerce content published around the world with particular focus on the US and UK. In 2020 Brendan joined another Future website, GamesRadar, as Managing Editor of the Hardware and eCommerce team to take charge of the site's eCommerce strategy, hardware reviews and buying guides.