Kindle deals are regularly available direct from Amazon and at other major retailers. That means it's often easy to save some cash on all of the devices in the popular ereader range. We've done the searching for you to bring you all the cheapest Kindle deals available right now.
Below you'll find today's best prices on every available model including the basic entry-level Kindle, the feature-rich Paperwhite, and the premium Kindle Oasis reader. We've also seen the first offers on the latest Kindle Scribe, which reduced the most advanced version of the ereader by $45.
Not sure where to start with all these models? Check out our guide to the best Kindle which explains all the key differences. You may wish to consider other brands such as Kobo and Pocketbook, too, so our best ereader guide will help there if you want a change from Amazon's ecosystem.
Alternatively, if you want a device that can do more than just read ebooks, our roundup of the latest tablet deals should prove useful. More specifically, you can check out the latest Amazon Fire tablet deals as these can be a cheaper alternative while giving you easy access to the Kindle store.
There's also our guide to all the Samsung tablet deals and iPad deals available right now, which could suit those with different budgets and needs.
Kindle deals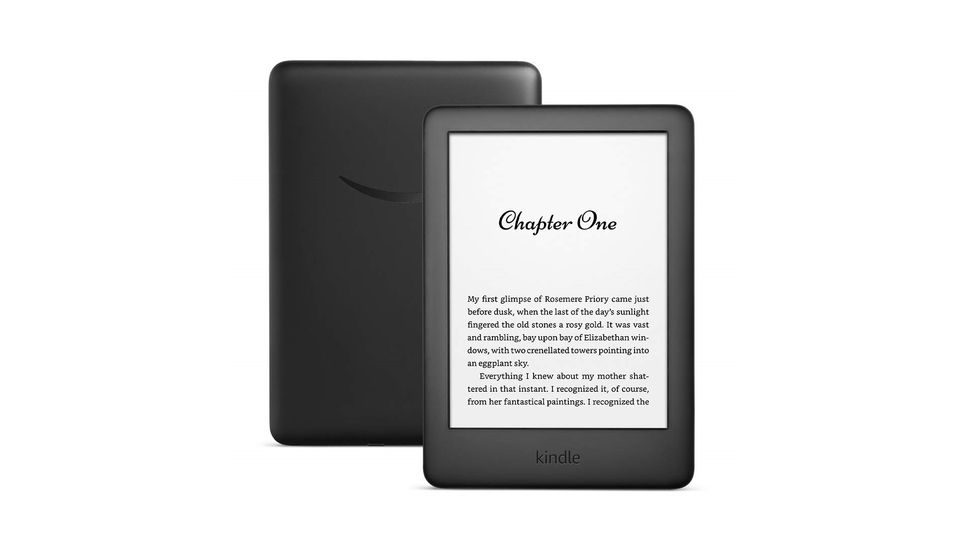 Amazon's update to the entry-level Kindle is a fairly noticeable one. While it might look the same as before, once you use it, you'll realise the screen is better thanks to it now having the higher resolution of 300ppi seen on the Paperwhite. Superior battery life of up to six weeks is also a huge help here.
It's a bit pricier than it once was at $99.99 / £84.99 / AU$179 but the extra cost is worth it when you get a similar experience to the Paperwhite. An adjustable warm light would have been helpful but with extra storage (now 16GB), superior resolution, and the same comfy build as before, the Kindle (2022) will still delight most users.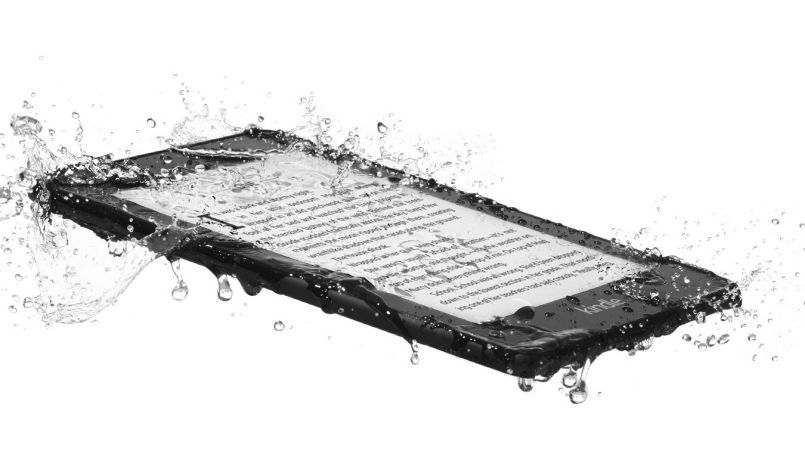 The updated Kindle Paperwhite launched back in September 2021 for $139.99/£129.99 with numerous upgrades over the previous model including a 6.8-inch glare-free screen and adjustable warm light to improve reading conditions during day or night. There's enough space for thousands of books, as well as a considerable battery life of up to 10 weeks.
In the months since launch, we've seen the price fall by £30 numerous times in the UK, which shows Amazon is willing to discount its latest tech even a short while after release. For the more enthusiastic readers, we'd definitely suggest this model over the standard Kindle as the improved screen and adjustable light are both excellent features that you'll appreciate for extended or frequent reading sessions.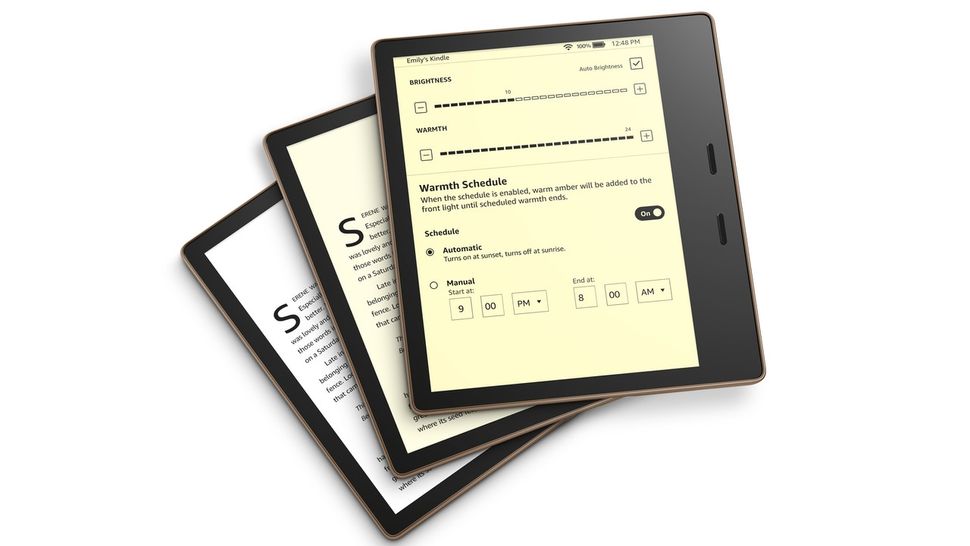 The 2019 version of the Kindle Oasis starts at $249.99 / £229.99 / AU$399 and it isn't all that different from the 2017 model in all honesty – but that one is now phased out of stores.
The main new feature is an amber-shade option for the screen background. This 'warm' light has a much more natural feel, like an old paperback. It looks rather lovely and is less of a strain on your eyes, especially if you're reading at night and want to wind down without powerful blue light disrupting your sleep schedule.
Otherwise, this is the same beautifully-designed waterproof luxury ereader as last time out. The page turns buttons are a neat feature though as they keep the screen clean and work much more accurately than the sometimes errant screen taps or swipes. There's no getting around that the initial asking price is seriously high, though, meaning the Paperwhite is still much easier to recommend for most users.
The new Kindle Scribe is expensive but it offers a lot of functionality for the price. Besides being a 10.2-inch ereader that offers the same 300ppi glare-free properties of the Paperwhite, it also enables you to write notes, diaries, lists, and anything else that occurs to you, courtesy of the bundled-in stylus. Combined with the e-ink screen that's so much kinder on the eyes, it's a reasonable alternative to a tablet for certain purposes, although in our review we wished we could do a bit more with the included stylus.
Still, it's possible to choose from a variety of included templates so you can write on lined paper, grid paper, checklists, and other options. It's also simple to add your signature to PDF files, annotate them, or create sticky notes in documents such as Microsoft Word. Plus, you can also add notes to your favorite Kindle books which will make studying much more convenient.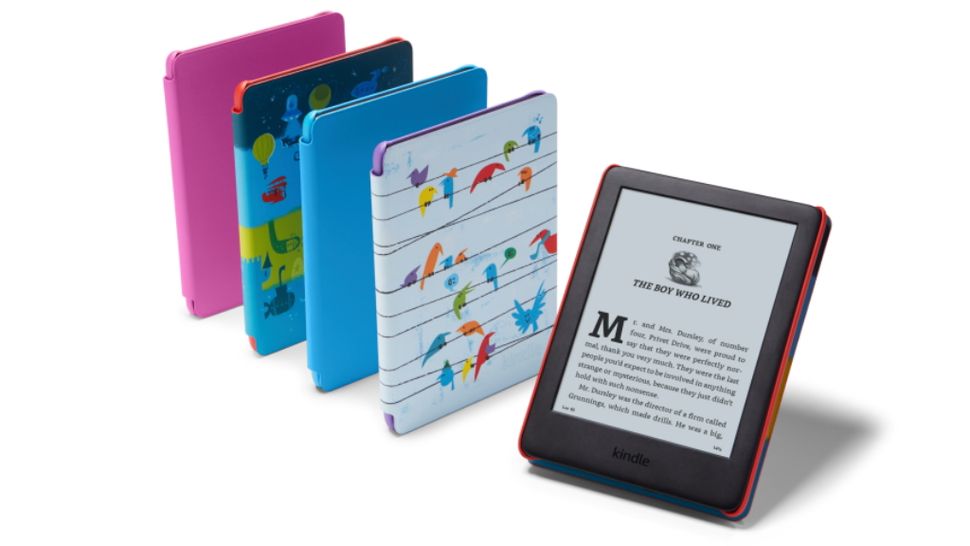 The Kindle Kids Edition takes the 2019 entry-level Kindle (mentioned earlier) and adds a bunch of assuring child-friendly features. It comes with a cover as standard along with a nice 2-year warranty that covers any form of breakage (excellent for clumsy kids).
The Kindle Kids Edition isn't waterproof like the Paperwhite, but the extended warranty has you covered there. The built-in dictionary (just hold your finger on a word) is a fantastic learning resource and there's a vocabulary builder option too.
A partner app allows parents to track how much time their children have been reading along with what they're reading. There are no games or web browsers included on this Kindle, so you never have to worry about them straying from their book. You also get a year of free access to over 1000 child-friendly titles and other ebooks can be added from the Kindle store. With double the storage of the cheapest Kindle at 8GB, you'll have plenty of space for them too.
Some parents may want to consider the cheaper standard Kindle instead if their child is arguably getting a little old for the safety features (they might keep the same ereader for years remember) or if the restrictions seem a bit much for ebook content. On the plus side, you can unlock the extra features, making it a standard Kindle if you decide to do so via a PIN code. The Kindle Kids Edition is priced at $109 in the US and £99 in the UK.
What's a good price for a Kindle?
These ereaders don't have LCD screens or powerful internal components, so you'll find Kindle sale prices are far cheaper than tablets and phones. The screens are fantastic for glare-free reading and an immediate improvement over using the Kindle app on your phone or tablet too.
If you can find the Kindle Paperwhite for under US$129 / £120 / AU$199 you're getting a good deal. Meanwhile, the most-recent entry-level Kindle model has not been discounted below its $99.99 / £84.99 / AU$179 starting price just yet, but those discounts are coming - we're sure of it. Lastly, the top of the line Kindle Oasis starts at $269 / £229 / AU$389 and is usually discounted by as much as 40% during major sales events so it's best to hold off for one of those if you can.
What do 'Special Offers' mean on the Kindle listings?
When looking at a Kindle ereader listing, whether it's on Amazon's website, or a different retailer, you'll often see 'includes special offers' in the title or item description. Choose 'without special offers' and the price will jump up by around £10 / $20.
Essentially, these Special Offers act as Amazon-based screensaver-style advertisements on your Kindle device. So when you pop your Kindle on from sleep mode you'll see an ad for a book on Amazon's Kindle store, or maybe a third party ad.
Annoying right? Actually, the Special Offers aren't as bothersome as they may initially sound. You can swipe the ad away easily (no trying to find the tiny X icon here) and get on with your reading straight away.
When in sleep mode, the ads cycle on the screen, but they're not illuminated and they don't seem to consume any power. They don't slow anything down when powering on the device after shutdown either. The ads are replaced with generic artwork if you have them removed.
Seeing as these ads doesn't interfere with the experience at all, so for most it's probably not worth spending the extra money to block them. You may even get pointed towards sales that you would be interested in. If you really don't like them though, you can always pay the difference at a later date to get them removed. So, it makes sense to opt for the cheaper 'includes special offers' option first and then decide if they really are an inconvenience you want removed at a later date.