US Cellular trying to reel you in with $50 no-contract unlimited everything plan
Limited time offer includes 500MB at LTE speeds on select handsets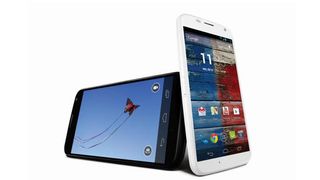 The term "unlimited" hasn't really applied to cellular data since the heady days of the original iPhone models, but that hasn't stopped carriers big and small from tacking the term onto just about any ol' plan.
Regional carrier US Cellular added a new plan to its no-contract lineup on Friday which serves up unlimited talk, text and data for a mere $50 per month, although for now consumers will need to pick up a new handset in order to get it.
According to CNET, the new No Contract Unlimited Data, Talk & Text plan offers coast-to-coast coverage with no roaming charges and free activation, but there are a couple of "gotchas" that make the package a little less desirable.
To sign up for the plan, customers need to invest in one of four Android smartphones; the good news is that three of them are LTE-enabled, and the carrier promises the unlimited plan will expand to include others in the near future.
Unlimited, with limits
If LTE isn't a selling point, the ZTE Director can be had for a mere $50, and even cheaper ($19.99) when purchased online; the waterproof Kyocera Hydro XTRM or the midrange Samsung Galaxy Axiom are each priced at $130 after rebates.
By far the most lust-worthy of the US Cellular unlimited options is the Motorola Moto X, which the carrier offers for $300 after rebates - although that's not much of a bargain considering the smartphone can be found unlocked direct from the manufacturer for only a few bucks more (starting at $329.99).
The more troubling part of US Cellular's new "unlimited" plan is the data part of that equation is actually limited to the first 500MB at high speed, with the rest throttled at far pokier 2G (i.e., EDGE) speed.
That bit of bummer aside, the plan otherwise mostly matches the same offering from T-Mobile US, although there's no indication for how long US Cellular might keep this "limited time offer" as part of its no-contract lineup.
Sign up to receive daily breaking news, reviews, opinion, analysis, deals and more from the world of tech.