It's been more than a year since the latest version of the 12-inch MacBook made it to market. We're ready for the sequel.
On paper, the 2017 MacBook was exactly what we've been begging for from apple since its rebirth in 2015. Apple's proprietary butterfly keyboard is more tactile, while the internals also saw huge advances – thanks to 7th-generation Intel Core m3, i5 and i7 Intel Kaby Lake processors.
However, now that we have 8th-generation Kaby Lake-R and Coffee Lake processors for notebooks, we're kind of hoping to see a huge leap in performance with the MacBook 2018. Keep in mind, however, that Apple is planning on replacing all Intel processors with its own Cupertino-crafted silicon by 2020 – and now that Apple has become the world's first trillion dollar company, it definitely has the resources to do it.
Whatever the MacBook 2018 looks like, we just hope it does, in fact arrive by the end of the year and doesn't stray too far from what made it great in the first place. Either way, make sure you bookmark this page, as we'll update it with any information that comes our way.
Cut to the chase
What is it? Apple's thinnest 2018 laptop
When is it out? April 2018 at the earliest
What will it cost? Presumably the same as current models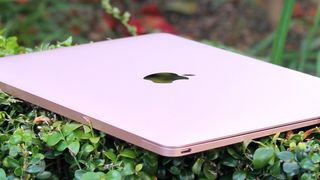 MacBook 2018 release date
None of the most recent reports, rumors or leaks give any lead as to when we'll see the 2018 MacBook. Of course, we'll gladly speculate based on the previous three releases of Apple's 12-inch laptop.
In 2015, Apple released the first MacBook during April, directly following a March keynote. That's a largely odd time for Apple to release a device, but that obviously didn't happen this time.
We're probably going to see the MacBook 2018 coming out in September, especially since Apple didn't announce any hardware at WWDC 2018. And, the fact that the leaks and rumors are going crazy right now seems to back that up.
Rumors have pointed to five different MacBooks releasing in 2018, with the MacBook Pro 2018 representing two of them – that's three left. We've seen some speculation that Apple's cheaper MacBook will be launching in October, which leaves two. What will the other MacBooks look like? Will one be a continuation of the current model?
At the end of the day, we won't hear any information about the MacBook 2018 until Apple is ready to give it, so we don't really know when it's going to make its debut. Today it looks like we'll see it in late 2018 – hopefully before the holiday shopping rush.
Beyond that, it's anyone's guess as to when we'll see the 2018 MacBook. We'll look out for new rumors or announcements and update this article as soon as the MacBook 2018 release date begins to grow clearer.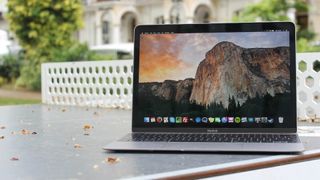 MacBook 2018 price
While we do think that Apple will put out a MacBook around the same price as the current models, we have seen speculation that Apple is planning on releasing a cheaper 13-inch Retina MacBook. So, whether or not that will play a factor in the MacBook 2018's price remains to be seen.
This is another aspect where we'll have to speculate based on the current pricing of the MacBook. The entry-level MacBook will run you $1,299, £1,249 or AU$1,899 to start. Only one more model, with more storage and power goes for another 300 to 450 bucks on top of that. However, there is speculation that Apple is going to be releasing a cheaper 2018 MacBook that will be more in line with the pricing of the MacBook air, around $999.
With the pricing so tight here, amounting to minute differences in hardware between offerings, it's highly unlikely for the MacBook price to budge in either direction. That is short of Apple introducing more capacious storage or higher power options, which will send the price in only one direction: up.
For the MacBook price to come down, or for Apple to release a cheaper MacBook model alongside more expensive version, something has to give. Apple could lower the memory down to 4GB from 8GB, but we don't think that'll happen. Instead, we believe it'd be much more likely for Apple to release a MacBook with a 128GB SSD instead of starting with 256GB.
We'll look out for new rumors and update this article as soon as the MacBook 2018 price begins to crop up as we inch closer.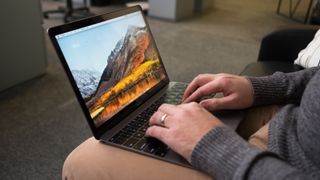 What we want to see in MacBook 2018
All of this uncertainty surrounding a possible MacBook 2018 release is fertile ground for a well-crafted wishlist.
So, here's what we hope to see Apple improve about the MacBook for 2018.
MacBook 2018 keyboard and screen
We've seen plenty of rumors that Apple is planning on making a MacBook with dual screens – and they keep showing up – one of these screens would be a capacitive touch keyboard. We don't know what it'll look like, but there's potential ther for on the fly region changing and easy access to an emoji keyboard – instead of emojis being relegated to the Touch Bar.
And, of course if Apple does follow through with this keyboard design, they'll implement haptic feedback so that you'll get the same experience as using a mechanical keyboard, only with the flexibility that a touch screen keyboard brings with it. However, it's easy to expect this to raise the price in any MacBook that implements it.
Even if this touch-screen keyboard doesn't make its way into the 2018 MacBook, that doesn't mean the Butterfly mechanism keyboard won't be improved upon. Apple has recently admitted that some of the keyboards in recent MacBooks are faulty – and will even repair them for free. This adds a layer of authenticity to that rumor we saw earlier this year that the MacBook 2018 will have a keyboard that's crumb and spill-proof, especially after the MacBook Pro 2018 came out with a membrane-sporting keyboard. Either way, we don't know what the keyboard in the next MacBook is going to look like – maybe it'll be spill proof because it'll be a screen?
More ports, please
Our biggest bugbear with the 12-inch MacBook, since its launch, has been the incredibly sore lack of ports on the laptop. Still equipped with nothing but a lone Thunderbolt 3 (USB-C) port and a headphone jack, this absolutely needs to change in the next version. Just one more?
We've already seen Windows laptops accomplish this feat, like the Huawei MateBook X with its two USB-C ports. Even the similarly priced MacBook Pro has a pair of Thunderbolt 3 connections. Perhaps there's room for a microSD card reader in there, too.
Punchier processors
Costing what it does, Apple really needs to inject some more power into its 12-inch MacBooks. With the onset of Intel processors with AMD graphics onboard, this is the perfect opportunity for the 12-inch MacBook to get a power boost that wouldn't impact battery life.
How, you ask? Well, we immediately look to these new Intel processors with AMD Vega discrete-grade graphics on board that are already finding their way to new laptops this year. Such an upgrade would put the MacBook into an entirely new echelon of premium stature.
Then again, seeing as the MacBook has consistently used energy efficient Intel Core 'M' and 'Y' series CPUs up to this point, we wouldn't bank on seeing the hardy graphics power featured in Intel's 'G' series chips. And, even though there's no 8th-generation version of the 7th-gen Intel Core m3-7Y32 that the MacBook currently uses, at least until Whiskey Lake and Amber Lake come out, Apple is rumored to be using 8th-generation Kaby Lake processors in its MacBook 2018.
As for that cheaper 13-inch MacBook that's been making all the headlines recently, we could see them making an ARM-based MacBook. Recent rumors even suggest that Apple is indeed working on one.
Moreover, a recent news story claimed that Apple was planning to ship a trio of Macs featuring its custom co-processors later this year. These are expected to be similar to the T1 and T2 chips found in the MacBook Pro and iMac Pro, respectively. This is likely an early part of Apple's rumored 'Kalamata Initiative', which will see Apple replacing all Intel chips with Cupertino-crafted silicon by 2020.
Since the 12-inch MacBook doesn't have a Touch Bar, it's safe to assume that if one of these co-processors is implemented, it will be used for the automatic wake and 'Hey Siri' functionality presently exclusive to the iMac Pro and MacBook Pro 2018.
Stronger audio and video
Speaker performance and webcam quality are two corners that Apple obviously cut through in crafting the MacBook. With the MacBook 2018, this needs to stop. Tinny speakers and a sub-HD webcam for a laptop this expensive simply isn't acceptable.
Simply bump the webcam up to 1080p FaceTime HD befitting of its price tag, and problem solved. The speakers, however, is a problem we don't necessarily have a solution for. Supporting the speakers with down-throwing bass modules in the base might work?
iOS apps on MacBook
Now that it's been talked about for so long, the idea of iOS apps on macOS has grown on us. We're excited by the prospect of continuing work from our phones straight away on our laptops – or polishing off that top score upon sitting down at the desk.
And, at WWDC this year, Apple detailed which apps are going to be making the move. While you won't be getting any third-party apps, macOS Mojave will be getting core apps like News, Stocks, Voice Memos and Home.
If you're looking for your favorite third-party iOS apps, however, you'll be waiting until at least 2019.
These are the best Macs that 2018 has to offer so far
Gabe Carey has also contributed to this report