macOS Monterey stars, iOS 15 lets you 'connect' and more: WWDC 2021 as it happened
We've got everything on the new software from Apple, including macOS Monterey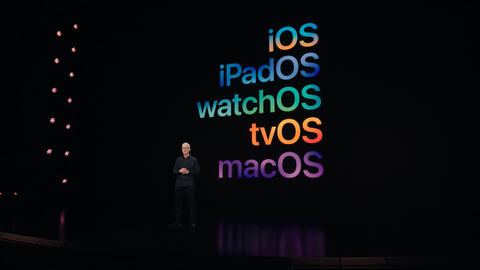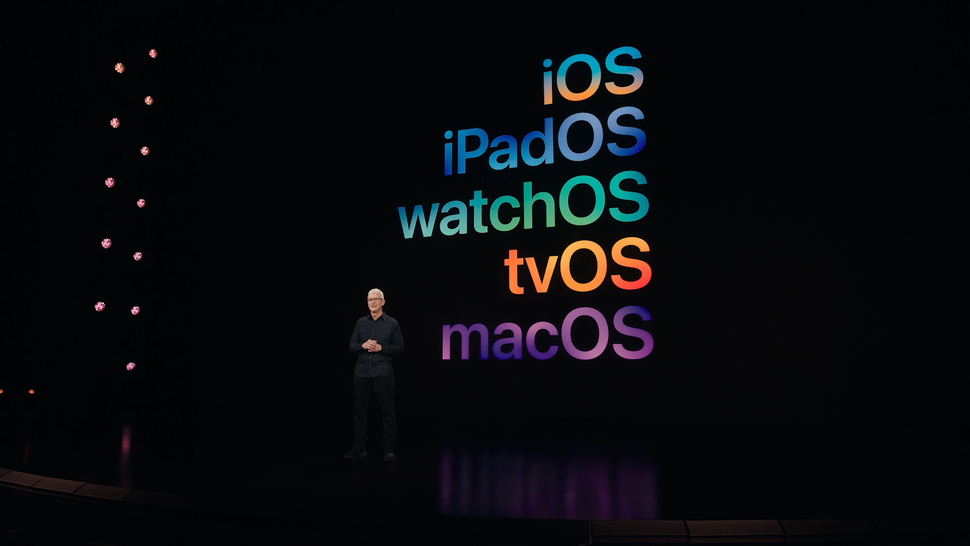 (Image: © Apple)
Apple's WWDC 2021 is done and dusted, and while the developer's conference is set to last the majority of this week we've heard all about a bunch of new software.
macOS Monterey was one of the stars of the show, with the new name coming to replace Big Sur as the new Mac operating system. It was Universal Control, where you can use a MacBook or iPad as a second or third screen just by placing them next to each other, that stole the show for us, but we saw new tweaks and design upgrades to Safari (with a new, simplified layout), Shortcuts finally coming to the macOS ecosystem (and replacing Automator) as well as things like Quick Note, which came to iPadOS 15, landing as well.
iOS 15 was the update that many will have been clamoring to hear about, given it'll affect many different devices across the world. It'll come with big FaceTime improvements (with FaceTime even coming to Android (opens in new tab)), such as background blur and spatial audio, offer far more ways to see links, photos and music that your friends send through Messages as well as work on devices all the way back to the iPhone 6S. That's all the way back to phones from 2015.
iPadOS 15 was an odd update - it seemed to bring more things like widgets to the homescreen, which was already there in the iPhone's iOS 14 from last year. The App Library appears, as well as getting a place in the dock at the bottom of the iPad's display, and things like Quick Note allow you to jot something down using the Apple Pencil from anywhere in the device.
It wasn't the biggest change for the iPad operating system, but it did enhance some multi-tasking features we're looking forward to trying out.
If you were excited about watchOS 8, it's best not to be. It was a very quiet update, with things like Apple's depth-perceiving Portrait images making their way to the Photos watchface, new ways to help you be more mindful during the day and monitoring of your respiratory rate during sleeping.
Given last year, sleep tracking was built into the Watch for the first time, this was a rather underwhelming change.
As expected, we didn't hear anything about upcoming products like an iPhone SE 3, Apple Watch 7 or iPhone 13, but there were a bundle of new features around the key software products.
We won't lie - the lack of hardware was underwhelming, but some of the new features in the software were intriguing, with Apple's dual thrust of connecting to people you love and privacy being constant messages throughout.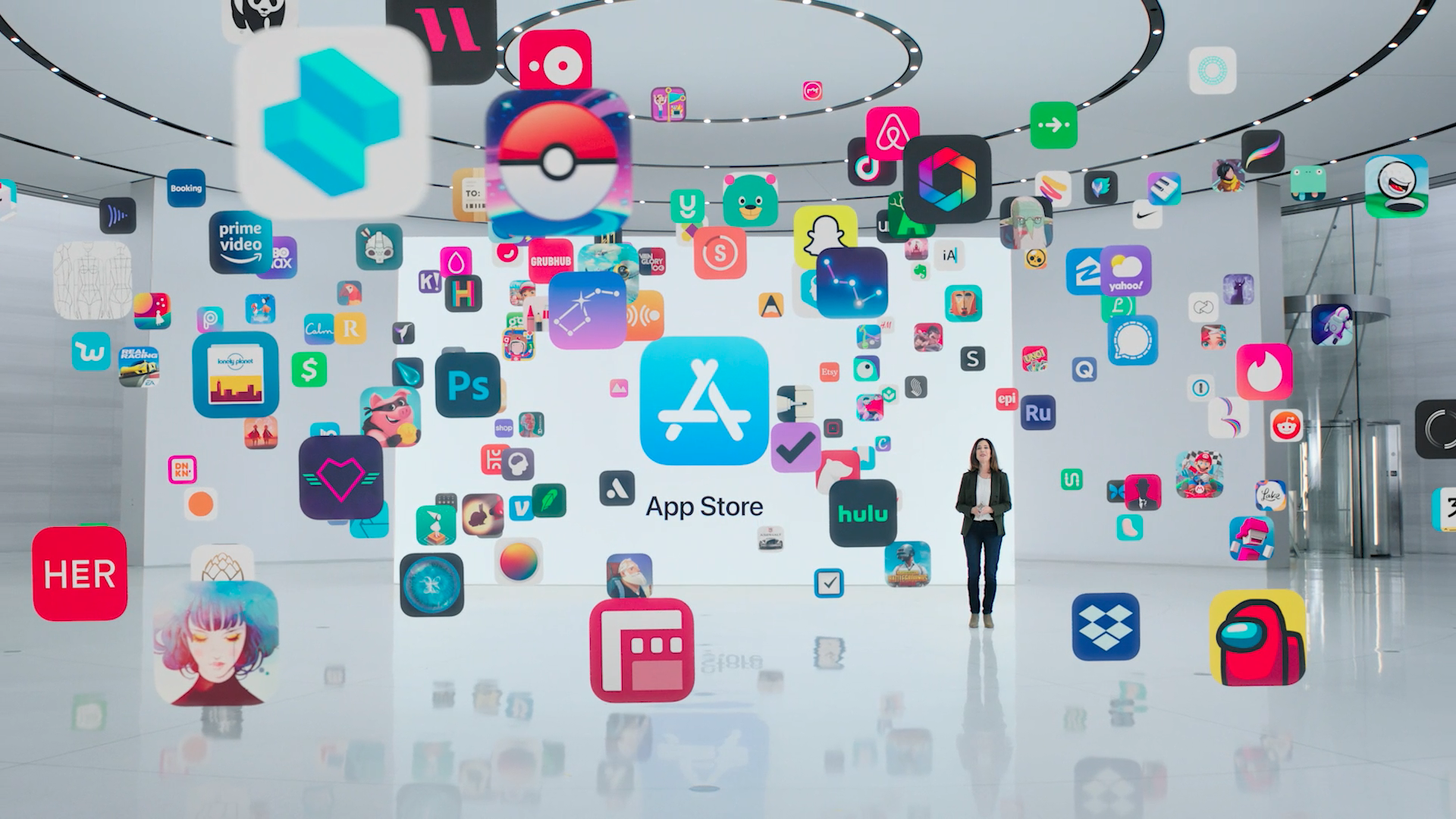 Refresh
Welcome to TechRadar's WWDC 2021 live blog. We're getting started early today ahead of the big event, and we'll be here to run you through everything we're expecting from Apple before the stream kicks off.
Expect to hear about updates for your iPhone, iPad, Mac, Apple Watch, Apple TV and perhaps even more, with rumors suggesting there will be new gadgets like a MacBook Pro for 2021.
It's expected to be a packed show, and we'll be running you through everything as it happens. While you wait, why not check out our feature below where we spoke to three app developers on what they'd like to see Apple introduce at WWDC 2021?
We'll be talking you through a variety of the updates we're expecting to see at WWDC 2021 throughout today. First off, we're going to talk about iOS 15 and iPadOS 15.
iOS 15 and iPadOS 15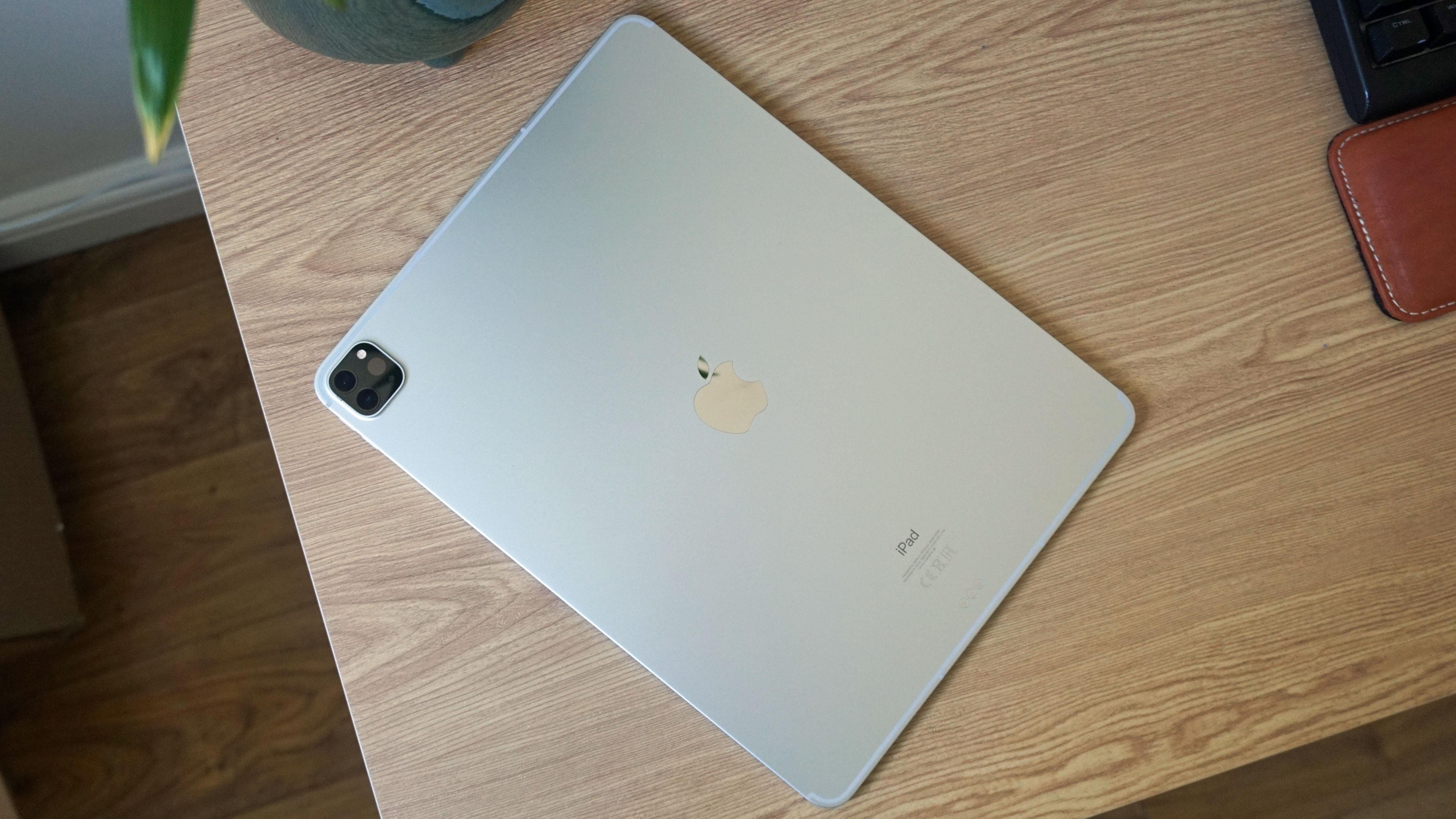 Possibly the biggest unveiling of WWDC 2021 will be iOS 15, the next iPhone update that'll likely come to phones in September.
We haven't heard too much about iOS from leaks and rumors, but since iOS 14 was quite a big upgrade, people are expecting iOS 15 to present fewer changes. We've heard the Control Center could get a little redesign though.
iPadOS 15 is a version of iOS 15 designed for iPads (as the name suggests), and new updates are generally the same as the iPhone counterpart except with a few tablet-specific tricks. Again, news is very light, but iPadOS 15 isn't expected to change too much from iPadOS 14.
In the last 24 hours, a new leak has suggested Apple may be introducing a new mental health focused app at WWDC 2021. The rumors suggest it'll be called Mind, and the truth is we don't know a huge amount about.
We've broken down what we do know so far, but it sounds like it may be an improvement on the existing Breathe app that you'd find on your Apple Watch. Here's our analysis on what we think Mind could be.
Will we see new Mac hardware from Apple today? A host of leaks and rumors over the last few weeks have suggested so.
Jessica Weatherbed, Computing Writer for TechRadar, says "We're expecting Apple to announce two new models of MacBook pro - a 14-inch and 16-inch model - though rumors are in the air regarding updated design, potential release dates and even hardware.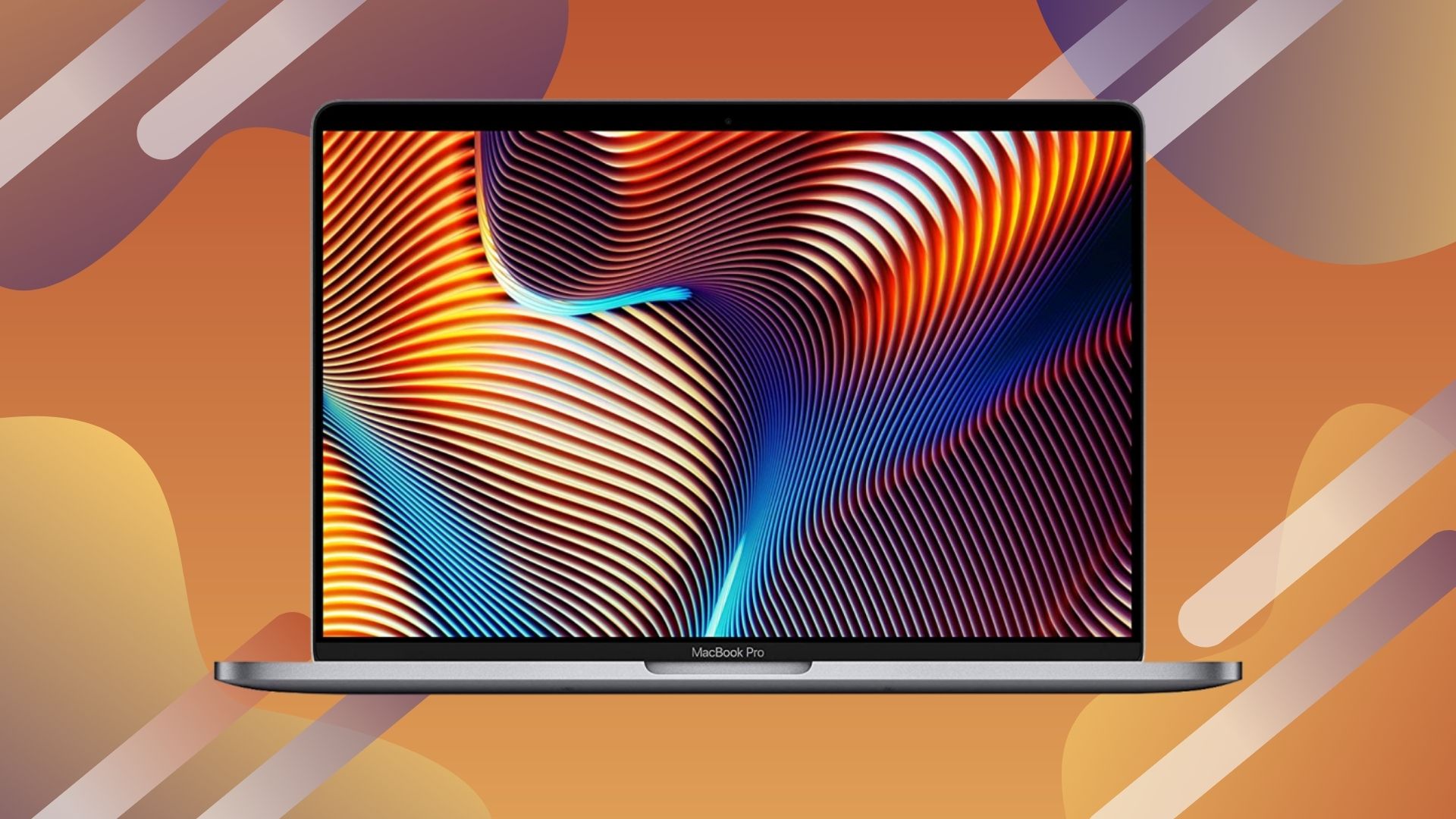 "It's been suggested that these new additions might include some beefier internal silicon (an M1X or M2 if you will), which makes sense given most of the current Mac family now uses the M1 SoC.
"I'd be surprised if these new products are announced for imminent release given existing estimates that components for the new MacBook Pro units won't be ready until Q3, but Apple typically doesn't wait long to put it's new goodies on the shelves."
Could tvOS get its next upgrade today? Little is known about tvOS 15, but TechRadar's Home Cinema Editor, Henry St Leger, has some ideas about what you can expect.
He says, "New iterations of Apple tvOS smart platform are usually announced at WWDC, and we expect this year to be no different. tvOS 15 should be on show, with a host of improvements, tweaks, and new features for the OS behind the Apple TV app and Apple TV streaming device hardware. If Apple sticks to its usual timelines, that will be followed by a private beta that turns into a public release this September.
"With a new Apple TV 4K now on sale, we expect at least some changes to be around optimizing the Apple TV experience. Rumors are swirling around an app redesign to aid navigation, and we're hoping to see Apple finally fix its awkward Apple TV Plus integration. We could see an in-app guide to live channels too, as well as a kids mode and more parental controls – which was rumored to come last year but has yet to appear in the operating system.
"Last year's tvOS 14 update added Audio Sharing for connecting two sets of AirPods, 4K video transfer over AirPlay and 4K playback on YouTube, and greater control over HomeKit-connected smart devices."
Developers are the main focus of WWDC, and often this is a show that is mostly around preparing them ready for the new features so they can have their apps ready and up to date for software to land in future.
We spoke to three prolific app developers for Apple platforms on what they want to see from WWDC 2021. You can read what they want here.
While it's not on the official WWDC schedule, it would make sense for Apple to make a big deal about Spatial Audio today. It recently announced that Spatial Audio and Lossless Audio will be coming to Apple Music at no extra cost to subscribers, in a move that has shaken up hi-res streaming services like Tidal.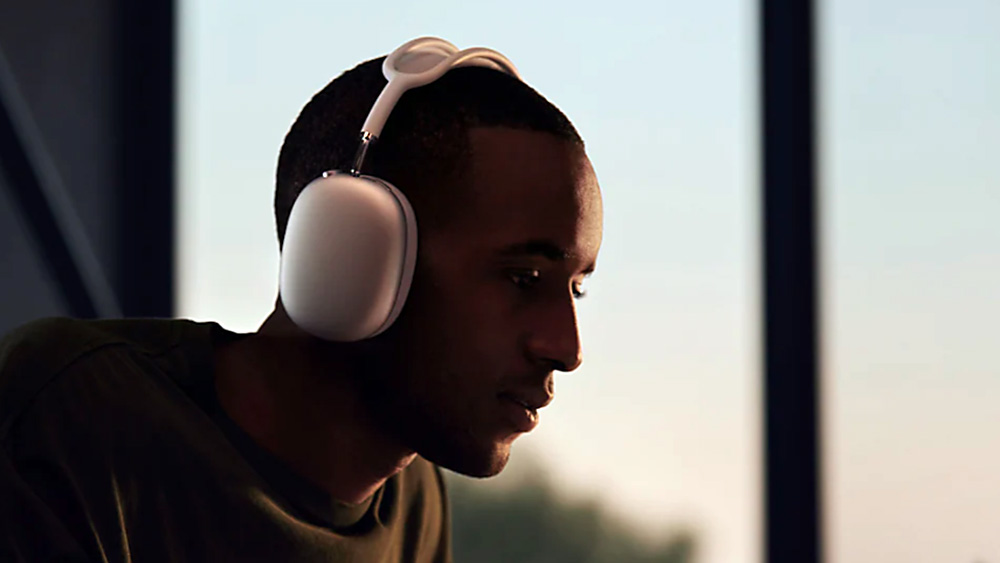 For those not familiar with Spatial Audio, it's a sound format designed for the AirPods Pro true wireless earbuds (opens in new tab) and AirPods Max (opens in new tab) over-ear headphones.
It takes 5.1, 7.1, and Dolby Atmos content and applies directional audio filters, placing sound in a 3D sphere, making it sound as though audio is coming at you from all angles – and it's availability on Apple Music without an accompanying price hike is sure to shake up the world of music streaming.
Maybe there won't be hardware at WWDC 2021 after all. Popular leaker @L0vetodream, who has a history of being correct on tech leaks, has responded to someone asking whether there will be new gadgets with the phrase "I feel no".
It's important to note that this is a translation of the post's original Chinese, but it may suggest we won't be seeing new technology today.
It may also be based on the leaker's own personal opinion rather than specific leaks. We don't know for certain, but it may be a sign that today's event will be purely about software.
While we may not see hardware today, there are leaks and rumors pouring in for the iPhone 13. Today, we've heard the iPhone 13 Pro is set to come in matte black and one source says it's the darkest shade we've seen on any recent iPhone.
Don't expect to hear anything about the iPhone 13 today, but we will likely hear about iOS 15 that will be running on that phone when it debuts later in 2021.
Tim is awake, and he's sharing some tweets to get us started today. Unlike in previous years, it's likely today's big WWDC 2021 keynote has been pre-filmed so it's unlikely Apple's CEO had to get up super early today.
Today's the day! Who's ready? #WWDC21 pic.twitter.com/oRlL8Z85X8June 7, 2021
The video doesn't give us a huge hint at what to expect today, but it's full of Memojis so we may hear more of them within iOS 15 and other platforms from Apple.
It's just a little over an hour until the WWDC 2021 event kick starts, so it's time to tell you how you can tune in yourself. You can either watch through Apple's own services, or you can find the clip on YouTube using the above embed.
Before everything starts, we're going to run you through what we currently expect to arrive at WWDC.
iOS 15 - The next generation of iPhone software
iPadOS 15 - Similar software, but designed for iPads
macOS 12 - New software to run on Macs and MacBooks
watchOS 8 - The next software to run on your Apple Watch
tvOS 15 - New software for your Apple TV
Some new gadgets - We may see a new MacBook Pro, but leaks in recent hours make that seem less likely than previously
Other announcements - Apple may be introducing new Spatial Audio features and a new mindfulness app, plus we can expect other additions in other areas of Apple's business
Will your older iPhone get iOS 15 later this year? That's a big question that many will be asking today, and we've seen leaks this year that suggest the iPhone 7 series and later will be compatible with iOS 15.
Those who won an iPhone 6S, iPhone 6S Plus or iPhone SE were able to download iOS 14, but leaks have suggested these handsets will be cut out from updates from 2021 onward.
We won't know this for certain until later today during Apple's launch, so tune in to see if Apple reveals compatible devices.
One last nugget of information before we get properly started... Apple has yet to take down its online store. Often, Apple will take down its store a few hours before a big event to revamp it with the new gadgets ready to go.
Could this be a sign that there won't be new hardware at Apple's show today? It isn't a gurantee, but it does seem to be yet another piece of evidence that Apple won't be showing off a new MacBook Pro or any other physical gadgets alongside iOS 15 and co.
Right, Gareth Beavis on the live blog decks once more, get ready for some sweet cuts of iNsight into what we're going to be getting today.
Given we're mere moments (well, a few hundred of them) away from the start of WWDC 2021, it feels a bit, well, underwhelming at this point.
I'm fairly convinced that we won't see much in the way of new hardware, but that doesn't mean it's only going to be software on show today. Not sure what else, but it has to be more than that, surely?
Oh, the live stream is live! It's not longer just a theoretical stream! And we're seeing loads of 'energetic' messages from fans as little MeMojis, saying things like 'I need Xcode in my life RN!' and 'Here we go!'
Consider me pumped up.
Fun fact: if you type in 'pew pew' into iMessage, it'll do a laser show to whoever you send it to. You're welcome.
And we're off, with the traditional WWDC jokes about how they 'set up' WWDC. We just had an idea for Tim Cook to get into a Delorean with a new iPhone, or a cartoon, or 'Our Journey Into Tomorrow' for the new film.
Wait, this one is actually happening - a fake Craig Federighi just appeared and he got to do a joke as he was being puffed out of existence.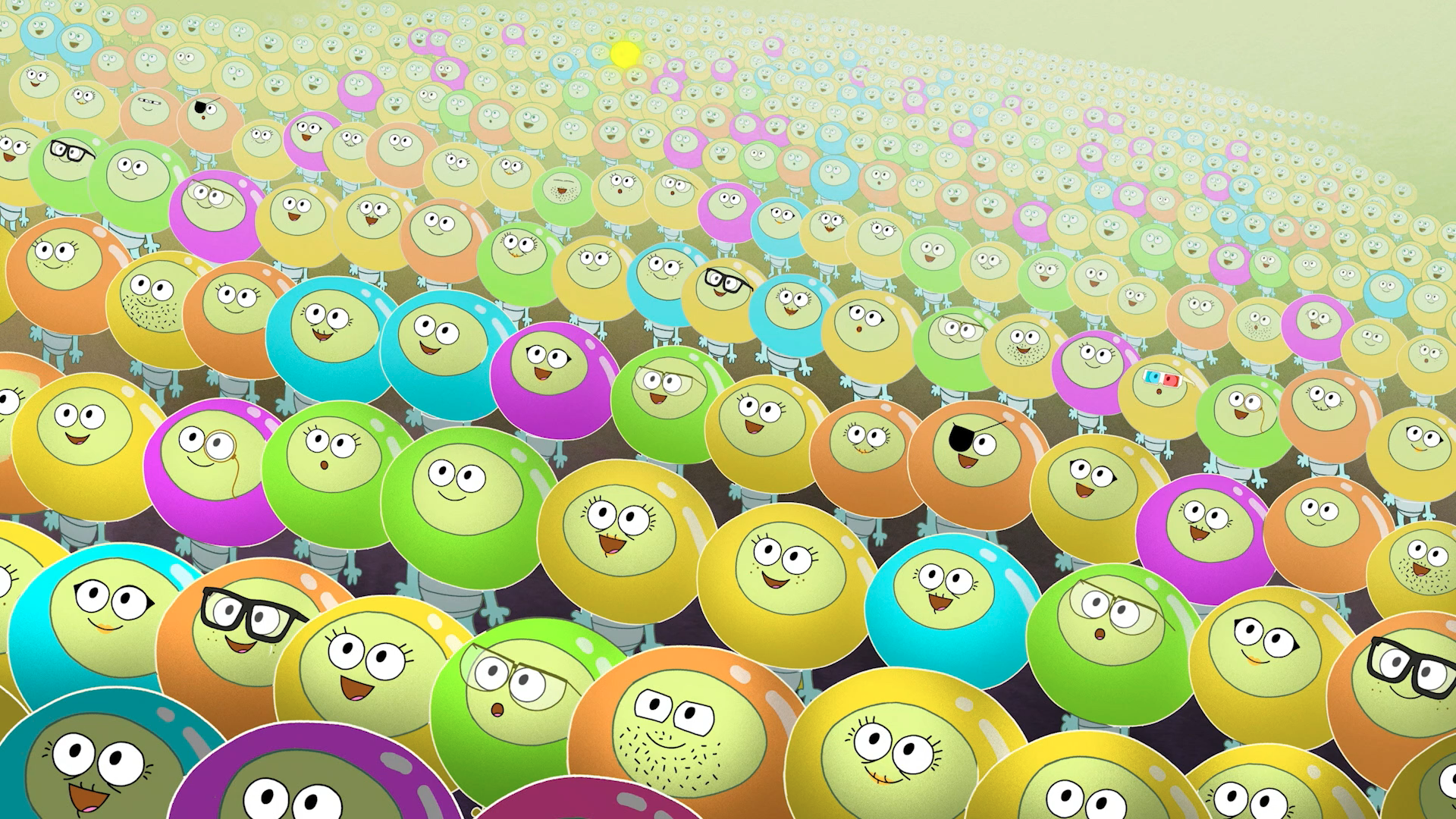 Wait, now we're into a musical about fixing a bug, your yearly reminder that WWDC is absolutely designed for Apple fans and not the hardcore product lovers - there's a lot of silliness here and Tim Cook is walking out onto a stage with loads of little Memoji in the crowd.
He's just said 'it's great to see so many of you here' - pretending he can see them. Oh, Tim.
It's weird not being there for these events. It was 'surreal' last year, but in 2021 it's just tiring doing these events over the virtual waves. Here's hoping it's back to 'normal' next year.
Anyway, onto WWDC 2021 - Cook is promising to keep helping people learn about new ways to make apps, but forget that - it's Craig Federighi and iOS 15!
(Well, I assume iOS 15. If they name it something else...)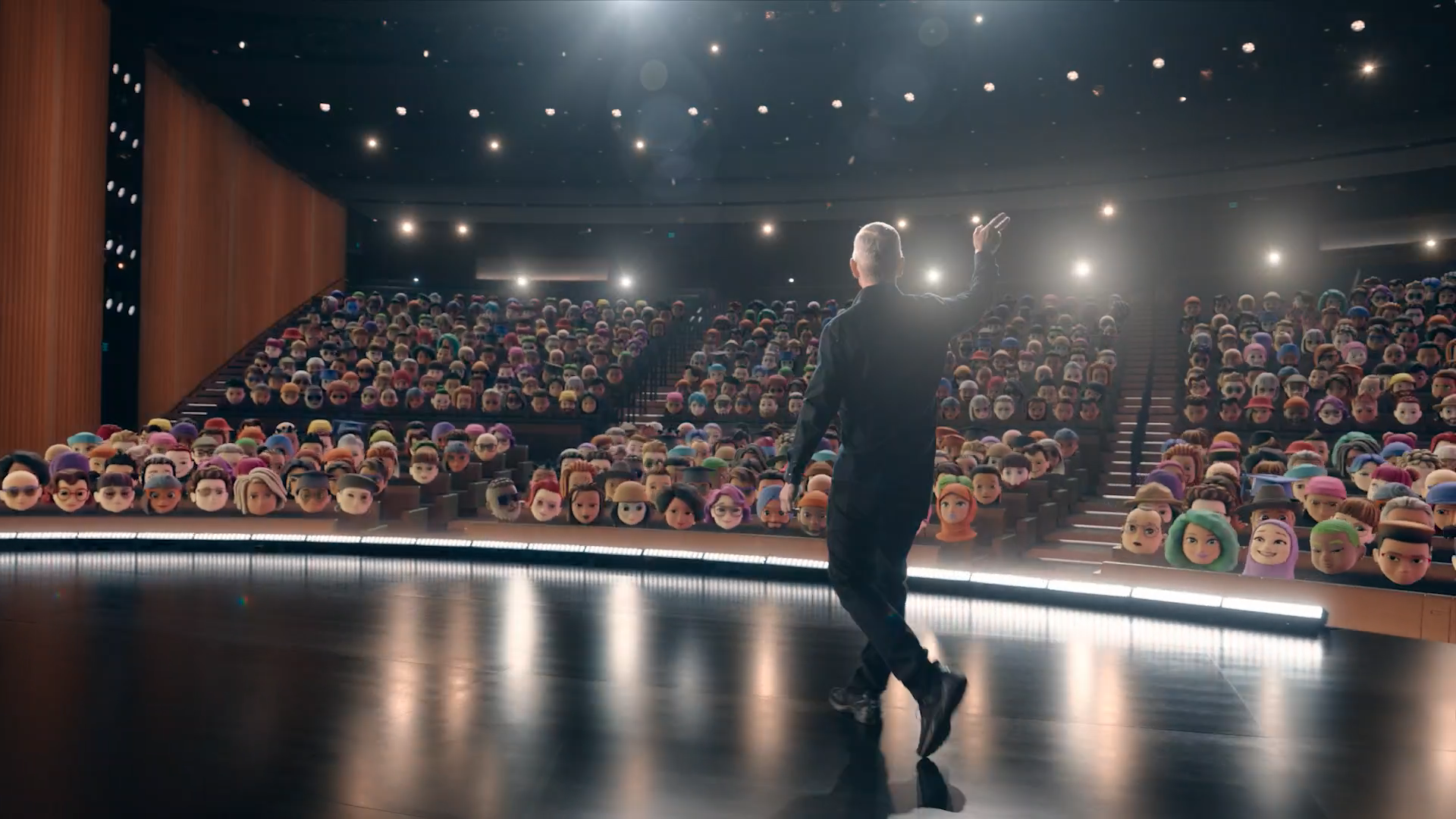 Oh, no, it's iOS 15. No change there. Federighi just confirmed it.
What's it going to be focused on today? Well, we're starting with 'Staying Connected', talking about video calling. Specifically, FaceTime.
Talking up the privacy and end-to-end encryption since it first came out - Apple going ever harder on the security side. Get ready for more of that today.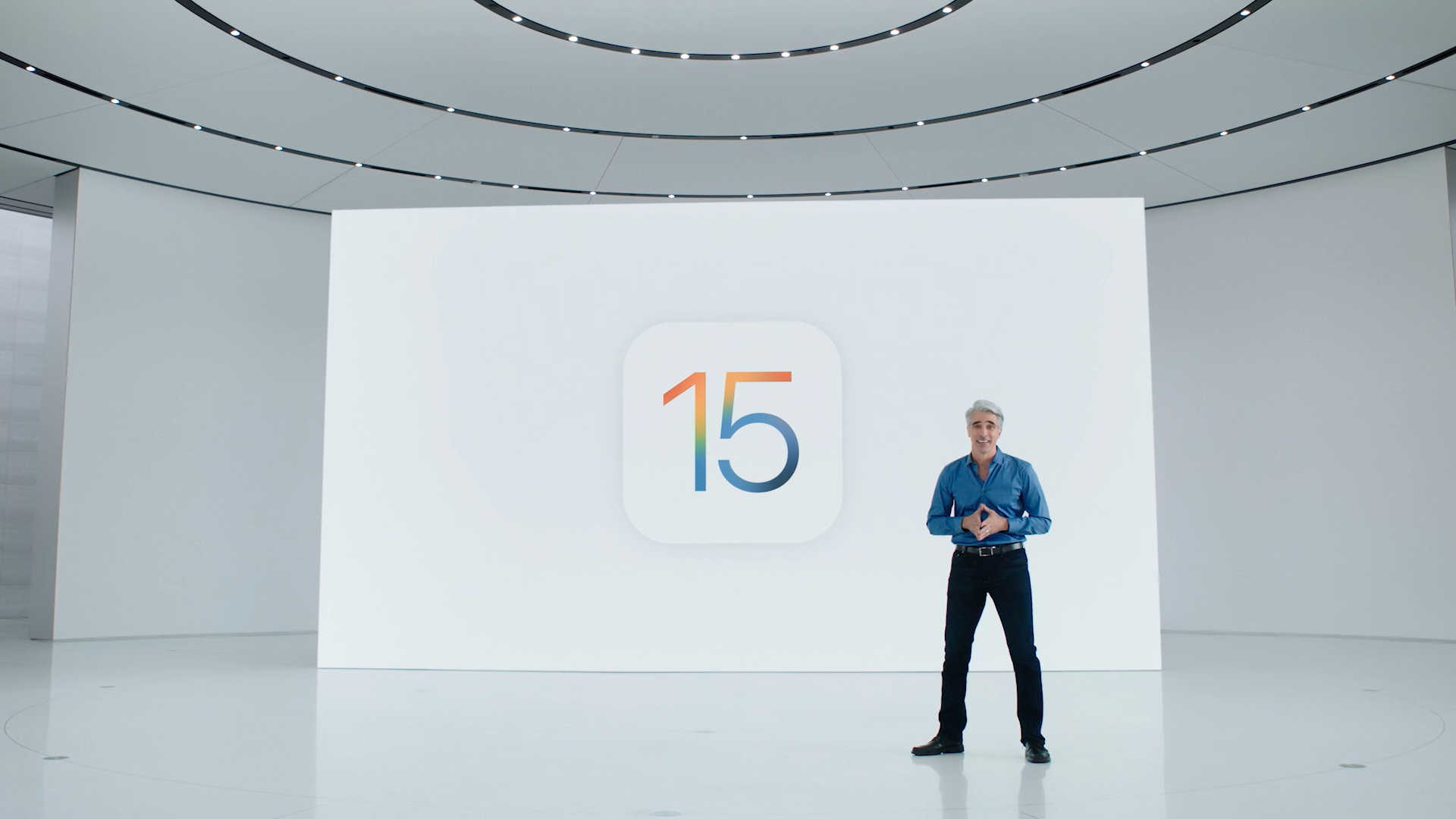 Facetime will now have spatial audio, so it can make it sound like that person is exactly where they are on the screen when you're talking to make it more natural.
The amount of voice captured will be improved, to enhance the sound - and Portrait Mode is coming too (basically background blurring for the iPhone).
Wait, you can send a FaceTime link too now? This is just Apple trying to make FaceTime a real competitor too - especially as ANDROID CAN USE IT TOO! That's pretty massive.
SharePlay is coming too - you can bring music into your call, watch movies or other screen shares with friends, allowing you to do all of this through FaceTime.
This reminds me of AllShare Play from Samsung and the Galaxy S4 phones - but this is the same thing many, many times larger.
If you're watching a movie together, it'll be perfectly in sync, and messages can be used to keep the party going. And you can extend it to Apple TV too.
This makes a lot of sense from Apple - bringing together a lot of places as well. SharePlay will work with third party apps too - not just Apple Music and Apple TV. Hulu, Disney Plus, Twitch, TikTok, NBA app and more are all getting SharePlay.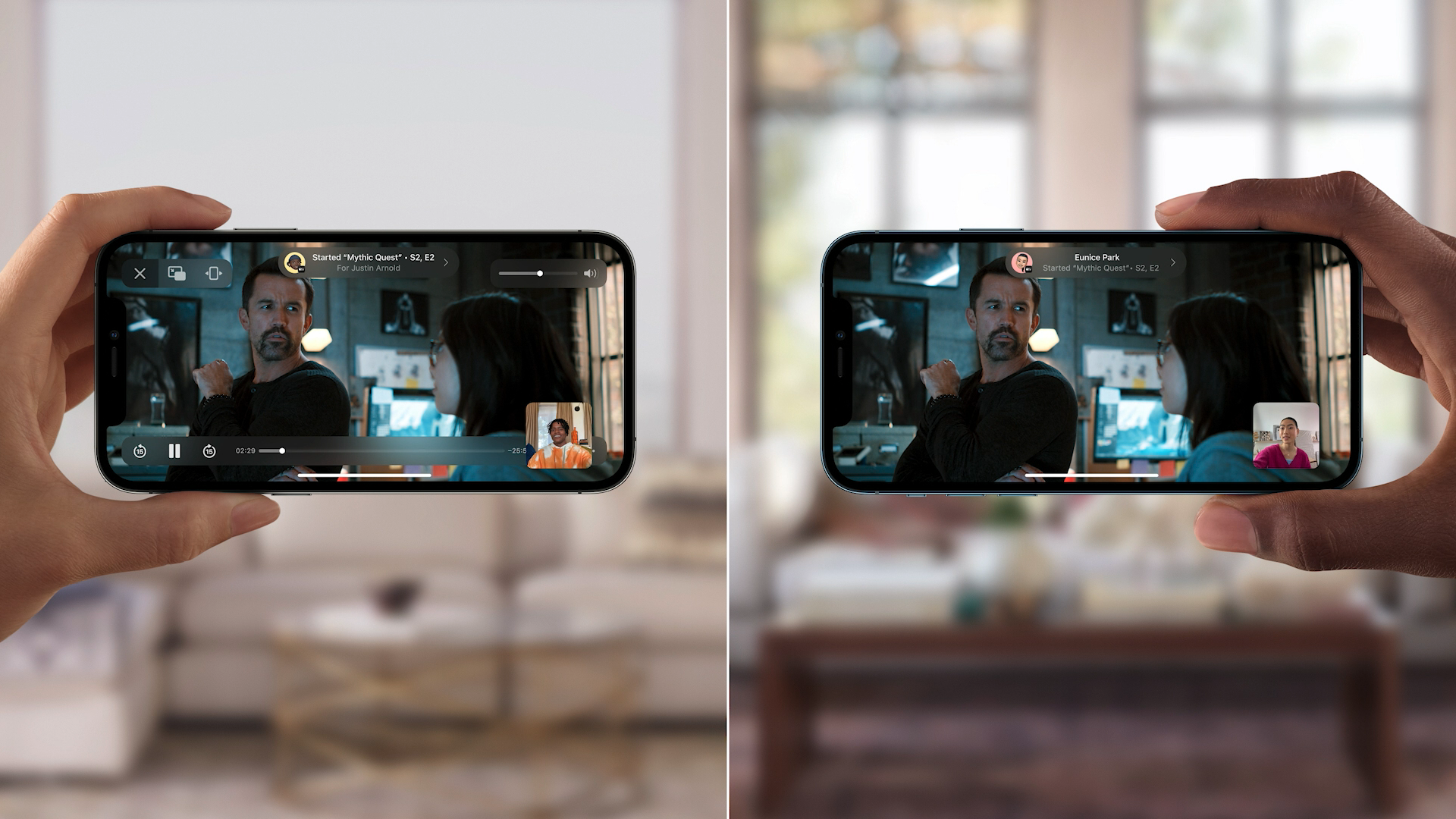 This won't be a big reason to buy and iPhone, but it's going to be one of those things that, once you can do it with friends and family, you'll struggle to break away from unless the competitors make something similar.
Right, onto new things in Messages.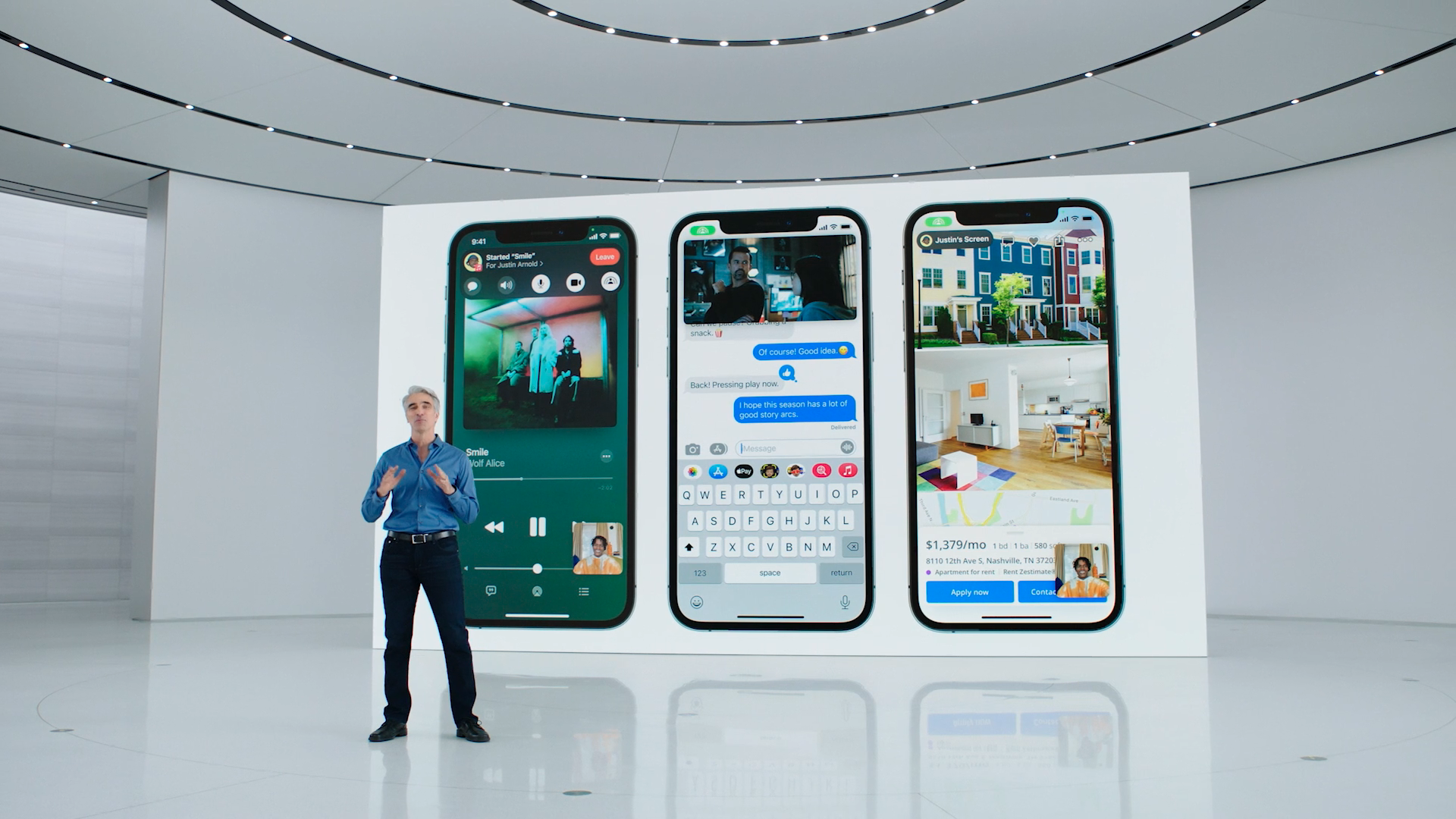 Shared with You is in the News app, where any links sent to you by friends will be surfaced for you to see.
If you head over to Apple Music, you can see shared playlists in Messages (not the biggest change, let's be honest) and you can see photos that are shared with you in Messages will appear in Photos as a separate section.
I honestly thought this kind of thing was in iOS already, so this is a 'catch up' from Apple.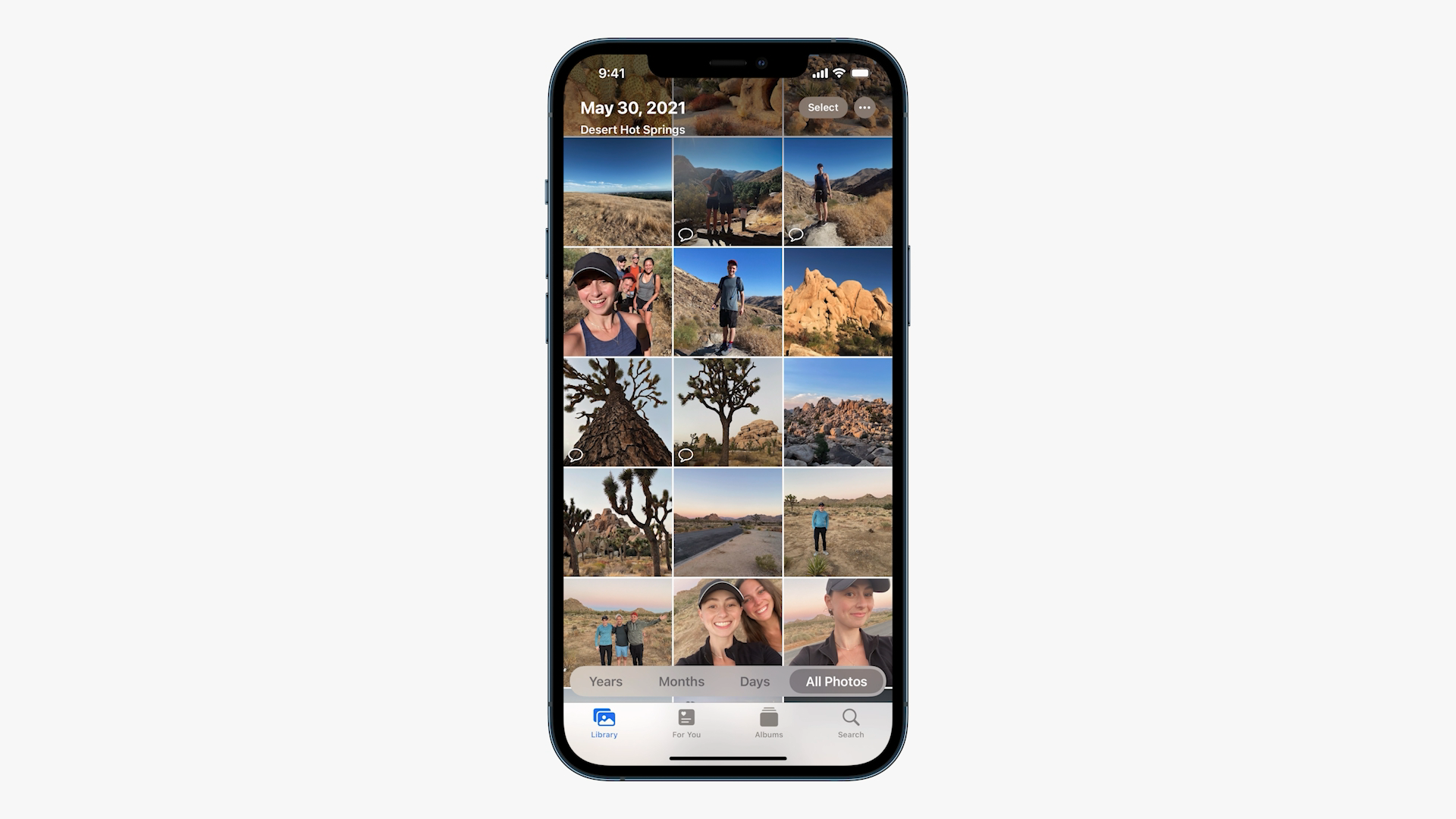 Shared with You is coming to Safari, Podcasts and more - Apple is really going big on the 'connected person' idea with iOS 15.
But we're also getting an improved Focus Mode, allowing you to target what you actually want to see.
I'd just be happy to not having random times when apparently I spend 24 hours browsing Walmart.com, according to my Screentime app.
I didn't, FYI.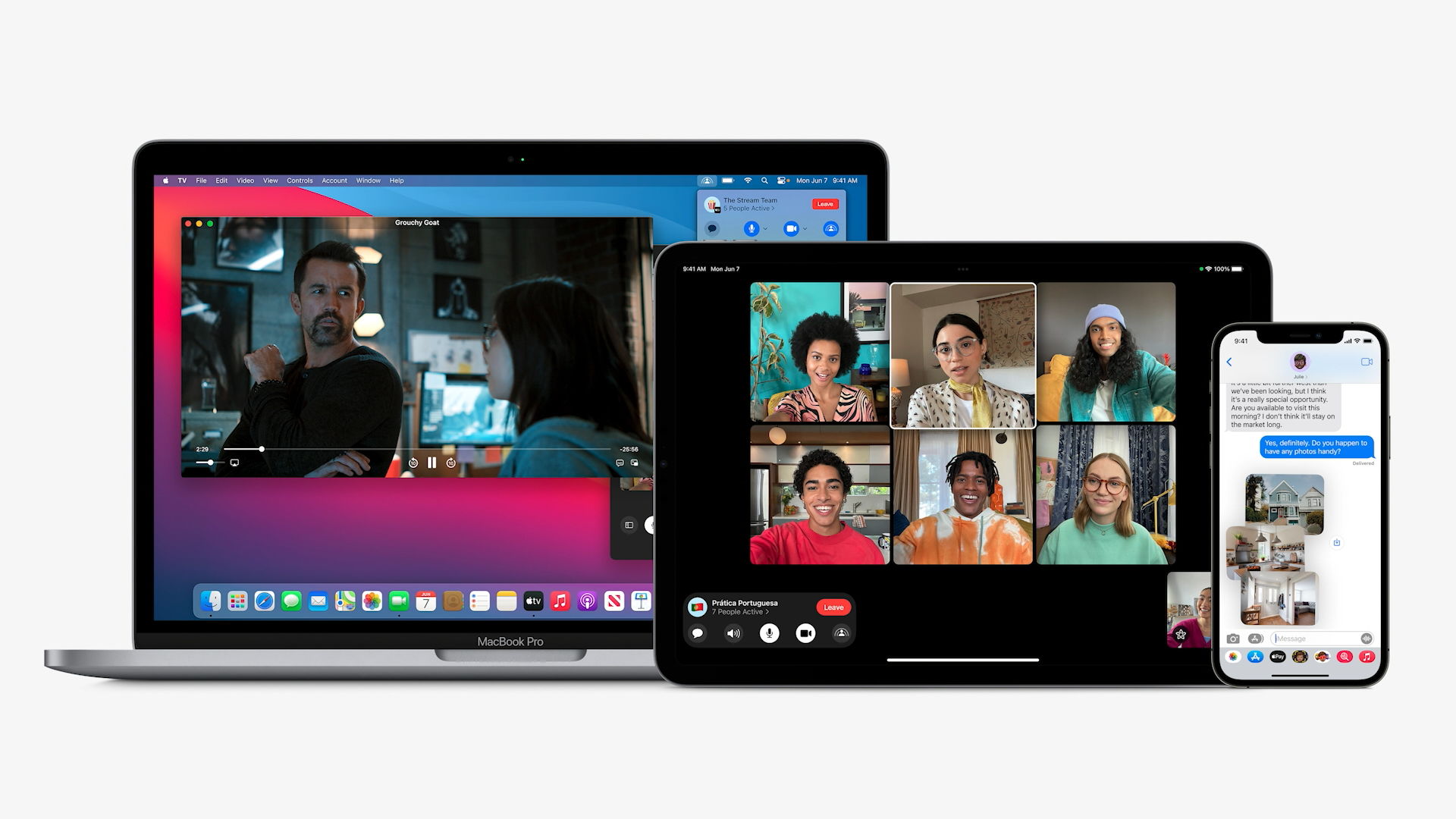 Righty roo, Notifications Summary is a new thing, where the right, relevant ones will float to the top.
If you're using Do Not Disturb, that will show in Messages, or shut off all notification pokes.
But Apple is allowing you to use 'Focus' to allow you 'match your device to your current mindset'. What?
Apple will suggest apps and people to allow notifications from - co-workers at work, with Slack or similar, or have a homepage that only allows a certain type through.
This is interesting - I've seen this vaunted from brands like Nokia a decade ago, but using things like location, time of day and previous usage is hard to get right.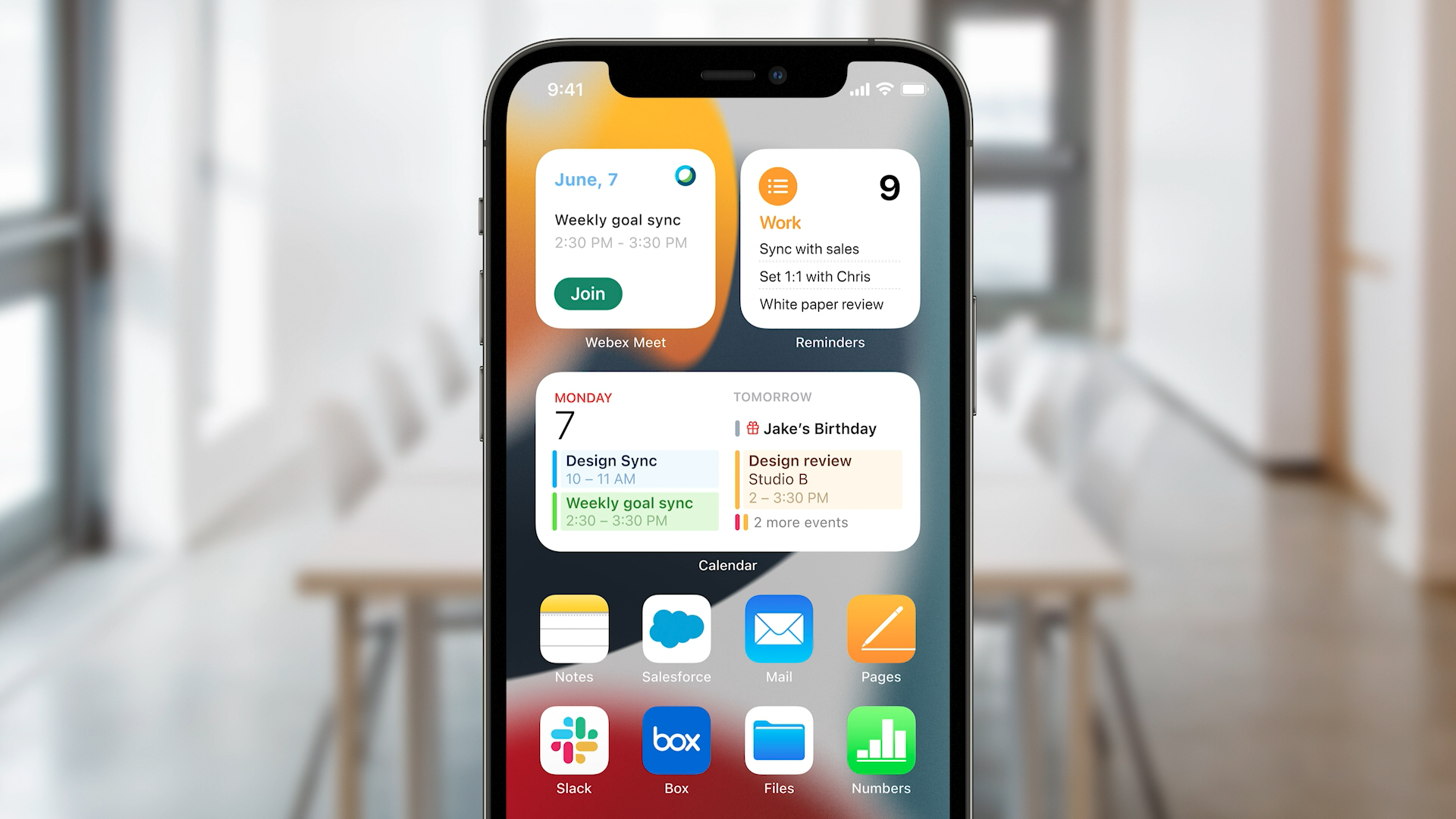 Federighi talks so fast. Does he care not about live bloggers?
OK, what's happening now... it's Live Text. You can point your camera at a whiteboard and grab all the text written down and then paste it into a mail too.
It will also work on photos you already have, and you can use things like Lookup to find out about it - or send the text that you need, or grab a Wi-Fi password.
(I added that last one - it better happen though).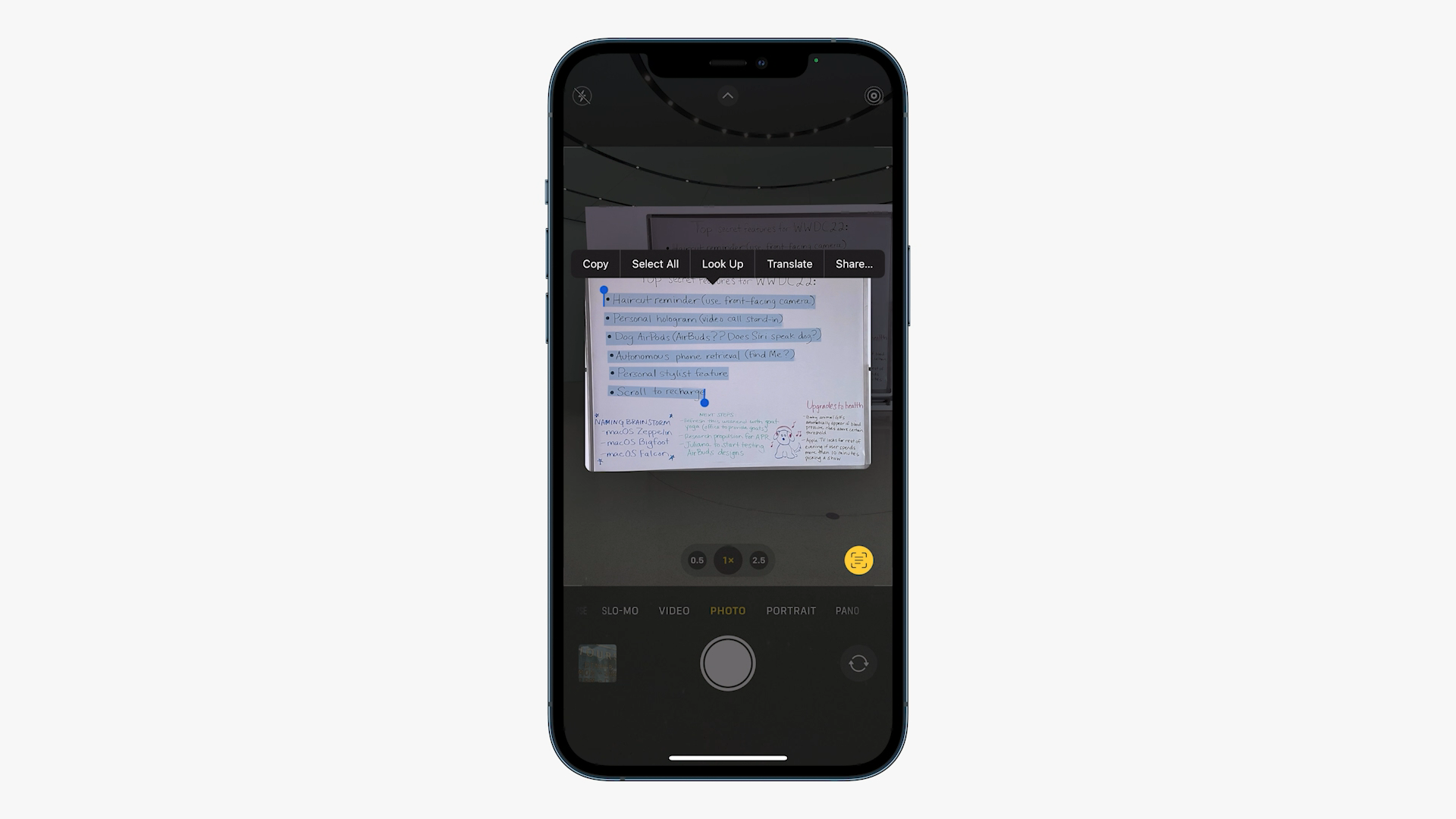 Is 'gotta drop' a way to get out of a phone call? Apparently...
There's also Visual Look Up, which can help you look at landmarks, animals, plants and other things in nature - this is the sort of thing that rivals like Google have been doing in various ways over the years, so Apple is again on the catchup here.
The key thing that this brings is that it's all locked into one device system - the key thing will be how much these 'rich results' and findings in Spotlight and neural network AI understanding of these videos actually presents itself.
Chelsea Burnette is with us now, telling us about how Apple Music can come into Photos, to bring the memories to life.
That's cool, although the inbuilt music was already fine in my view. Also, when HTC did this a long time ago, I'm sure you could add your own track. But I might have just made that up - but it could defintely beat match the photo transitions to new tracks.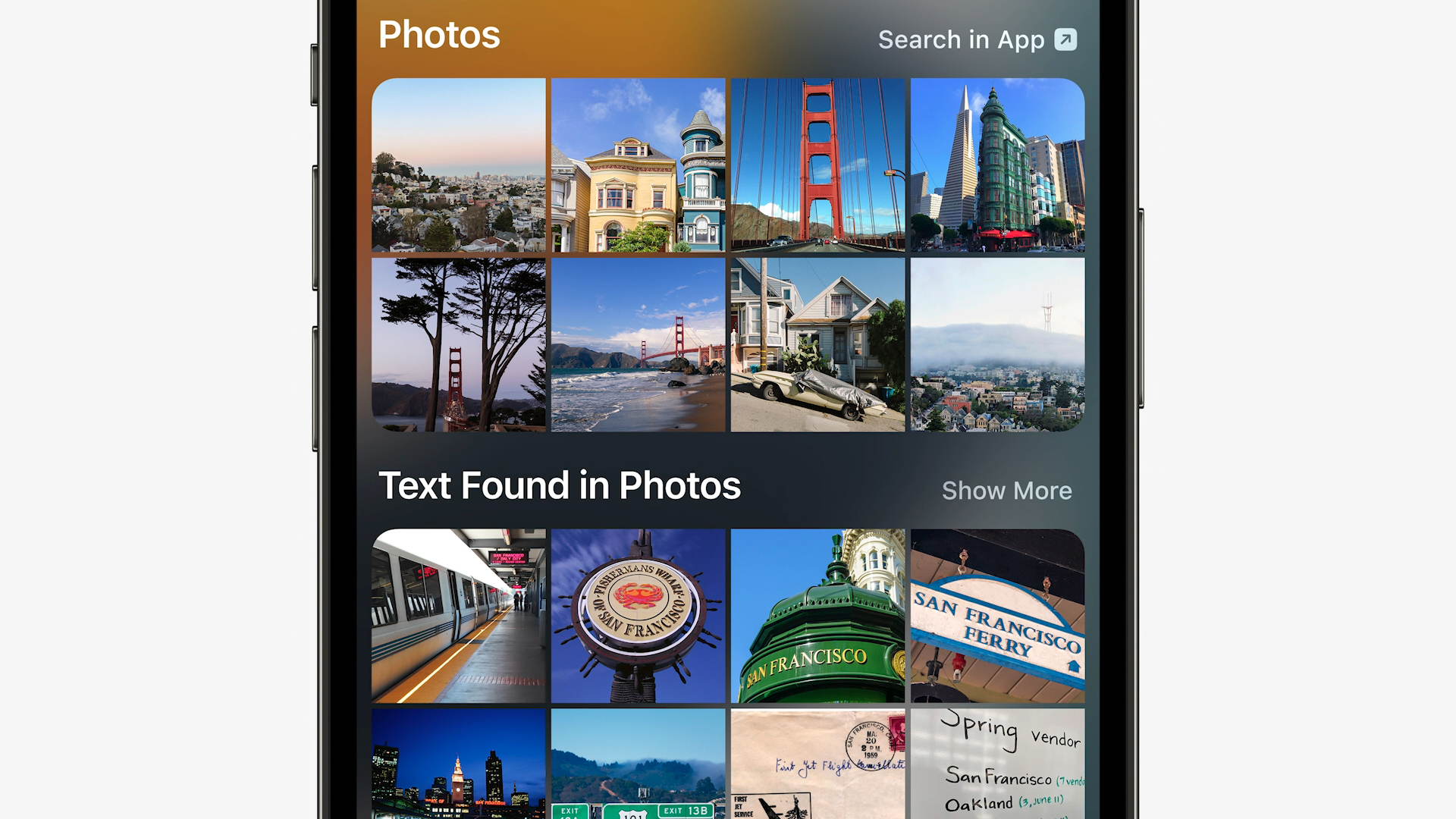 Thankfully it's demo time- Burnette is no better than Federighi in terms of speed. It's nice that you can add different tracks to your memories, but they need to be more easily presented and shared really.
Jennifer Bailey here now to talk Apple Pay. First we had the payment card, then the transit system, and recently DisneyWorld added their passes too - and Apple is allowing more keys to come to Wallet too.
BMW is bringing cars with the allowance to use the iPhone (with Ultra Wide Band capability, so it knows when you're coming close) to unlock your car.
You'll also be able to unlock your hotel room or smart locks from an iPhone or Watch.
Wait, there's one more thing here (wait...) and you can scan your ID information in there - Driver's License being one of the big ones here. And the TSA is going to allow you to present your info using your iPhone.
That's pretty big - Apple is clearly going after your wallet.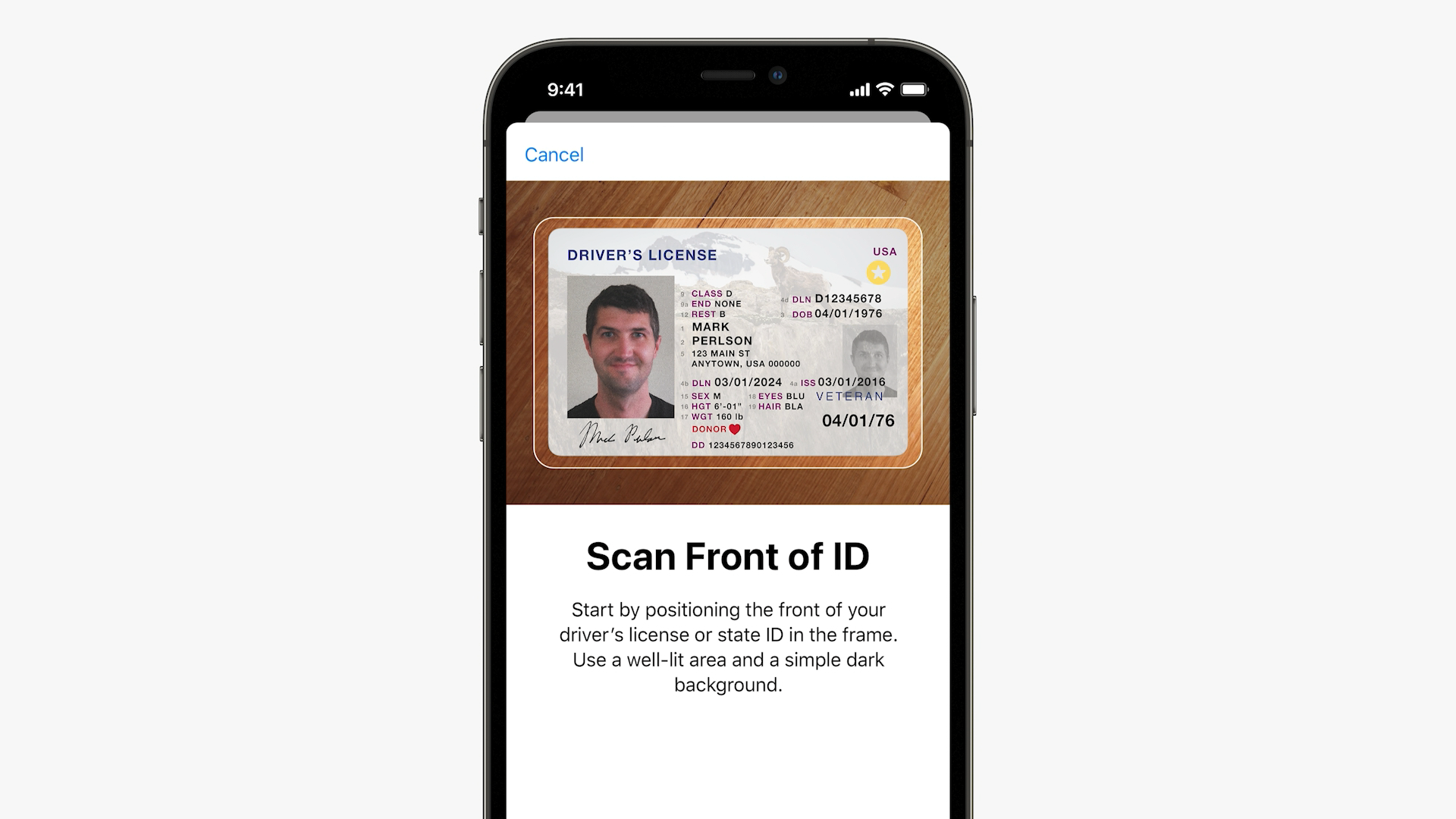 Weather is now getting its time in the sun. Yes, I just did that. I'm great at puns.
Oh, wait, you probably want to know about it. There's more information on air quality, rain maps incoming and a general UI change too to give you more information.
Now we're onto Apple Maps with Meg Frost. My word, this is intense.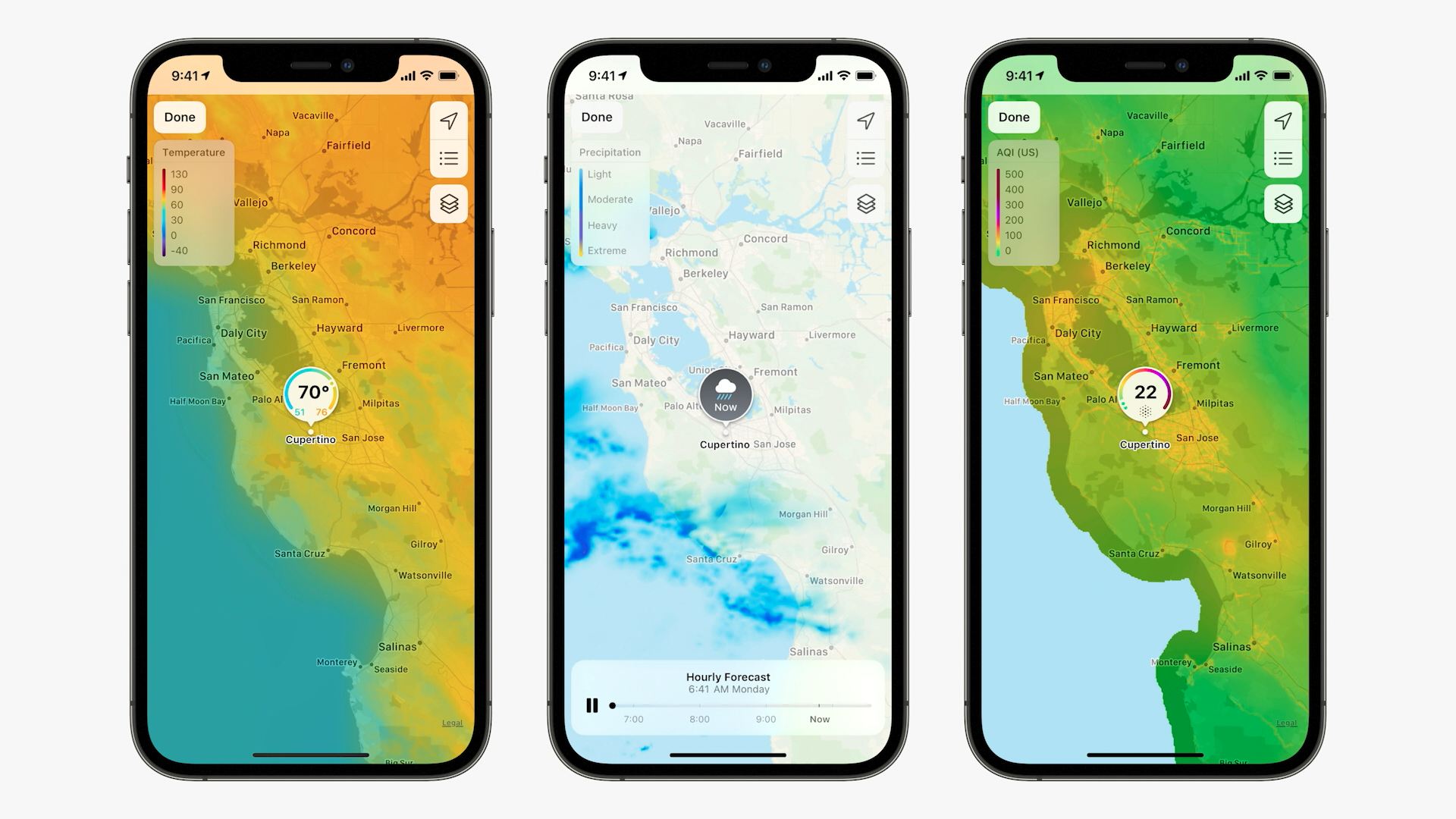 The question now is 'How can we push this even further'... and it looks like Google Earth is the answer, the way that you can spin the globe and zoom in even further into the map.
The 3D models are clearer than ever before - things like the Golden Gate Bridge has been rendered in much higher resolution, and night time effects on some landmarks too.
Driving will get an enhancement, with greater rendering allowing you to see which lanes are needed, and overlapping interchanges will be made in 3D - and it's all coming to CarPlay later this year too.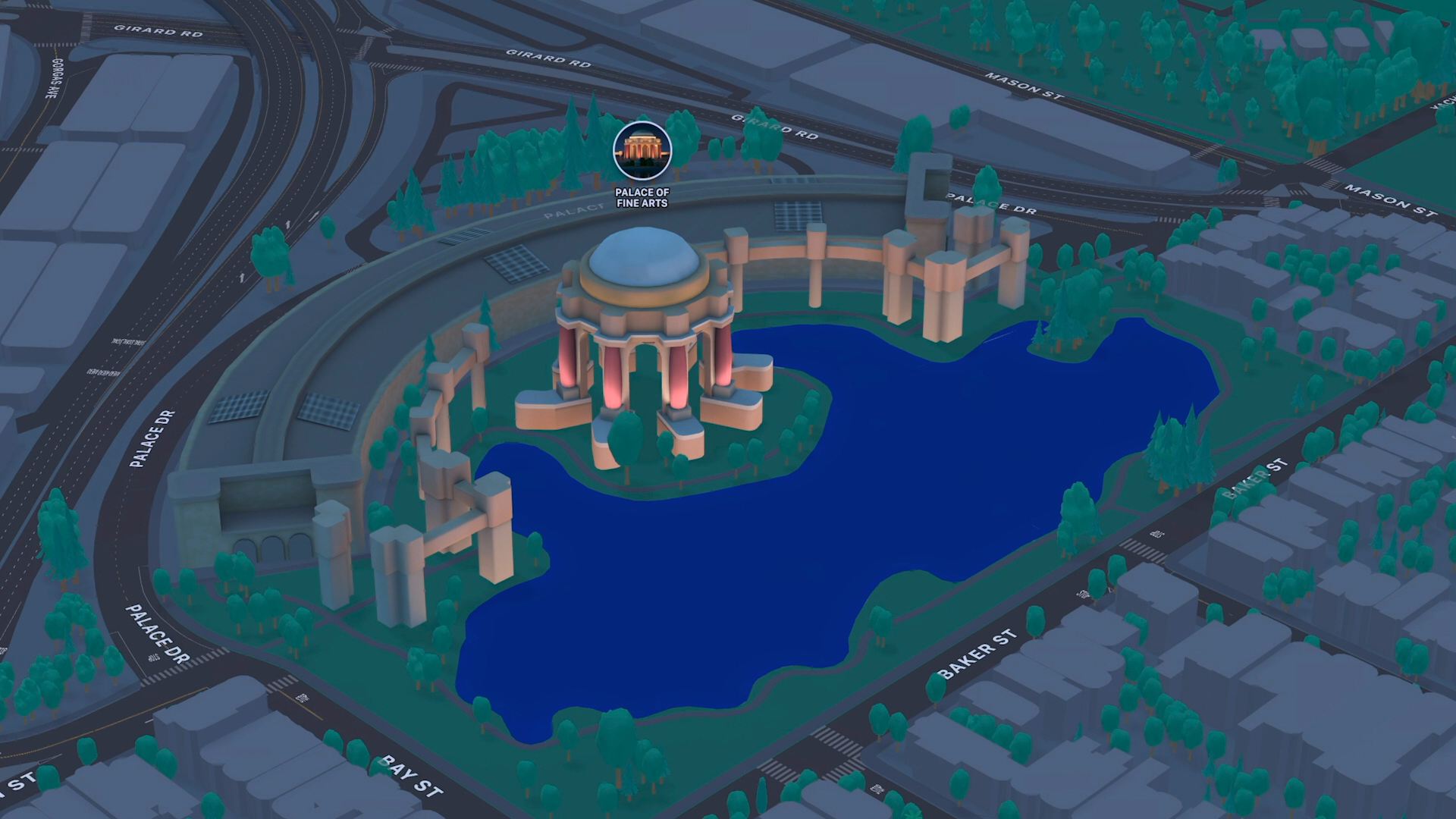 Transit getting updates, with Maps following your transit route and your phone or Watch will ping you when it's time to get off at the next stop.
And if you're lost when you get out the station (yep, loads of times) you can hold your phone up and augmented reality will scan the area and show you which way to go.
That's coming to many US cities - like Los Angeles and Washington DC, as well as London too (which appears to be the only international location) coming later this year.
AirPods now and Gagan Gupta is on the stage. Will we get new hardware?
It doesn't look like it. But Conversation Boost with AirPods Pro allows you to focus on the person in front of you, allowing you to dial down ambient noise too.
Siri will also read time-sensitive notifications to you - but can also use Focus or Do Not Disturb too. I'm just writing what's happening now, such is the speed. I think they're pushing me.
Wait, Find My use with AirPods! Finally - this is a really important feature, like with AirTags. And you can even set a notification when they go out of range.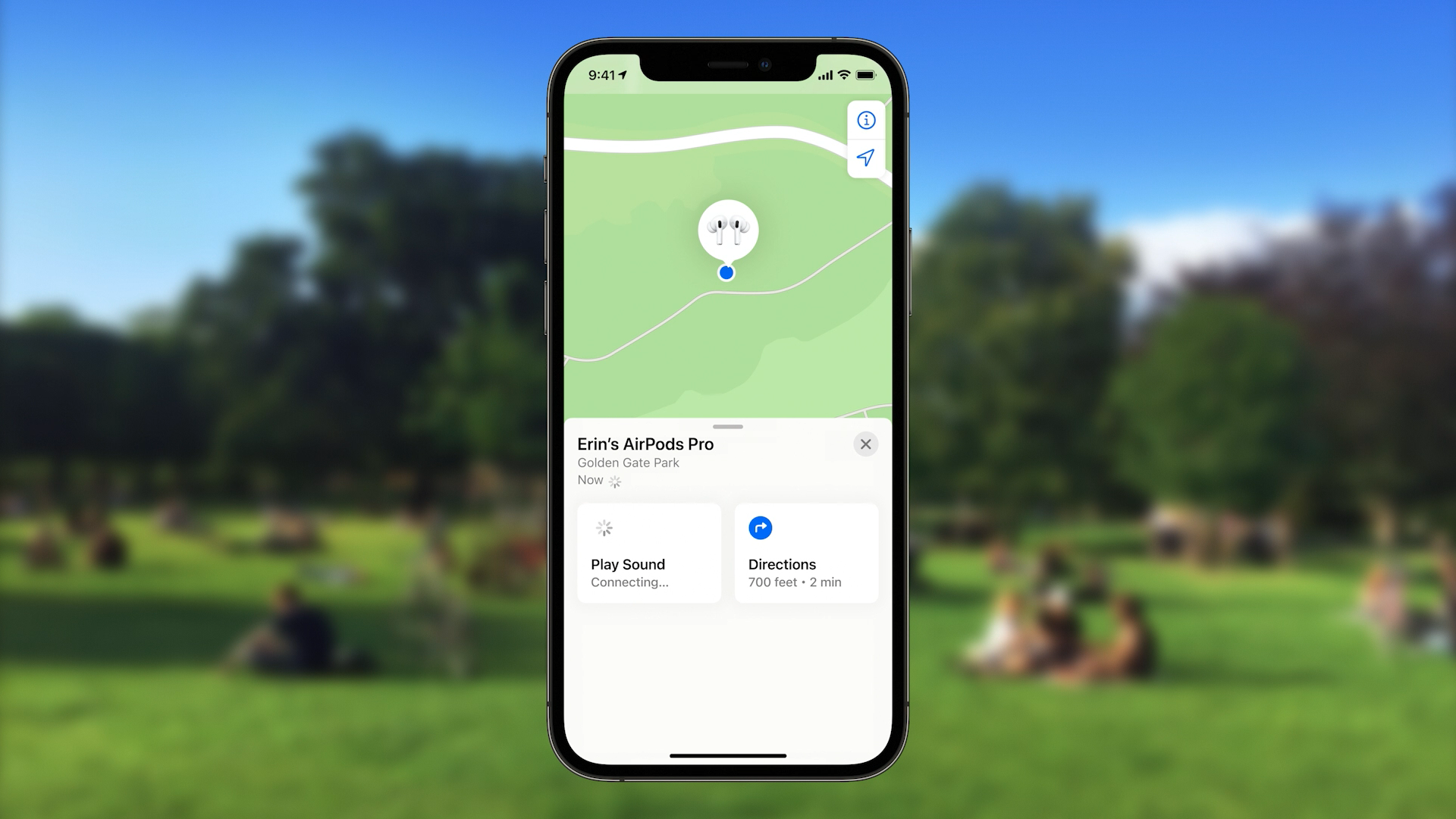 Spatial Audio with your AirPods is coming to your Apple TV, which has been a LONG time coming. It's cool to have a virtual surround sound, but I'll be honest - it feels like more of a gimmick than something you really want to use all the time.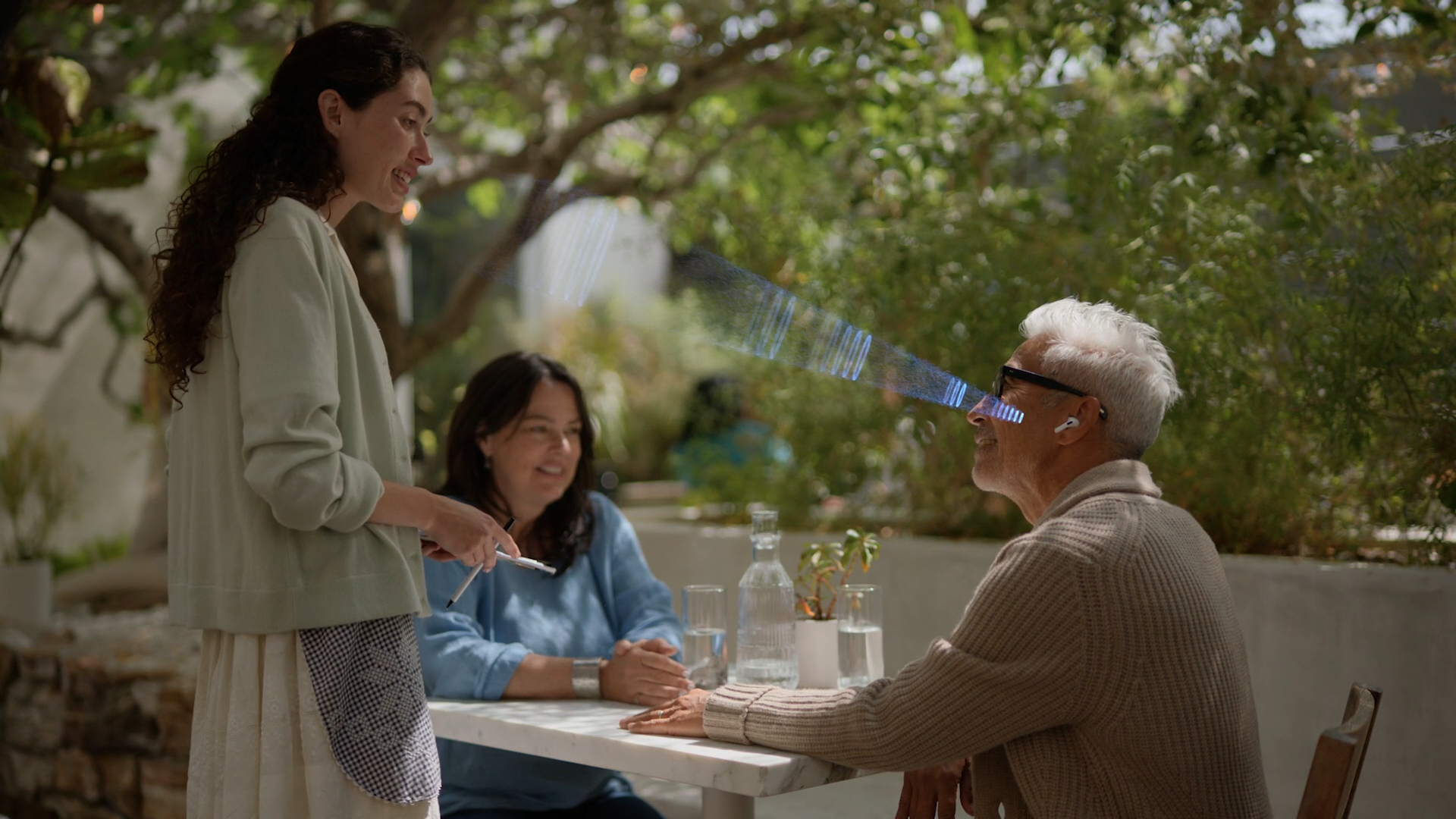 OK, let's go for the widgets on the home screen. And there's a 'big update' - allowing you to place widgets among the apps on your home screen.
Wait, hasn't this already happened? No, that's on the iPhone. Why is this only just coming now?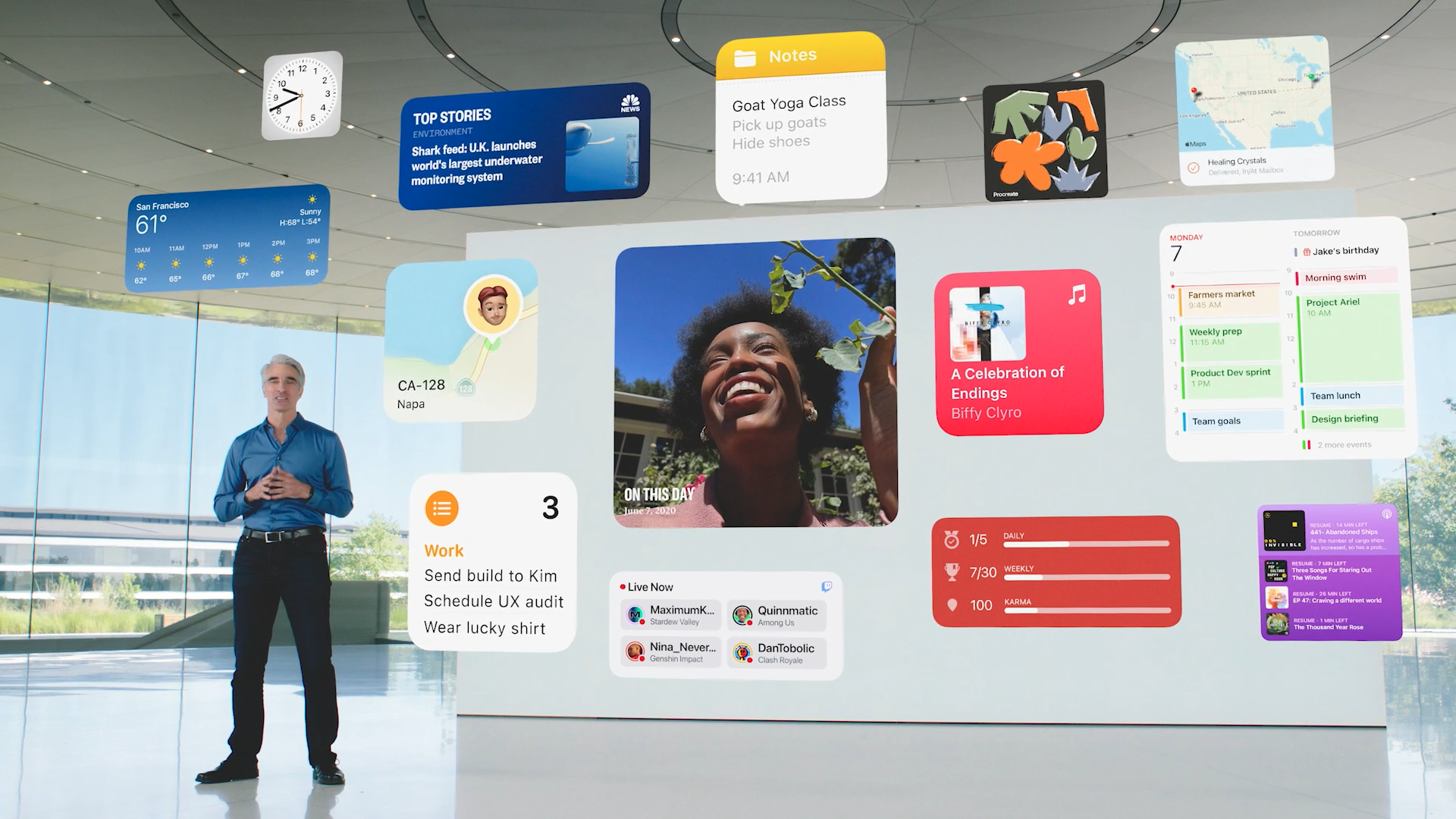 I feel like this was exciting a year ago. It's good to have it, but surely the iPad was better for widgets already. The same way that App Library, which also came on the iPhone last year, is appearing.
App Library is landing on the dock though. That's useful.
Federighi just threw the iPad away. Oh, the hilarity.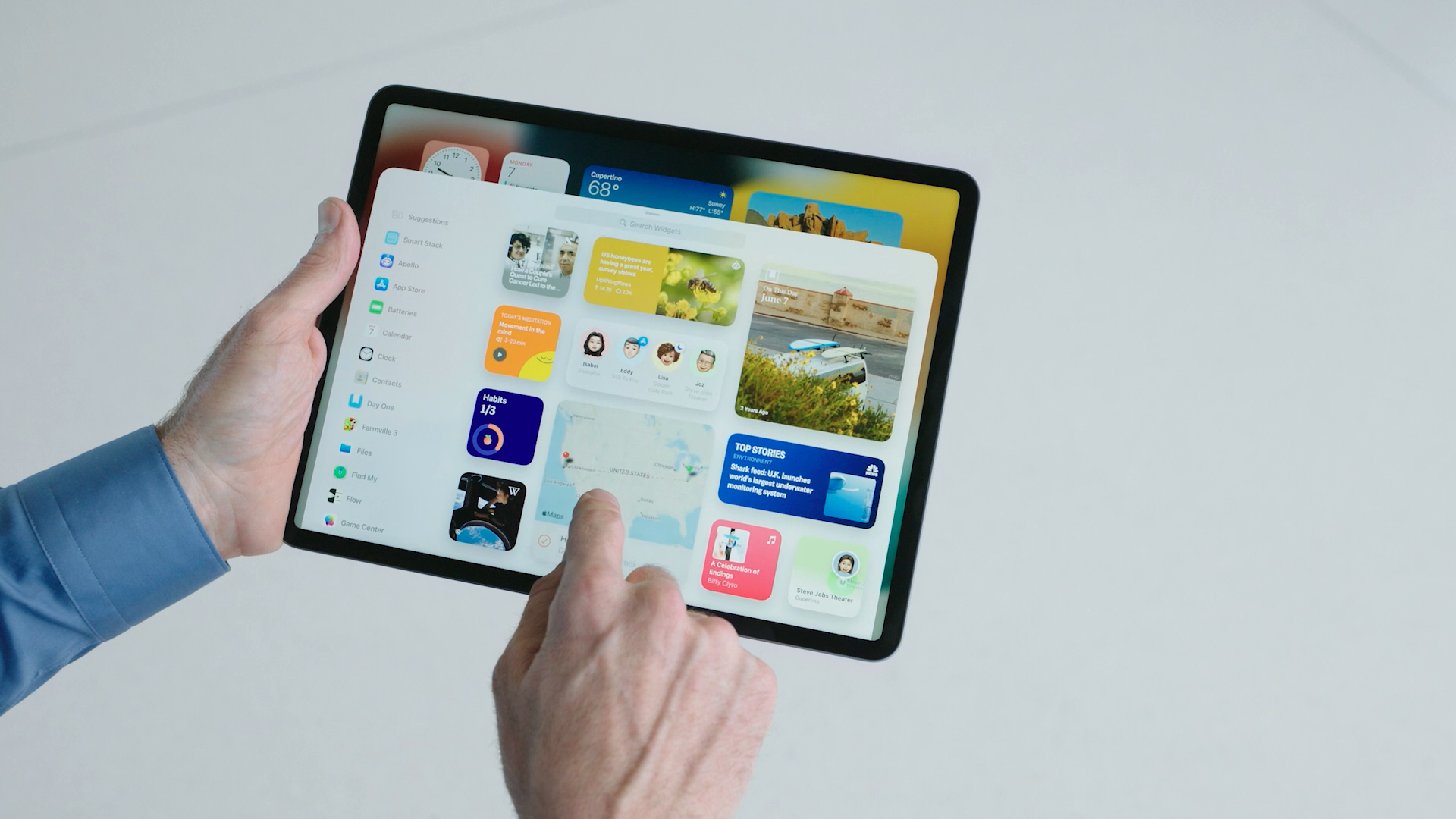 OK, let's get onto multi-tasking. A small widget appears at the top over some apps, and allows you to easily work with two apps together - if you want to change the app you're working with, simply swipe downwards and you can click on another one.
And you can have an email in front of your split screen... this is getting really confusing to explain. It's like Windows but a bit different.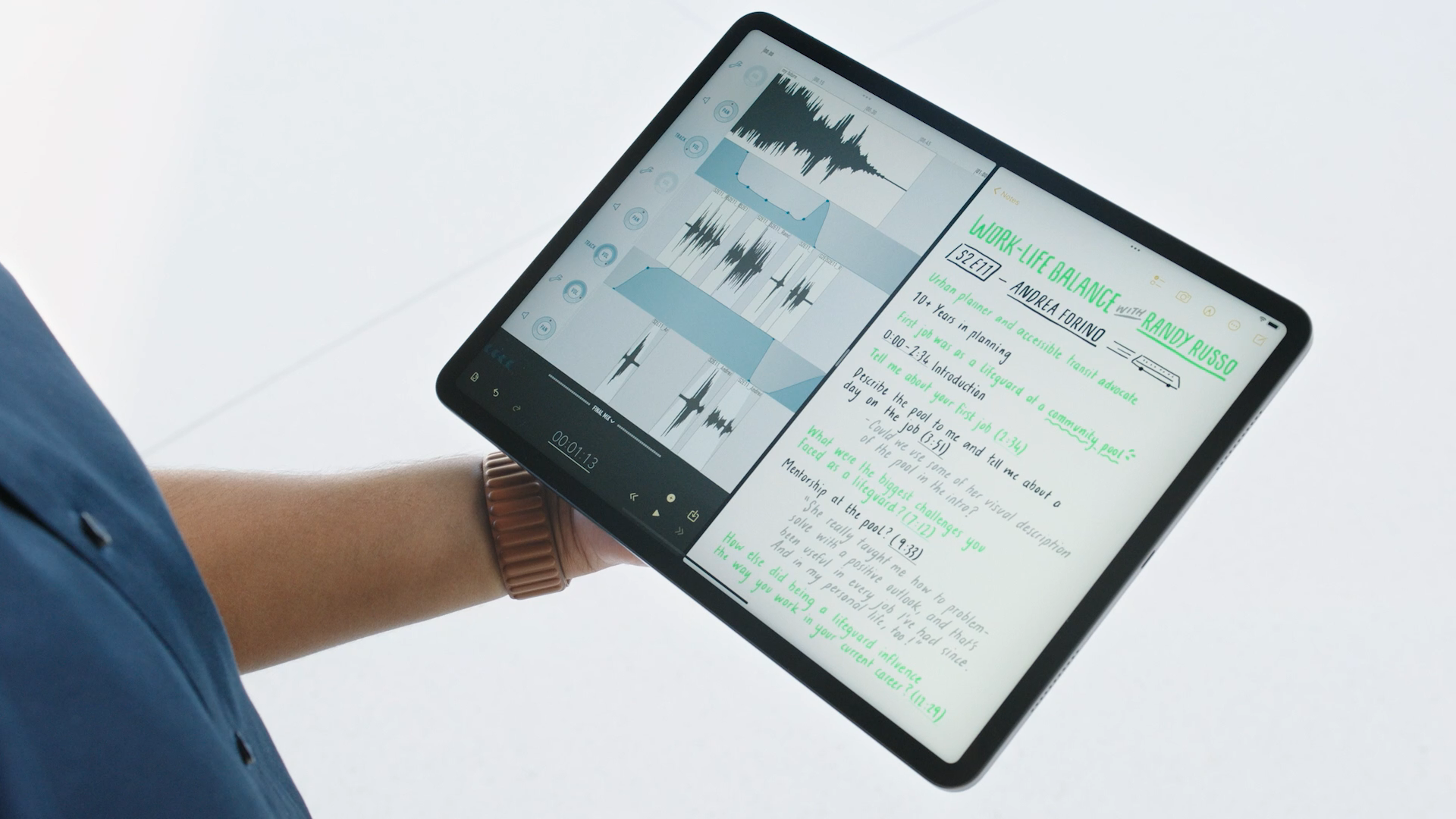 App Switcher is now much more powerful - allowing you to drag one app over another to bring both together on the screen at once to go split screen.
More keyboard shortcuts are incoming to let you multi-task, but Apple isn't telling us which ones. Boo.
Still thinking about Federighi Frisbee-ing an iPad.
Back to it - Quick Note with Will Thimblebey.
You can just swipe up with the Pencil, and do some little note and off you go. If you open Safari, and open a Quick Note, you'll add a link to the website straight away into said Note.
The Note will appear in the corner quietly... another little window. This is getting a bit much now - it used to be one screen at a time and you can throw loads of them on there now. I wonder if a movie that you're watching will keep playing too?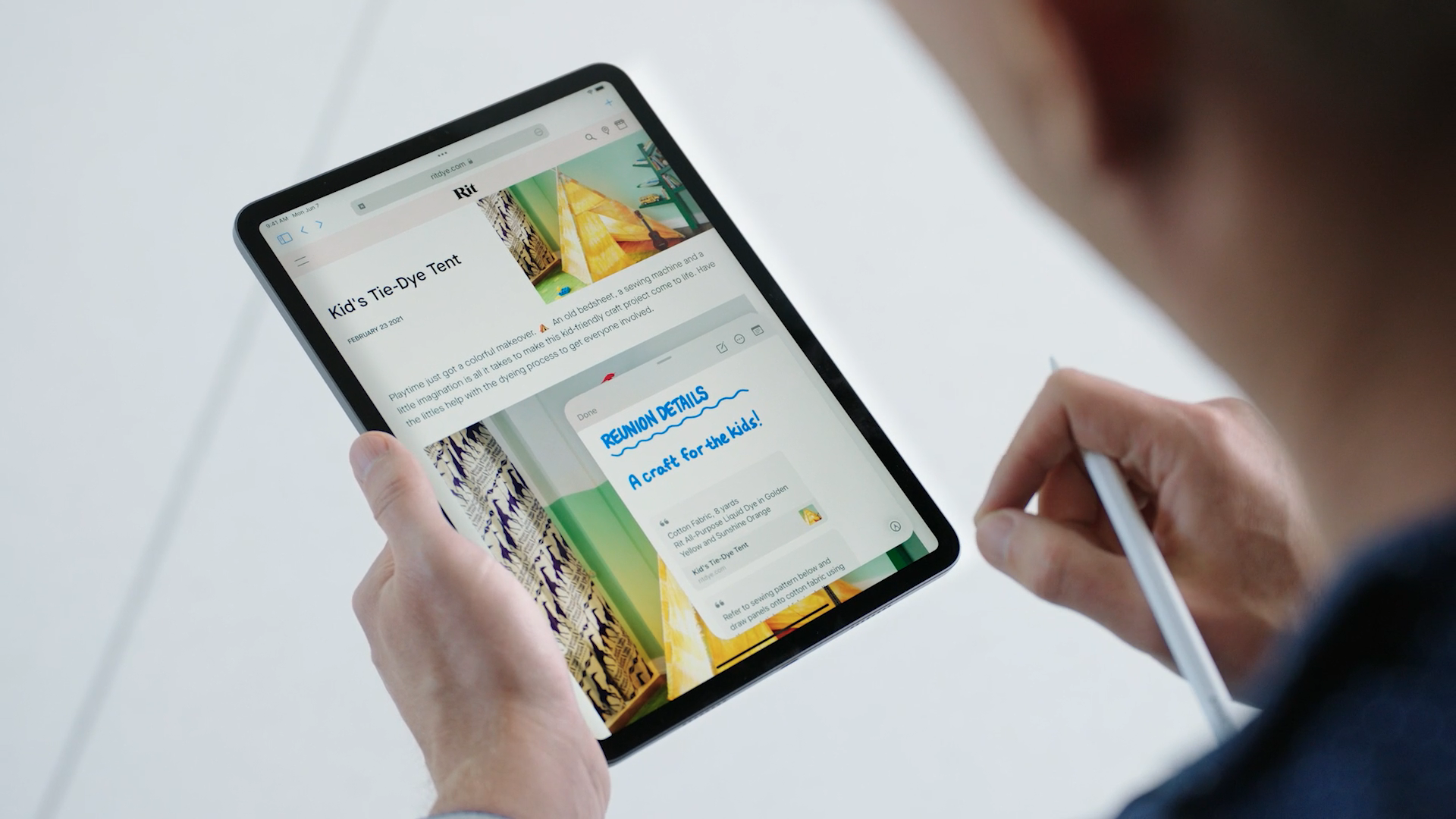 Translate is coming to iPad. It was on iPhone already. Shrug.
OK, being able to write in another language to practice is useful, I guess. But this is often much better on the iPhone, especially if you're switching between different languages in a live conversation.
Swift Playgrounds is next up. There's improved code completion, allowing you to add more ideas to your code more quickly.
And there's a guide to creating your first app - that's useful. Otherwise you'll need to use the kiddie version to learn how to code... not that I've done that.
I've done that.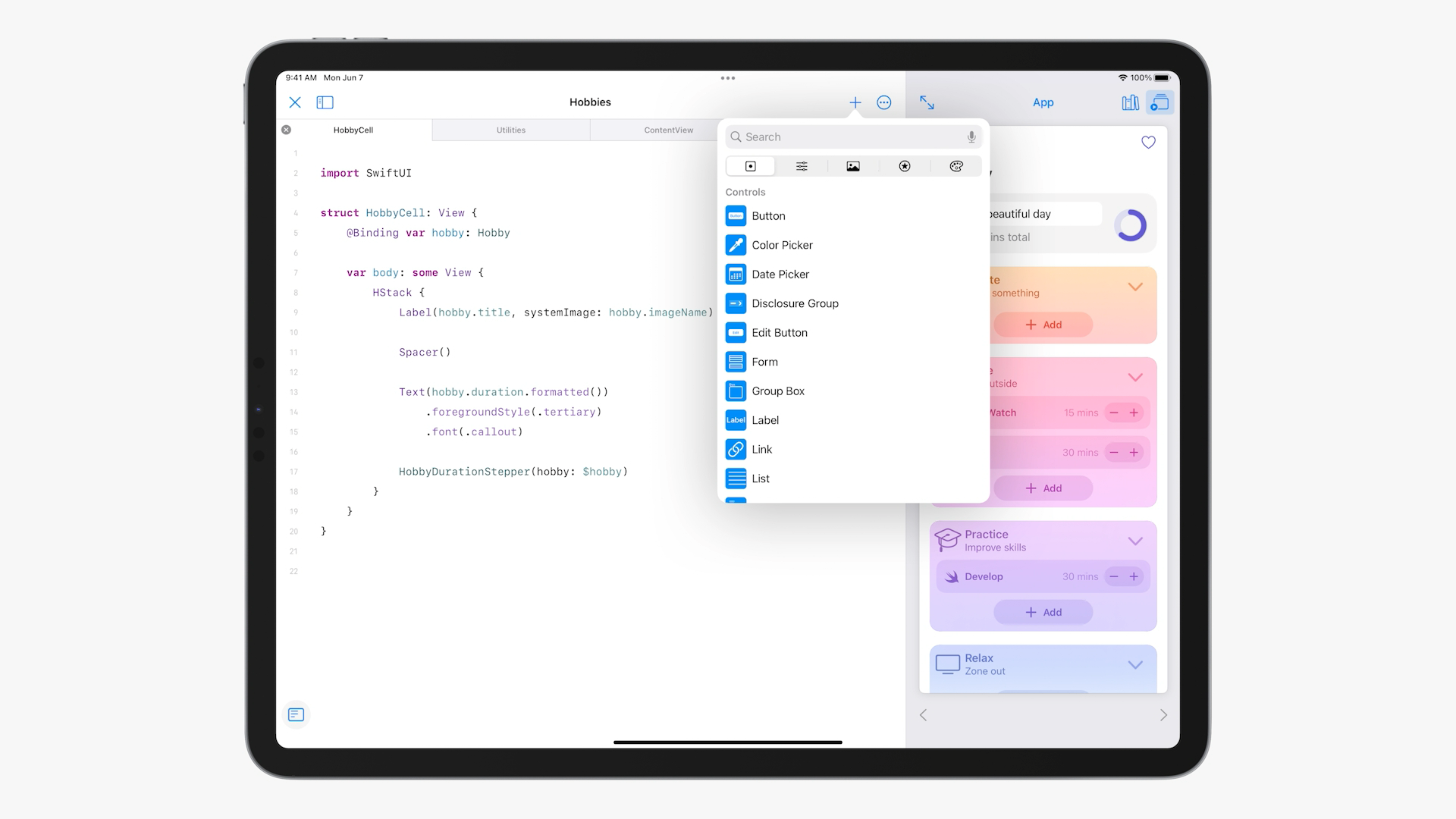 OK, we're done with iPadOS. I get the feeling that watchOS is going to be big later.
Oh, Federighi just jumped down a hole to talk about privacy. Ooooh, it's all gone dark and more serious.
This is Serious Chat. That's not a new feature, it's me adding capitals.
Apple is upgrading its privacy control, through the words of Katie Skinner, talking about Mail.
Did you know that some messages have invisible pixels to find out info about you? That's what Apple wants to deal with - hiding your location, IP address and even if you've opened the email.
Safari is coming next, with app tracking being locked down and shown in the Safari Privacy report - and there's an App Privacy report too, so you can see what's been using what, as well as the third party domains that the app is contacting.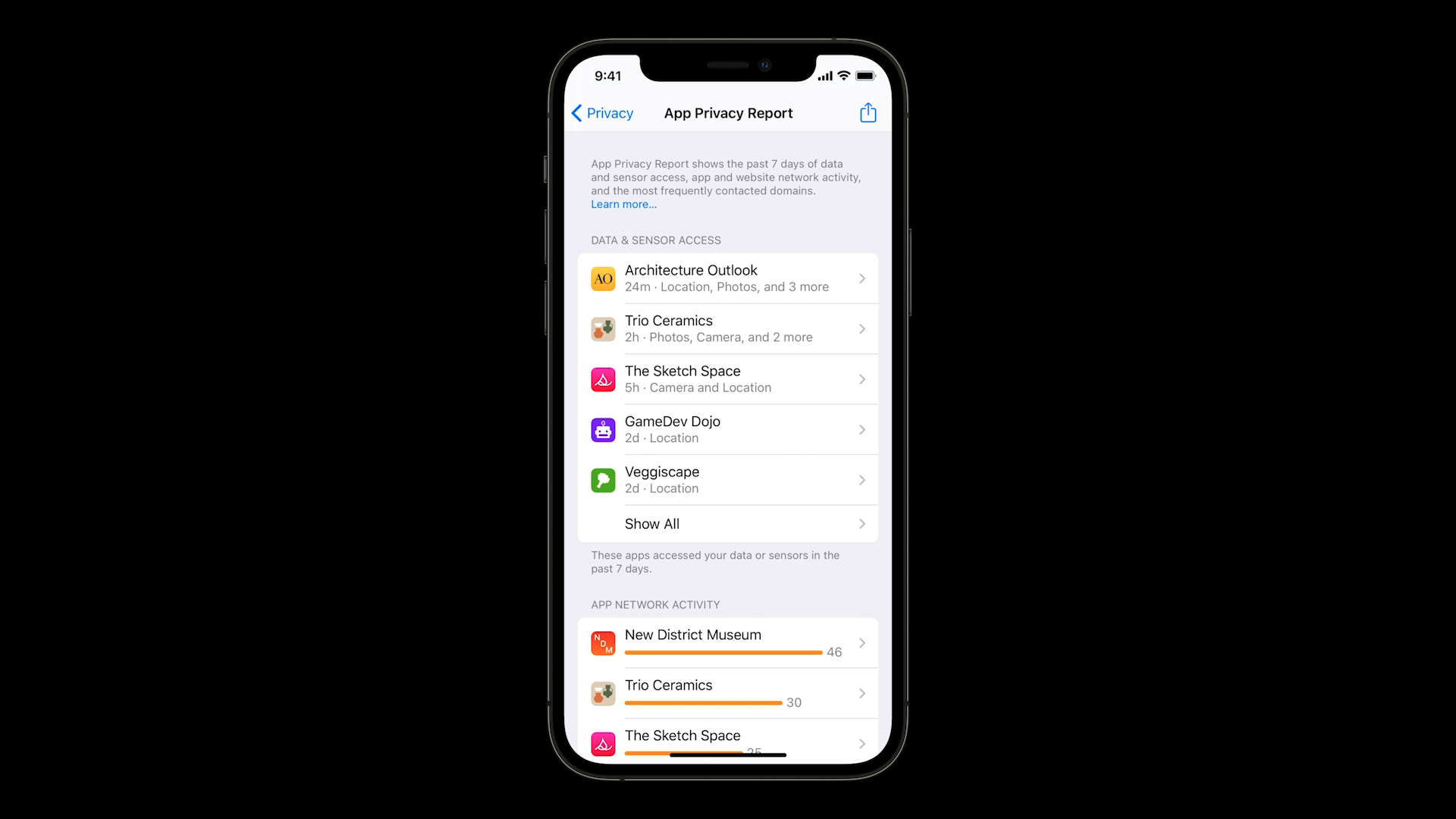 Siri is next in the spotlight - I'm not sure if this is about privacy, or new voice sounds for the voice assistant.
Oh, no, it's privacy. Siri doing it on device, but now adding speech recognition on the device, so audio will no longer be recorded and sent to Apple - which is good for privacy and also the annoying times when you need an internet connection to do something simple.
It's going to be faster too, Apple is claiming. That could be useful, but I'd also like to stop hitting the Siri button and having to apologise to the phone that I've summoned it without need.
OK, I don't have to, but I'm British.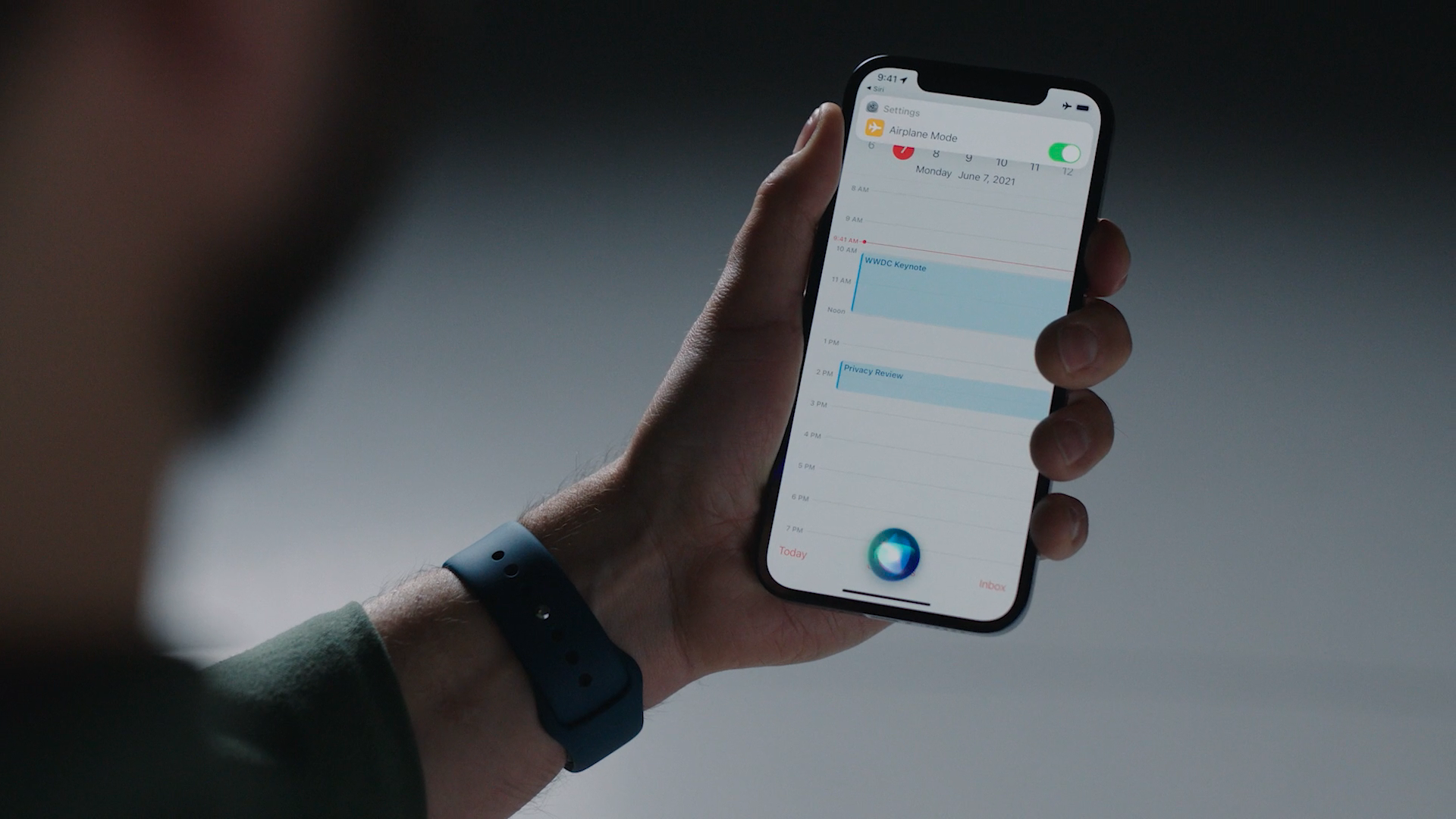 If you forget your passcode, you can now add people you trust to the recovery contact list, who you can contact to help you get back into your devices.
There's also a Digital Legacy feature, for when you sadly pass away and your information is secured by those you love.
Next up, iCloud Plus... another plus from Apple. Another one.
You've got Hide My Email, which gives a random email address if you want to set up on a form, as well as rerouting your traffic on internet browsing.
And iCloud Plus allows you to connect more HomeKit security cameras - unlimited, in fact - and it's coming for free if you're already using iCloud subscriptions.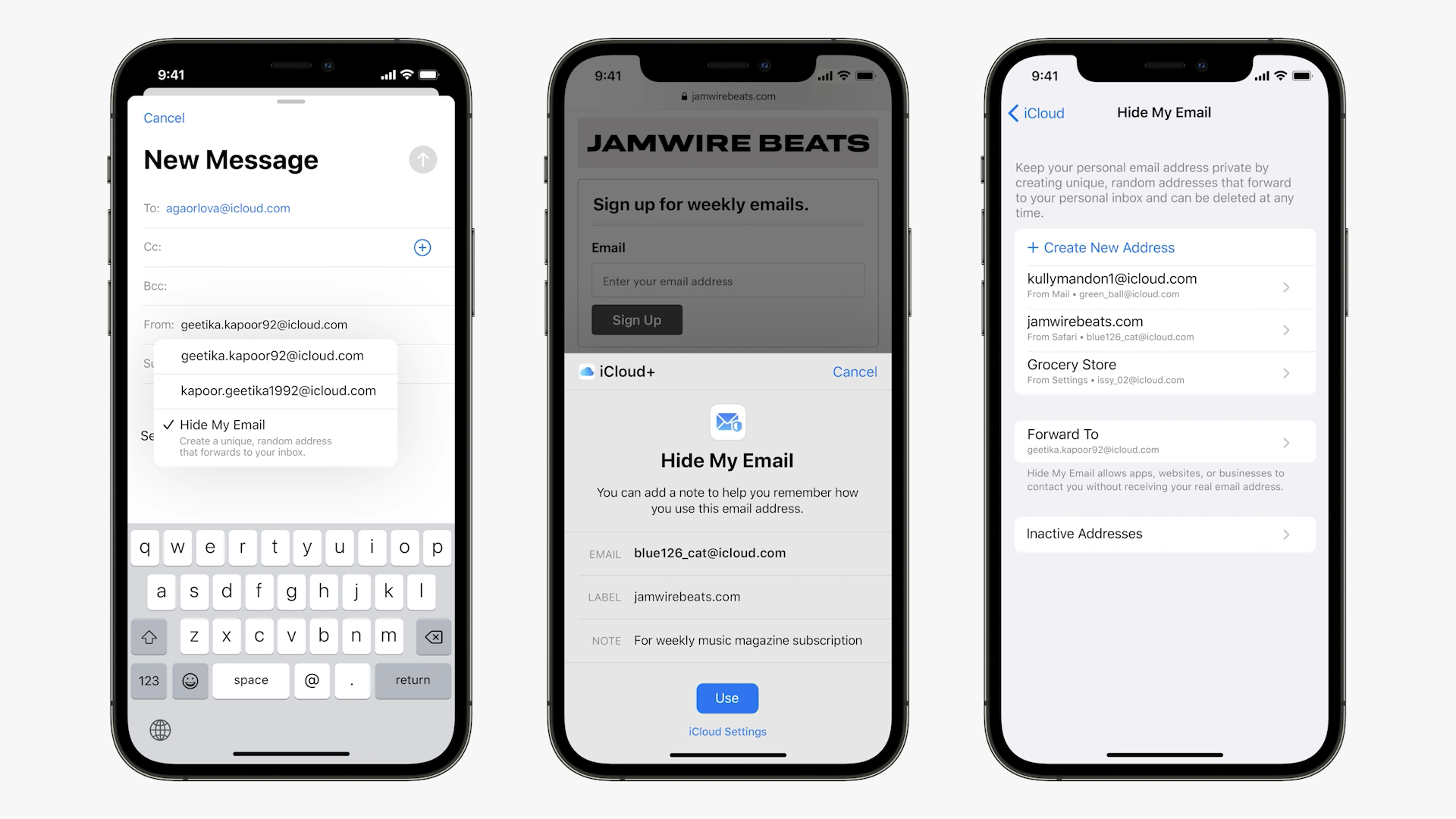 It's health up now. Thankfully, it's a video. I can take a moment and not type every. Single. Thing.
I'm sorry if this is a garbled mess at times. I'm trying to work out what's happening every three seconds and trying to type it with no mistakes.
I know I'm failing, but we're in this together, right?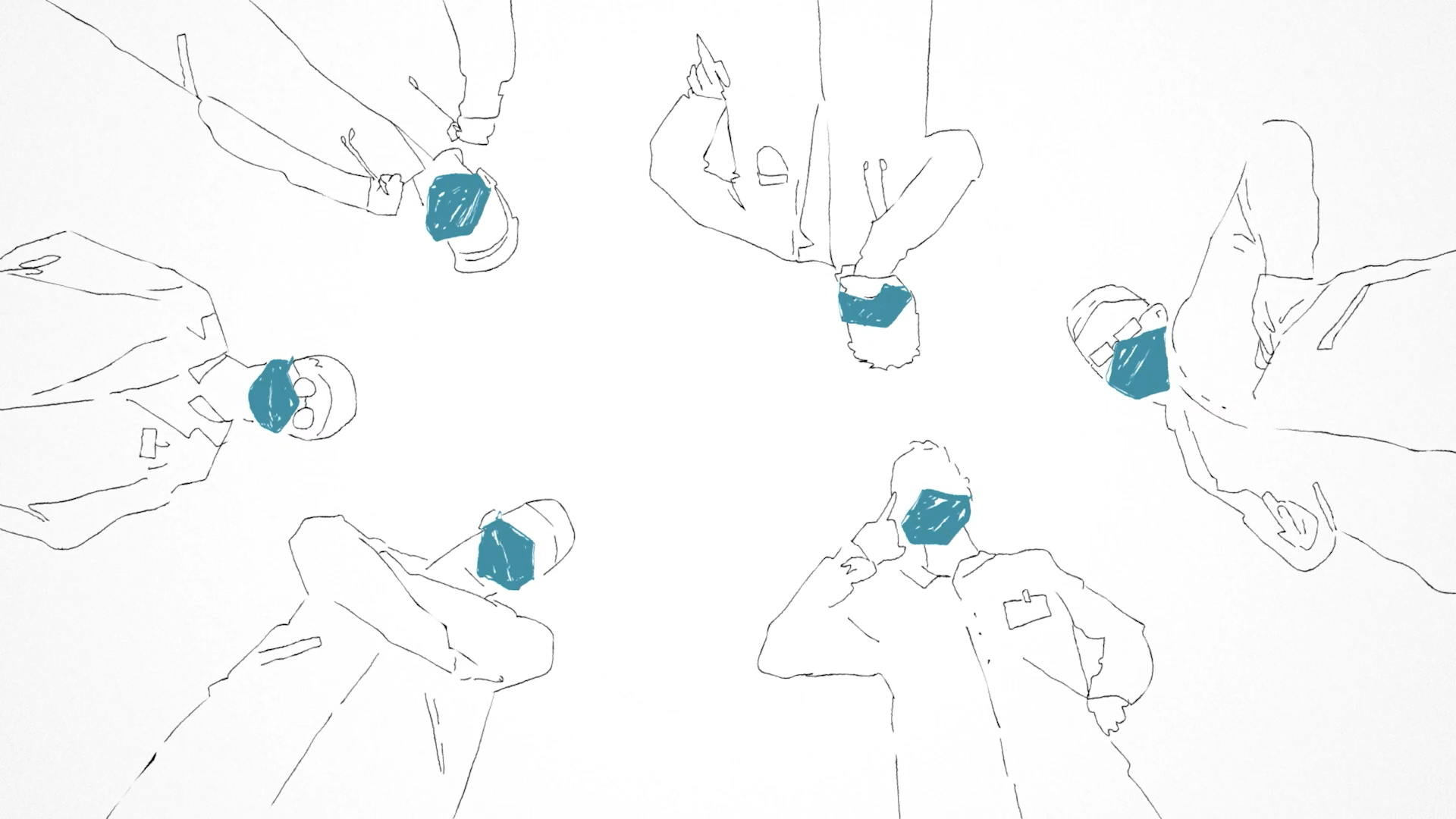 Three new features are coming to Apple's Health app, with Adeeti Ullal telling us about how Apple is expanding the ability to monitor your gait, and allow you to use 'Walking Steadiness' to tell you know if you're more likely to fall.
Length of step, ground contact time and speed. If the iPhone notices a change, it'll let you know, thanks to all the data gathered from studies around the world through the iPhone.
You'll get a notification if your steadiness is low or getting worse - with exercises on how to increase your stability.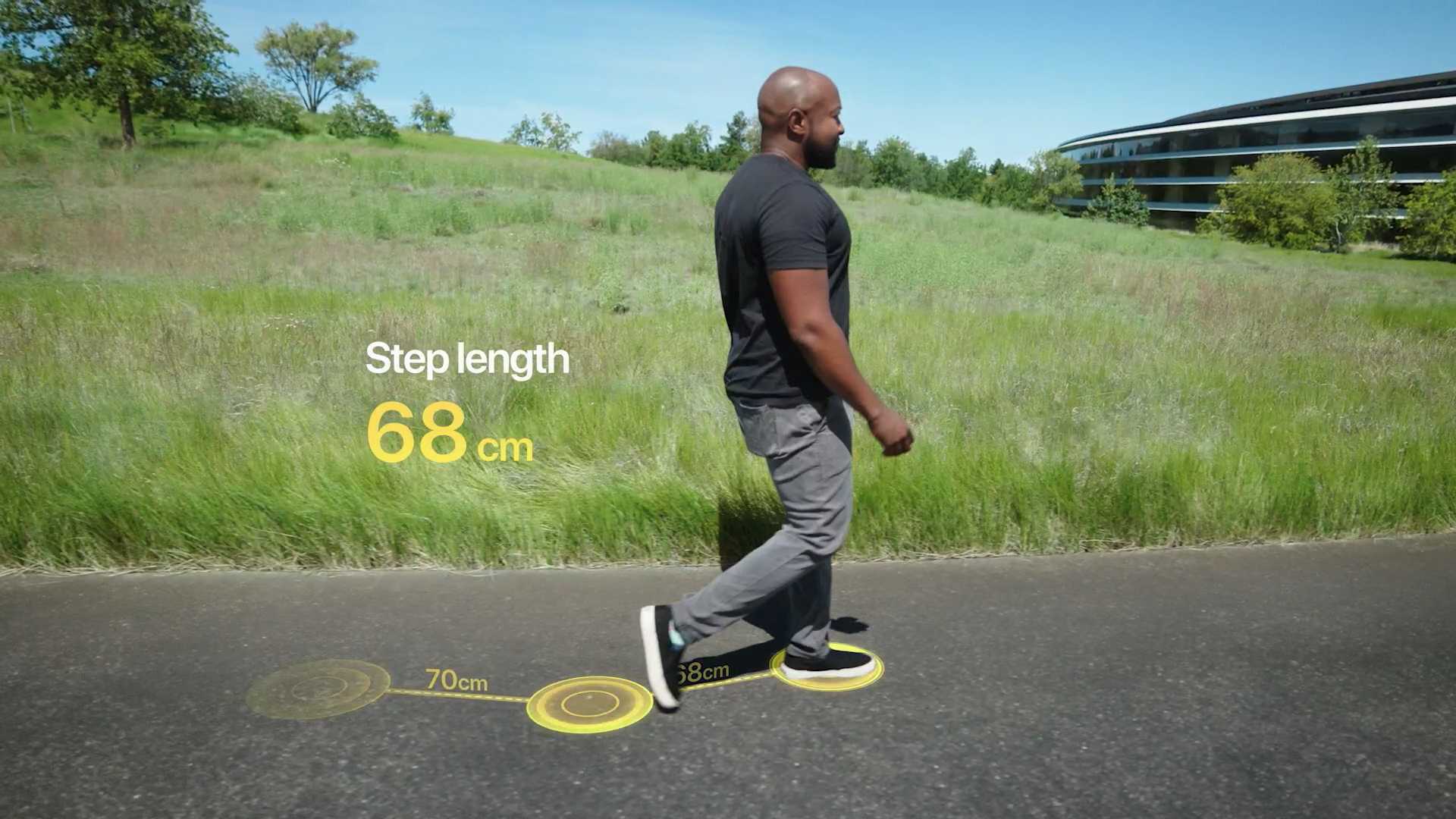 The Health app will now give you more information to help you understand your Labs data - if you get something in from the doctor or hospital, it'll explain it more holistically, with Trends on what's changing in your body too.
Things like resting heart rate, or steps going up or down, and you can share this with your physician.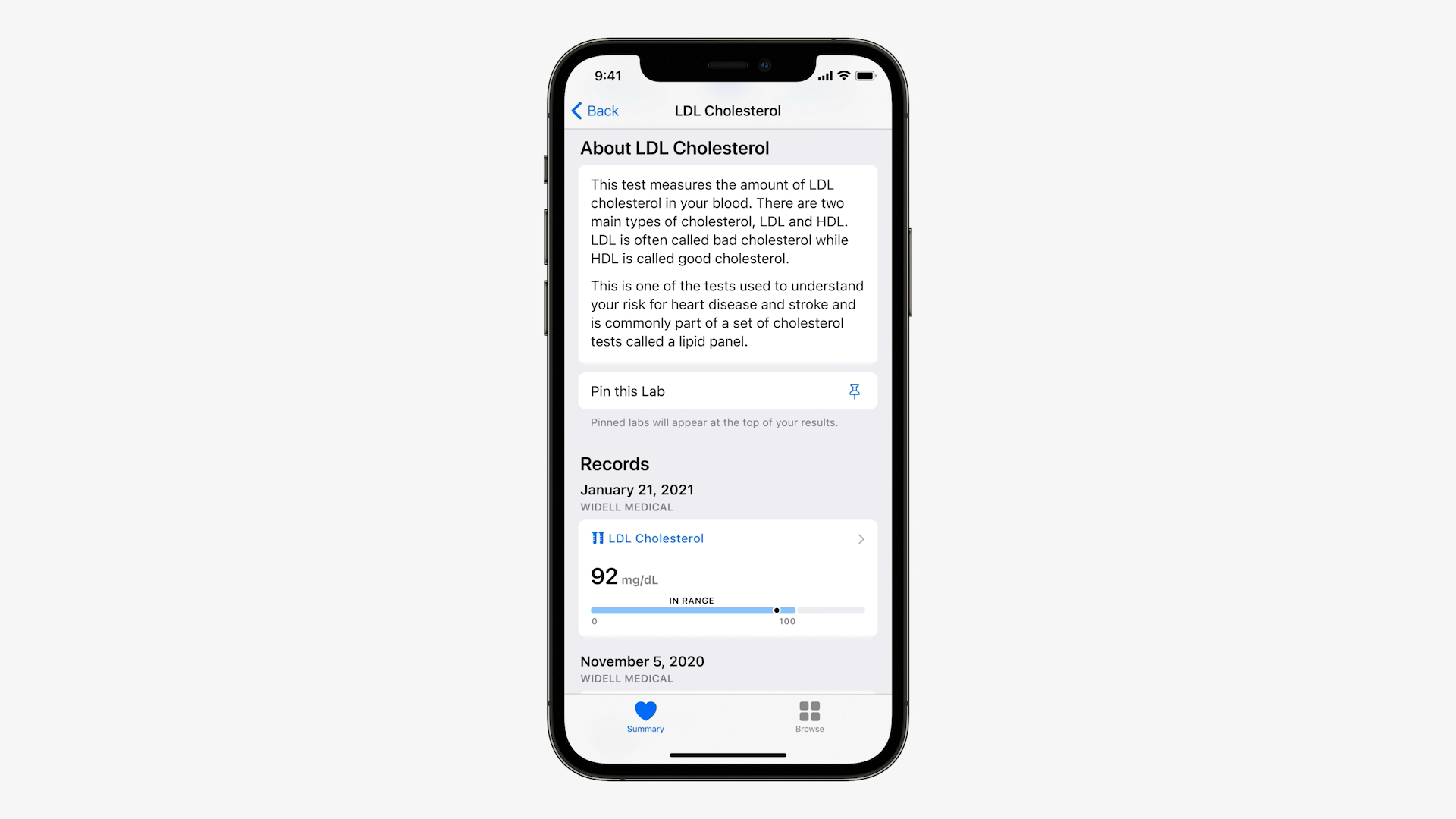 These are small changes, but are going to be useful for some. Like the blood oxygen monitoring or ECG feature on the Apple Watch, it's not important for many, but really important for some.
You can also share your Health data with your doctor too - only them, and not anyone else, so your physician will be able to extrapolate info from your stats.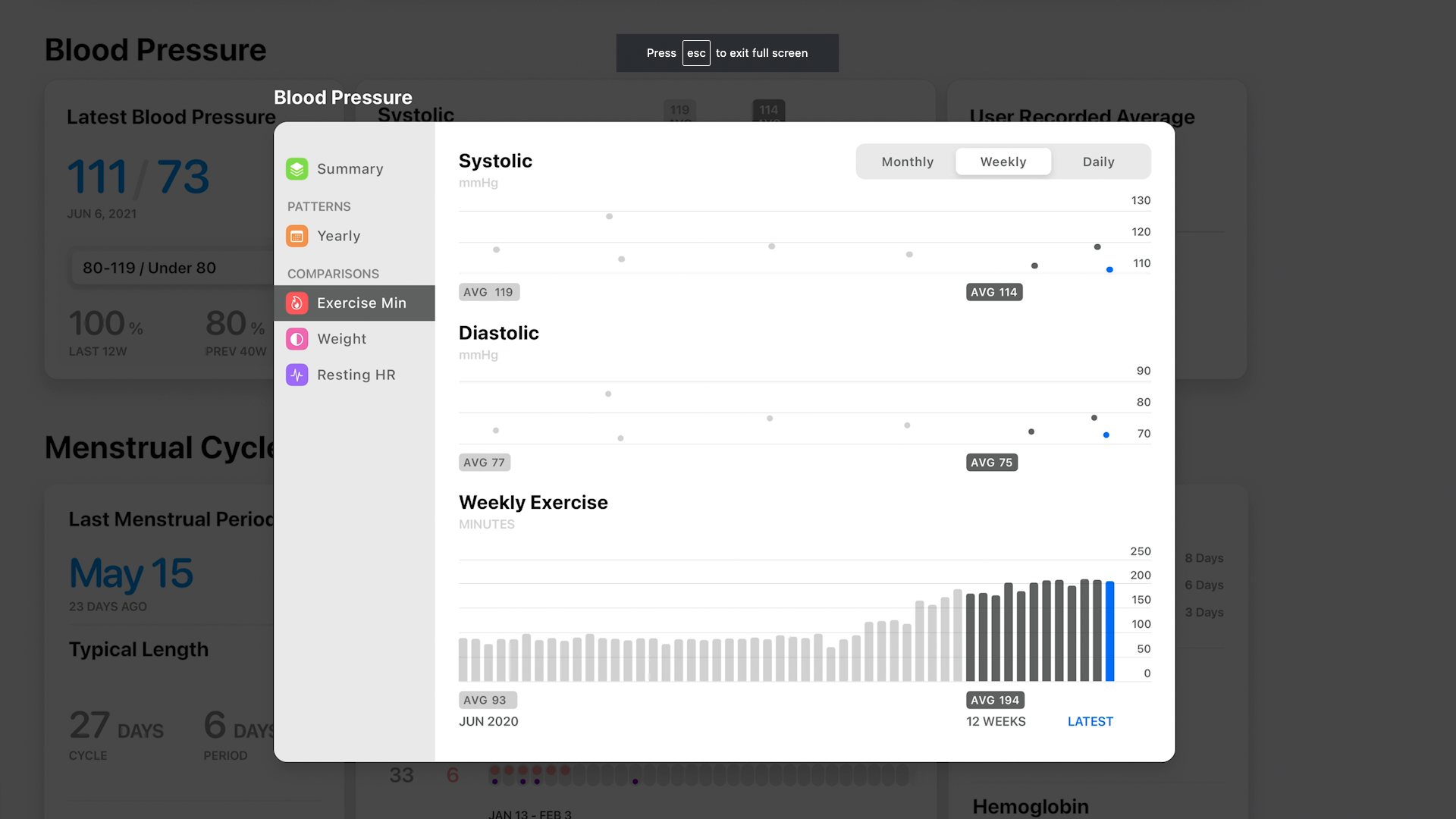 Health Sharing is coming too - this is a good idea. You can see what your parents are doing (with their permission) to find out if things are changing. Are they getting weird changes to heart rate? Is mobility changing? This will give more independence to seniors, knowing that someone is watching their data day to day.
It'll be a tricky conversation with some though.
Apple is making a big deal about the fact that all your data is private and secure, understandably. The family sharing element will be the most interesting with that, especially when children are more tech-savvy and have to explain what it's actually doing to share said info.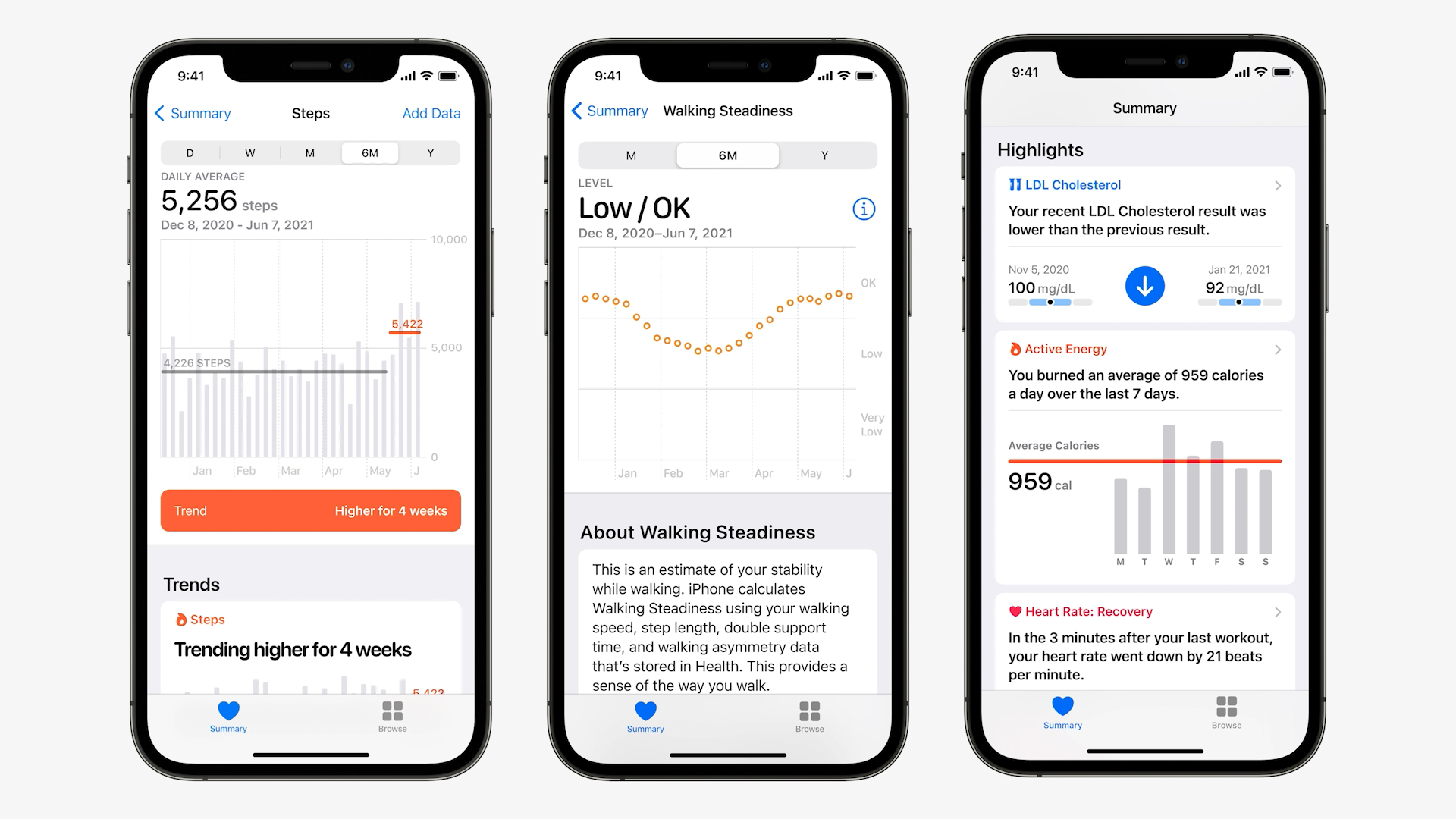 Right, it's now watchOS 8. I've got a big feeling about this.
First up, Health. In watchOS 8 you're getting more from the breathe app - a new animation to help you 'center and calm', as well as 'Reflect' where the watch will prompt you to think about something positive and give you a new animation to get into the mindset and reduce stress.
In watchOS 8, you're getting respiratory rate as well, meaning you'll get a notification if it alters through the health app when you're sleeping.
That was it for the Health elements - now we're going onto fitness.
T'ai Chi is coming, as well as a way of tracking Pilates workouts too, as well as Fitness Plus bringing in new trainers to get involved with the Apple-Watch-centered platform to get you sweaty.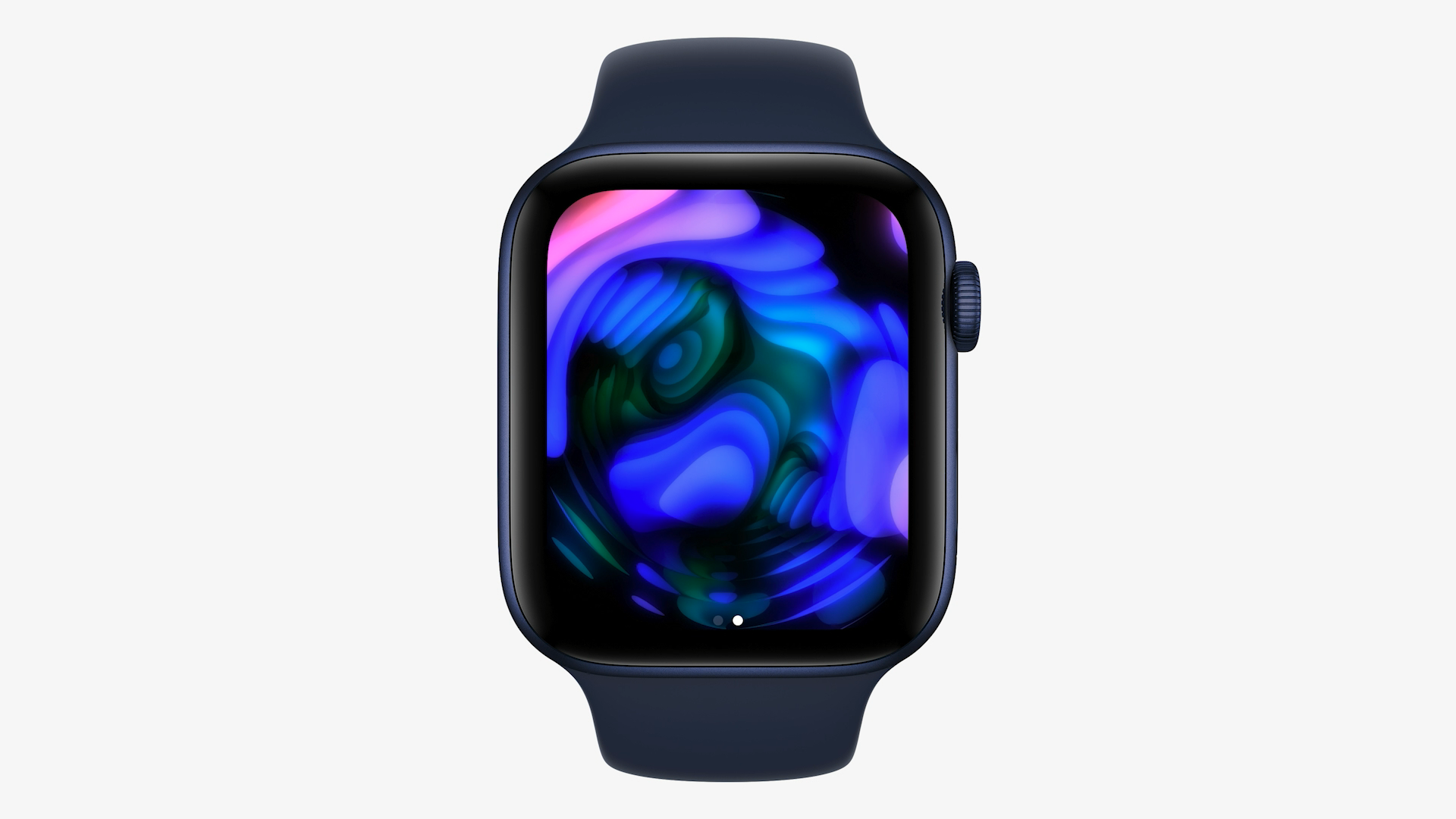 Photos on the Apple Watch? Yep, that's happening now. WatchOS 8 now has a Portraits Watchface, which means you can place the subject in front of the hands of the watch or the numbers digitally.
Or, you can make the image larger and closer to the people you took pictures of.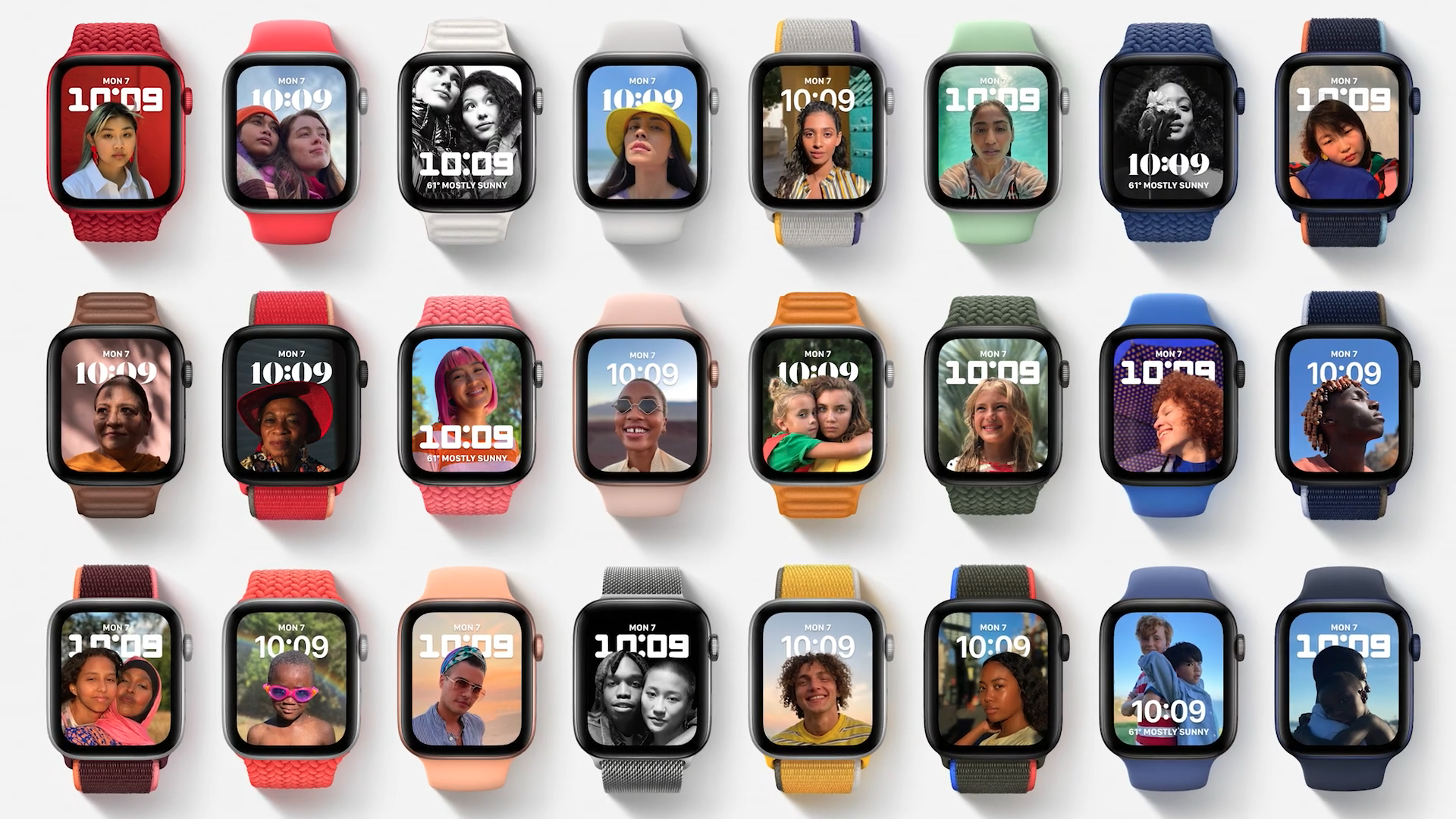 It's easier to share photos from your Watch now. OK.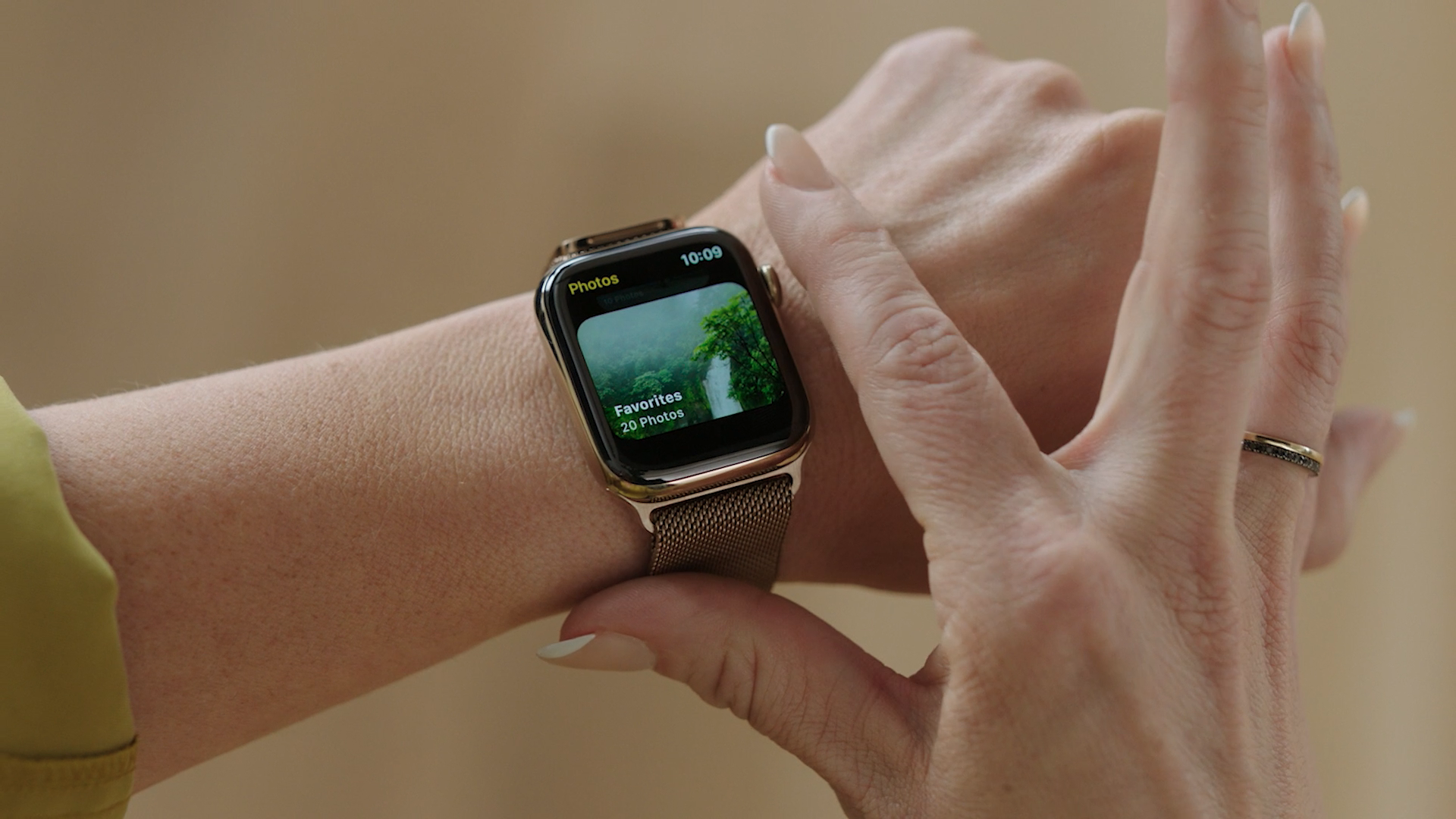 You can add GIFs from your Watch as well when it comes to replying to messages. Another note to 'connecting to people' - that's a big theme for Apple.
There's improved support for Find on the Watch too - it'll be interesting to hear more about that.
Oh, we're done with watchOS. I was wrong about this one being big.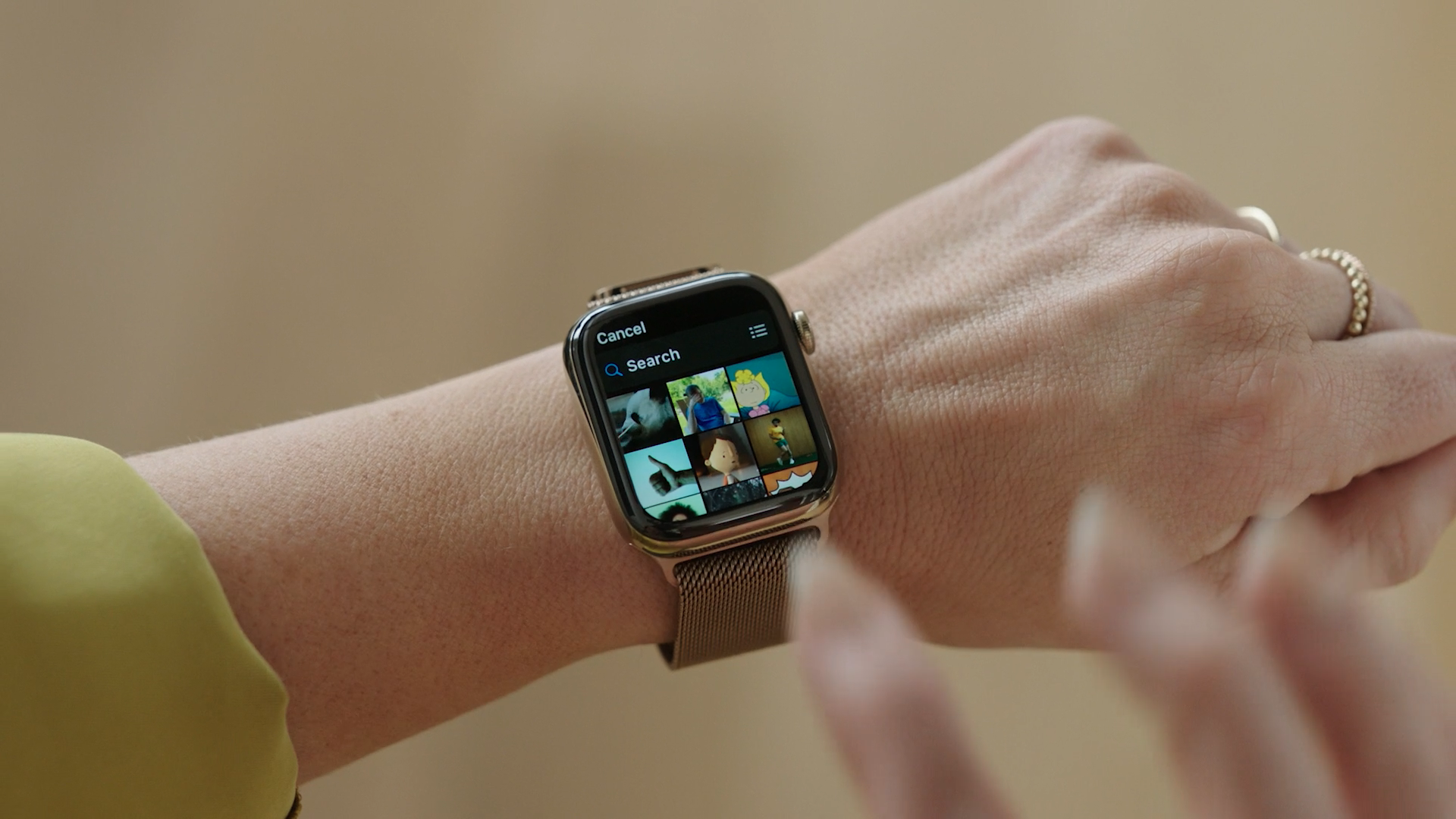 OK, let's hear about Home now with Yah Cason.
The new Home Keys feature allows you to unlock and lock the door. We know that. But this Fall you can ask Siri to play the latest episode of something you've been watching.
SharePlay being demonstrated on Apple TV... again, we've seen this. What new is coming to Home? Any movie or show shared in Messages will come to Apple TV's UI... not massive though.
HomePod mini is now going to be able to function as your TV speaker - why has that taken so long? The 'big' HomePod could do that before, but it wasn't on the newer smaller versions.
It's also coming to Austria, Ireland and New Zealand later this month.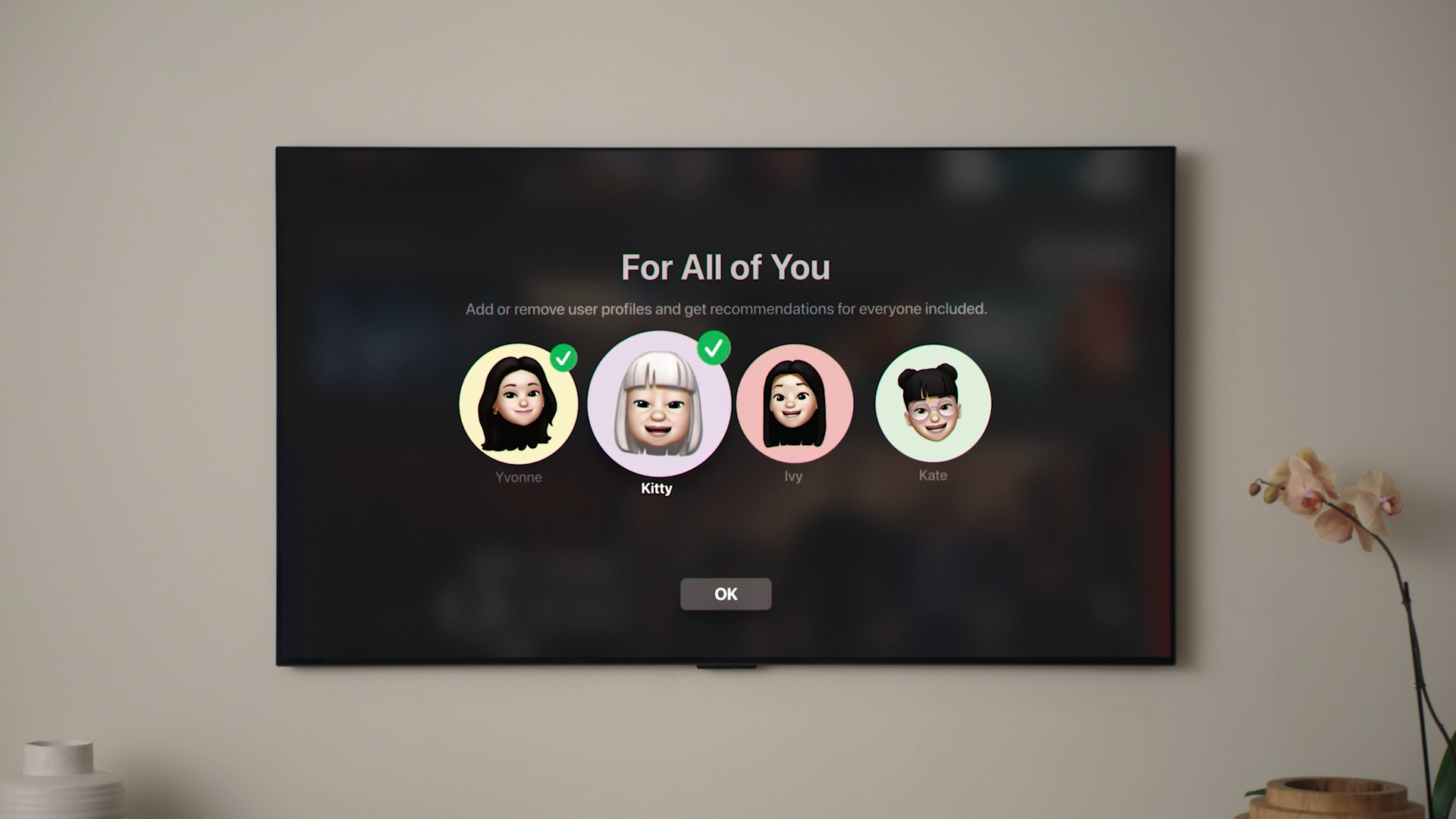 Siri is also coming to third party devices - they'll go through the HomePod if they're connected to your network, but we're not sure which devices they are.
Matter is being talked about again, with support coming with iOS 15, meaning more devices will work with HomeKit.
Apple Watch gets more accessory support, letting you see who's at the door from your wrist (useful) if you've got a relevant doorbell.
Package spotting will be added too.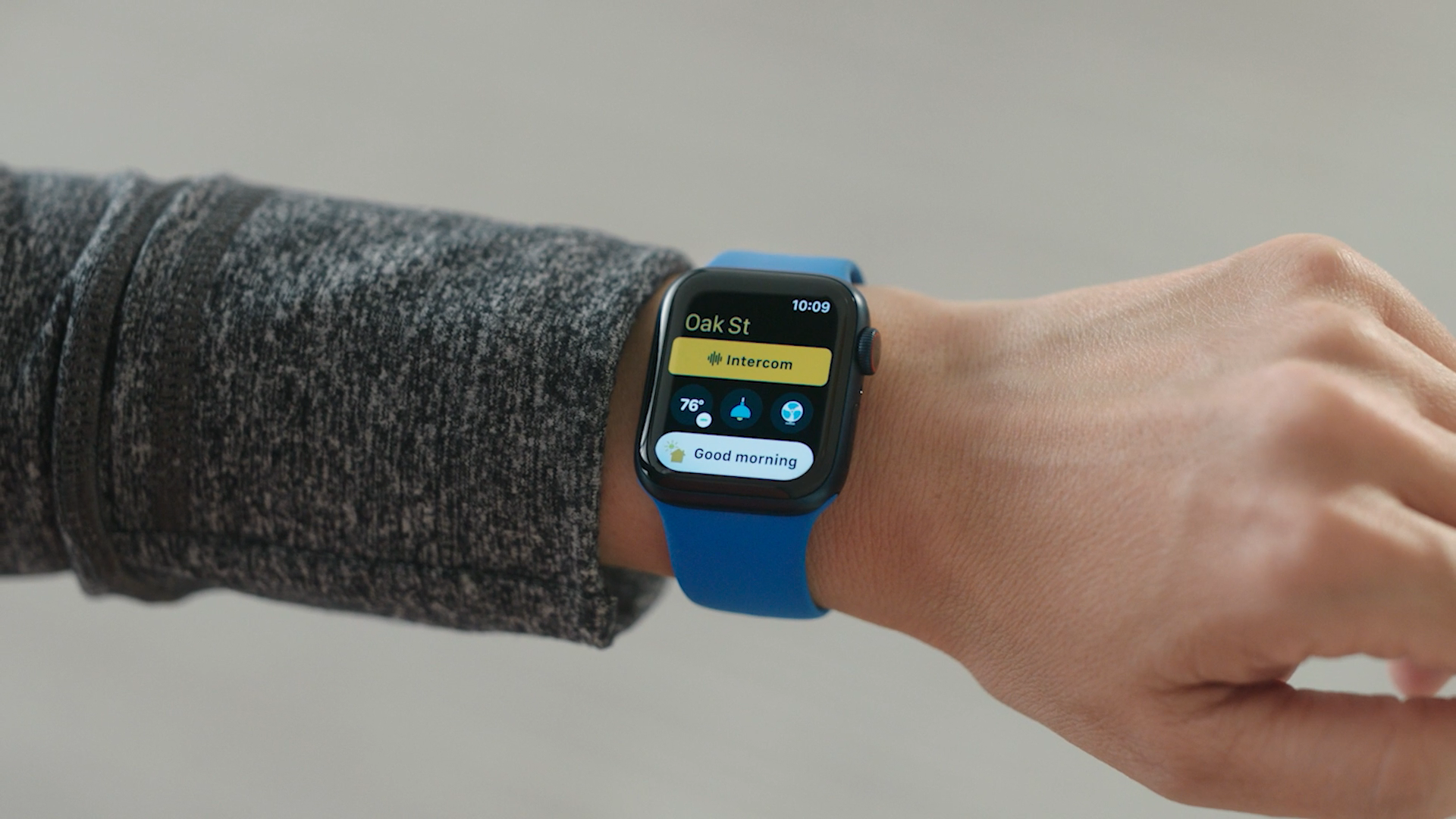 You can put more doorbell views on your Apple TV as well - the Home update was about lots of little tweaks, rather than anything massive.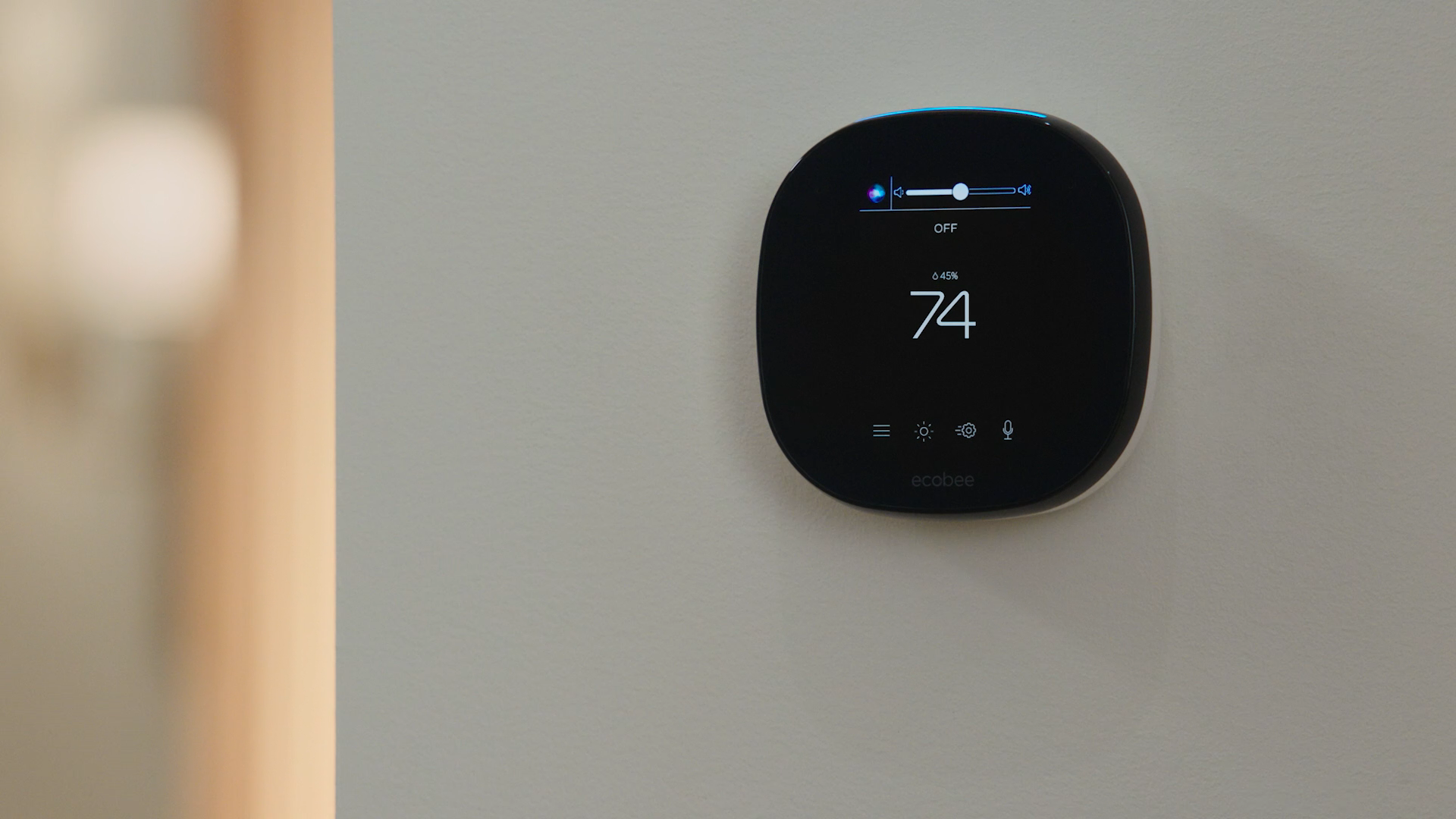 Right right... macOS is here.
What's it going to be called? The usual comedy video is brought out again - wait... no it isn't.
It's macOS Monterey. No big video, just a note to the marketing team wearing a wetsuit. So what's it got in it?
All the things talked about - Quick Note, Focus and SharePlay are all here in Monterey. And more new features too... beginning with Continuity, says Federighi.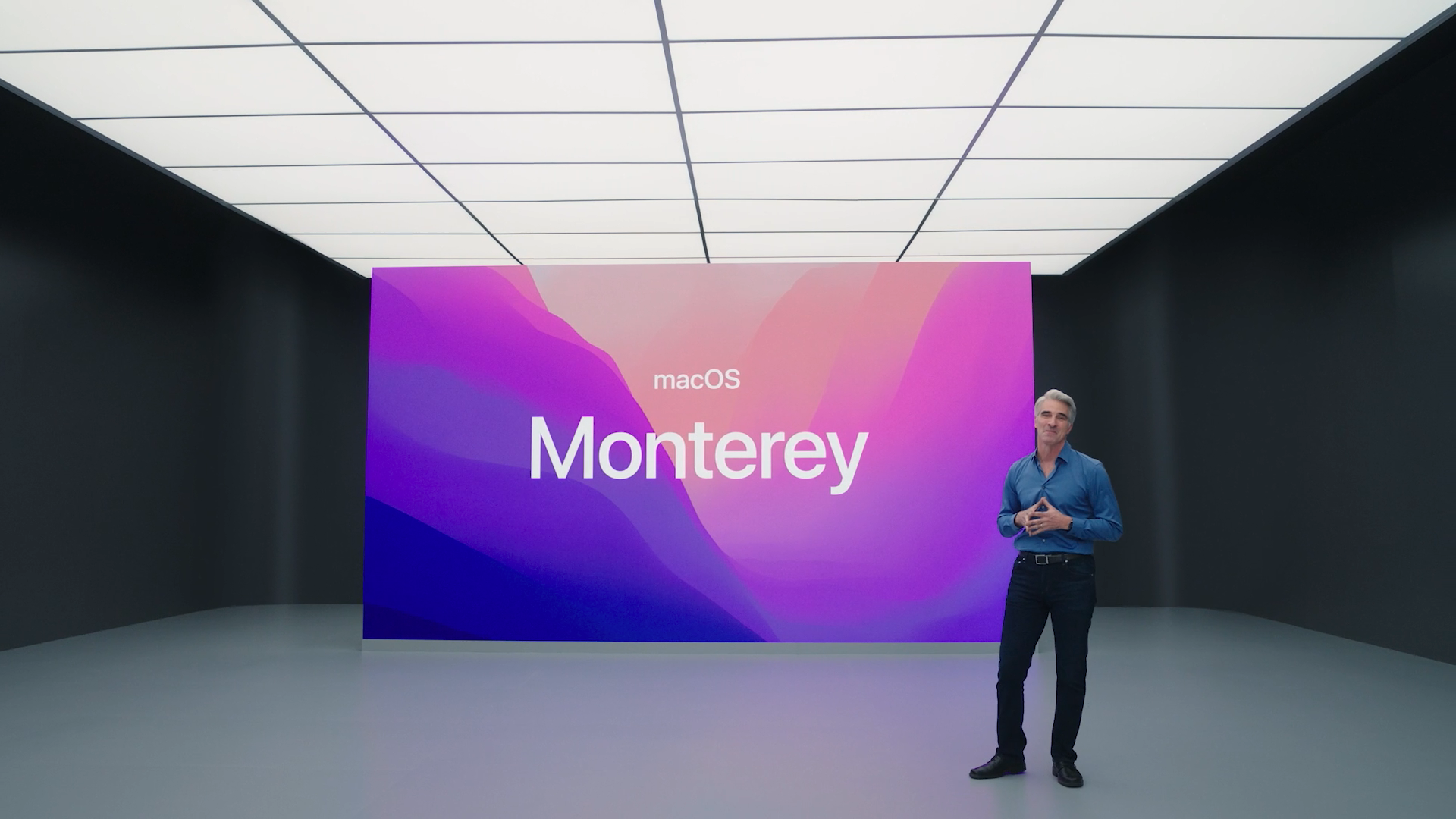 Universal Control allows you to use the same keyboard and mouse on a Mac and an iPad.
If you put your iPad next to the MacBook - you can move the mouse over towards the iPad and the two devices will function like second screens, without ANY set up. This is cool.
You can use the keyboard and mouse from your MacBook instantly on the iPad, and search on both devices, or drag and drop files between the devices.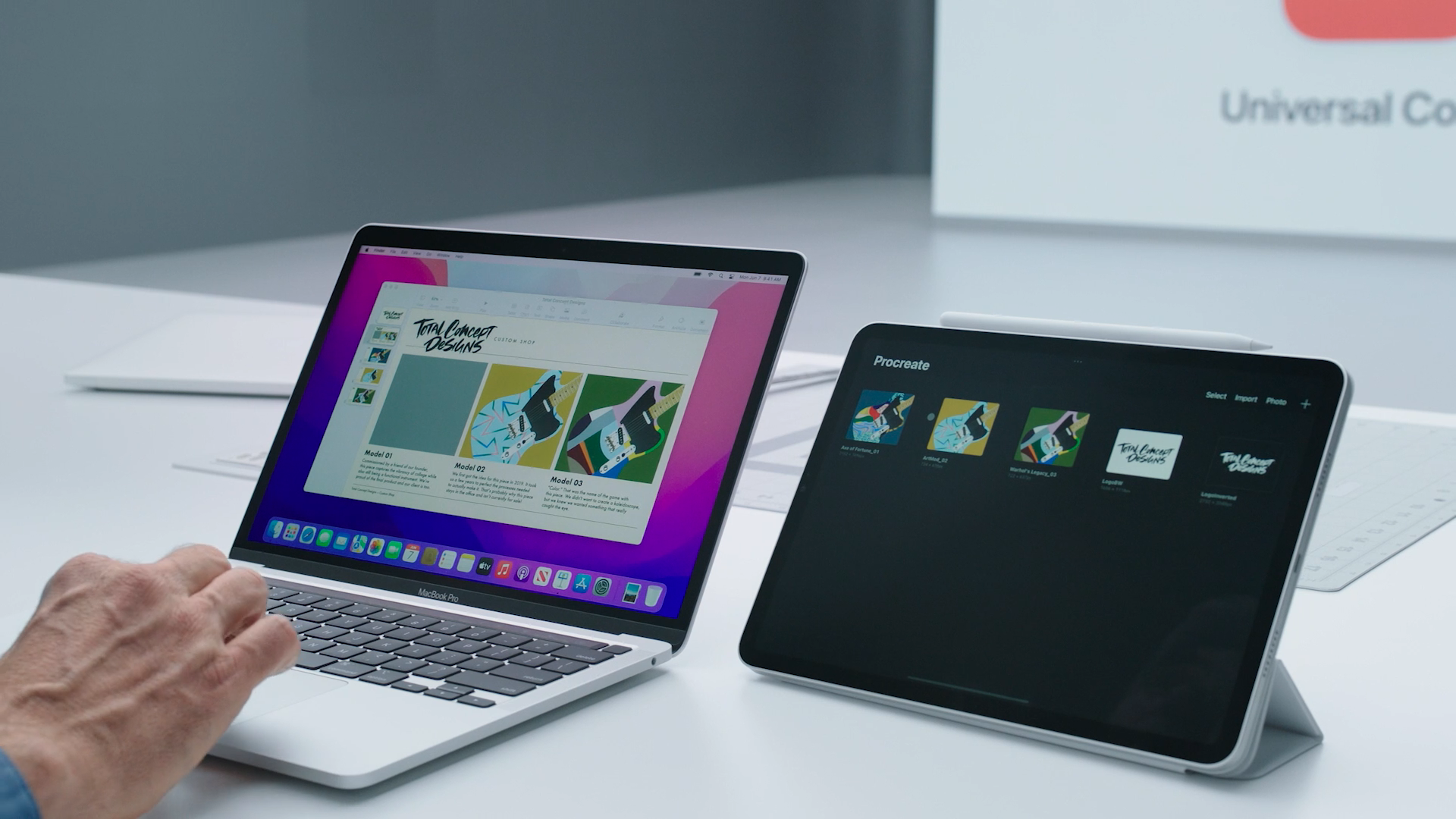 Universal Control can work with an iMac as well, with all the devices working in concert like one machine.
So you could take a video on the iPad and drop it into Final Cut with one flourish. Will it work with iPhone one day? That'd be handy... arguably more so than with an iPad.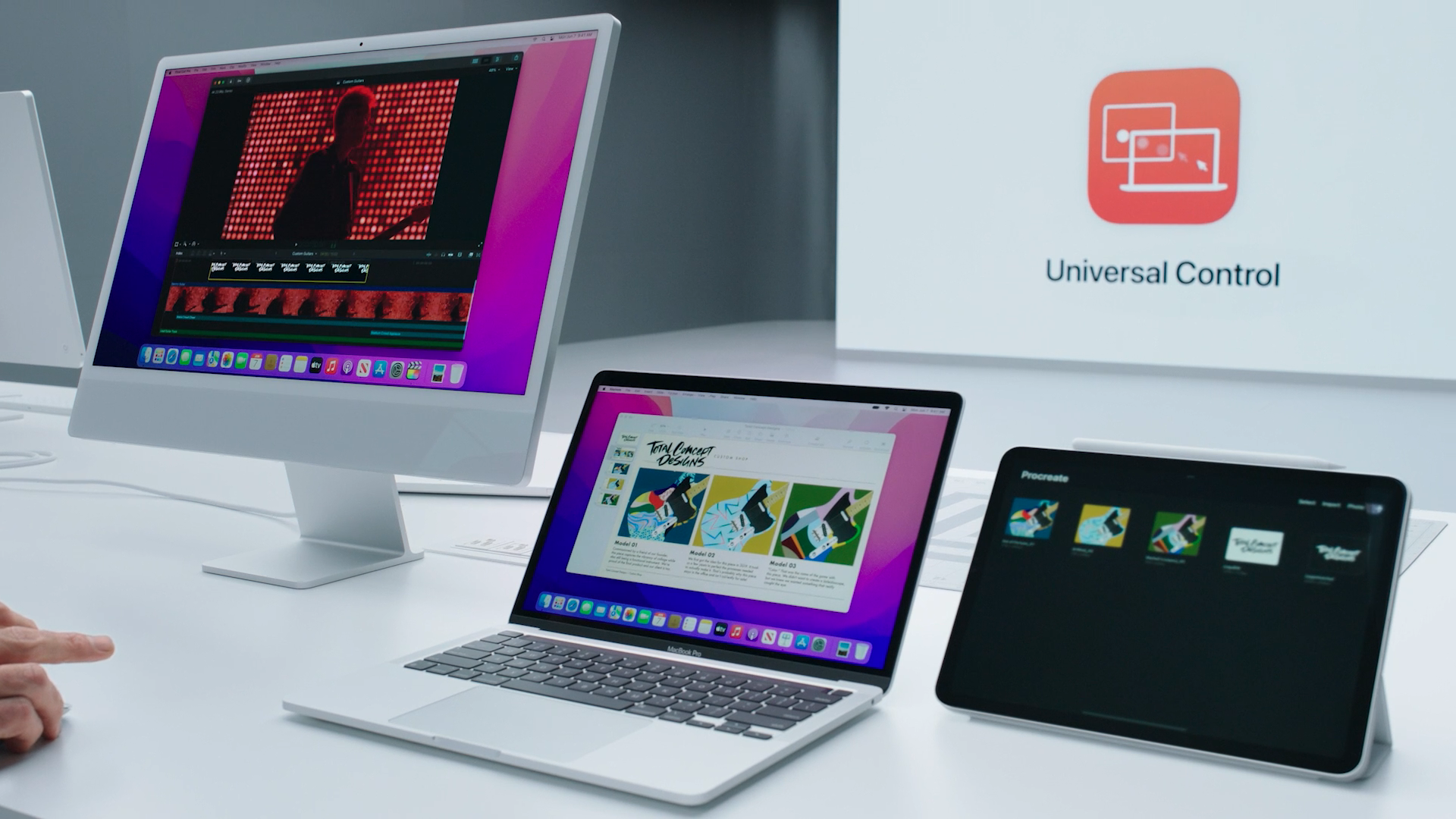 Here comes AirPlay - you can play different music on your Mac with Monterey. Small update there.
Shortcuts is coming to the Mac, not just locked to the iPhone and iPad.
You can run scripts to do things like instantly open photos, or activate FaceTime with someone. Or add a bunch of windows to open apps you need, and it can work with different apps too.
Automator will still be supported - let's not forget, people have been doing this for years - but this is all about centralized shortcuts.
Safari is up next - Apple calling it 'the world's fastest' browser and Federighi talking up how useful it is.
The browser window has been redesigned, with tab groups coming in, as well as clearer, simpler tabs and the URL bar taking a less prominent space.
Our Software writer Daryl Baxter is a fan: "Safari redesign looks good, hopefully its on iPad too," he writes to me when I'm trying to concentrate on a live stream.
It's a good point though.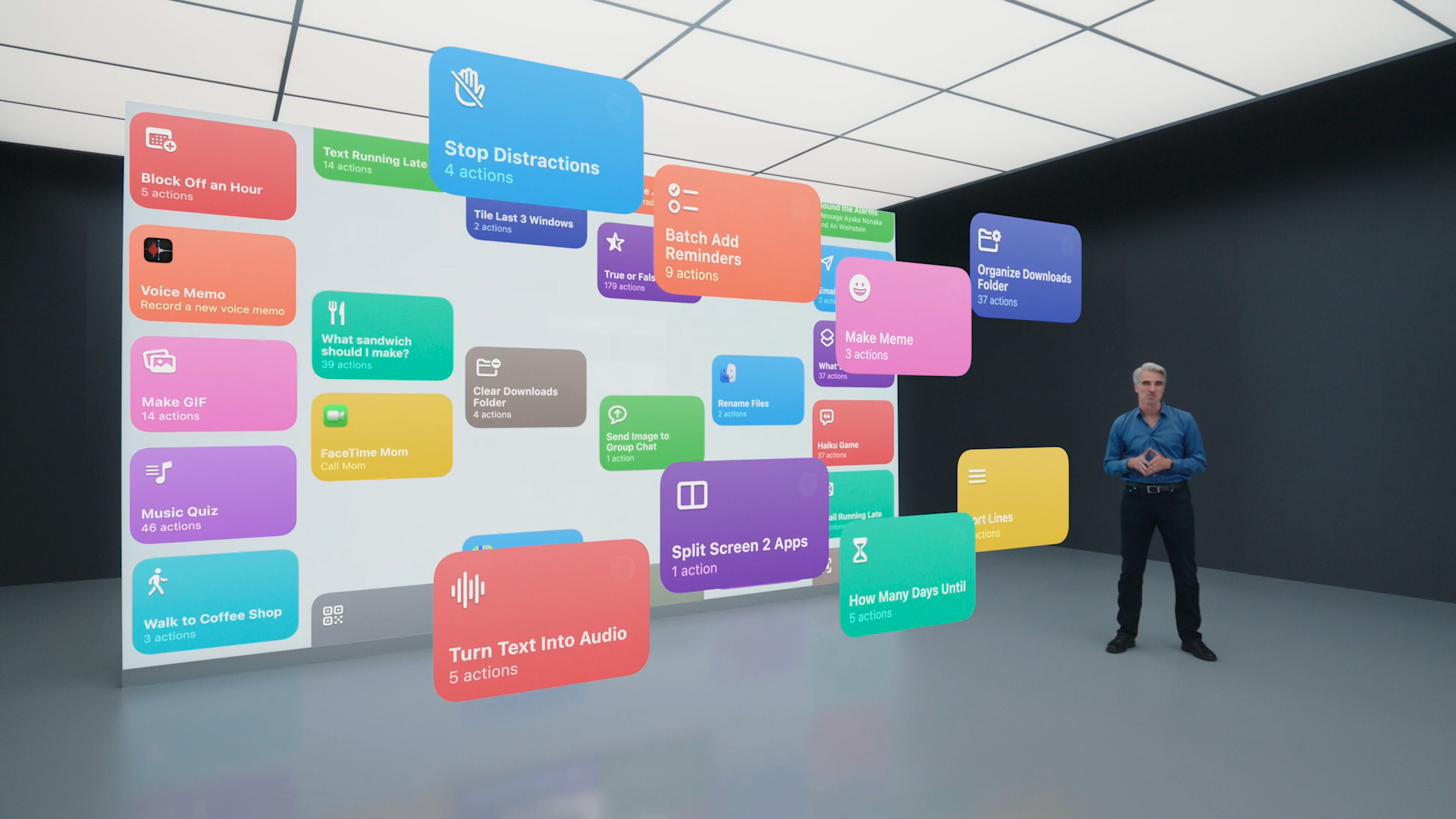 The new design is coming to iPad and iPhone, with web extensions coming to those mobile devices too.
This is interesting - breaking down the barrier between apps and browser-based features too.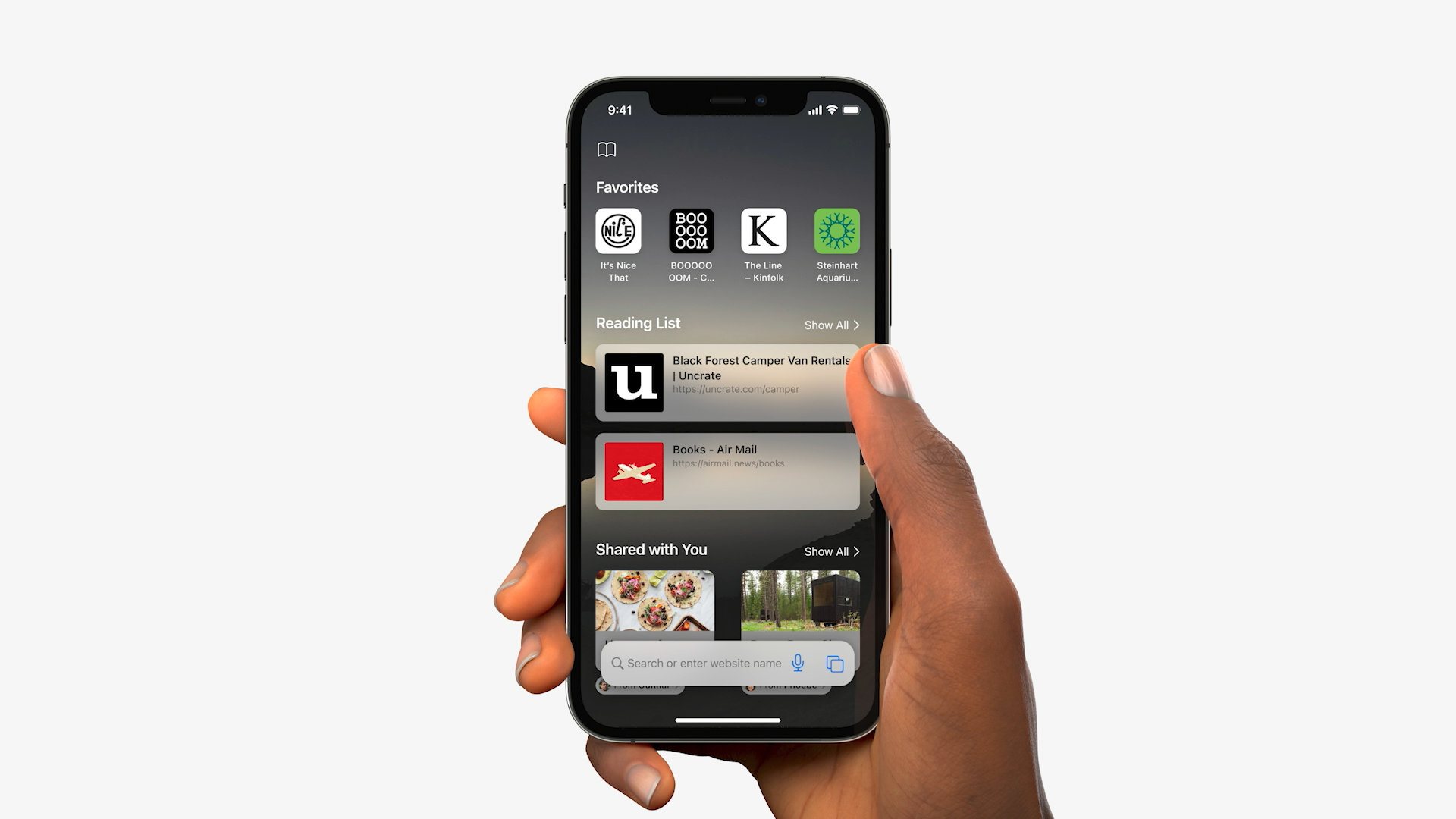 New technologies coming for the developers - a lot of people going to be excited by this.
Susan Prescott is here to talk to the devs.
APIs are coming that allow you make new apps, Swift features to make it easier to use and updated App Store features.
APIs up first - SharePlay updates, Voice Isolation and Portrait Mode in any video conferencing app are all coming.
Object Capture allows developers to take flat images from an iPhone, then importing them in to make a 3D model, with an AR preview, when out and about trying to grab the images they need.
The new tools allow vendors to make it easier to make 3D objects they can share with customers.
I put a bike in a bathroom once, using this feature. Truly, we're living in the future.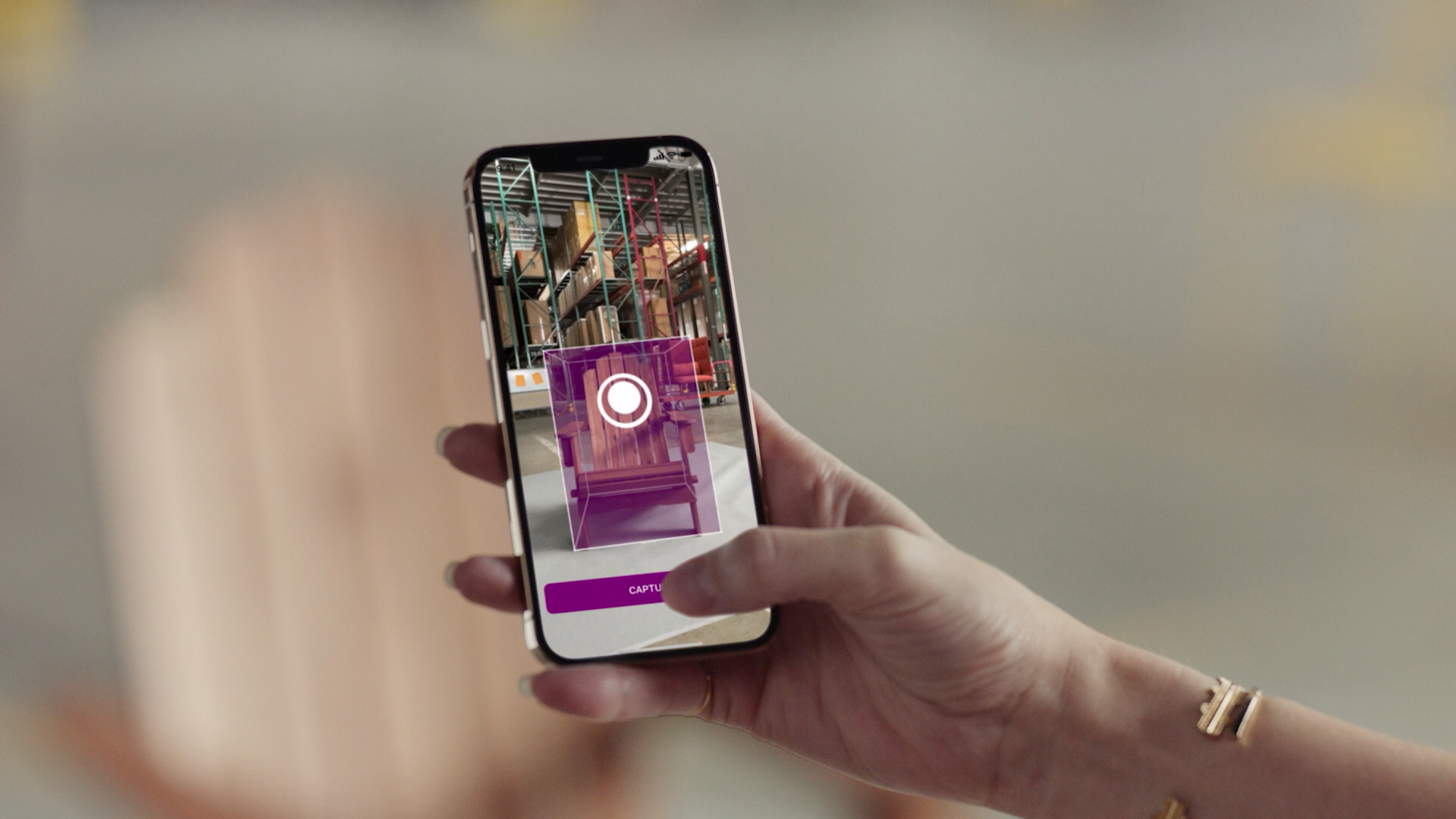 Swift is used for a large amount of the top apps in the App Store, says Apple. And this year the new feature is Concurrency.
This will allow apps to be more responsive, with code that can better leverage multi-core processing.
The async awake pattern with actors will allow you to isolate parallel code at the same time - but that's all we're getting on that. That's a feature to dig into later.
The App Store is up now...
Talking up how every app is reviewed to hit the high 'standards' Apple had in place. And that's why there are so many users, apparently.
$230bn to developers since launch. How much does that mean Apple has made? I can't do math when I'm typing.
I assume a trillion dollars or something.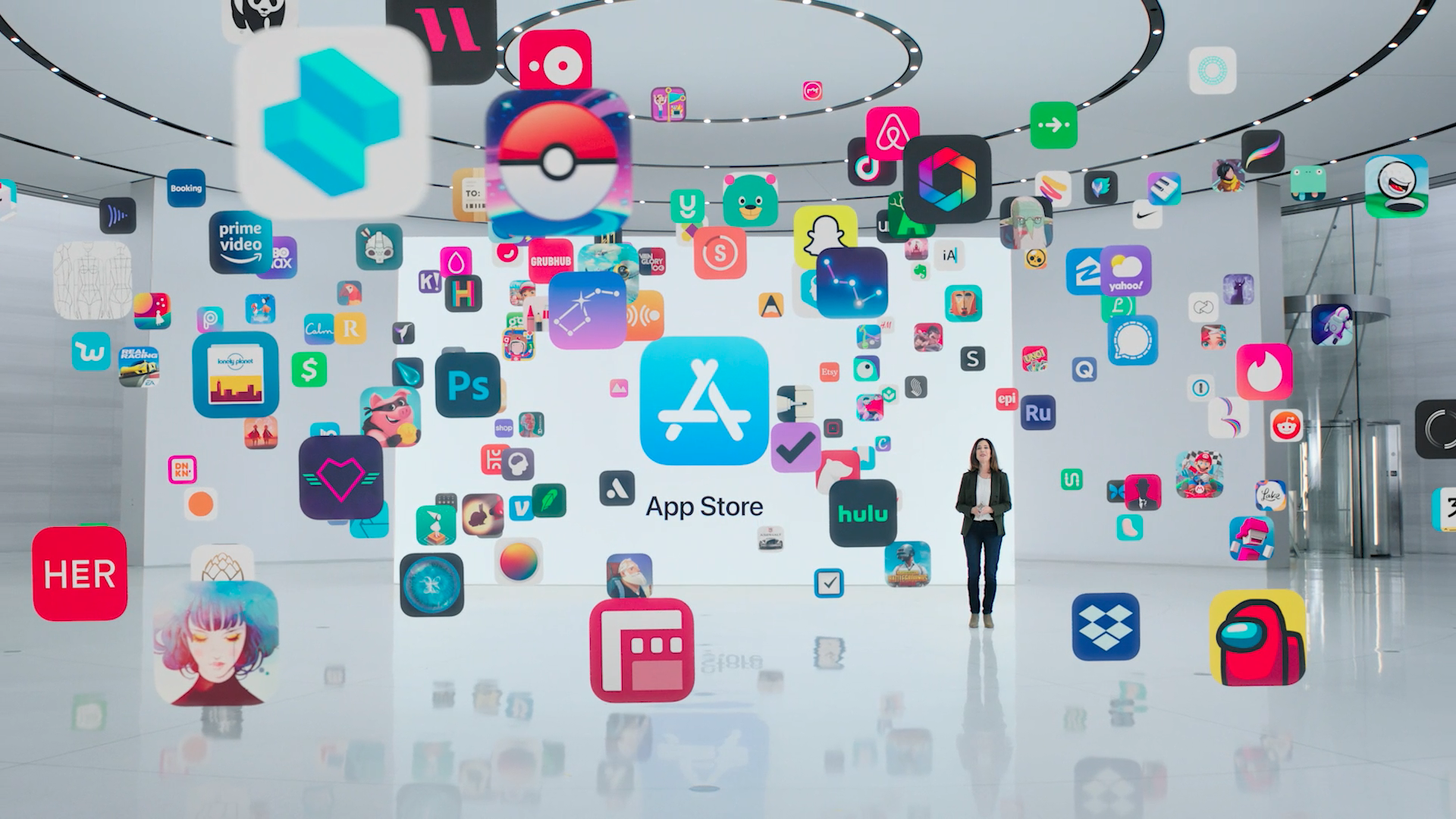 The App Store will highlight events, time-sensitive moments that need to be highlighted.
But now, it'll be In-App Events, so that time-sensitive stuff will be clearer on the Store in case someone is browsing past and might miss it.
You can sign up to be notified or jump straight in if it's happening then.
Xcode Cloud is here next - which Apple is saying will simplify the workflow by bringing key tools together.
When a code is changed, Xcode Cloud can build the app in the cloud, allowing all members of the team to see if errors occur.
Then the tests will run in parallel, with multiple different devices showing at once. And when the app completes said tests, it can deliver the clean app to all devs and even beta testers too.
Seems really simple when it's explained like that - and Apple is (again) talking about how safe and secure it is, the the build is temporary.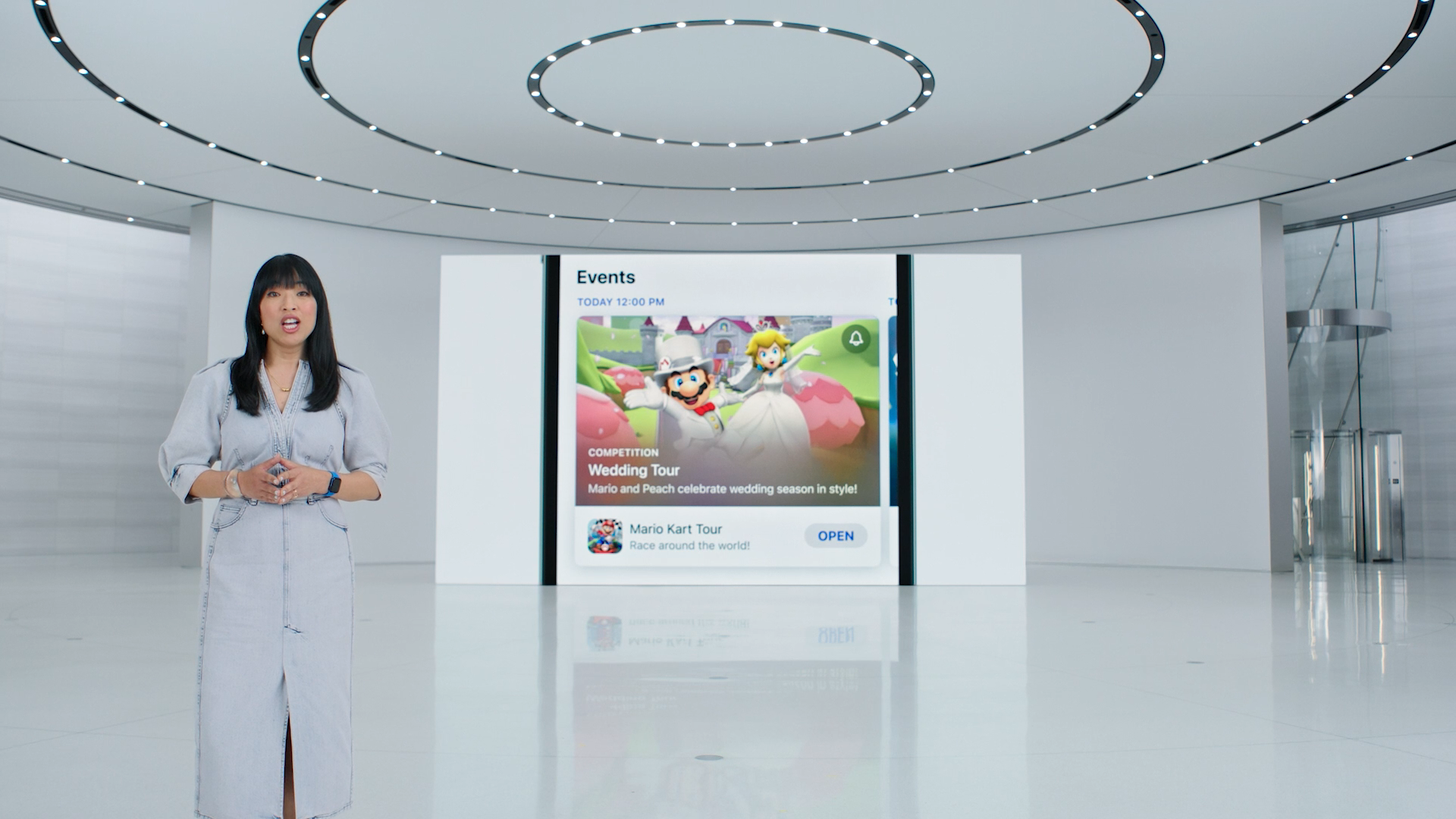 TestFlight is coming to the Mac too, so you can more easily see how well an app is running.
A limited beta is starting today, and will 'expand' during this year, as well as coming to all next year, with pricing coming later 'this Fall'.
Tim Cook is back, meaning this is probably coming to an end - but Developer Betas are coming today, Public Betas 'Next Month' and full release 'this Fall'.
So if you're after more on iOS 15, or want the latest for your Watch, decide how much risk you want to take as to when you get the new features.
(Seriously, if you're not a developer, wait for the public beta. And even then don't do it on a device you rely on and make sure you back up everything).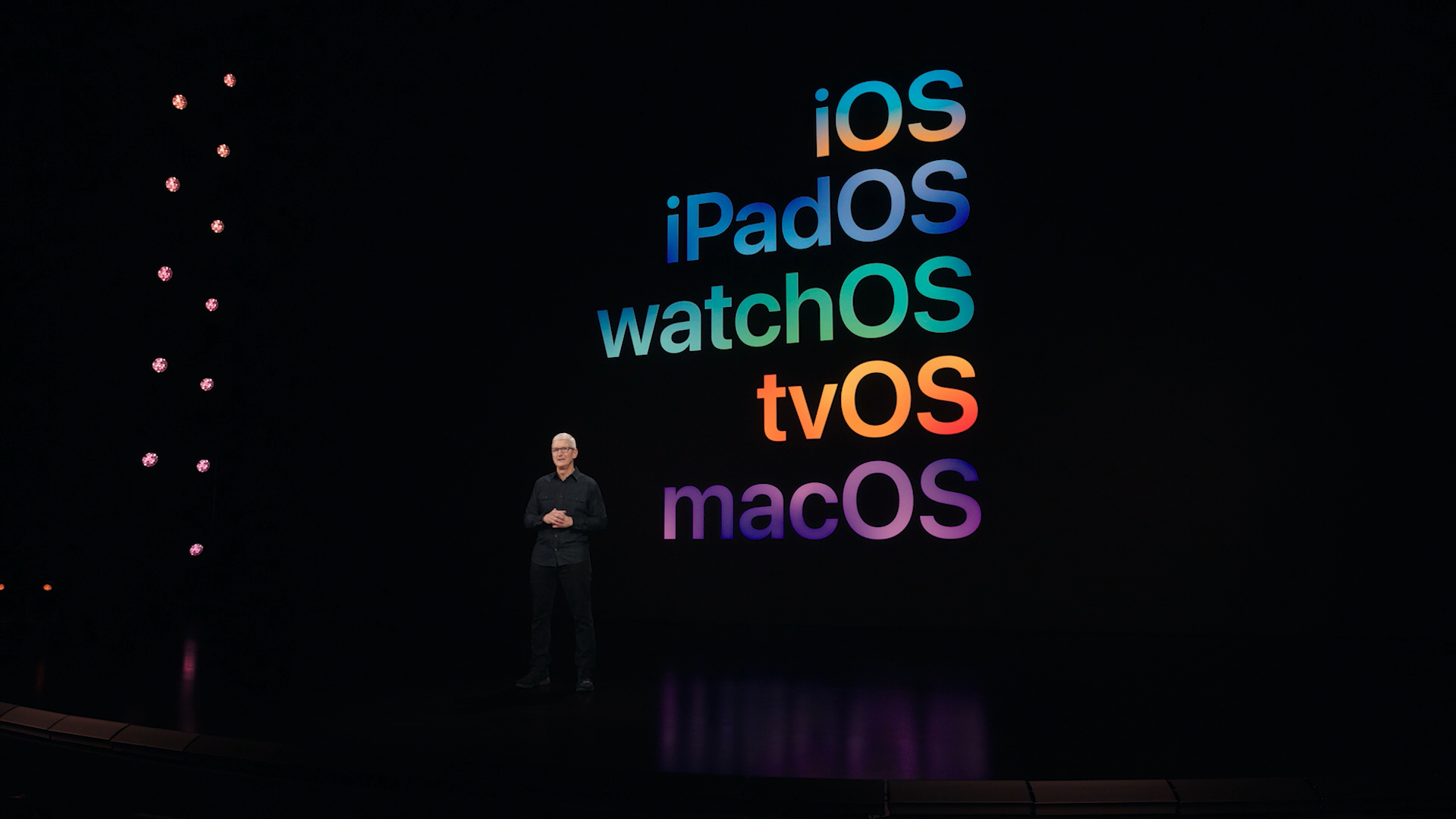 Right - we're done. Man alive, there was a lot in that, but no hardware if you noticed. I certainly did because I think I've been typing for a century... even though it was only 105 mins.
Thanks for joining us on this live blog experience - it's always lovely to chat to you. Remember to let us know your thoughts over on @TechRadar on Twitter... we like to hear from you.
Fair play to prominent leaker Jon Prosser - he can hold his hands up when he announces something coming that doesn't land...
let the record show that my wwdc track record over the last two years is literally 0% 😂June 7, 2021
Sign up to receive daily breaking news, reviews, opinion, analysis, deals and more from the world of tech.
Thank you for signing up to TechRadar. You will receive a verification email shortly.
There was a problem. Please refresh the page and try again.