When it launches later this year, iOS 17 is expected to bring significant improvements to built-in iPhone apps, like CarPlay, Messages and Siri – and now we've got a better idea of what those improvements might be for the latter.
According to Twitter leaker @analyst941, iOS 17 could shift Siri's on-screen interface away from the bottom of the iPhone screen and up into the Dynamic Island on compatible devices.
In its current form, Siri appears as an animated sphere when invoked with a button press or the "Hey Siri" command, while answers to user queries are displayed at the top of the iPhone screen with background content dimmed. Presumably, moving Siri's interface up into the Dynamic Island would make the voice assistant appear less intrusive.
For obvious reasons, this change will only apply to iPhones that feature the Dynamic Island – which, at present, is the iPhone 14 Pro and iPhone 14 Pro Max (aka the best iPhones money can buy). However, we're almost certain that Apple's quirky digital notch will be finding its way onto every device in this year's iPhone 15 lineup, so we could see Siri moving home on the iPhone 15, iPhone 15 Plus, iPhone 15 Pro and much-rumored iPhone 15 Ultra, too.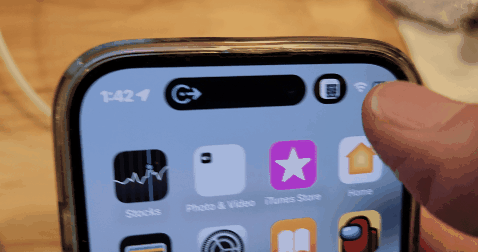 As for the other changes iOS 17 is expected to bring to Siri, Bloomberg's Mark Gurman reports – in his latest Power On newsletter – that users may soon only need to say "Siri" instead of "Hey Siri" when activating the personal assistant.
This would bring Apple's assistant in line with Amazon's Alexa, which has only required users to say "Alexa" since its launch in 2014. Gurman suggests that the change could be implemented with iOS 17 either this year or next.
Despite only being a "small change", though, getting Siri to function correctly without the "Hey" has been a "technical challenge" requiring "a significant amount of AI training and underlying engineering work."
"The complexity involves Siri being able to understand the singular phrase 'Siri' in multiple different accents and dialects," Gurman notes. "Having two words – 'Hey Siri' – increases the likelihood of the system properly picking up the signal."
In terms of which iPhones will support this change, we've heard conflicting reports surrounding the availability of iOS 17. According to a one source "with a proven track record," iOS 17 will drop support for the iPhone 8, iPhone 8 Plus and iPhone X – but a second reputable leaker has since counterclaimed that iOS 17 will be compatible with all iPhones capable of running iOS 16.
In any case, Apple will almost certainly debut iOS 17‌ at its annual WWDC developer conference in June, with the update expected to begin rolling out to users sometime in September, so we'll have confirmation on the matter soon.