Best headphones under Rs 2,000 in India for 2023
Headphones that don't go hard on your pocket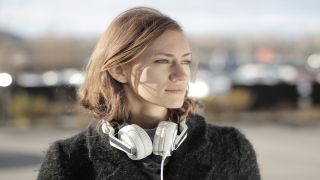 (Image credit: pexels.com)
Getting the best headphones within your budget can be a big task, especially finding one suiting your needs. Thankfully, gone are the days when you have to compromise on either build quality or audio quality things to purchase products that aren't pricey.
Thanks to Covid-19, this segment has seen an uptick as virtual office meetings, schools and colleges turned to online classes, and entertainment became more personalised. Even though the pandemic is over, everyone got hooked on wireless audio products, and we now have more options in wireless headphones than ever.
Wired headphones might have lost their charm with many people, but it still is an excellent option for the budget, especially if you want better audio quality from your headphones.
Headphones, which were once considered a premium accessory, are now available at budget and affordable price points as well.
Users from all statuses and spheres would now require good headphone options that do not go hard on their pockets as well. Seeing the demands of users skyrocketing, the manufacturers had to produce some viable options at aggressive price points.
Best on-ear headphones for Rs. 2000 in India
Why you can trust TechRadar We spend hours testing every product or service we review, so you can be sure you're buying the best. Find out more about how we test.
We have curated some of the budget-friendly headphone options that you might want to buy. You can expect richer bass, clear treble, and crystal-clear sound experience from these prescribed pocket-friendly headphones.
The list includes budget wired and wireless headphone options to let you choose from. We know some of our users just love the 3.5mm headphone jack and we have added some options for them as well.
Also, if you are looking for Bluetooth-powered headphones for under Rs. 2000 in India, we have got you covered as well. You will also find the list comprising some options for gaming lovers. All the headphones listed below include a mic as well.
1. Infinity (JBL) Glide 510
Specifications
Battery life:
Up to 72 hours
Connection:
Bluetooth v5.0
Reasons to buy
+
Deep Bass
+
Dual EQ mode
+
Lightweight & comfortable
+
Long battery life
+
Good build quality
Reasons to avoid
-
Ambient sound at low-volumes
The Infinity Glide 510 on-ear headphones are known for their comfort and longer battery life among users. They are pretty cheap to grab if you're looking for an on-ear type of headphones. With 36mm audio drivers, they offer deep bass and the dual EQ mode helps you choose your listening experience.
Harman Audio, a pioneer in the audio industry promises up to 72 hours of playback time with these headphones. These are comfortable so that you could enjoy your long meetings and binge-watch your favorite shoes. They are lightweight and portable as well to carry anywhere.
Specifications
Frequency response:
21 - 18000 Hz
Connectivity:
3.5mm headphone jack
Reasons to buy
+
Lightweight
+
3.5mm headphone cable
+
Richer bass
This might be the best sounding over the ear headphones that you can get in a budget.
It has a very enjoyable sound, which comes with quite deep bass for the price. It is unlike any other budget headphones, where their bass overpowers and muddies other frequencies. This one's bass doesn't make it's presence overpower other frequencies that much. It also has a nice and wide soundstage.
These make for a cheap entry point to the world of audiophiles.
Specifications
Driver:
30mm dynamic drivers
Connectivity:
3.5mm headphone jack
Reasons to buy
+
Lightweight
+
3.5mm headphone cable
+
Richer bass
These are the wired over-the-ear headphones suitable for users who have their devices that support a 3.5mm headphone jack as a prime connectivity option. They are priced around Rs. 1480, but one can grab it for a lower price during Amazon sales.
Sony is a known and reputed name in the audio products segment. The Sony MDR-ZX110AP aims at producing a well-balanced audio output. Some users are surprised to note that the headphones at this price are able to suppress the ambient noise. The MDR-ZX110AP headphones include a 30mm driver.
4. Philips Audios Upbeat Tauh201BK
Specifications
Connection:
3.5mm headphone jack
Reasons to buy
+
Adjustable headband design
+
3.5mm headphone jack
+
Soft cups for comfortable wear
+
Mic with Echo cancellation
The list of best headphones in India is incomplete without a Philips product and that is why we have added one that we think is the best. These are lightweight headphones with only 130g weight and have an adjustable headband design. They have soft cups so that you could put them on your ears for a longer time. These are wired headphones and require a 3.5mm headphone port for connectivity.
The Philips UpBeat Tauh201 headphones include a built-in mic with echo cancellation for clear audio.
5. Mi Super Bass wireless headphones
Specifications
Connection:
Bluetooth v5.0
Drivers:
40mm dynamic drivers
Battery life:
Up to 20 hours
Reasons to buy
+
Crystal clear sound output
+
Decent fitting
+
Voice assistant control
As the name is pretty self-explanatory, these on-ear wireless headphones are from Xiaomi and focus on delivering rich bass to the audiophiles. They connect through Bluetooth 5.0 and support voice control as well, which means you can do many things with your mere voice.
The Mi Super Bass Wireless headphones have a place inside the top best headphones below Rs. 2000 because they tick almost every feature one can ask for. They include 20 hours battery life, heavy base, thanks to 40mm drivers, and have a comfortable design. They even work with voice assistant. The headphones look premium for their price.
Specifications
Connection:
Bluetooth v5.0
Battery life:
Up to 20 hours
Reasons to buy
+
Quality build
+
Immersive HD quality
+
Value for money
+
Physical Noise Isolation
Reasons to avoid
-
Not the most comfortable fit
The company needs no introduction when it comes to buying the best audio product in the country. Boat is an Indian-based consumer electronics brand that has been producing some best headphones.
The Boat Rockerz 550 headphones are pretty eligible to cater to a heavy user for under Rs. 2000 They are sturdy, comfortable, and lightweight as well and they have powerful bass and longer battery life.
They include a 50mm dynamic driver to offer immersive HD audio. They are rated to deliver up to 25 hours of playback time with their mighty 500mAh battery capacity. The headphones have a strong built and they have been ergonomically designed to offer the best user experience. Interestingly, the headphones come with a physical Noise Isolation feature so that you just enjoy your music and not the ambient sound.
7. OneOdio Pro-10 on-ear wired headphones
Reasons to buy
+
Sturdy design
+
Ideal for DJs
+
Powerful bass
Here comes a Chinese brand in the list of some super-affordable headphones in India. The OneOdio Pro-10 aims at producing high-quality and superior sound quality from its 50mm speaker unit.
It delivers powerful bass, clear vocal, and crisp high tones. It includes padded ear cushions that have been specifically designed for maximum comfort and noise isolation. It includes a self-adjustable and flexible headband for a fatigue-free listening experience. They work with iPad, iPhone, Android, and many other Audio devices. They are professional DJ headphones that deliver dynamic bass sound. They come with a detachable spring cable with a 3.5mm headphone jack.
8. Soundcore by Anker Strike 1 wired headphone
Reasons to buy
+
Perfect fit
+
Wide frequency response
Reasons to avoid
-
Microphone features inferior noise cancellation
The headphones offer rich bass and sound quality for their price. This is a wired headset and is suitable for gaming. It includes 52mm drivers for powerful bass while you're playing. They have been designed for PS4, Xbox, and PC. They also include a fully detachable, noise-canceling microphone as well. They are IPX5 waterproof rated which means they can resist sweat, water, and accidental splashes.
They are pretty comfortable to wear, thanks to padded cushions. The headphones are pretty suitable for attending meetings via Skype, Teams, Google Meet, or any other video conferencing apps. They offer clean audio and bass.
Sign up to receive daily breaking news, reviews, opinion, analysis, deals and more from the world of tech.
Jitendra has been working in the Internet Industry for the last 7 years now and has written about a wide range of topics including gadgets, smartphones, reviews, games, software, apps, deep tech, AI, and consumer electronics.