Is it still worth getting the best computer speakers? Absolutely. While it might seem like they lag behind what a good quality headset can offer, you'll find that speakers for PC have a few advantage over their wear-to-use counterparts.
Computer speakers typically deliver a wider soundstage and more rumble than the best headphones and the best gaming headsets. And, that's despite the fact that many gaming headsets now come with Dolby Atmos and/or DTX:S support, virtual surround sound and different gaming profiles.
They also have that added benefit of let your ears breathe freely since they don't have to be attached to your head to deliver audio. Plus, if you're using your computer to watch movies with other people or you find yourself with an audience as you tackle the latest PC game, they do come in extremely handy. In fact, it's not an either-or situation. For a well-rounded computer setup, we recommend having both options.
Of course, not just any set of speakers is up to the task. If you want true immersion in your media, you'll need one does more than have a price tag you can afford. We've tested or used our share of speakers for PC, so who better to help you find the ideal option for your setup. We gathered the best computer speakers that deliver the best sound and the best features for the price. Whichever you choose, you know you're making a sound decision.
Best computer speakers 2022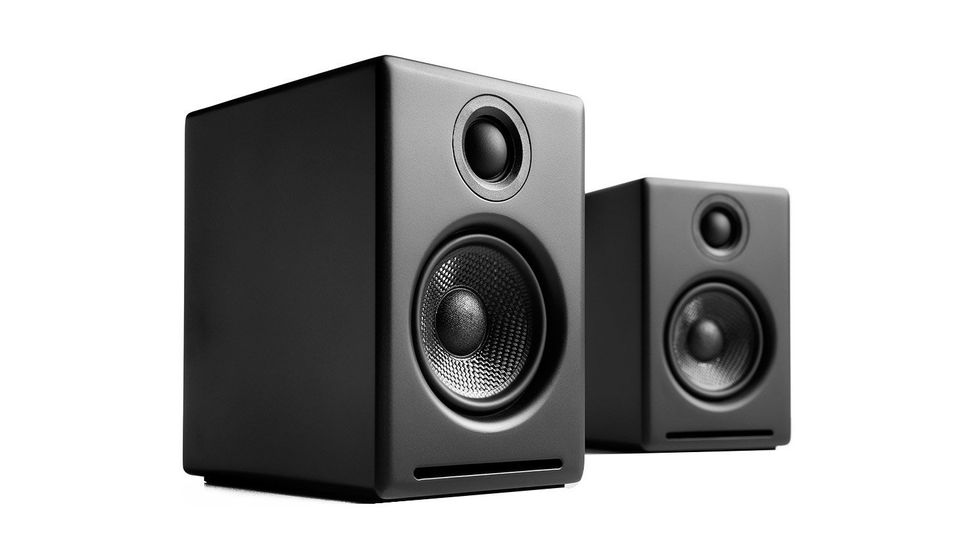 While the Audioengine A2+ arrived on the scene four years back, they are still conceivably among the best computer speakers on the market. These boxy-yet-slick-looking bookshelf speakers will function with your PC's USB port, 3.5mm stereo mini-jack and Bluetooth connectivity, giving you flexibility. And, if you're one to crave that rumble, you can easily connect it to an external woofer thanks to its RCA output. Luckily, Audioengine also sells the line's woofer separately.
The Bluetooth aptX connectivity is ideal for a cable-free listening experience, and it still ensures that you're getting great sound quality, thanks to the built-in DAC (digital-to-analogue converter). However, if you want uncompressed audio and even more amazing sound quality, the USB connection (which also utilizes the DAC) is the best. It's a little on the pricey side, at least when it comes to computer speakers, but it's definitely worth the money.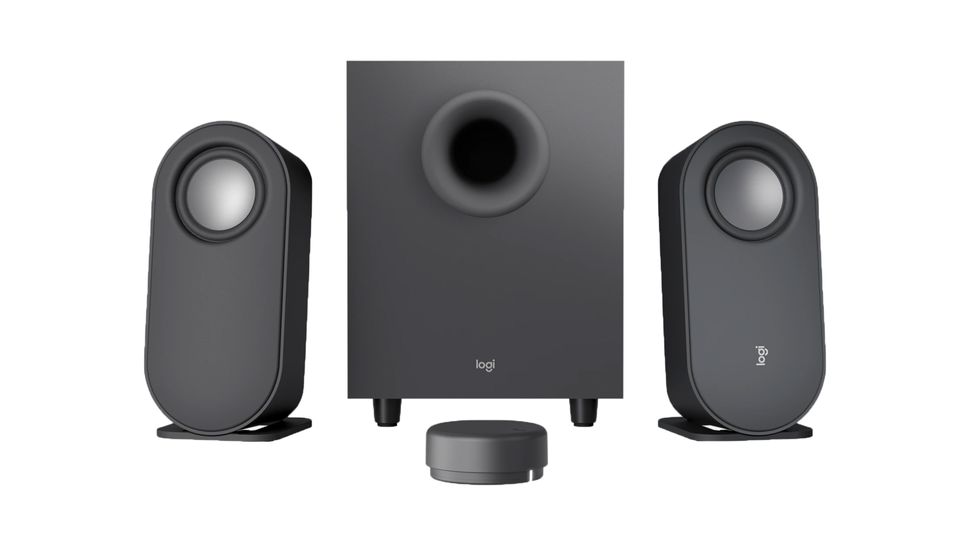 The Logitech Z407 offers great value in an affordable and appealing package. These minimalist, capsule-shaped speakers deliver great sound quality and a decent amount of volume while offering wireless connectivity, two physical input options, and a versatile design. For your convenience, it comes with a control puck that connects wirelessly so you can change the volume, dial the bass power up/down, play/pause/stop the current content and move forward or go back from up to 20 meters away. We found this dial a bit confusing to use at first, but it's a nifty addition that adds convenience to its use.
That subwoofer is surprisingly powerful for its size as well, producing a good amount of rumble for those intense game and movie moments. If you think that computer speakers are becoming obsolete, these will certainly change your mind.
Read the full review: Logitech Z407 Bluetooth Computer Speakers with Subwoofer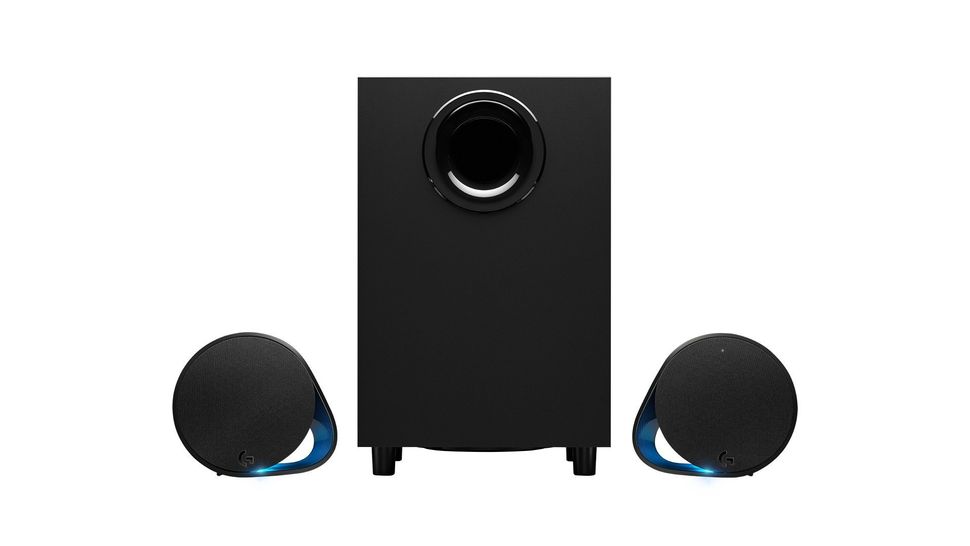 When it comes to computer accessories, Logitech is a household name. However, the G560 takes the company's speaker prowess up a notch for the sake of gamers. These are the first Logitech computer speakers created specifically for gaming, and the manufacturer's hard work has more than paid off.
During our tests, we found the bass to be deep and rumbling and the high notes captured with nuance. Their excellent audio performance are only outshone, though not by much, by their RGB lighting. Much like other RGB lighting on other gaming peripherals, you can the multi-colored illumination on the G560 via Logitech's software, which supports hundreds of games with custom lighting profiles – some of which are based on the top PC games. One feature, Screen Sampling, which has the lights responding to motion and stimulus on screen, is particularly nifty.
Read the full review: Logitech G560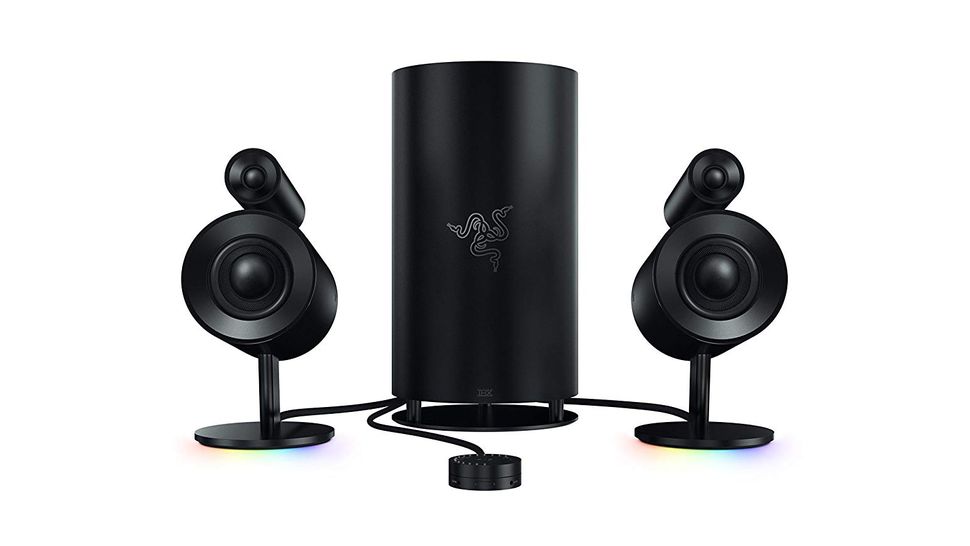 The Razer Nommo Pro may have an amusing name and a uniquely funky look, but make no mistake, these are a quality set of speakers that must be taken very seriously, and not only because of its hefty price. Try to combat the urge to run in the opposite direction of that $500 price tag, the Razer Nommo Pro has a lot to offer and is definitely a sound investment.
There's the thundering down-firing subwoofer that'll blew us away, and then there's the Razer Chroma feature, making these speakers look just as great as they sound. There are definitely more reasonably priced computer speakers out there, but with this level of quality, the Razer Nommo Pro is worth the cost of entry. And, if you've invested in other Razer peripherals, you can sync up that RGB lighting with the rest of your setup.
Read the full review: Razer Nommo Pro
Our favorite jellyfish-looking computer speakers is back, this time in its fourth iteration with some minor design changes as well as some hardware improvements. The Harman Kardon Soundsticks 4 is more powerful than ever and armed with a 100W dome-shaped woofer as well as eight 1.4-inch full range transducers, which makes it worth the upgrade, especially if you already own and love its predecessor.
While we haven't tested this new model ourselves, users have praised this speaker system for its rich bass and clear, vibrant sound, which you can customize yourself via its software's EQ sliders. More importantly, all its frequency responses are well represented out of the box. Plus, not only does it have a lot of volume, but it can get very loud without suffering from distortion, which is pretty impressive for a set of computer speakers.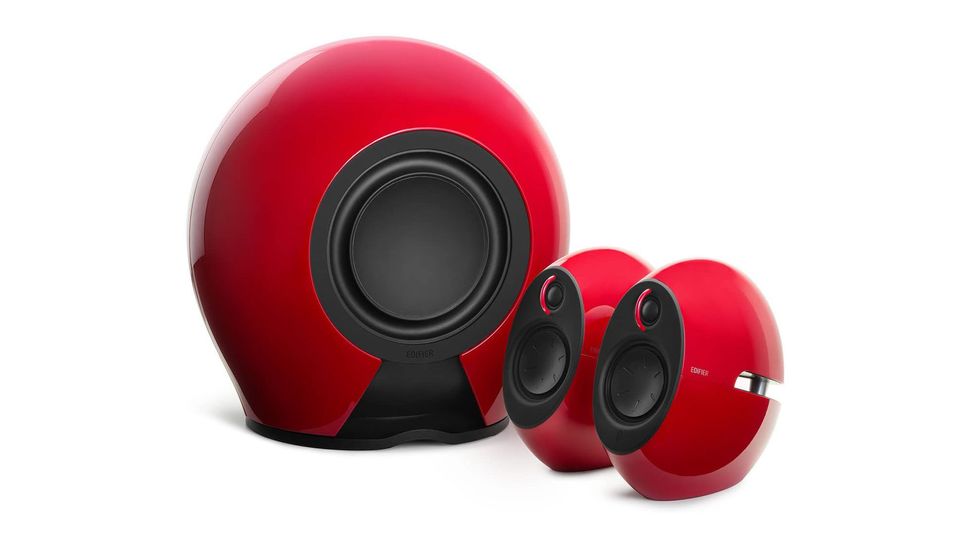 The Edifier E25 Luna Eclipse is already a staggering speaker setup. This 2.1 PC speaker system has a unique and appealing design as well as excellent sound quality, elevating your PC audio experience whether you're listening to music, watching the latest new show or playing your favorite PC games.
The Luna, which comes in red, white and black colors, offers a powerful but well-controlled bass – something that gamers and superhero movie fans can appreciate. But, it's not all bass power. It also delivers a well-balanced sound with sharp mids and good stereo separation. It even includes a nifty little remote control so you don't have to get up if you're feeling lazy. Add the 5.8G subwoofer, connected wirelessly at a 5.8GHz radio frequency, and you've got yourself an impressive 2.1 system that's among the best computer speakers in 2022.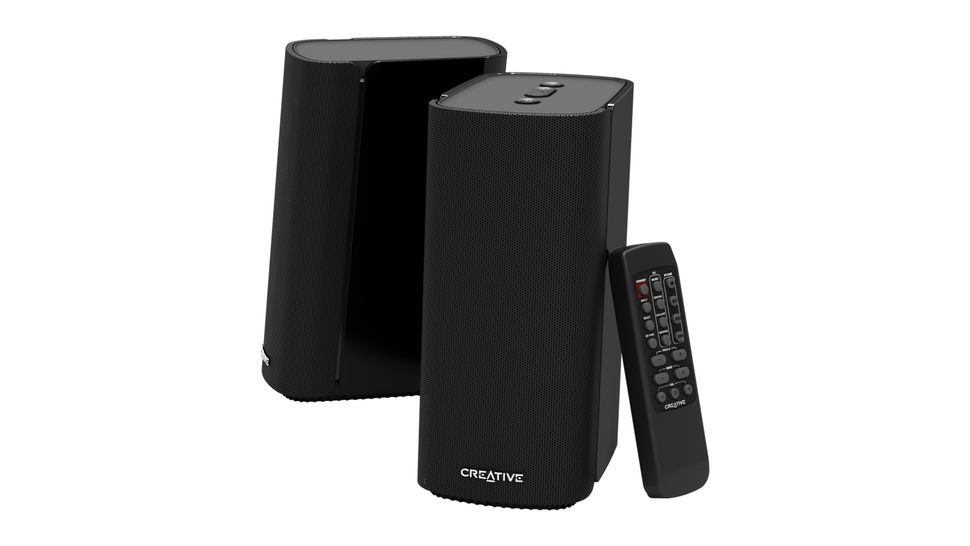 The Creative T100 proves that you don't need to have a lot of space or spend a lot of money for great sound. This stereo setup may not blow you away with rumbling bass or surround sound, but we still found it to be great sounding. That's impressive considering its compact design and affordable price. As long as you're not really looking for a deeply immersive experience, it's terrific for music-listening, movie-watching, and even gaming.
Plus, it offers a few connectivity options. While many bookshelf speakers only limit to a couple of those, this offering from Creative gives you a variety. You're getting wireless Bluetooth 5.0, 3.5mm AUX-in, optical audio and USB FLAC. You'll rarely find all options in one computer speaker package. If you're looking for the best computer speakers for the budget-conscious, you cannot go wrong with this one.
Read the full review: Creative T100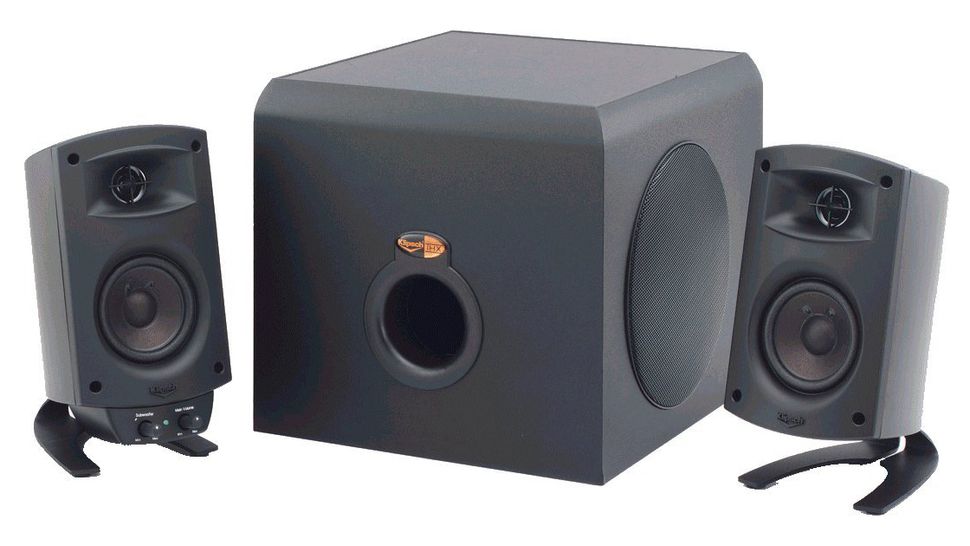 The Klipsch ProMedia 2.1 speaker system offers fantastic, versatile sound. This means regardless of whether you're listening to music, watching movies or gaming, you're getting the best computer speaker experience. These THX-certified speakers boast a lot of power, a wide frequency range of 31Hz to 20kHz, and detailed audio quality with strong bass, maximum clarity and great balance. When we say it's powerful enough to replicate that home theater quality in your living room, we're not exaggerating.
The only thing that holds this system back is its audio input, which is limited to 3.5mm. If you're looking for crisp, uncompressed digital sound quality, this might not be the best option. There's no Bluetooth option either, if you're looking for a cable-free existence. Still, you cannot deny the impressive sound quality it delivers, especially for that reasonable entry price.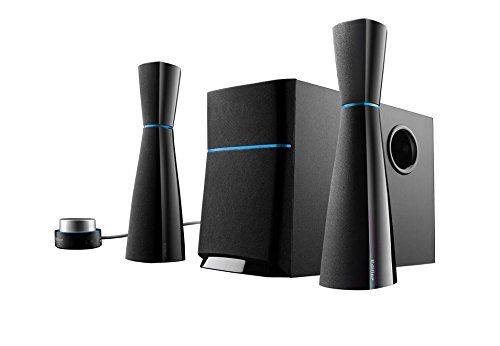 Edifier has also been a trusted name in audio, which is why it's making a two-time appearance on this list. But it's no stranger to making unique-looking satellites, either. And just like the E25 Luna Eclipse, the Edifier M3200 comes in a unique form. Unlike the former's EVE from Wall-E looking satellites, however, this system's look like modern hourglasses with blue trimming
It doesn't fall far from the Edifier tree in terms of sound quality either. This audio speaker system boasts audiophile-level sound, which makes it a terrific choice for PC users with more discerning ears. It also comes with a magnetically shielded subwoofer with 5½ inch driver for richer, deeper bass whether you're gaming or watching The Witcher. What is surprising, however, is its price. It's one of the more affordable options on this list.
Read the full review: Edifier M3200 review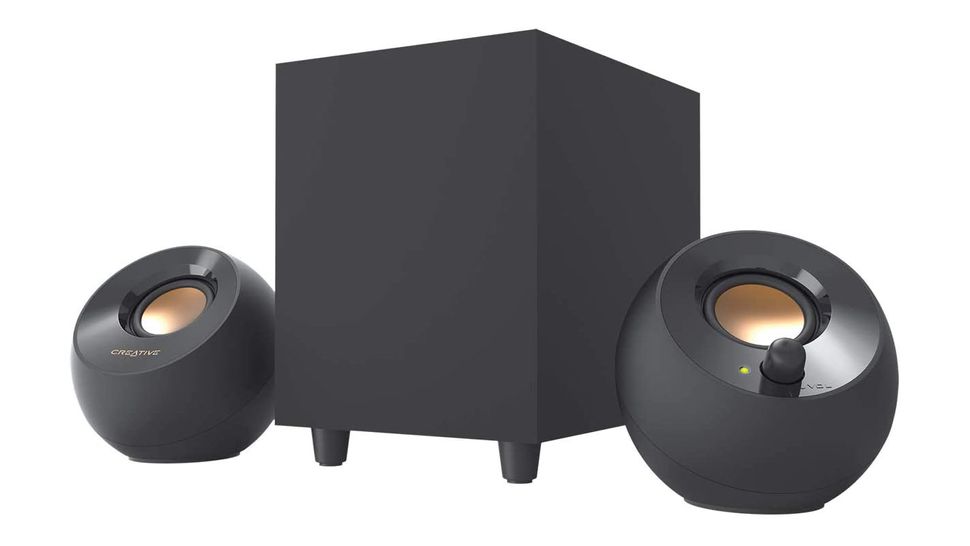 You don't need to spend a fortune on a good set of computer speakers. For budget-conscious consumers, Creative's Pebble Plus is more than good enough for the job, whether you're a hardcore gamer or a film fanatic. This 2.1 speaker system may not be audiophile quality, but it produces great sound for how much it costs. In fact, you'd be hard-pressed to find better stereo sound at this price range.
Consisting of two far-field drivers angled at a 45-degrees and a down-firing subwoofer, the Pebble Plus delivers good highs, mids and lows. Not only that, but we found during our tests that it also does a great job of minimizing distortion at loud volumes, which isn't something you'll often find on budget speakers. There are some compromises here, as is expected on inexpensive peripherals, but none of those are too big to put you off. Hands-down, this is the best computer speakers for those on a tight budget.
Read the full review: Creative Pebble Plus
How to choose the best computer speakers for you
Choosing the best computer speakers is more complex than choosing the best laptop or desktop. While you can always go with something more expensive and hope that's an indication of quality, there aren't clear-cut metrics or numbers to go on as there are with a computer.
There are still some objective considerations, however. Some speakers only connect through an analog 3.5mm connection, while others include USB, optical or Bluetooth connectivity. If you're a stickler for audio fidelity, a digital connection like USB or optical is necessary for an uncompressed signal. If you care more about a minimalist setup, you should prioritize speakers with Bluetooth. Thankfully, Bluetooth has come a long way and plenty of Bluetooth speakers offer incredible sound. However, if your primary concern is budget, you'll most likely end up with a set of speakers equipped with an analog connection.
You'll also want to consider how important that low-end is for you. If you want something that can shake the walls whenever there's an explosion in the game you're playing or movie you're watching, you'll want a system with a subwoofer.
Consider the speakers' size as well, particularly if you have a small space, and other included features such as an included remote or control pod/puck to easily control the speakers.
The most important consideration, the sound quality, is also the most subjective. Do you prefer bass-heavy audio or want something a bit brighter? Everyone gravitates towards a different sound. You'll have to consider if you want something with a lot of bass, a brighter sound or a more neutral frequency response.
How we test computer speakers
When we test a pair of computer speakers, we spend hours listening to various media. We use it for audio to watch blockbuster movies and the latest shows on Netflix, listen to multiple genres of music, and play an assortment of computer games.
During our listening sessions, we focus on how well the low-end, midrange and high-end frequencies are represented and how it all affects the speakers' frequency response. Some speakers might have too much high-end, making for an overly bright and unpleasant listening experience. Sometimes, there's too much low-end, resulting in muddy-sounding audio.
We spend a lot of time living with the speakers, getting a sense of how they sound, if they're appropriate for certain applications and, subjectively, making a judgment call on the audio quality.
Beyond the sound quality, we take into account the different connectivity options and how that impacts what we hear. We compare the sound quality between the different connections and whether the end result has the same audio quality or not.
We consider the build quality as well. We inspect speakers that we test to see what they're made of and whether the parts look to be made of tougher or cheaper material.
Any extra features are thoroughly tested. If a speaker system comes with a subwoofer, we see how much control we have over it, how loud it can get in comparison to the speakers and how well it mixes with the speakers. Remotes and control pods, also sometimes referred to as pucks, are tested to make sure they work as advertised. And, if there's any RGB lighting, we take a look at that as well.
Lastly, we take all of that and weigh it against the asking price to see if it's offering a good amount of value or whether it's worth its accompanying price tag.
What are the features of a good computer speaker?
There are not necessarily any particular features that separate the best computer speakers from subpar ones. It's more a matter of execution. However, you'll end up with better results if you get something with some kind of digital connectivity, whether that's USB, Optical or even Bluetooth. Analog speakers can still sound great, but they tend to sound a little more compressed in comparison.
With that said, some computer speakers come with some quality of life features that make controlling them easier. A remote or control pod are a welcome addition so you can adjust the volume and possibly other parameters without having to minimize whatever you're watching or playing.
Which brand speaker is best for PC?
There's no king of the mountain when it comes to the best computer speakers. Plenty of brands offer quality options that will satisfy most people's needs when it comes to listening to movies, music, or games. The best one for you will somewhat depend on what you spend most of your computer time doing.
However, you can count on most peripheral companies like Logitech, Creative and Razer to produce quality products. And, of course, audio-focused companies like Audio Engine and Harmon Kardon produce great speakers as well.
Where you can get into trouble with brands is when you're trying to save money and go with something unknown such as a random manufacturer off of Amazon. While there may not be a best, it's best to stick with brands that are recognizable and have a track record of making good quality speakers.
How do I organize my computer speakers?
Most computer speaker systems come with either 2 or 3 pieces. You'll end up with a left speaker, a right speaker, and, in some instances, a subwoofer. Setting them up is typically fairly easy. But, you don't want to just place each speaker on either side of your monitor or laptop. You'll also want to angle them so that they're pointing at where your head typically is when you're sitting at your computer. You'll notice that some computer speakers are even angled to help with this. You can also move the speakers further out to widen the sound stage if you want to feel a little more immersed. Just make sure to keep them around a few feet away.
Subwoofers are meant to go on the floor. Not only are a good number of them downward-firing, meaning the sound is supposed to bounce off the floor before it gets to you, but they tend to move more air than regular speakers. So, if you're keeping your subwoofer on your desk, you might end up dealing with a lot of unnecessary vibrations. Just keep the subwoofer somewhat close to your desk, whether it's directly underneath or off to the side.
Lastly, there are a few soundbars marketed towards computer use. If you've bought one of those, just make sure that it's centered with you so that you get the most of its most likely limited sound stage.